Howdy, y'all! I am beside myself with excitement at the news that the sequel to 2020's BECKY, WRATH OF BECKY, will be making its debut this Saturday at the SxSW Film Festival. As I was such an avid fan of the first film, this news ramps my fervor further by offering the release of a teaser trailer. Check it out:
Original directors Cary Murnion and Jonathan Milott have been replaced by newcomers Matt Angel and Suzanne Cootem, though the former remain as Executive Producers along with the star BECKY herself, Lulu Wilson. In what might be considered further stunt-casting after the great run from Kevin James as the previous film's villain, Sean William Scott is placed as this film's antagonist. I, however, have no doubt that he can fill this nefarious role after his turn in 2018's BLOODLINE.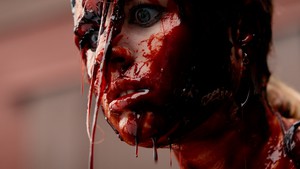 I, for one, am very excited by the allure of this sequel and can't wait to view it and give you all my unfettered impression. In the meantime, those local to or attending Austin's SxSW Film Fest this weekend are more than welcome to sound off below with their opinions and reactions.
Three Cheers for Bloody Revenge!!!
-McEric, aka Eric McClanahan-