Howdy, y'all! McEric here with a review of the excellent new thriller BECKY from directors Jonathan Milott and Cary Murnion (COOTIES, BUSHWICK), starring Lulu Wilson (OUIJA, Netflix's "The Haunting of Hill House"), Kevin James (I NOW PRONOUNCE YOU CHUCK & LARRY, HERE COMES THE BOOM) and Joel McHale (TED, THE INFORMANT!). Check out the trailer:
Right? When this came across my desk I knew I needed to watch it, and I am happy to inform you that I was not disappointed. BECKY is brutal, bloody, tense and oddly fun. The performances are amazing, and the direction is superb. As someone who has made a film, I can attest to how difficult a process it can be. If you want to make it even harder, just add kids, dogs, and stunts involving kids and dogs. Oh, and the dogs are trying to get it on all the while.
"In those scenes with Joel, there were two dogs in the car, and one of the dogs was in heat, so we needed the trainer back there separating the two dogs trying to get bust with each other," recounts co-director Jonathan Milott. "That's what's so great about Lulu, that she is a complete professional while these two dogs were going crazy behind her."
The directors' admiration goes past just ignoring horny dogs, and it's well deserved. Lulu Wilson turns in a very nuanced performance in Becky's transformation from rebellious teen to ruthless manhunter. There is no self-assuredness in Becky's revenge plot; she's scared shitless. She's up against criminals who have already displayed an aptitude for violence, and all she really has on her side is hurt and angst. She shouts up at giants, particularly Robert Maillet's (300, SHERLOCK HOLMES) Apex, fearing she could be crushed underfoot but refusing to choose inaction. She's a kickass heroine, and for that she needs an equally intimidating, ruthless villain.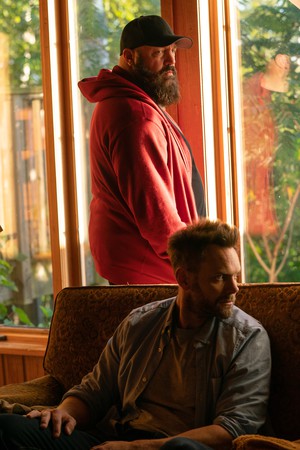 Enter James's Dominick, a natural leader with a flawed ideology that somewhere down the lane spun him towards Nazi dogma. He has been planning escape and retribution for years, and such foresight has eliminated the need for long speeches or even barked commands. He leads his team effortlessly, canvassing the countryside for a Macguffin that is mercifully never explained. It keeps us focused on the drama onscreen, and makes for a nearly flawless film.
That said, I do have two criticisms, one minor and one major. Two of the villains are completely disposable; no time has spent developing them whatsoever, but that is forgiven with that time being reinvested in Dominick and Apex's relationship, which plays like a twisted father-son dynamic. The unforgivable sin is the score by Nima Fakhrara (CRYPTO, THE SIGNAL). I had to gauge the directors' involvement with it, hoping they would claim indifference to absolve them from responsibility. They explained what they were trying, and ultimately failing, I'm sorry, to do. "He was able to bring so much to the table with a very difficult, almost contradictory notion of 'we want this to be emotional but fun; we want this to be kickass but not too dark.' He was able to take that and took sounds that were so strange; like sounds of breathing and toys and all this really weird percussion and turn them into a score that really propels the pace of the film." Except, it doesn't. It stops the film dead in its tracks. I'm watching this serious film with this heroine that I'm rooting for in a situation that's clearly out of her depth and all of a sudden I hear something that sounds like the score from FRIDAY THE 13TH; and not even the first few. No, I mean the later ones where they were making fun of themselves and instead of suggestive breathing they were actually chanting "Jason jason jason." I just-- it did not work for me.
That major misstep aside, BECKY is an awesome film, and meant to be shared with a group. Which makes me especially happy to announce that the film premieres today not only on Digital and VOD, but also at select drive-ins across the country. So grab your buds and some Buds and go see BECKY tonight or this weekend at any of these locations:
CALIFORNIA: Mission Tiki Drive-In, Van Buren Drive-In, South Bay Triple Drive-In, Rubidoux Drive-In
GEORGIA: Starlight Drive-In
IOWA: Superior 71 Drive-In, Blue Grass Drive-In
INDIANA: Garrett Drive-In, Tri Way 4 Drive-In
KENTUCKY: Regency 8
MASSACHUSETTS: Mendon Twin Drive-In
MINNESOTA: Long Drive-In
NORTH CAROLINA: Hounds Drive-In, Raleigh Road Drive-In, Badin Road Drive-In, Eden Drive-In
NEW HAMPSHIRE: Milford Drive-In 2
NEW JERSEY: Delsea Drive-In
NEW YORK: Transit Drive-In, Silver Lakes Drive-In, Sunset 3 Drive-In, Vintage Drive-In, Delevan Twin Drive-In
OHIO: Mayfield Road Drive-In, Skyway Drive-In, South Drive-In Twin, Tiffin Drive-In, Starview Drive-In, Springmill Drive-In, Magic City Twin Drive-In, Van-Del Drive-In, Dixie Drive-In, Aut-O-Rama Twin Drive-In, Elm Road Triple Drive-In, Field of Dreams Drive-In
OKLAHOMA: Tower Drive-In
PENNSYLVANIA: Garden Drive-In, Circle Drive-In, Comet Twin Drive-In, Kane Family Drive-In, Riverside Drive-In, Silver Drive-In, Skyview Twin Drive-In
SOUTH CAROLINA: Hi-Way 21 Drive-In
TENNESSEE: Stardust Drive-In
TEXAS: Blue Starlite Drive-In
WISCONSIN: Stardust Drive-In
Eric McClanahan: Let's talk about BECKY. When did you wrap filming on this?
Lulu Wilson: I think it was early-September? Early or mid-September, 2019.
EM: So, another world?
Lulu: Yes! Exactly!
EM: So I was able to watch the film and invited a couple of friends over and we made a night of it. Wow! What a ride! Can I get your elevator pitch for the film? If someone was like "Oh, you're in a movie called what? What's that about?"
LW: Oh, let's see if I can do this. I'm so bad at summarizing things, it's insane. Okay. So there is a rebellious, spunky kid named Becky and she goes on a surprise lake cabin trip with her dad where some unexpected events take place and Becky has to kind of handle it all, and she does.
EM: So many actors - okay, two actors in this film I thought were cast very outside of type. Joel McHale as the nurturing father? What was he like when the cameras weren't rolling?
LW: He was great. He was really funny all the time, which helped keep the mood light, and I continued making fun of him and maybe giving him a little bit of a hard time because that's what I do. And he is a dad so he came ready with some dad jokes which is always appreciated by me. We spent a lot of time in that car scene which was so fun. I maybe tortured him a little bit in that car but I think that he appreciated it.
EM: No, that's good. He can use that on screen, like "This girl…" So Kevin James, the King of Queens, as a Nazi… asshole.
LW: THE Nazi asshole. It was very interesting to see him become that, too, that Nazi asshole, Dominick, because he's not that in real life, obviously. He's a really nice genuine guy. Towards the end there are scenes where we meet again; Dominick and Becky face off for the final time, and he gets pretty violent towards me, and after every take he would ask if I'm okay, and say "I'm so sorry, I don't want to have to do this" and I was like "it's fine, it's fine." He was just such a genuinely nice guy and it was really cool watching him shift from that nice guy to this asshole Nazi.
EM: Yeah, it was a wonderful turn, and it looks like a lot of practical effects as far as the carnage and combat.
LW: Yeah, it was.
EM: How did you enjoy that physical experience?
LW: I enjoyed it so much! To the max enjoyment. It was amazing; being able to be really violent with no consequences was great. And ziplining! That was so fun. I got to do that. I mean, it wasn't as fast as it looks in the movie but I did get to do that zipline stunt which was amazing. I worked with the best stunt coordinator, her name was Angelica (Lisk-Hann), and she knew how adamant I was about doing most of my own stunts and she helped me to do it all safely, which was much appreciated.
EM: I'm assuming the same for the scenes at the lake: you were actually in the water?
LW: Yeah, I was, in the boat. Originally in the script I was supposed to be in the water, but they changed that, luckily, because I did not want to be in that water. It wasn't changed because I didn't want to be in the water, but mentally I didn't, so I'm happy it was changed. But I got to be in the boat and do all that stuff on the dock and after, when I got back home, I felt very Zen and very powerful, you know?
EM: Reading the logline when it came across my desk, I knew I had to watch this movie. Upon seeing the film, the viscera is very jarring. How did you come to this script and say "Yeah, this is the movie I gotta do"?
LW: The script came to me when I was eleven. The producers brought me the script. They saw me in OUIJA and thought that I would be perfect for BECKY, which is crazy. You hear about that happening to people but I never thought that would actually happen to me, but it did! When I first read the script I thought "Wow, this is pretty awesome!" My parents were understandably a little hesitant about letting me go off into the woods and murder four neo-Nazis, but I was very excited about it. Then over the years Becky sort of evolved into a more mature character who takes things I think more head-on and she got more mature. And then I finally got to shoot it and it was sort of surreal experience, flying out to Toronto, and it had been two years at that point, and it was like "Wow, this is actually happening! I've been so excited about this for so long and this is actually going to happen!"
EM: It's such an amazing journey that Becky has. When she starts out we get the sense of her loss and the void left by her mother. The way she expresses that through her artwork. Did you have a hand in any of the artwork featured throughout the film?
LW: Yeah, most of it is my doodles, in the credits, and in my fort and on my backpack. Yeah, I think John and Cary saw that I was doodling on my script and thought "Oh, you should do that in the movie!"
EM: Nice! I'm interviewing with them tomorrow afternoon so is there anything you would like me to pass on to them from you?
LW: Oh, tell them I'm so excited to see this come out and I hope that, and I know that they also hope, that audiences get what we wanted them to get, that escape from reality. I mean, especially now, it's important to be able to sit down and watch this movie and be able to escape for an hour, an hour and a half, and be immersed in this world of BECKY and hopefully have a good time with it. You know, it's different than when you would see this at the movies, people would have these verbal reactions which is really fun to watch. You know, I've seen this before: I would be in these horror movies and then I'd go to the movies to watch other people watch my movie and see their reactions which is so fun for me to experience firsthand. It sucks that I won't be able to do that, but I hope that an audience finds this movie and really enjoys it and has as much fun watching it as I did shooting it.
EM: Yeah, I do think that it's a movie to share. Like I said, I invited a couple of friends over and we weren't entirely sure what we were going to see and then it started and we were like "Okay, okay" and then Kevin James's eye pops out and we said "okay, it's that kind of party!"
LW: Yeah, that is a party. That is the party scene.
EM: Do you have anything else that's coming out soon?
LW: Oh, I have an episode on the Quibi show "The Fifty States of Fright." I have a part in one called "Thirteen Steps to Hell," real light-hearted and great.
EM: That does sound like fun escapist fantasy. Switching to current events, how are you dealing with everything that's happening right now in terms of our isolation and how are you keeping busy and keeping sane?
LW: Well, keeping sane is very important to me. Obviously, I still have school, which really sucks, I'm excited for that to be over with soon, with zoom classes, so that takes a lot of my time. And we just got a kitten, so I've been spending a lot of time with her, which is great, even when she bites my face. I've been listening to a lot of music. I've been exercising, which is so weird of me, but I've been doing that, which is great. Yeah, I'm trying to stay sane. My family, and my sister, we're making due.
EM: What do you want audiences to find in BECKY? What do you want audiences to take away from this film?
LW: I want it to be an escape. An escape for them from these times. And I want them, not only to immerse themselves in this film, but I want them to root for Becky, you know? That's why I wanted to make her likable in the beginning; I want them to root for her. For me, it's a very girl power movie! That's why I wanted to do it. Becky is a very empowered young girl and I would like other teenage girls to watch this and sort of relate to her anger, maybe not so much the home invasion part, but her anger and her angst and just her creativity. I admire that and I hope people can take that from this.
EM: I do get that, especially the creativity. Watching the film it felt kind of like HANNA meets HOME ALONE. Do you think we may ever see Becky again on film?
LW: I don't know. Maybe. I mean, the ending is really open-ended and I like that, too, 'cause it's kind of up to the audience to decide what's going to happen next, if anything.
EM: Yeah, she had quite the experience. It may not be too shocking to see her be more of a villain the next time we see her.
LW: Yeah. Absolutely.
EM: That could be fun to explore.
LW: Yes it could be.
EM: Well I'm really excited for the film, and really excited for you. I know you wrapped a long time ago so you're excited to see it. Is there anything more you'd like to say about the film?
LW: Just that I really hope it finds its audience. I hope people enjoy it as much as I do and obsess over it as much as I did.
EM: Well, I'm sure they will, and your passion for it is so evident in this conversation. Thank you so much for taking the time to talk with me today about it.
LW: Of course. Stay safe.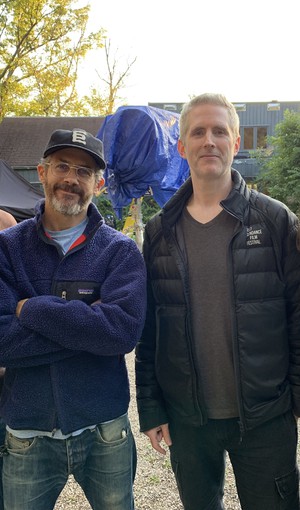 EM: So we're talking about BECKY, which is certainly a very different film than we're used to seeing. It's kind of like HOME ALONE meets HANNA. Tell me how you came across this script and decided to make this film.
Jonathan Milott: We were talking to some producers and they had this script and we really loved the premise. Our favorite type of movie is revenge, looking at the millions of revenge films that have influenced us over the years, and we just really wanted to do a revenge film like you've never seen before. We saw the script, and it had a great premise, though it just didn't have the delivery on the premise. So we started working with the writer, Ruckus and Lane (Skye) to make sure that the kills were intense, the moments of revenge were at the level of where this movie should be. And that's pretty much the process: we saw this script and just wanted to make sure that we could deliver on that.
EM: Well you certainly did. Several scenes in the film are quite jarring, but in a way that keeps the audience hooked, saying "I can't wait to see what they do next." Lulu mentions that you wrapped filming in September, then there was obviously editing and scoring. How heavily involved were you in the post-production?
JM: In the editing and the scoring? Very heavily involved with everything. With editing, we worked with Alan (Canant) very closely over the process post and the crazy thing was we were in LA trying to finish up the final mix with the sound, we had just done the color, and it was March when we were just about to put the final exclamation point on the project and then this pandemic started so we had to start working remotely and do the final mix from our homes. Which really helped us understand why doing the final mix usually happens in a room together. It's a lot easier to listen to a sound, match the picture, and have a discussion with the sound designers and mixers and say "Oh, can we try that or this?" and they do it and you can try or make adjustments quickly. Working remotely made it a much more prolonged process, but in the end it was still something that we really enjoy. You get to really spend time with scenes and ensure that the intent with the sound design and score is really coming through. In terms of working with Nima (Fakhrara), the composer, he was a real joy because once we were able to articulate and get on the same page tonally, he was able to bring so much to the table with a very difficult, almost contradictory notion of "we want this to be emotional but fun; we want this to be kick-ass but not too dark" and you think "Oh my God, this doesn't make any sense because it's two opposing things" but that's what's great about Nima is he was able to take that and took sounds that were just so strange; like sounds of breathing and toys and all this really weird percussion and turn them into a score that really propels the pace of the film and allows you to have that emotional fun but also stay grounded and have that base to it.
EM: Speaking of fun and dark, the film is obviously very dark, but the performances are so earnest and the coloring so bright at times that we root for Becky so much that there is a… it's a bit of a ride. What was the set like to maintain that delicate balance?
JM: It was crazy because there were a lot of challenges in terms of filmmaking like child actors, dogs, and make-up effects; stunts, water, etc. All these things that take a lot of prep and timing on set because you've got to be safe. There are technical aspects to making that blood squirt up in somebody's face at the right time. It was just a matter of, as directors, keeping the pace going and keeping everybody moving in the right direction. Also working with the actors closely to dial in the performances, dial in the arcs of the characters, make sure that we're all on the same page so that as you move through the day you don't get hung up too much on exploration because I think there can become times when you really want to figure out the scene and figure out where that is in the overall film and play around and explore because it isn't a science. You can storyboard but when the day comes you can play around and explore a few different things. But we just had a lot of fun. You know, Joel McHale is a joker. Kevin James is a joker. So even though we have all these dark moments on camera, behind the camera was just constant fun and an upbeat attitude.
EM: Yeah, I can see that. So speaking of casting against type, Joel McHale is wry, dry and typically disaffected. What was the thought process behind casting him as the caring, earnest father figure?
JM: I think it's just something we like to do, like when we cast David Bautista in BUSHWICK, or Kevin James in this, we like the idea of going against type and especially with Joel in this. Playing this really earnest loving dad who's a bit flawed, he's not perfect in any way, and he's not the typical Joel McHale character who is kind of snarky, (well, maybe not snarky, but) kind of sarcastic and clever and always joking around. We liked the idea of working with actors that are doing something different to see if we can sculpt and shape characters that are fresh and new.
Cary Murnion: It was something where Joel had read the script and he was really interested in doing that, in showing that side of him. He's a father who really cares for his kids, and he wanted to explore what that would look like on screen, and he got to go through a character arc where he has to express a lot in a short amount of time, and I think he was someone who really wanted to explore what the could mean, and I think you see that come across in a very powerful and meaningful way.
EM: When talking to Lulu she said that the scenes with Joel in the car were her favorite to shoot, that they had a really great connection.
Cary Murnion: Did she mention the two dogs?
EM: The dogs?
JM: In those scenes with Joel, there were two dogs in the car, and one of the dogs was in heat, and so we needed the trainer in the back separating the two dogs trying to get busy with each other.
EM: She did not tell me about that part.
JM: That's what's so great about Lulu, that she is a complete professional while these two dogs were going crazy behind her. It was pretty amazing.
EM: How much did Kevin James bring to the Dominick character that wasn't on the page, as far as the physicality, the physical transformation, even the reads? His reads are very even; he doesn't raise his voice as often as you'd think he would, he doesn't use profanity. Tell me about the creation of the Dominick character.
JM: Yeah, he brought so much to that character. In casting him, we wanted someone with that charisma, that intelligence, and like we said, we like subverting what people previously thought of him and knowing what Kevin James usually does. Right from the start, we talked about the amount of dialogue that his character has, and Kevin wanted to really minimize the dialogue. This is a character that has already manipulated and persuaded the team to do his bidding, so he doesn't need tons of explanation every time he wants them to do something; he can almost just give a nod or a look or just say one word and they got it and they're going to go do his bidding. He wanted to bring that to it; that calm, intellectual aspect of the character. I think the physicality was something that we weren't really expecting from him, to be able to do the running, the jumping, the stunts, at any moment. To have any actor do some of the things he did would be really special. To have him run up a hill and grab Lulu in the middle of the night through weeds and sticks and fog where you can't really see where you're going; to take a kick to the chest and flip over. We had the stunt double, a guy he works with a lot, Keith who grew out his beard, too. He works with him all the time because he looks just like him and he's a great stunt person but in the end we had Kevin fighting with the dog with a pad on his arm and doing all these stunts; it was pretty amazing. And the same with Joel McHale; Joel was lying facedown in the dirt when he didn't necessarily have to do that but he was really willing to be there and do that for the production.
EM: So I have to ask about working with Lulu Wilson. What she brought to the production, this film was so intense and at such a young age. How involved were you bringing her aboard and what was your experience working with her?
JM: We've been fans of Lulu since OUIJA and pretty much right from the start we had her attached to the film, and we were so excited. We were developing it, writing it, and we watched some of the more recent things she'd done and we were just blown away, also fearing that she was going to age out of the character, but we were really excited and lucky that when she was thirteen she could play and thirteen year old and that brings a grounded reality to the film and to her character. She's doing things a thirteen year old would do and if she were fifteen it just wouldn't be the same movie, so we're so lucky. Working with her on set was a pure pleasure. One of the things that blew our minds was that pretty much the first day on set that we worked with her she had to react to some serious violence to someone she loved, and it was like literally the first shot we had of her and she had to let out this close-up gut-wrenching scream, and she turns from being a happy, giggling thirteen-year-old girl and we call "action" then she goes to this deep, dark place of pure terror and we're looking in the monitor and just wondering how she can manifest that and perform, on cue, to go to this place that is pretty profound. And it was amazing because it was the beginning of the shoot and she set the tone for the cast and crew to see that she's going to be much more mature and really elevate the whole process, so it was quite a first day on the set for her.
EM: The film comes out Friday, June 5th. So what do you hope viewers find in BECKY?
JM: I think because it's coming out during this crazy pandemic we're hoping people can find a cathartic release. Can kind of watch a character be as mad at the world, whose had some terrible shit happen to her, and just act on that feeling; to be able to get revenge and have that release. I think if there's more you can get from it then we're happy about that, too, but in these times is more about just being able to have a problem and act on it because I feel so many of us feel kind of helpless right now so hopefully this can be a release.
EM: Well thank you both and good luck on the film.
You can watch BECKY today with your friends, whether at a Drive-In, On Demand, or for Digital Purchase. Until next time, stay safe and stay sane!
-McEric, aka Eric McClanahan-