Authors
Here you have an opportunity to learn a bit about the people behind the new AICN. The site has been through some changes since its founder Harry Knowles has stepped out of the business. More changes are coming, and the new staff is the most important change. Here is your chance to get a glimpse at the geeks and geekettes that are keeping AICN a cool place for fans, creators, and yes even you trolls out there!

Dannie Knowles/Pekosa Peligrosa - Editor-in-Chief
Sister Satan
pekosapeligrosa@gmail.com
@DannieKnowles4
Dannie H.L. Knowles has worked at AICN on and off since its conception. She has had many names on the site first was Sister Satan a name lovingly given to her in the mid-1990s by her Brother AICN's founder who has since put her in charge of the site. She later reviewed mainly documentaries under the name Calamity Jane, and then Pekosa Peligrosa was birthed. Pekosa Peligrosa is a nickname her ex-husband Lobo gave her (he used to write for Latin AICN). Yes, she knows it's spelled pecosa she misspells it as a joke, you know because she is a gringa-ginger-goofball. Her Spanish nickname means "Dangerous Freckleface."
Dannie owned and operated several businesses with her ex, a sign shop named Sign Guy and Pedazo Chunk Video. Her video store won The Chronicles "Best of Austin" 2 years in a row, her store was a South Austin favorite, with nightly free screenings on a 15 ft. x 9 ft. Screen with a fantastic sound system 365 nights a year. Even on Christmas night. There were epic keg parties, BBQs, and live music once a month on the back patio mainly Spanish punk, ska, jazz and Reggae bands played. She closed down her store when the marriage closed.
She has been an artist from a young age having been raised by memorabilia dealers/artists. After she left the video store, she dedicated herself to the arts and had apprenticed under some of Austin's greats. She is currently trading these skills with other artists, who have become a community she truly values.
Being raised by a family movie fanatics, Dannie has a wellspring of knowledge about cinema, comics and all things Pop culture. Nowadays, she focuses on sharing information about all things cool and giving others a chance to share their unique perspectives. She also loves her son, organic bio-intensive heirloom gardening, and all living beings. Except for mosquitoes, fleas, and flying cockroaches they should all die!
---
Barbarella/Barbara Kennedy
AICN-barbarella@hotmail.com
@barbara1112k
Utilizing skills she learned from watching Donnie Yen films, Barbarella spends her nights fighting crime and protecting those who cannot protect themselves…while she's asleep. Once awake, she relishes her life in Texas, and takes great pleasure in doing her part to "keep Austin weird." While not working at her day job, she feeds her unquenching thirst for cinematic bliss, and especially enjoys finding great independent films and sharing those with others. Having dabbled in filmmaking herself, she understands the difficulty of the process, and tries to approach reviews with compassion towards filmmakers, even on films that don't resonate with her. Her Bachelor of Arts degree ensures a fallback career in the lucrative field of naming paint colors, but for now, she's excited to be a part of the Ain't It Cool News Family. She used mind-control techniques to get the gig and hopes those who enlisted her to write for the site don't figure out how to regain control and boot her off. She loves connecting with other cinemaniacs, so don't be afraid to strike up a conversation if you run into her.
---
EKM/Erik Kristopher Myers
Ekmyers@gmail.com
@ekmyers
facebook.com/ekmyers
Erik Kristopher Myers (ekm) is a writer and filmmaker, whose 2013 movie Roulette took home numerous festival trophies and received praise from critics. His latest feature, Butterfly Kisses, brings his interest in folklore, urban legends, and skeptical inquiry to the screen. Released in October 2018, Butterfly Kisses shot to the top of the Amazon.com charts for New Release Fantasy, and was featured on both CBS and Fox News, while scoring rave reviews from high-profile Horror websites. Myers has also won numerous awards for screenwriting and editing for his collaboration with other independent filmmakers. He has been a producer for XM Satellite Radio and a reporter for WTOP News; he's written film criticism for The Dagger; contributes to the Squaring the Strange and Kick Ass Thunder Dudes podcasts; and sits on the Board of Directors for the Howard County Autism Society. Plus, he has a rockin' Dad Bod.
---
Prometheus/Joshua Scafidi
@joshuascafidi
Father, Writer, Author, Activist and only half Human.
---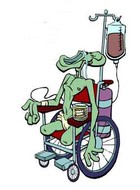 Hercules - TV Editor
@hercAICN
@HercSpoils
James "Hercules" Strong, an entertainment journalist and broadcaster for more than four decades, has contributed film stories to Ain't It Cool for more than 20 years and has served as the site's TV editor since April 2000. He lives in Las Vegas with his wife Ana and eight ravenous pets.
---

Freddy Beans
Freddybeans@gmail.com
@freddybeans13
A long time ago in a galaxy far far away Freddy was born in Alaska where he had a great view of Russia. Freddy has been a movie/Horror addict for 40 years, starting on the light stuff like Sesame Street and Captain Kangaroo. Ultimately maturing into a vampire fan after Bela Lugosi, Christopher Lee, yes even BLACKULA. He was still very young when he started watching horror films like THE OMEN. Past the point of no return, he soon had a horror beast within that needed to feed upon even darker shadows! These days, he loves sharing his opinions hoping to infect the land!
---
Rebecca Elliott/Annette Kellerman
@rebeccaelliott
Rebecca Elliott is a lifelong movie enthusiast and has been writing about film for AICN for two decades. In addition to film critique, Rebecca has also spent time behind the camera writing and producing several short films, producing a feature documentary, as well as directing and editing another feature documentary. She resides in Austin, Texas where she is a fixture at the various film festivals and events around the city. When she's not sitting in a dark theater, Rebecca enjoys time with her family and indoctrinating her son into her movie geek world.
---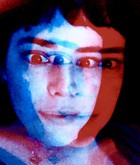 Madame Revenant
madamerevenant@gmail.com
When Madame Revenant isn't binge-watching movies, she often rips into flesh and analyzes what it means to be truly human. A zombie by trade and an artist at heart, she appreciates practical special effects, creatures and demonic beasts, witches with goats, robotic angels who save the world, and fauns with short fuses. When the madame appears, no secret remains hidden forever; she'll find the truth.
---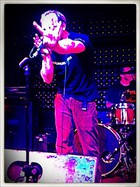 McEric
Questionable Contributor
ericmcclanahan@gmail.com
@EricMMcClanahan
McEric is a writer based out of East Texas. An avid appreciator of music, film, literature and art, he is pleased to share his passions with fellow fans and foster open discussion of all things cool and interesting.
Founder
Harry Knowles
harry@aintitcool.com
512-784-6876
Send scoops to AICNstaff@gmail.com
AIN'T IT COOL NEWS
PO Box 180011
Austin, TX 78718-0011
For advertising inquiries please contact:
advertising@aintitcool.com
Business Affairs
roland@aintitcool.com
PO Box 1641
Austin, TX 78767