SMALLVILLE NIGHTS! Impossible Odds!
Before last year, I'd never visited New Orleans. Since January of 2019, I have been to the Big Easy three times, and I always have a blast. The city is everything Las Vegas intends to be augmented by actual historical significance and true culture. The food is amazing, the city is a character, and just about everyone you'll meet there is the nicest person ever. Except for this one lady at a souvenir store who screamed at me after I paid for an item with a 50 state series quarter featuring New Mexico on the tails' side, ironically demanding American currency. "Mexico! Mexico!" she screamed, and there was no explaining to her the coin's authenticity.
So I was delighted to travel back to this great city to attend the first day of Wizard World New Orleans, celebrating its tenth year at the Ernest N. Morial Convention Center. I arrived in the city Thursday night and checked in to my favorite spot on Canal St, ready to hit the Convention with full power bright and early in the morning.
Due to my poor planning and shit reading skills, I discovered that the first day of the Con didn't open its floor until 4pm. Undeterred, I used this opportunity to sleep. Yes, I rock so hard. Envy me.
My M.O. in destination cities is to arrive, park the car somewhere, and explore on foot, so I was pleased to note that the convention center was within walking distance of my room. Granted, it was raining, though that has never bothered me. Until, that is, a man muttered "You look wet" under his breath as he passed; that's a strange phrase to hear from anyone under any circumstances. Seriously, try it. Go to work tomorrow and say that to someone. Even if it's true, it just lands weird.
Anyway, I enjoyed my walk, despite that. I even had time to stop at the Harrah's Casino and lose some money on a Dean Martin-themed slot machine. I entered the Convention Center at Julia St, and was met with a trumpeting fanfare of nothing. So I kept walking.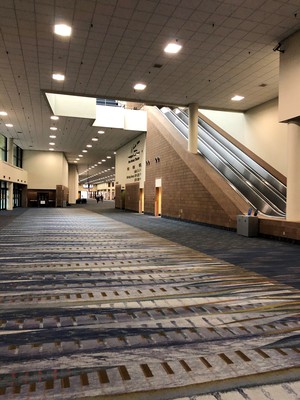 I've been to a couple of Cons before; San Diego International, and Fandemic in Houston, so I understand how convention centers work, but I'd never attended a Con so cleverly hidden within its destination. Of the ten halls that Ernest N Morial Convention Center holds, Wizard World was held in the tenth; Hall J, at Henderson St. Which is another 6/10ths a mile. Not an insurmountable task, but I found myself walking through the high-ceilinged hallways wondering if my poor planning had dealt me an even further disservice.
Soon enough the crowds appeared, and I found a short line for the press credentials. I was given a wristband quickly and found the entrance to the great hall, where I was asked to brandish my wrist and little else. I entered the hall and found myself within Wizard World New Orleans in all its splendor.
When I was younger, I envisioned a future in which I would write fiction, successfully. As I've gotten older, however, it has become hilariously apparent to me that I lack the imagination to mirror the experiences I've accumulated within my own life. Which is to say, I can't make this shit up.
The first thing I noticed at Wizard World that set it apart from the other Cons was the sound of live music. A tiny ray in my heart thought it might be Michael Rosenbaum's band, Left on Laurel. How cool would that be?
It wasn't, sadly, but it was still pretty cool, nonetheless. A singer/guitarist and drummer duo played lively covers as we entered, and I saw all the requisite vendors and cosplayers and root beer-taps one would expect to see at any fan convention. I snapped a few quick photos and started to make my way around, veering to the right of the stage and into the floor. And that's when I saw the one thing that truly made this Con stand out from any other I attended. In fact, when I recollect this to others, it elevates its retelling to the levels of a Stefon-approved event: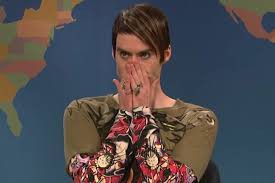 "This Con has everything: celebrities, cosplayers, Kato Kaelin."
[This would be where Bill Hader would break and have to laugh into his hands.]
But this is true! I cannot make this up, you guys. Kato Kaelin was at the Con; but let me elaborate. He wasn't listed on the site, he wasn't with the rest of the celebrities in their vinyl fabric petting zoo; he was just there. A tiny table, like 4'x2', with a black cloth and Funko Pops of himself (that I'm pretty sure he paid to have made), with no handler and no signage, just like "Hi! How ya doin?" I triple-taked on this motherfucker like he was the Force ghost of Anakin Skywalker hyping up Rey in the third act of Star Wars XIV, like "You don't belong here!"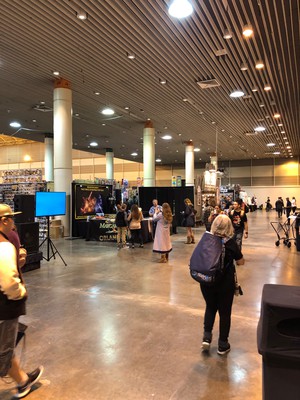 Two hours later I note that the music has stopped and someone is yammering into the microphone. It's Kato! Someone gave him a microphone! He's commenting on attendees as they're coming in. "Are you texting? Are you Googling? Look up here. Google Kato Kaelin. K-A-E-L-I-N. Have a great day. Enjoy the Con. Get some root beer." Who gave this man a microphone? Like we didn't hear him enough in the 90s?
Now some of you may not understand my confusion or ire on seeing Kato Kaelin at a Pop Culture Convention but I'll offer you this: I've told this story to many people since this past Friday, from several walks of life: Older, younger, nerdy, less-so, and I get only two reactions. One is "Who?" and the other is "Why?", so…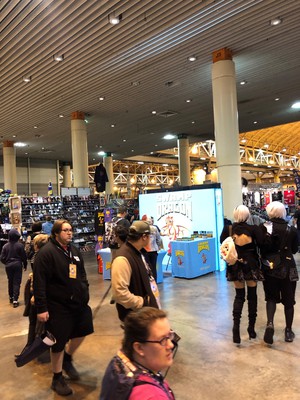 I wandered the floor to see the rest of the celebrities in their vinyl cages, and looked from afar at their aging faces. Wizard World claims a good selection and pedigree, and I was impressed with how many were available on day one. But I had a singular focus, as I had driven my happy ass six hours after a nine-hour shift at the day job with one goal in mind: TO ROCK MICHAEL ROSENBAUM'S AND TOM WELLING'S WORLD WITH MY KARAOKE PROWESS!!
I feel this requires some further explanation…
Some while back I saw a video on Rosenbaum's Instagram about Smallville Nights, an exclusive VIP event held concurrently with the convention appearances that he'd scheduled with Tom Welling, and through misinformation or drunken stupor it sure seemed like this edition would feature karaoke. Which I kill at. It's the foundation through which my wife and I met, it's a passion of mine, and I jump at the chance to do so whenever it arises. After seeing Rosenbaum and Welling in action at 2018's Fandemic Tour in Houston, I was ecstatic to have the opportunity to share a more exclusive evening with them in an already fun city that was a reasonable driving distance from my home.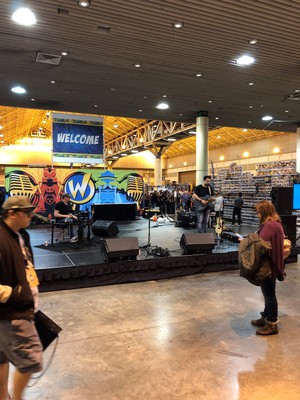 However, whenever I searched the event I kept getting redirected to Wizard World's main web page, which is highly informative but didn't tell me what I wanted to know about this event. So I did the only thing that made sense: I lined up to talk to Tom Welling and ask him personally.
Tom couldn't have been nicer and when I asked about the event his handler took over and walked me to the ticket procurement booth to pay my way in to the exclusive event. I laid my money down (I'm embarrassed to reveal its ticket price at this time) and after the transaction was complete, I asked the cashier "So.. what is it?"
"Excuse me?"
"Is it at a secondary location? Is it here? I think I heard something about karaoke?"
"Oh, it's here. I want to say Room 286? It's upstairs."
"Okay. What time does it start?"
"I'm not sure… seven? I think?"
So… no one, especially me, knows what's going on. This will be a recurring theme, so keep that in your noggin.
I wander the floor for a few hours, visiting vendors and finding fun stuff. The Delorean is there, as well as Ecto-1, the Impala from "Supernatural", a jeep from JURASSIC PARK, the delivery truck from Pizza Planet from TOY STORY. There are designated areas for tabletop gaming, PC gaming, Cosplay corner, the 501st Legion, and even aerial performers. I grab a hot dog and sit with a few attendees espousing the beauty of Scotland. Soon I tire of Kato Kaelin's yammering and see that it's close to seven, so I head upstairs to queue up for Smallville Nights.
In that line, I have my expensive ticket scanned by a volunteer and then I never see her again. My ticket is never referenced, never traded out for some Kryptonian talisman signifying me as a revered Elder. Nothing. I eavesdrop on some of the other attendees' conversations, hearing the exorbitant prices they'd paid for the experience as a whole, and soon we're engaged in a chorus of how Brian Michael Bendis is ruining Superman. Rosenbaum arrives to uproarious applause and slips into the room. Several minutes later, Welling does the same. Soon enough, we're led into the room. I count approximately sixty of us. As we enter we are asked not to record, photograph, or take audio with our phones. I respectfully turned mine off.
In the room we quickly see a whole lot of nothing spectacular. There is a Wizard World step-and-repeat backdrop behind a round table with a vinyl tablecloth. There are more tables to either side. Music is playing, and I turn to the guest next to me and ask "Is this Remy Zero?" Soon, a voice over begins from an unseen announcer, offering a quick history of Smallville with jokes peppered in, introducing Tom Welling as he enters through a side door. The voice segues into an introduction for Rosenbaum, and it's quickly evident that it's the actor, himself, who emerges from behind the step-and-repeat in a LexCorp coverall jumpsuit. The two settle in to the main table and make random observations of the crowd, particularly two infants who have been cradled in the first row.
Welling reiterates several times that he has no idea what is about to happen. Rosenbaum banters with him awhile before revealing he thought it'd be a real treat if he and Tom re-enacted some pivotal scenes from the series for us, and of course he'd brought scripts and props. The two begin with a scene from the pilot, enlisting the help of guests as a stand-in for a non-speaking role and also to read the exposition from the script pages. After the pros show us how it's done, they invite some of us to come up and run through the scene, staying near to act as directors. They take frequent opportunities to give some experiential anecdotes of their time with the material, and some of the revelations are refreshing.
Welling had a particularly great story about a scene he shared with Kristin Kreuk, who played Lana Lang for the majority of the show's run. The scene we read that night was the same that he'd auditioned with, after Kreuk had already been cast. He read just after Jensen Ackles had auditioned, and during the scene he blanked on a line while losing himself in Kreuk's eyes. She mouthed the first few words to him and he recovered, and they finished the scene together. A casting director in attendance praised him for his "dramatic pause" and he got the role. The rest, as they say, is history.
Our time was limited, and many people wanted to cash in on their Smallville Nights experience, so many opportunities were offered for readings. I shot my hand up as often as I could, and finally got to read for the very last scene of the panel, opposite a considerably younger lady whose lines sliced me to pieces. I even got to wear the bald cap that Welling produced from his… well, I'm not entirely sure where he was keeping that.
Rosenbaum ended the evening by explaining that he'd found an old Polaroid from the set and had it reproduced to share with us, then gave door prizes to three random recipients who had numbers printed on the back of their reproduction. (Sadly, I was not one of those.) Before releasing us, he invited up everyone who had read to queue at the table and he and Tom signed pages from the scenes we'd read.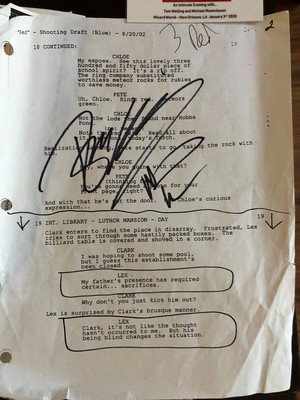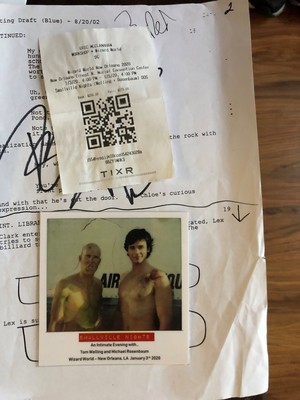 Holy shit!
So, in short, Smallville Nights was kind of just a glorified panel, but I got some pretty great memorabilia from it, and I snagged a few treasures from the Con floor, too, so my trip was a successful one, all in all. Michael and Tom, thank you so much for being so bare with us and offering a unique experience that we can talk about for the rest of our lives, though you owe me a rendition of Tenacious D's "Tribute." I have spoken.
Wizard World New Orleans was 9 out of 10, would recommend. I'd say "Drive, Don't Walk to this amazing spectacle, full of amazing sights and unexpected sightings!" I wish I could've attended the scheduled Smallville panel the next day with alums Kristin Kreuk, Erica Durance, John Glover, Laura Vandervoort, but alas the day-job beckoned me back.
Until next time, keep on Geekin' on!
-McEric, aka Eric McClanahan-