Hey, y'all! McEric here with some juicy info about a new horror flick dropping on you today! I've got my hot take (for what it's worth), a brief interview with the talented Maddie Hasson, and information about how YOU can tune into and contribute to a live Q and A on Instagram with the charming and beautiful Alexandra Daddario.
So, first thing's first, let's check out that trailer:
I have to tell you right up front, I loved watching this movie! It's loud, it's fun, it's kitschy (at times), and it keeps you interested. You'll root for the heroes; you'll root for the villains. You'll yell at the screen for the ancillary dropping bodies to "Look out behind you!" It's what horror movies should be, and what they've gotten so far away from lately. It's fresh because it's nostalgic. It's a throwback to a time that we actually enjoyed. It's not saddled with the heavy burden of launching a franchise; it's just a fun horror flick.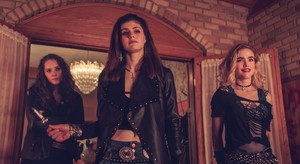 Written by Alan Trezza (BURYING THE EX, starring Alexandra Daddario and the taken-too-soon treasure Anton Yelchin) and directed by Marc Meyers (MY FRIEND DAHMER), WE SUMMON THE DARKNESS is a period piece set in the heyday of heavy metal music, Satanic Murders, and more ripped denim and spikes than the bus scene in STAR TREK IV. Alexandra Daddario (TRUE DETECTIVE) heads the female trio, rounded out by Maddie Hasson (YouTube's IMPULSE) and Amy Forsyth (Hulu's THE PATH), who cross paths with three boys, led by Keean Johnson (ALITA: BATTLE ANGEL), and featuring Logan Miller (A SCOUT'S GUIDE TO THE APOCALYPSE) and Austin Swift (LIVE BY NIGHT), on their way to see a concert by Soldiers of Satan, a heavy metal band that sounds suspiciously like King Diamond. The sextet decide to afterparty at a swanky rad-pad, and the evening seems to play out like so many other… until one faction turns on the other and bodies start dropping.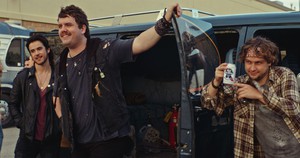 I found this film to have a kinship with SATANIC PANIC, which I reviewed previously, in that both films stand alone (and perhaps above?) modern horror in their willingness to strip away the heavy-handed moralism and tedious world-building and just go straight to the jugular. Which is not to say that WStD doesn't have something to say; I personally found more than a few through-lines of this story's period ideologies to certain tactics we're seeing today, though I may be alone on that front. At least, Maddie didn't side with me.
Eric McClanahan: Thank you so much for taking the time to talk with me today about WE SUMMON THE DARKNESS. It's such a fresh film, really standing out from the manufactured feel of all the franchise films permeating theaters at this time. How did you become involved with the project?
Maddie Hasson: Val was already cast. I auditioned for Bev, but Marc wasn't into it so, I thought it was over. Lucky for me, the person playing Val dropped out and Marc gave it to me.
EM: Val is deliciously evil; a real firecracker. Where did you go as an actress to summon her portrayal?
MH: I listened to Def Leppard's "Pour Some Sugar On Me" everyday and tried to imagine what it would feel like to be "hot and sticky sweet".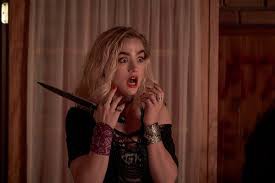 EM: As the core three, you, Alexandra, and Amy have a great onscreen chemistry. How did the three of you bond off-camera to create that presence?
MH: We yelled at each other a lot. There was a lot of swearing involved.
EM: What was the relevance of making this a period piece and do you feel it has some relevance to the world we're living in today?
MH: The 80s were wild, fun, and over the top. I think that's what this movie is supposed to be. If you want to find more meaning in it, I'm sure you can. If you don't, it's just a bit of fun.
EM: Was this movie as much to fun to make as it looks onscreen?
MH: I've never had so much fun making anything. We stayed up til 5am every night for a month, buzzing off of Red Bull and twinkies, screaming crass things to keep each other awake.
EM: What are you working on next?
MH: James Wan's MALIGNANT.
EM: Any last words on WE SUMMON THE DARKNESS, working with your castmates, Marc Meyers, or screenwriter Alan Trezza?
MH: Stay home! Here is a movie you can watch while you do that.
EM: Thank you again for talking to us and best of luck to you and the whole cast and crew!
I've got some questions out to director Marc Meyers as well and I'll post those separately when the answers come in, but if you want to know anything about this fun, original movie from the leading lady, herself, Alexandra Daddario, you'll have your chance. She'll be hosting an IG LIVE Q&A on her Instagram - Alexandra Daddario - @alexandradaddario - 9 p.m. ET / 6 p.m. PT on Friday, April 10.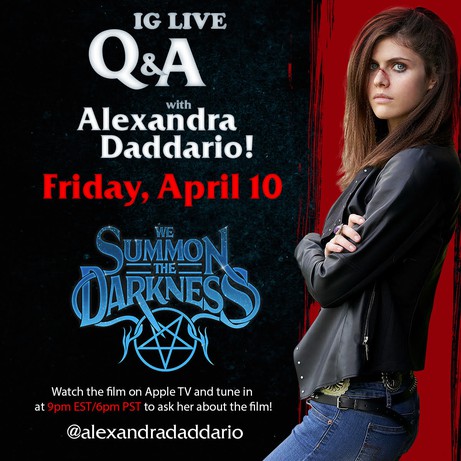 WE SUMMON THE DARKNESS is available on Digital HD and on Video on Demand today, Friday, April 10, 2020.
Until next time, I'll see you at the movies… just don't sit within six feet of me.
-McEric-
aka Eric McClanahan