Hey y'all!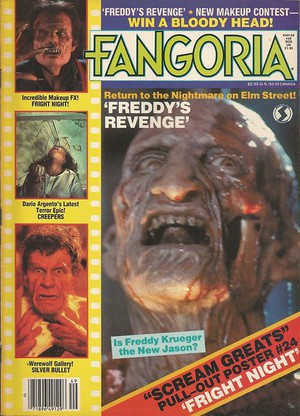 FANGORIA Magazine has always had a special place in my heart. It started the year after I was born, so we pretty much grew up together. I would stare, mouth agape into its low-res photos of fountains of blood from the productions of everything from HELLRAISER to the NIGHTMARE ON ELM STREET series offerings, even into lighter fare such as THE CRAFT and THE MUMMY. FANGORIA exists to celebrate the macabre and celebrates practical effects above all else (they even awarded bloody heads to contest winners!). So when the magazine had a revival of sorts a few years ago, it was only natural that they venture into film. The started with a new addition to an old favorite: Full Moon Video's classic series PUPPET MASTER. As fitting as that is, it also seemed fitting that a publication as unique and singularly-focused as FANGORIA produce something wholly original. Enter SATANIC PANIC. Check out the trailer below:
Tapping up-and-coming horror director Chelsea Stardust straight off her success with Hulu's horror anthology series INTO THE DARK and boasting a script by acclaimed horror novelist Grady Hendrix, SATANIC PANIC is a wild, bold, unapologetic howl of a good time. It fires on all cylinders, delivering gore and peril, laughs and shocks, unexpected turns and classic horror tropes all in one terrifically entertaining film.
The basic synopsis revolves around Sam (Hayley Griffith, TV's "The Mysteries of Laura"), an idealistic young woman who writes and performs songs from her heart but finds herself delivering pizzas out of necessity. On her last delivery of the night to the pristine homes of the affluent, she runs out of gas and storms the house demanding a tip. Unfortunately for her, the setting is that of a high-society Satanic ritual, and she's unwittingly offered up her virgin body for their twisted machinations.
Seems pretty straightforward, right? Like Marvel's "Runaways" except their lord isn't a low rent Dr. Doom but actually Satan, himself? If it were only that simple. Sam's night gets weirder, if you can believe it, and you're going to have a Hell of a time tagging along with her throughout, trust me. You'll meet the unflappable head mistress of the Satanists, the cool and calculating Danica (Rebecca Romijn, X-MEN), her worthless husband Samuel (Jerry O'Connell, STAND BY ME), and their disposable daughter Judy (Ruby Modine, HAPPY DEATH DAY), as well as a slew of socialite Satanists who try relentlessly to capture Sam's body and soul.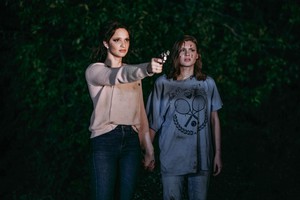 I talked to director Chelsea Stardust about working on the film, with FANGORIA, and husband-and-wife team Rebecca Romijn and Jerry O'Connell. And I must say, for a lady who made such a devilishly wicked film, she is a total delight.
Eric McClanahan: So, we're talking about SATANIC PANIC, a film that you directed and will be released on September 6th but already has had some well-received releases at Festivals. How excited are you for this to get out to the masses?
Chelsea Stardust: I'm so excited. So my first movie (INTO THE DARK'S ALL THAT WE DESTROY) was streaming, on Hulu, so to have my second movie be released theatrically, and of course the VOD and digital release, is incredible. The festival run has been amazing. We've had the LA Fest, Fright Fest, Oak Cliff, and Overlook and we have seven or eight more after that, which is crazy and incredible. But I am so excited to have it out in the world on September 6th, even though we are competing with IT: CHAPTER TWO, but I'm a big fan of the IT movies and I hope people have horror on the brain and will see both movies. I'm very excited; I'm going to be back in my home town when it actually comes out on the 6th so we're going to have an outing and go to a theater and see it with an audience and I'm so excited for that.
EM: It has so many moments that cause big reactions so I'm certain that seeing it with an audience in your home town will be a treat. So, let's talk about some of those moments. First off, strong female characters. Samantha, Danica, Judy, even Gypsy, to a certain extent. How important for you was it for this film to have these strong female characters?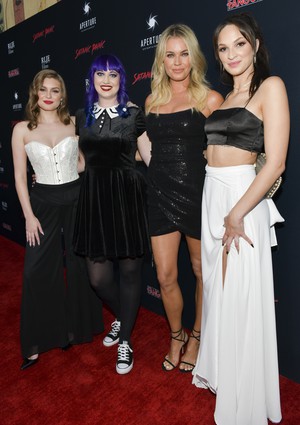 CS: Well that's one of the things that attracted me to the script that Grady Hendrix wrote. I thought "Wow, all these women are so amazing and so powerful" and we see the Satanic coven or cult of sorts run by women. I thought it was so unique and so cool. I hadn't seen that; the whole thing run by women and that's one of the things that attracted me to the project. And of course all those characters and the actors who played them are amazing.
EM: I was so impressed by the commitment Hayley Griffith and Rebecca Romijn displayed and the way they portrayed their characters, either bewildered or super in control, and kept that throughout. They blew me away.
CS: Yeah, and it's the first time Rebecca Romijn had done like a true horror, something with so much horror in it, which was super fun, and she's a big fan of the genre. And Hayley Griffith is a superstar, so…
EM: Yeah, she was amazing. So, tell me about Fangoria film. Like, that was the first time I'd seen their name attached to a film. I'm a fan of the magazine; been reading it for years. What was it like working with them on this project?
CS: I was really excited that this is the first original Fangoria movie. Like, obviously they're back now and the magazine is having this renaissance. Last year they had their first movie with PUPPET MASTER: THE LITTLEST REICH, which is sort of a franchise, so mine is the first completely original one that they're doing. Obviously they have some plans after my movie. It's such an honor to be a part of the Fangoria family, which is another reason I said yes once I saw it was for them. I was like "Oh my gosh, they're back!" and I was so excited about the magazine and I wanted to be a part of the family. Working with them was great; they're completely dedicated to practical effects, and obviously you've seen the movie and can see that it's all practical. That's just part of their brand and they're all about the fans. For the horror genre, without the fans we are nothing. So I'm so excited that people are seeing the movie and seeing that it's Fangoria and getting excited about the movies that they're putting out.
EM: I can't wait to see what they do next. I can't wait to see what you do next. So, let's talk about those practical effects. Obviously there's some gore; we can't not expect gore if Fangoria is going to put their name on it, but the tone of balance between the comedy and gore made it palatable, never quite squeamish. I almost thought "Oh maybe my wife could watch this movie, too" but she said absolutely not. Tell me about maintaining that balance between the comedy and horror elements.
CS: It's so difficult, because it's such a fine line to walk. I come from a comedy background as well as a horror background. My first couple of jobs in LA were working for Ivan Reitman and Judd Apatow, so I sort of come from a comedy world. I was on-set for BRIDESMAIDS, FUNNY PEOPLE, and GET HIM TO THE GREEK, so I had seen that process. Then I worked for Jason Blum for four years so I saw the horror film process. I sort of just absorbed everything I saw those directors doing and revisited all of my favorite horror comedies. I was listening to commentaries and watching "Making of" featurettes, sort of seeing how the Masters worked to help shape how I did SATANIC PANIC. So obviously it's a love letter to so many films that I've loved. That tone, it's tricky, but I've got to give credit to the talent. I've got actors who absolutely crush comedy and are also in love with horror, too, so they make my job easy. [laughs]
EM: That scene with Rebecca Romijn as she's pulling Duncan's intestines out through his mouth and the bemused look of "Oh, this is interesting…" Perfect.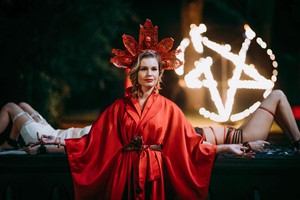 CS: [laughing] Uh-huh! Uh-huh!
EM: Speaking on those influences, I noticed really great rich red color palettes that looked like nods to classic Italian horror. What were some of those influences that you leaned upon while putting this film together?
CS: A lot of movies. JENNIFER'S BODY was a big one. DEATHGASM, DRAG ME TO HELL, both the EVIL DEADs, the original and the remake, HOUSE OF THE DEVIL, RACE WITH THE DEVIL, and really society, as well. And yes, the color palette: I'm a big Dario Argento fan. Particularly SUSPIRIA. We really wanted this movie to look vibrant and rich, and so I owe a lot of credit to my production designer and costumes, both the wardrobe department and hair and makeup. We were looking at the movie and with every scene we thought, "Okay, what would Martha Stewart do? What's the upper-class version of the basement or forest Satanic ritual? What would Martha do if she was throwing a Satanic party?" [laughs]
EM: [laughing] I love that thought process. [The visual of Martha Stewart basting a human heart has become lodged in my head at this point and it takes me a few minutes to regain my thought process.] Although this film is a horror comedy it seems very timely in its depiction of class differences. Was that an intentional device or a happy accident? What do you feel this film says about class differences, at this time?
CS: Another thing I really loved about it when reading the script was the commentary on classism. I was eager to explore that in the movie, and very attracted to that in the script. It was intentional, and although I think it is very now I also think that classism is something that we've been exploring since the beginning of civilization, basically. I think that perhaps we're more attuned to it now because of the political climate but it's always been there. It's something I'm personally fascinated with; I come from sort of a middle class family in the Midwest, so I can relate a lot to Sam. I don't know what it's like to have money, I've had to work for every little teeny thing I've gotten, and always had a day job and things like that, so I related a lot to Sam's character. But, also, shooting in Dallas in these incredible houses, it was amazing. Like how cool is it that we get to see into these awesome houses? And everyone was so lovely that we got to work with. But, yes, classism is something that I've always been interested in and fascinated with.
EM: Tell me more about Hayley and Ruby's on-set relationship; how they created that Thelma and Louise dynamic?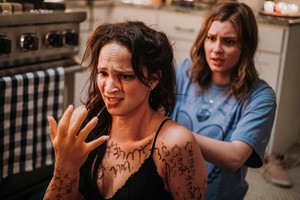 CS: They had never met each other before, previous to this movie. Ruby was the first person cast to this movie. I'm a huge fan of hers; I loved the HAPPY DEATH DAY movies and "Shameless". Hayley, this is her first feature, and it's funny because the first time they met we were doing a read-through of the script and they immediately fell in love with each other. They're best friends and will be forever. Watching them work together was so much fun. One of my favorite scenes is the skin sealing in the kitchen; they took such good care of each other in that scene. And when Judy says "You're a blue collar badass that just won't quit and I'm a spoiled brat with a gun," that's the heart of this movie. If you look at Judy's arc through the movie, she starts out with this girl tagging along with her and just annoying her, but as the movie progresses she realizes that, especially after the skin sealing scene, this is the first time she's probably had a real connection with someone, especially in her age group. She's used to these superficial relationships and now she's having a real one with this girl who comes from a totally different background, but you see that they can still have this bond together despite where they come from.
EM: I also think there's some underlying commentary to how quickly Jerry O'Connell can get undressed off-camera when he thinks he's saving a woman with his sexuality. What was it like filming that scene?
CS: Yeah, that was a really fun day of shooting. Jerry is wonderful. I've been a fan of his for a long time and I got to talk to him about working with Wes Craven and obviously he's done horror in the past. Really fun scene! He and Hayley had a blast working together. It was so fun just blocking it and working it out; he's such a nice, chill guy and having to be this sort of example of toxic masculinity was really fun to watch him try to transform into. That part is very ridiculous and I think only a certain kind of actor can pull that off and he totally nailed it.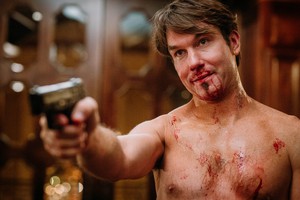 EM: I watched the movie the same night as I watched the DC Universe Animated Feature HUSH wherein he voiced Superman, so it was interesting to hear his Superman and see that character in the same night. It was a bit of a whirlwind.
CS: [laughs] That's awesome!
EM: So what do you hope to see from the reception of this film? Could this be a franchise? Could we visit these characters or this concept again? What do you hope to see this movie become?
CS: In terms of franchises, I would totally be here for a SATANIC PANIC sequel! That's not something we have discussed; it's a standalone as of now, however what I'm hoping is that people just have a blast watching it. We're in kind of a tough time right now and I just want people to have fun watching something and, for me, I want a group of teenagers to have a sleepover, rent it, and watch it and say "Oh man, I would love to make something like that!" I want to inspire future generations of horror lovers to maybe want to make movies.
EM: I would like that as well. What's next for you?
CS: I'm in the process of casting my next film which I can't say too much about because we're still working out contracts and deals and hope to be shooting at the end of this year or early next year. There's a couple of other things I'm attached to so I'm sort of seeing what will happen first but more horror is in my future, for sure.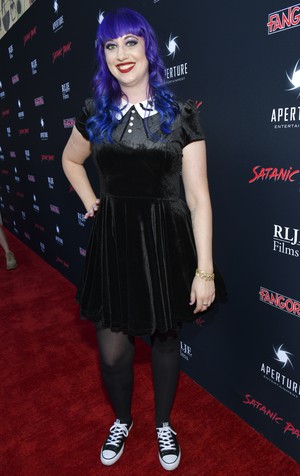 EM: Thank you so much for talking to me, Chelsea, and I wish you all the success with SATANIC PANIC and hopefully I'll be talking to you soon for your next film.
CS: Yes, great! Thank you so much, Eric.
SATANIC PANIC releases in theaters, on Digital and On Demand, on September 6th. Grab some popcorn and friends and just have a great time watching it. It's a Hell of a good time!
See you at the movies!
-McEric, aka Eric McClanahan-