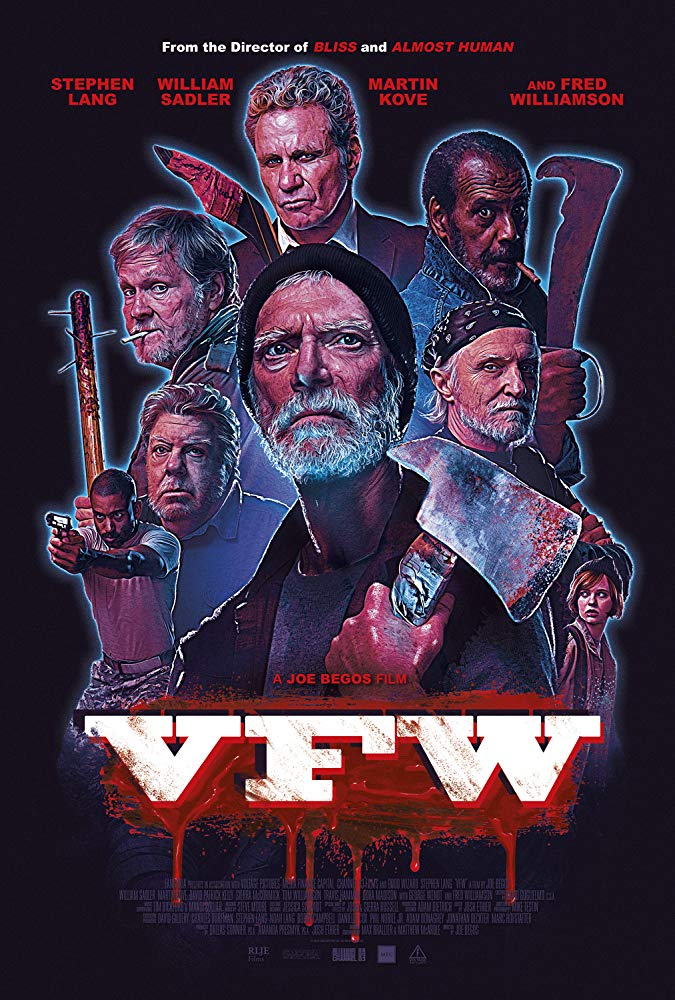 Back In September at Fantastic Fest, I had the absolute pleasure to hang with legendary actors Martin Kove and William Sadler to talk about their new film VFW. The duo star alongside Stephen Lang, Fred Williamson, David Patrick Kelly, and George Wendt as a group of veterans who are forced into defending their local VFW against a gang of hyper violent thugs. Needless to say, the old timers are up to the challenge and a most epic bloodbath ensues. You can check out my full review from Fantastic Fest
here
. I could've listened to these fellas tell stories for hours, but sadly we were only able to scratch the surface in my allotted 15 minutes. Regardless, I hope you enjoy our chat as much as I did!
Annette Kellerman:
Hi guys! I'm very pleased to speak with both of you guys about VFW.
William Sadler:
Thank you.
Martin Kove:
Thank you.
Kellerman:
I mean, what do you think whenever you read a balls-to-the-walls script like this, where it's just kind of mayhem? Are you just like, "Yes!" Or maybe a bit more, "What the hell?"
Sadler:
Mayhem is a very good word. I don't know. It looked like a fun. It looked like a fun blood bath, siege movie action film. And at this age I don't get asked to do as many action films as I used to.
Kellerman:
Question number 5, marked off.
Sadler:
Shut your cake hole. But then, every time the agents talked to me about this job, they said, "Well, Stephen Lang, Martin Kove, you know, David Patrick Kelly, George Wendt," he's on and on and on. And I was like, yeah, okay. All right. Okay. I didn't, you know...how bad could it be? Even if the movie's awful, it'd be great fun to hang out with... You know, this is my, this is a crew.
Kove:
And it was Texas.
Kellerman:
Did y'all shoot in Texas?
Sadler:
Yeah.
Kove:
Yeah, we shot in Dallas.
Kellerman:
I did not know that.
Kove:
Texas is always fun to shoot in. Texas is always fun to hang. Yeah, I really like it.
Sadler:
Just stay hydrated.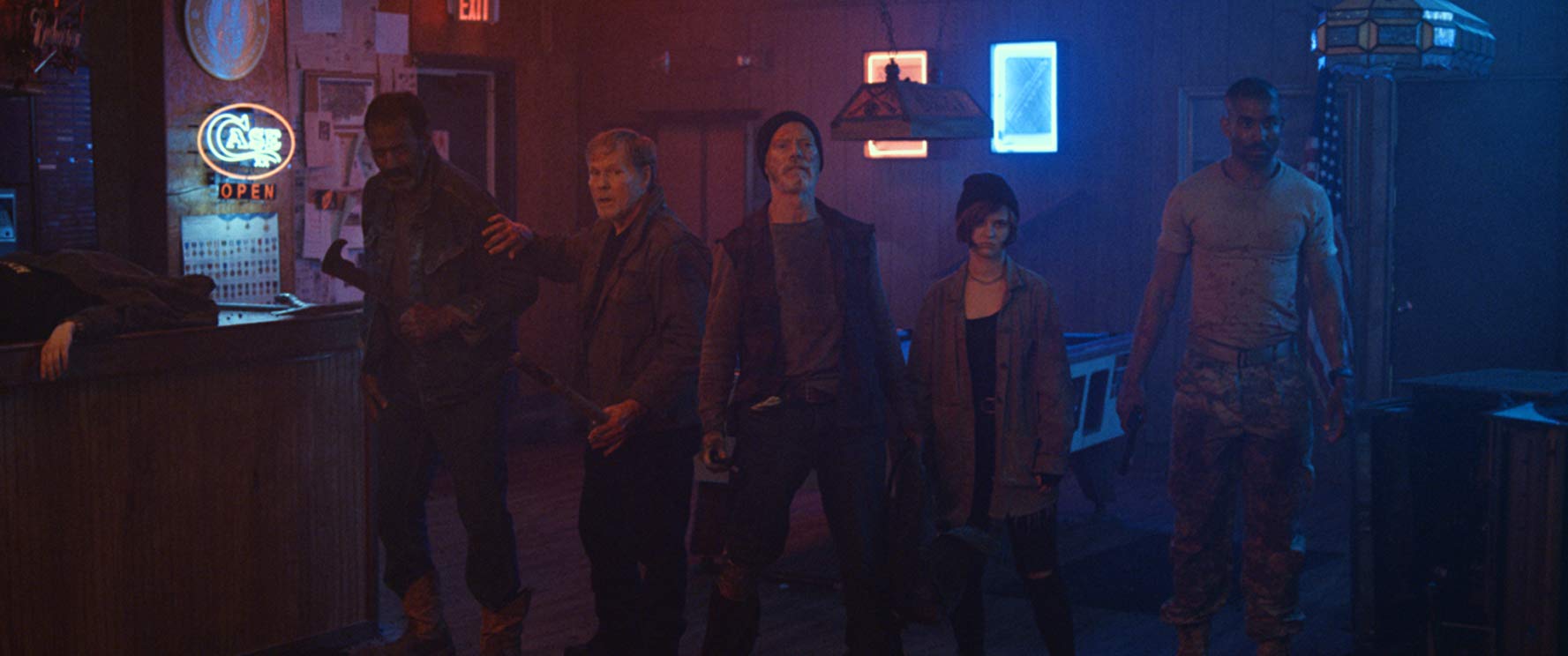 Kellerman:
I have been trying to figure out how to ask without being insulting, but Mr. Sadler pretty much already answered for himself but do you still come across a lot of roles for characters your age that get to be so physical? Because you guys are kicking ass in this movie and inflicting a lot of pain.
Kove:
So my son, Jesse, he dies at the end.
Kellerman:
Oh nice.
Kove:
His is one of the asses we kick.
Kellerman:
(to Jesse Kove hanging out for the interview) You got your ass served to you, sir.
Kove:
Yes. He's axed to death.
Kellerman:
A lot people are killed in various creative ways.
Sadler:
I don't know. Your career. You're still kicking butts, I think.
Kove:
In Cobra Kai it's occasionally physical. But it's harder. I had two shoulder replacements, knee replacement. You know, it's, it's, I once went to the Egyptian Theater and they had a bunch of road movies that I had done and White Line Fever and stuff.
Sadler:
Oh my god.
Kove:
And I would see myself...
Sadler:
That would scare me to death.
Kove:
...In the 70's just take these punches. And I would, because you never got much, you know, you didn't get a lot of dialogue. You were just new to the business. I would take these punches and take the fall and loft myself up. Now you take a punch, you fall down. And I could see the movie, when I remember seeing White Line Fever and I said, "That's why my back hurts right now." And my shoulder is all messed up.
Sadler:
That's when I did that to my finger.
Kove:
Yeah. And you get so adrenalinized you do all that. So now I've got lots of ailments. So I work with the karate guy. And we do that for specific scenes in the ten episodes. But you try to hide all of those physical handicaps because a gig is a gig. If it's a physical gig it could be a lot of fun like this.
Kellerman:
Yeah.
Sadler:
Yeah. See when I take the punch, somebody else falls down. I'll do the head snap and "Oh!" I have exactly the same thing. I look back over my career... Die Hard 2...I know exactly when I fucked up this hand.This finger doesn't work anymore.
Kellerman:
Oh, it's on celluloid! Thats crazy. I love that.
Sadler:
The things that I... The things that we used to do when we were young and made of rubber, you know?
Kellerman:
Yeah. Clearly, both of you guys are veterans of working in ensemble casts, but can you talk a little bit about... (to Kove) you get to be the shit-talking shyster. (to Sadler) you get to be sort of the lovable drunk. I mean, can you talk about finding your place to shine within such an incredible ensemble?
Kove:
Well, (to Sadler) your place to shine was, his character was written heroically through the whole piece. You know, and I, I loved his character.
Sadler:
He always wanted to play my character.
Kove:
I wanted to play his character!
Sadler:
He wanted to play my character and I kept saying, " Martin, I'm playing the character, okay?"
Kellerman:
Hand's off!
Sadler:
"...and you're playing your character."
Kove:
I could never have done it. I mean, you know, it was whole different casting and I never could have done the schedule he had anyway. He was in almost every day. I couldn't. But the bottom line was that in a capsulized version, my character was never written as a hero. If I was going to play this game with the guys, I wanted to be a part of the heroic trio of Lang and... Bill's character. And I wanted to be in Vietnam with them, I made sure that was written in there. And I made sure that when I died I didn't get in the face of other people's scenes because that's one of the glowing parts of what happened there. There is no one-upping between any of us and that's why you sense the camaraderie as such a rich experience because we weren't trying to do that. In my planning of the rewrite, I did not want to step on anybody's toes and take anything away. I just wanted to embellish this guy.
Sadler:
Yeah.
Kove:
I really want to make a move. A little noise.
Sadler:
And you were absolutely right to do that, too, because it was...
Kellerman:
It worked so well.
Sadler:
Yeah, yeah.
Kove:
Thank you, thank you.
Sadler:
And I thought, I thought what you did in it was completely in keeping with the character as well. You know, it was, it came out of who he was, this car salesman, you know?
Kellerman:
Absolutely. And then you get to be the loveable drunk, but...
Sadler:
We haven't seen the movie yet, so I'm not even... I'm not sure. I know...
Kellerman:
What? Wow. You're in for a really super treat.
Sadler:
Oh god, I'm so nervous.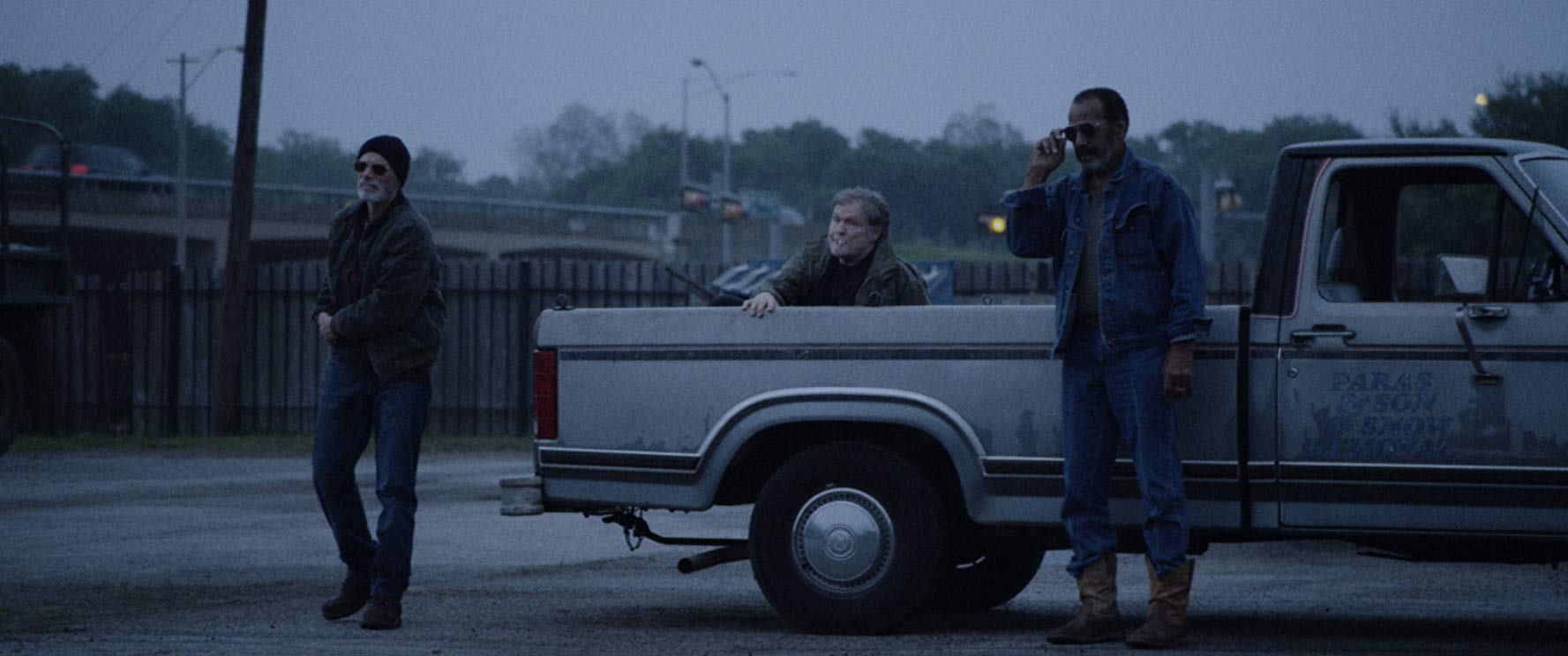 Kellerman:
As you said, you guys are portraying Vietnam veterans in the film, hence the name VFW. It must be tricky to stay respectful while also creating characters that are complex and have...they aren't perfect. So I mean.
Sadler:
I think these characters were drawn in the script. They were sort of drawn with... with a wide brush. You know, they were kind of big, big clear colors, you know. But not, not a tremendous amount of detail in terms of who they are and how they interact. And that was really what was the lifesaver, for me anyway, was finding the, finding the richness of the relationships. How, how they bounce off from another became everything. That was how the scene lifted off the page for me. Otherwise it was, you know, line, line, line, you know?
Kellerman:
Yeah. Well I mean the sense of camaraderie definitely comes through. I mean, was that all on screen or is that also in real life?
Sadler:
Well, I guess we like each other okay.
Kellerman:
You're like, (points to Kove) "I fucking hate this guy."
Kove:
We've been asked the same question.
Kellerman:
I'm sure, yeah.
Kove:
But it's okay because it was all...
Kellerman:
So genuine.
Kove:
Real, accidental. He, it was his birthday the first couple of days we went to a cigar bar, we had steak We just...
Sadler:
Great night.
Kove:
We just work together and meld together. We all were cinephiles. So we, you know, all knew movies, we all knew each other's work, it was easy to get along and the three of us and David just, we clicked.
Kellerman:
Just telling stories and speaking the same language...
Kove:
Yeah. And it was, there was a... Well, we have this huge shared background in the business.
Kellerman:
There must be so many crossovers in that Venn diagram.
Sadler:
Hundreds of projects between the four or five of us. And there also was a lack of ego, you know, and there was no need to one-up anybody , you know... You've worked with people that are like that too.
Kove:
Unbearable.
Sadler:
It's, it's what they call a zero... zero net gain or something, whatever that is. Where if he's good, it's at my expense and that's, and that's not the case. I think about that. There was a moment at the bar where I come over and... it's just the two of us and you're having trouble holding it together. And I just, it became, it became a different kind of little moment. It wasn't really written that way, but I come over with the cigarettes and I offer you one, what have you. And it just became this like... that's the meat, that's the...
Kellerman:
Yeah.
Sadler:
I don't care about the blood. You can, you can keep the blood.
Kellerman:
There's a lot of it.
Sadler:
I mean, I don't go to movies that have that much blood. I'm not a... I shouldn't say that.
Kellerman:
No, it's fair.
Sadler:
But I'm not a big... I'm not a big slasher... Slasher gasher fan. What I'm a fan of are human beings. And what was fascinating is watching these guys who have great love for one another come under attack and fight, you know?
Kellerman:
Fight for honor, yeah..
Sadler:
They're not heroes.
Kellerman:
But they are.
Sadler:
But they rise... they rise to the occasion. And that's what I think you react to as the audience.
Kellerman:
Touching on what you were just talking about... I mean you're all incredibly prolific in the film industry and this film has a bit of a throwback vibe. And so what is it like if you were part of that original thing and now we're seeing the same styles and themes but it's now considered throw back.
Sadler:
You mean to watch, to watch something that you were involved in, in the 80s come all the way around and be cool again.
Kellerman:
Exactly.
Sadler:
In the 2010's. Yeah.
Kellerman:
I mean, and clearly with Cobra Kai, it's blatant. I mean, so can you guys just riff on that a little bit?
Kove:
I used to wonder when I went to see a John Wayne movie... Number one, does he go to the bathroom? I used to wonder that.
Sadler:
The way he walks, it looks like he doesn't.
Kove:
Does he do... My purpose was, does he do what we do? Because John Wayne is...
Kellerman:
He's otherworldly. He's bigger than life.
Kove:
He's otherworldly, right? I started seeing a lot of stuff I was doing early on in the 70's, the guest spots on TV cause they come up on Direct TV on this channel. And they were horrible acting. It just, you know, it was just like, it wasn't what we did.
Kellerman:
Sure.
Kove:
My indicating, my over the top. Everything was way, way too... It was too much to do. But I was hired a lot and I worked a lot and I slowly got a little better. I remember Ed Harris came to see me in... right around on Melrose in a play, Burn This. It was a Sam Shepard play and I said to Ed, "What'd you think, Ed?" And this was about 20 years ago. We're on the board of the theater together. And I said, "Ed, what'd you think?" And he said to me, "Marty, I liked the quiet moments," which means we were acting our ass off.
Kellerman:
A subtle note.
Kove:
So, to answer your original question, I really get a kick out of seeing that shift, but thank God that what we were, what we were able to do, creating moments permeates our work now versus what I did then.
Sadler:
What was going on then.
Kove:
Then I was new. I wasn't seasoned. I didn't realize that when you do an improv, you don't have to talk because you can listen. You know, when I was Sean Connery's stand-in in 1971 in the Anderson Tapes, the greatest thing I came away with was watching this guy and listening.
Sadler:
Huh.
Kove:
It was so interesting to watch Sean Connery listen and I was a glorified extra for like eight weeks to learn so much.
Sadler:
It's a great lesson. That's a great lesson.
Kellerman:
How about you? Is it a total trip just to see it all come full circle, is it?
Sadler:
It is. It is, I guess... Does it, does it have a 90s vibe? This thing, this...
Kellerman:
I feel like it's more of a cannon 80s to me but... yeah.
Sadler:
Oh. Damn!
Kellerman:
It's all your interpretation, right?
Sadler:
Yes. It's everything old becomes new. It all comes from, yeah... I know. I'm enjoying it. There was... you would love, you would've loved... There was a circle of chairs in the other room. We shot in the bar. They'd finish a set up and we'd go to the other room and sit and wait for the next setup. And the stories. We'd go around the room one after another, after another, after another. It was like these reminiscences and...
Kellerman:
That's my jam.
Sadler:
We had been, you know, it was just this lesson, if you sat there and never said word, you just got this education and you know, movie history. It was a seminar. Lang has got thousands of stories about people he's worked with.
Kove:
And Fred [Williamson] is talking From Dusk Till Dawn.
Sadler:
You couldn't help it... it couldn't help but influence what you were doing.
Kellerman:
(publicist gives the signal) Oh no! Our time is up! But I want to hear more stories!
Kove:
We're having fun here. We don't want her to go.
Kellerman:
Ah man. Clearly this is my jam and I love to hear about all this stuff, but there are other people waiting to talk to you too. I cannot thank you two enough for taking time today to talk with me about VFW.
Sadler:
No, thank you.
Kove:
Thank you.
And there you have it! The guys seemed to be genuinely disappointed that our convo had to end where it did. I absolutely adore hearing set stories- especially the old school kind. I mean, listening to Kove's stories of doubling for Sean Connery on THE ANDERSON TAPES could've been an entire interview itself. I'm so glad to see him in the Cobra Kai reboot and popping up in ONCE UPON A TIME IN HOLLYWOOD. And I could've talked all day to Sadler about the bajillion masterpieces he's been a part of
(yes, even as Death in BOGUS JOURNEY) Sigh. Anyway, I hope you had a good time with this one. Stay tuned later this week when I finally get to share my interview with Stephen Lang and VFW director Joe Begos.
VFW opens in theaters, VOD, and Digital HD on 2/14!