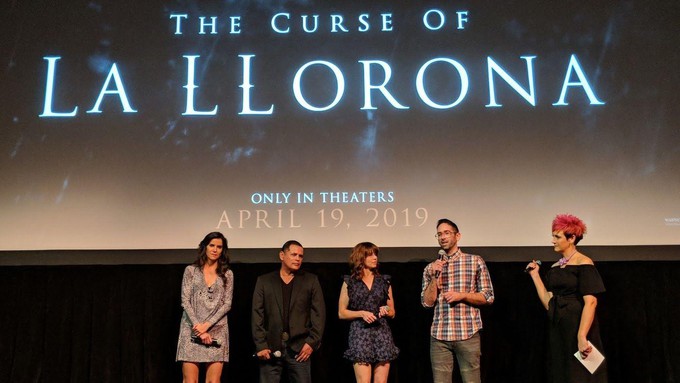 The myth of La Llorona (The Wailing Woman)- a centuries-old Mexican rural legend, in fact- is very simple: a long time ago, during Mexico's colonial period (hence meaning it was still La Nueva España) an incredibly alluring indigenous woman started a relationship with, presumably, a Spanish gentleman who eventually resulted in three children. At some point during their early childhood the man abandoned them and the woman, filled with grief, lost her mind; she took the kids to a nearby river and, methodically, proceeded to drown them all. Then, she took her own life. Once in the Afterlife, she was either denied entrance into Heaven or, suddenly aware of what she had done, refused to move on and her spirit went back to Earth where she'll roam the streets of Mexico City during the wee hours of the night, looking for her children, weeping and calling out: "Ay, Mis Hijos!" (Oh, my children!).
The mostly abhorrent adaptation of this folktale by screenwriters Mikki Daughtry and Tobias Iaconis (enjoying their breakthrough year with this and Five Feet Apart, still in theaters) adds one extra plot point: La Llorona will come for your children and drown them as well now. Why, if she has regretted her crime almost ever since committing it? It is scarier, they maybe thought.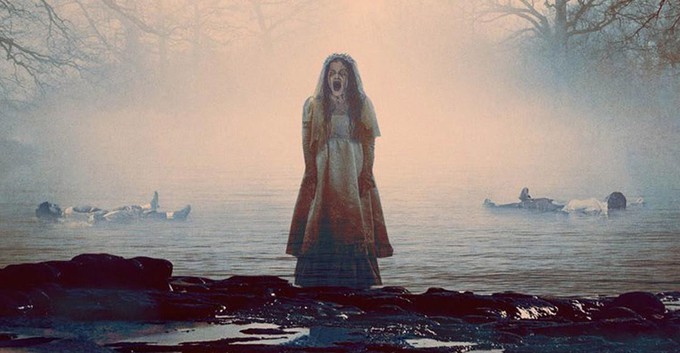 But even although the bulk of the blame goes unabashedly to them the final result is a testament, as well, to first-time feature director Michael Chaves' nearly complete inability to contribute anything to the film but what he found on the page. The first half of La Llorona is almost shockingly unbearable. The aforementioned setup is laid out swiftly during the first couple of minutes. From there, it all amounts to a literal Fibonacci string of would-be setpieces. Wherein whenever there seems to be some real semblance of a story finally about to unfold the film stops dead on its tracks to take a considerative step back and make sure, in the most redundant way, that the audience is keeping up. Worse yet is Chaves' apparently absolute lack of any skills within his toolbox other than his knack for shrouding the frame in deep darkness, turning the sound as down as possible without going mute and, finally, jolting it all the way to eleven to offer a frequently inconsequential jumpscare.
Also, somehow, he manages to avoid building any kind of empathy or rapport between the audience and the protagonists, a Child Protective Services worker who became a widow not that long ago (Linda Cardellini) and her two kids (Roman Christou and Jaynee-Lynne Kinchen) in spite of the camera barely ever leaving their trail. Sean Patrick Thomas (a blast from the past if I ever experienced one since I don´t think I had seen him ever since Save the Last Dance eighteen years ago) as a police detective close to Cardellini, Patricia Velásquez (the girl who sword-fights Rachel Weisz in The Mummy Returns) as the grieving mother whose loss sets all subsequent events in motion and Marisol Ramírez playing La Llorona herself are welcome presences all but hardly enough to tip the balance down an ultimately satisfying side.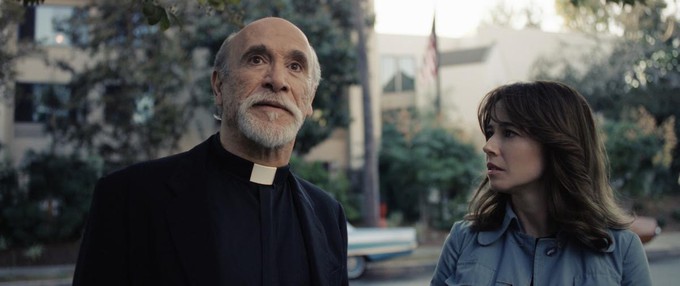 But…
The movie picks up for the last stretch; stating so in such a way very much comes off as a disservice to that unexpectedly fun latter half, a thrill ride owing way more to the likes of the Evil Dead remake or producer James Wan's own Insidious. It kicks in from the moment Raymond Cruz, the textbook example of an unknown name with a face you'll immediately recognize steps finally into the spotlight. After a career playing either supporting bit parts or flat out Mexican-American stereotypes and makes the most of his woefully wasted character, a curandero who becomes an unlikely source of assistance after taking over from a priest who won´t leave Catholic protocol by the wayside to help the family. Adding its two cents into the mix is the casting of Tony Amendola as a said cleric, Father Pérez, who, we are shown halfway through, is the same priest who tried to help in the case of the titular demonic doll in John R. Leonetti's pathetic Annabelle (2014).
For some reason, Warner Bros.' marketing department didn´t deem necessary to openly announce that The Curse of La Llorona is an actual entry into the Conjuring Universe if, technically at least, not a spin-off per se. How much excitement this discovery ends up drumming up for you will vary, for sure, but it did get me to perk up and wistfully wait for eventual Farmiga/Wilson cameos (spoiler: they don´t come).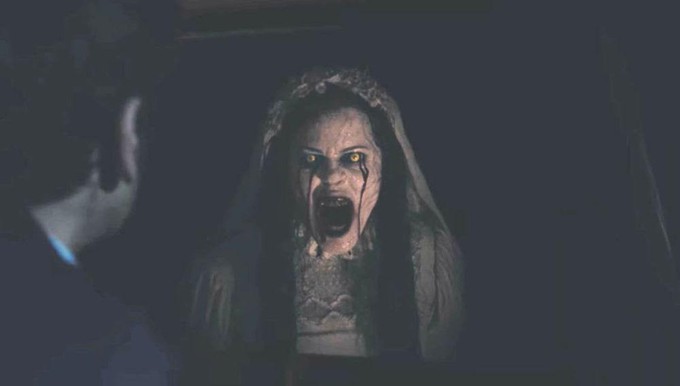 What does come indeed is a siege/home-invasion hybrid that unfurls at a breakneck pace as our heroes try to forestall La Llorona's entrance into their home by any and all mystical means at their disposal? Here, working with something that finally allows him to show off, Chaves at last displays the magical combo of sure-handed confidence intertwined with visual imagination and, along with editor Peter Gvozdas (the oncoming Brightburn), whips up a climax more in debt with Spielberg's Poltergeist than the usually dead-serious dread found in this universe.
The final product manages to escape the stigma of being a downright lousy movie and, aided and abetted by its last desperate Hail Mary, achieves mixed-bag status. The worst part of it all was the lingering sensation of wasted potential at the end; this was a fantastic opportunity to tackle regional horror- set outside the U.S., that is- not by hiding its defining peculiarities but by taking conscious and full advantage of them. Shimizu's The Grudge, Landon's Paranormal Activity: The Marked Ones, even Goyer's The Unborn, all feel unique in their respective ways with their mainstream-friendly approach to Japanese, Mexican and Jewish spooky folklore whereas The Curse of La Llorona, at the very least until Cruz's Rafael shows up, doesn´t feel all that steeped- let alone entrenched- in the culture from which the titular threat stems. If the powers that be had learned the right lessons from last year's Black Panther and Crazy Rich Asians this could have been a wildly different review.
But if Chaves, handpicked by Wan to helm the upcoming third part of The Conjuring, can bring the only glimpsed panache with which he wrapped up this, his first filmmaking effort, I feel we are in for a wild ride at the movies next year.
Eloy Ricardo Balderas Salazar