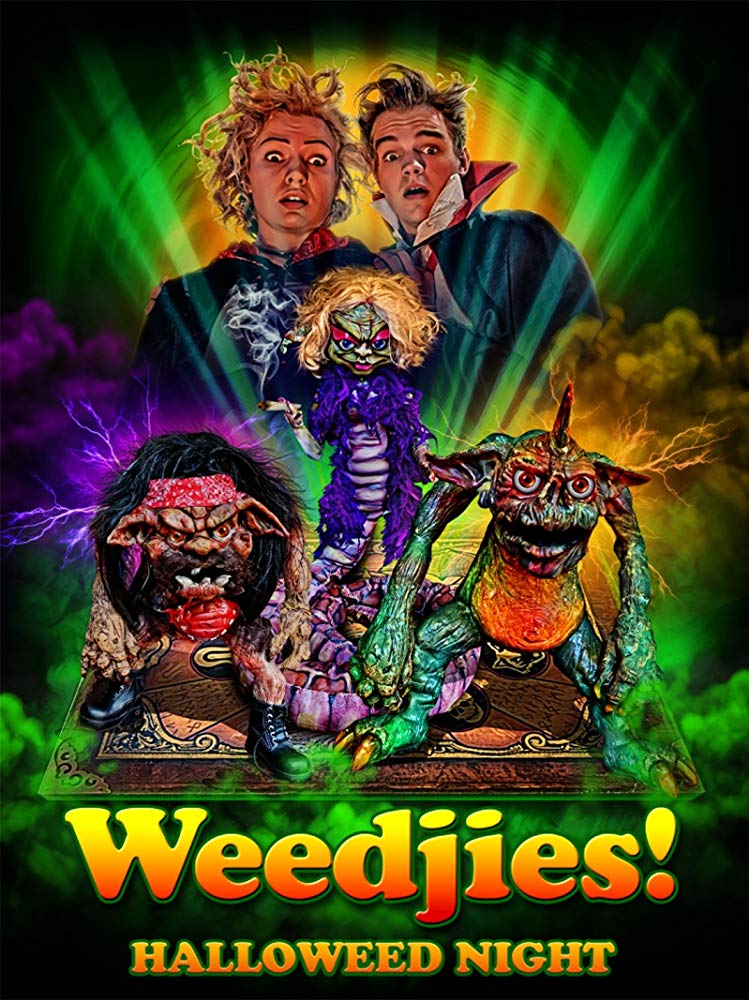 Hey there, horror geeks! Prometheus here with another obscure bit of the macabre!
Released today, I watched the film "WEEDJIES! HALLOWEED NIGHT", part of the " DEADLY TEN" film series I covered a while back! Click here! Check out the synopsis and trailer below!
"It's the eve of Halloween in Las Vegas and three enterprising young ladies are throwing a massive 420 gala. But little do they know, they're also going to unleash a freakish gaggle of party-loving nightmare-creatures from beyond. In the tradition of Empire Pictures classic horror-comedy GHOULIES, the DEADLY TEN presents a new, original tale that's destined to become an instant Full Moon favorite. When a midnight scavenger hunt for a rare bud of weed known as the "Golden Nug" brings a group of party-hungry stoners to a haunted hotel, it seems like it'll be the greatest night ever. But when the enigmatic owner, Madam Haze, introduces them to the Weed-G-Board, they open a portal beyond our world, and unleash The Weedjies. This group of ghastly hysterical creatures has only one mission: Party 'till you die. Before Halloween night is over, the unwitting guests will have to fight for their right to party, and put The Weedjies back in the board - or end up sucked into the netherworld forever."
To be fair, I wasn't expecting much from this film other then a few laughs and some silly, morbid entertainment on a boring Monday morning. I love a good "b" horror movie, and I smoke a lot of weed. It seemed like a no brainer!
While the film did make me laugh a couple of times, it was mostly at parts that I don't think we're actually meant to be funny. The dialogue felt forced and a bit off. Many times, I found myself snickering and wondering… who the hell would actually say something like that? My favorite quote was probably "let's put a nail in that turkey's coffin!"
Unless your Ash Williams, these corny one-liners don't work. What I mean by that, is you need the right actor to deliver the cheese. Like Bruce Campbell. If not, it just feels awkward and weird. Such is the case in this film.
In fact, the writing, in general, felt a bit lackluster. The story as a whole is a really cool concept but is so over diluted with offbeat exchanges between awkward characters, that it's hard to follow along.
Most of the characters are highly stereotypical and not remarkably interesting, with the exception of "the Baroness" (Denise Milfort) who probably should have gotten more screen time.
The "Weedjies" themselves are pretty funny. Obnoxious, but funny! One of them smokes a joint in my favorite scene before humorously killing one of the oblivious potheads who gave it to him. They do resemble the Ghoulies a bit, as mentioned in the synopsis, so that was a cool little nod! I also love the name "Weed-G-Board!" (Someone please find me one of these things, now!)
One issue that stood out to me though was the soundtrack. The score of a film can really add to the ambiance, give it that extra layer and a little more oomph. The flip side of that is that it can also take away from and hurt a film, and when the score is a distraction that's a major problem. Several times I had to turn the television down due to the background music overtaking the scene. The other issue was that in certain instances, the music didn't seem to fit or even go with the film. This area could have used a lot of improvement.
Still, I enjoyed the film. It was silly, it wasn't scary, and the acting could have been better, but it was fun! (Maybe I was just really high.) It's a zany nod to stoners, horror and the Ghoulies! If your looking for a flick to throw on this Halloween to keep the mood light but still stay in the spirit, check out "WEEDJIES! HALLOWEED NIGHT!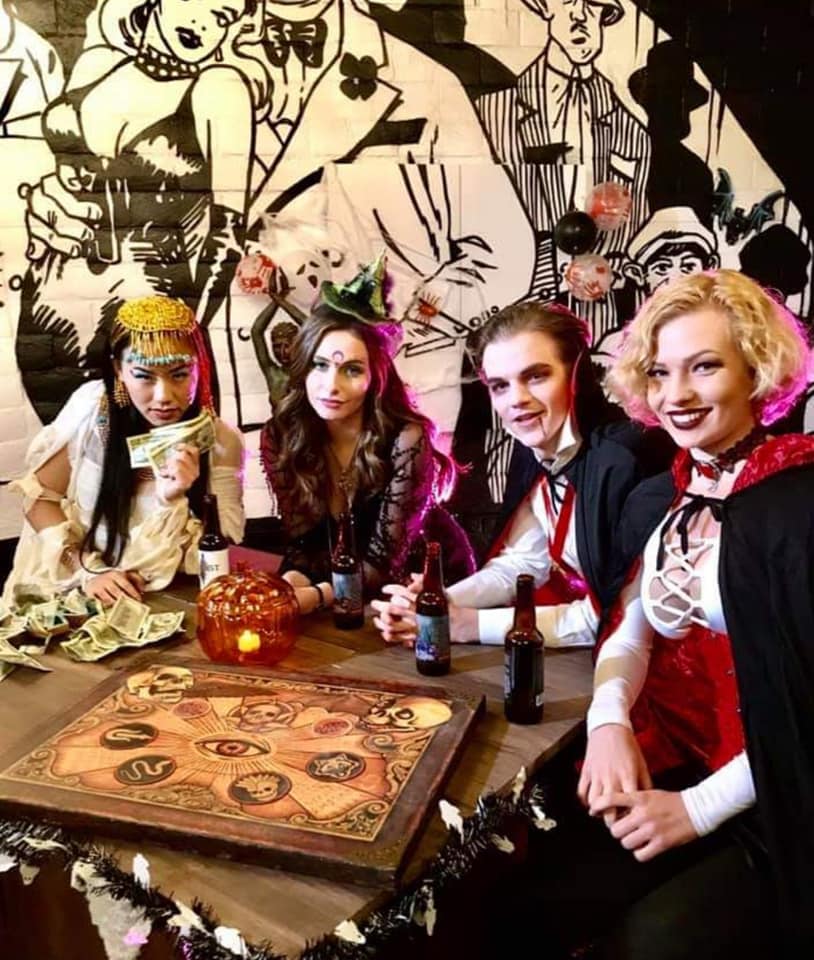 Here's my break down! (Scale of 1-10)

Director: Danny Draven
Writer: Charles Band, Shane Bitterling, and Brockton Mckinney
Starring: Brett Hargrave, Victoria Strange, and Yo Ying
Cinematographer: Howard Wexler

Scares: 2 - Not scary
Story: 3 - Cool idea, could have been executed better.
Acting: 3 - Needs improvement
Special effects: 4 - Decent for low budget
Humor: 4 - Some humor, but often feels forced.
Cinematography: 5 – There's some pretty cool shots scattered throughout the film.
Soundtrack: 2 - In many cases, takes away from the film and becomes a distraction.
Redeeming quality: There's a lot of weed humor and some unexpected laughs!
See the full cast and crew here!
"WEEDJIES" is out today and is the first from "the Deadly Ten" film series! You can watch it now on Amazon Prime or The Full Moon Features App! Keep your eye out for the rest of the films, coming soon! Next up is Necropolis: Legion!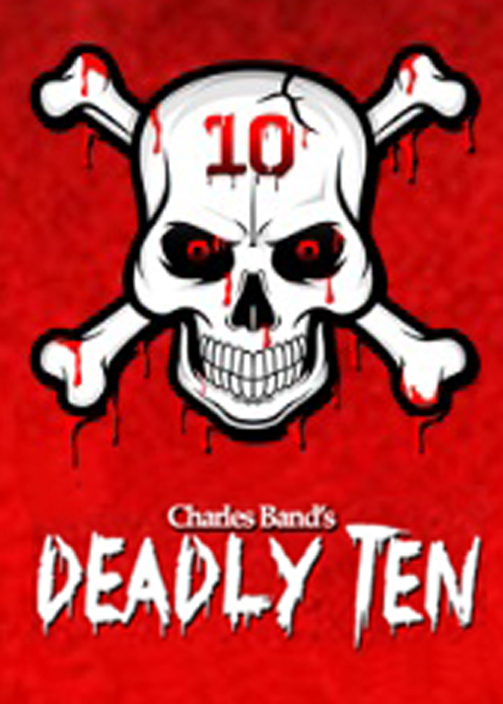 Have you seen "THE WEEDJIES! HALLOWEED NIGHT?" What did you think? Comment below! That's it for now folks! Until next time, keep on geekin' on, my friends!
Joshua "Prometheus" Scafidi