Michael Shannon to join Rian Johnson's thriller KNIVES OUT
According to VARIETY, human misery machine Michael Shannon (TAKE SHELTER, MIDNIGHT SPECIAL, THE ICEMAN, THE SHAPE OF WATER, etc.) is in talks to join (and I apologize for the profanity) Rian Johnson's new thriller KNIVES OUT, starring Daniel Craig, Chris Evans, and Lakeith Stanfield, produced by MRC. You may recall we originally posted about the production here: AICN Link
And oh, boy howdy, how we love to talk about Rian Johnson. So, let's not do that now. Let's talk about this stellar cast, and the gravitas that Michael Shannon can add to this story. Let's talk about the return to grounded, human realism that this story is (rumored) to represent.
Michael Shannon is a powerhouse, and just when I think I've got him figured out he'll do something to completely flabbergast me and throw me off his scent. When I first encountered him I pegged him for a very serious actor who takes on very serious roles and does very serious work because it's serious and life is a toilet so let's get shitty. Think Daniel Day Lewis. But then he'll do something like an episode of 'At Home with Amy Sedaris' or a music video for rock duo Local H, and I see a levity to him I didn't think he had. Then I'll see him on the nightly talk shows, and he's hilarious. It's really funny to hear that Kentucky drawl dole out a whipsmart quip; it takes one by surprise. He consistently impresses me, and to see him attached to a project like this that already has my interest in pretty darn cool, in my book.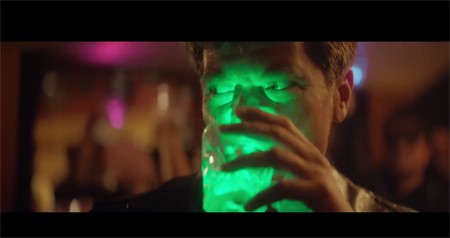 Daniel Craig is another actor that is defiantly avoiding label. From his early work in LAYER CAKE or ROAD TO PERDITION he established himself as a character actor of imminent charm and lasting impression. As he is now indelibly entrenched in the Bond character, it is refreshing, if not somewhat jarring, to see him venture out from it. I'm sure I'm not the only one who had trouble buying his character's meek choices in THE GIRL WITH THE DRAGON TATTOO, turning my face in consternation and the screen and wondering "Why is James Bond such a pussy in this movie?"
Chris Evans is of course the fondest rags-to-riches cast-member story to be attached to this film. From his beginning as the amalgam-everyman lead in the parody film NOT ANOTHER TEEN MOVIE to a gigantic action star to heartfelt turns in indie dramas and even a directorial stint, he's probably seen the most measurable growth of any of the cast to be assembled for this movie,and it'll be nice to see him reunited with his ICEMAN co-star Shannon.
To see Lakeith Stanfield add to his meteoric rise in such company is refreshing, and it's to be hoped that this film will be a return to Johnson's more grounded-storytelling style of his past, more akin to BRICK than to a galaxy far, far away. The movie plans to film next month so as to return Craig to his MI-6 obligations at the start of next year. KNIVES OUT has yet to secure a distribution deal, though with this talent attached it should have no shortage of interest even before the film is completed.
So what do you all think? Are you excited to see Michael Shannon join the cast, and will you be watching the finished product? I, for one, will most definitely be taking in this film at the cinema as I love a good hard-boiled noir crime film, and this team seems poised to give me exactly what I crave.
Until next time, see you at the movies.
-McEric-