Papa Vinyard here, now here's a little somethin' for ya...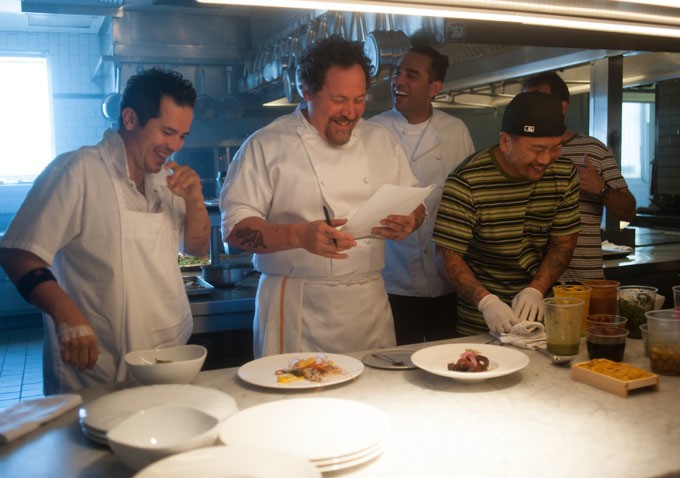 Ahead of its SXSW premiere later tonight, the first footage from Jon Favreau's CHEF has premiered online. As we watch Favreau's titular character dealing with something the real-life Favreau has a formidable amount of experience with, dealing with online commentators, one thing is immediately apparent (and perhaps expected): this is more like his first feature, MADE (and, by extension, his writing breakthrough, SWINGERS) than anything he's directed since. The overlapping, seemingly improv-heavy dialogue, the low-key setting, and the character's petty, aggressive insecurity seem to indicate that Favreau has legitimately come through on his promise to return to his "indie" roots, and has made a movie as far from ELF, COWBOYS & ALIENS, or IRON MAN as you could possibly get (though I'm excited to see his Tony Stark pop up in this flick, especially after he enthusiastically designed a poster for it). After this, he jumps back in the tentpole game with THE JUNGLE BOOK (which just signed its first actor), so let's enjoy this brief return to human-centric productions while it lasts.
One super-cool aspect of this clip is watching Favs in a lead role again. Sure he's awesome in bit parts like Happy Hogan or his WOLF OF WALL STREET cameo (which got an audible response at BNAT), but he hasn't been front and center since the surreal, obscure THE BIG EMPTY, and I'm excited to see him hold down a movie again. Not like the supporting cast he rounded up is anything to scoff at: aside from Downey, John Leguizamo, and Bobby Cannavale (who you can see below), the flick also features Scarlett Johansson, Dustin Hoffman, Sofia Vergara, and Oliver Platt.
There have already been emphatically positive tweets about the movie (like these two from Edgar Wright and Agent Coulson himself, Clark Gregg), and I'd expect a lot more after the film officially premieres tonight in Austin. Things are lookin' up for Favreau's pared-down indie flick.
CHEF starts cookin' on May 9th.
-Vincent Zahedi
"Papa Vinyard"
vincentzahedi@gmail.com
Follow Me On Twitter