Hey, friends! Barbarella here after speaking with Josh Lawson about LONG STORY SHORT, a romantic comedy that doesn't feel like a romantic comedy to me, and coming from me, that's a big compliment. I'm not a fan of rom-coms, in general. They're entirely too predictable, most following the same overused tropes, but LONG STORY SHORT shares a different take. It is not a movie about winning the girl; it's about how one spends his time after he's won the girl. There's so much here about the choices we make in our day-to-day lives and the value and meaning of time. While thought-provoking on some levels, it maintains levity and entertains throughout. It even made me cry a little, and I appreciate a film that strikes an emotional chord.
I spoke via phone with Josh, hoping not to come across as too jealous that he was in Sydney, Australia while I was not. Check out our conversation.
The older I get the faster time seems to move, and I found this very relatable in a lot of ways. What inspired the story?
"Oh, it's just getting older. And like you said, I was able to look back on the last couple of years in the moments of my life and wonder where it all went. You know, I was frightened at the years passing by and the fact that I was struggling to remember the detail of the years, as well. I was worried that I wasn't doing enough memorable things to make life epic, so I was having a bit of a crisis, I think, in my own life. And that's where the film is viewed from."
I love the casting in this. It's very diverse. Was that intentional? And if not, what were the qualities that each actor had that screamed that they were the character?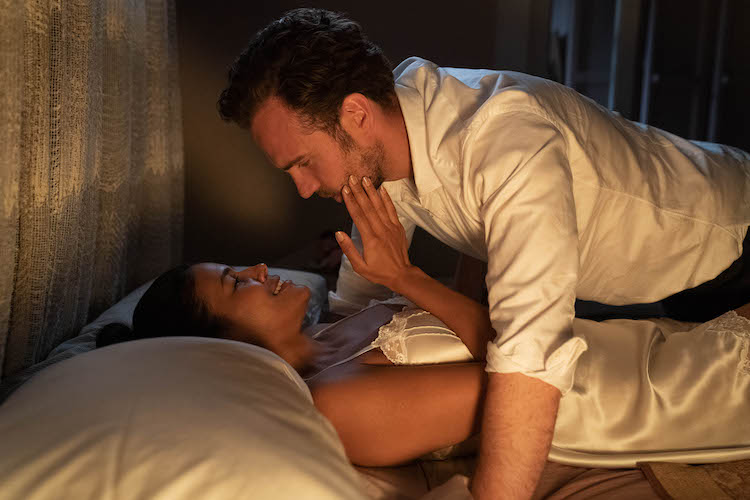 "Oh, look, I'm all for diversity in my films. Also, I'm always sort of hoping that that's the case, but I can say, without any falseness at all, that the reason all of them are cast was just because they were the best people for the job. They auditioned, apart from Ronny [Chieng], who is a friend of mine – I gave Ronny a call and asked him. But Zahra [Newman], for instance, she just auditioned like everyone else, but I think she was like the third person I saw on the tape, and I called my producer straight away, and I was like, " I thought the search would be harder, but I think we just cast her." It's unlikely that happens.
"Casting this sort of film is particularly difficult, I think. I mean, all casting is, but it's so hard because of the nature of the material. The dialogue is really sort of thick and fast, and it requires a skill that not all actors possess. It was one of those instances where only those people, in my belief, after we saw the auditions and stuff, they were the only people to play those roles. It was them and no one else. I was really grateful that I found them."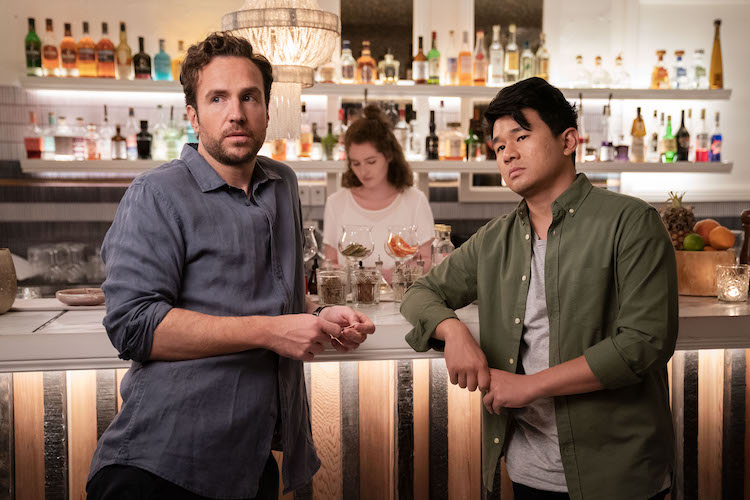 Was there much improvisation or did they stick strictly to the script?
"Not a lot of improv, just given the nature of the dialogue, how fast it moves. In rehearsals, if there were any improv that came up, I'd be like, "Oh, great, that's fantastic. As a writer, let me shape that into it, just to make sure that we get it as streamlined as possible, and there's no air in a scene." That's what we focused on and made sure that we were just cracking along as fast as possible. It means you're not wasting time, and for LONG STORY SHORT, it was just imperative that this was as air-tight as possible, so improv didn't see a natural home in this particular cast except for the lines that the actors had come up with during rehearsals."
How do you think the cast would describe working with you?
"I can't answer that. No idea. That's probably a question for the cast. I hope they would call it a positive experience."
How are you similar to and/or different from Teddy?
"Well, I think that Teddy's shortcomings at the beginning of the film are not unique. You know, I'm certainly a workaholic. I would say I focus on that; I can ignore some other parts of my life. I think all of them need attention. I've never been married, so I suppose I certainly always yearn for, and search for, that romantic connection. I mean, I think that's the longing in the world to be able to love and be loved. And so there was a bit of a fulfillment there. I had a sort of catharsis that Teddy has. Sometimes life kind of wears you down, and it's easy to forget that your time is precious."
Right. Are you somebody who focuses more on the past, the present, or the future?
"I suppose a bit of all three. I think that I'm looking forward, but I'm pretty introspective, so I try to analyze mistakes made, so that I can use that lesson for improvement. But really, I think a lesson of the film is to try to be more present. That's really the hardest thing. The easiest part is to look forward or backwards; the hardest thing is to not do either and to be present in the moment. And in those blessings, the tiny ones, it's like, "Oh, shit, I'll be so focused on losing time and jumping forward and missing what was back there whereas it's an actual fact, I could just get the very most out of the minutes that I have, short and brief though they are.""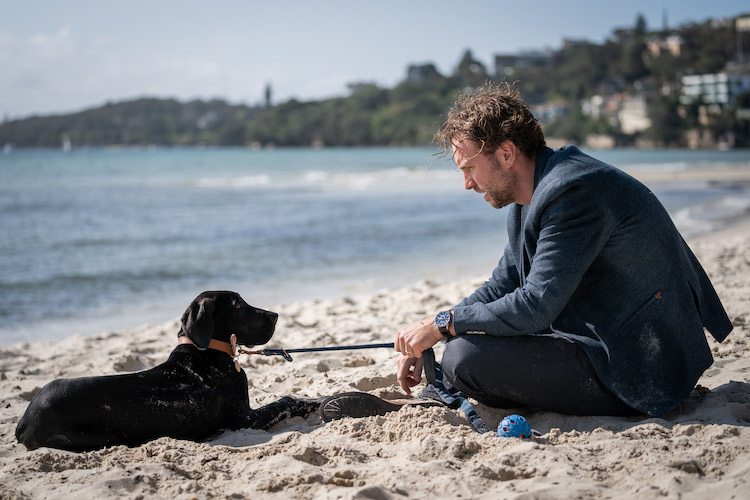 Why did you choose to film in Australia?
"Oh, I think there were loads of reasons. It was a relatively larger shoot, so I had connections here in terms of provisions; we were able to do a lot with a little here. I think Sydney is one of the most cinematic cities in the world, I would put right it up there with Paris, London, New York in terms of being one of the most beautiful cities to photograph. I think it was a bit of a love letter to what we call the Eastern Suburbs in Sydney."
That cemetery is beautiful.
"It's really unique. It's called Waverley Cemetery. It's, surely, one of the most visual cemeteries in the world, right there on the cliffs, looking out. It's really pretty, really pretty. And what I love about it, it's partly on a walking path, a really good walking path in Sydney, and I really loved that because I don't think we should be afraid of death necessarily. It's why I open and almost book-end the film at a cemetery. It's one of the only certainties of life is death, right? As we know this to be true, then what are you waiting for? If this is all to end, then use that as a fire under you. Why waste anything? As I said, one of the very few certainties in life is it's over, at some point. And that's not a morbid thought, well, I hope it's not. I think there should be a celebration about it, not that we're happy about death, but that we're not frightened of it, in a sense.
"So yeah, Waverley Cemetery is a wonderful place. People walk past it all the time. And yeah, I think that's one of the reasons I wanted to shoot there. It's such an iconic location in Sydney that I was really, really grateful that I got to shoot there because it really does leap off the screen."
If you fell asleep on New Year's Day 2020 and woke up on New Year's Day 2021, what would be the thing that you regretted missing the most?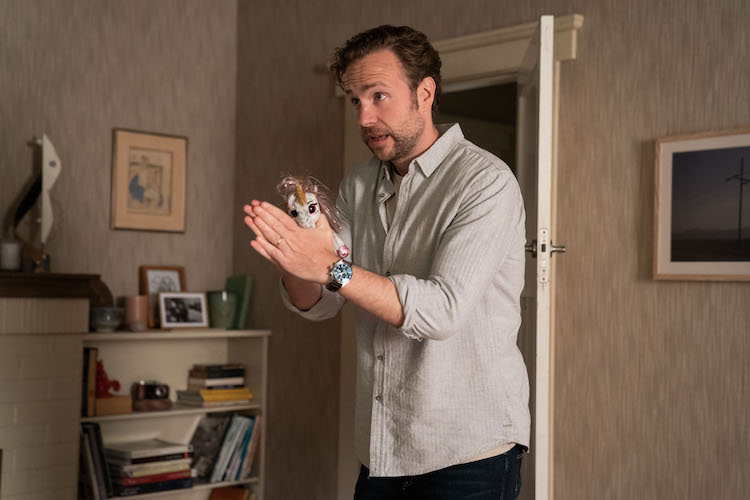 "Wow. Well, I don't know. There's a lot that went on in 2020. I mean, I finished this film, for one. Finishing this was a real accomplishment. I'd probably regret [missing] that. I moved back to Australia, and I suppose that would be quite a shock. I was in America at the start of 2020, but for obvious reasons, I moved back to Australia where things were a little bit more under control. So, I'd be surprised, I think, to wake up and discover I was in a totally different country, but a beautiful country, nonetheless."
Yeah. I love Australia. I'm always excited when I get to talk to an Australian because it's one of my favorite countries I've visited. So out of writer, director, actor, which role do you love the most and why?
"Well, I suppose I would say writing's probably the hardest and the loneliest, but it's the most rewarding when it works. It's painful when it doesn't work. So, I think writing because I think it's the hardest one. I think the fewest amount of people can do it well of the three skills. Directing, in a way, is probably the most fun. It's just so much work all the time, you don't sleep, and blah blah, blah. It's quite broad. It's constant stimulus, constant problem solving, and constantly working people and negotiating and fixing and celebrating when it works. It's the greatest lateral and critical role there is. And if it's writing, you generally have time to fix errors and stuff. You don't really get that with directing. It's more immediate. I love acting, and I don't want to stop, but I just find it's probably less demanding, emotionally and creatively than the other two skills."
Would you talk about what informed the decision to shoot on Steadicam?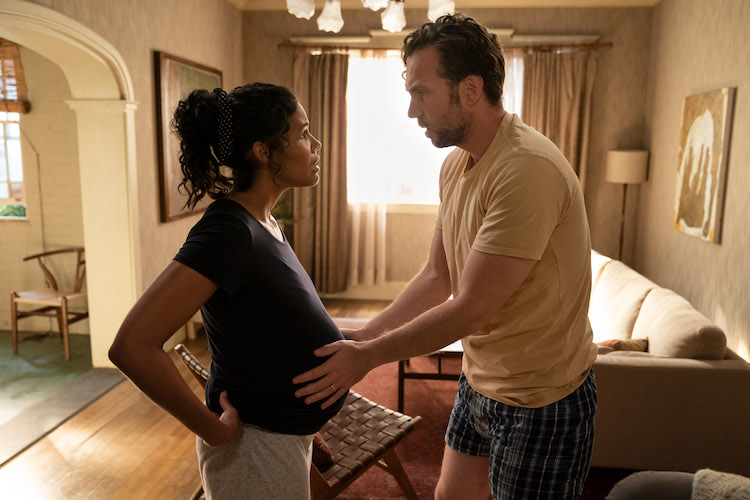 "Yeah. Because it was so dialogue-heavy, we wanted the actors to have a lot of freedom, basically. I didn't ever want there to be two people just standing across the room. I always say, "We don't want a static film." Also, we didn't have a big schedule, so we didn't have the liberty, or the luxury rather, of multiple setups, so we couldn't just throw it on sticks and be like, "Yeah, well I can move up to here, and we'll just do a new set up." It's going to take a lot more time, so what's going to be a little more prudent, would be if we pre-light bigger areas of the set and just follow [the actors] wherever [they] go." I think it'll add to the sense of panic, to the sense of the mania that Teddy goes through. In a sense, we're catching up with him all the time. I mean, just to give us a sense of fluidity. The fact that once he wakes up the morning after his wedding for the first time and for the next 60 minutes, we're with him, more or less, in real time.
"I just felt that the Steadicam helped with that rolling nightmare, that we were constantly on the wave with him, riding it, catching that through doorways. I never wanted to dwell on anything too long. It was very much meant to, from each moment, leap into the next as fast as I thought possible without compromising the moment. And hopefully by the end of the film, when the credits roll, you're like, "Oh wow, it's over."
Like LONG STORY SHORT, my interview ended seemingly too soon. The film is available now On Demand and Digital and in select theaters. Many of the locations are gorgeous and worth seeing on a big screen, but regardless of screen size, the movie offers much through its well-paced storytelling. Check out the trailer.