Freddy-With a review of a must see documentary on the evolution of hip hop from AMC titled HIP HOP: THE SONGS THAT SHOOK AMERICA, that dropped on DVD/Blu-ray yesterday.
If you don't like hip hop currently and never have, this title is probably not for you!
I used to hate hip hop myself. It was the 80's man, give me a break. We were all sected up, had to choose our gang loyalties and mine was heavy metal. I loved Anthrax, old Metallica, everything Megadeath, Slayer, Testament, and yes pretty much all of the glam rockers. Then N.W.A hit and my loyalties were tested. I stole Ice-T's -Power from a friend of mine and wouldn't' stop listening to it, or looking at the pictures inside. The next thing I knew, I was a fan of the medium. I went nuts for AmeriKKKa's Nightmare (Spice-1) and then Doggstyle (Snoop Dog). After that, I dipped into any song or beat I could find. While I find myself to be eclectic when it comes to music, I still can't stand country.
Hip hop in the 80's was breeding a new art form. It's fun to revisit, because everyone did their thing so differently. Nowadays, I hear a lot of mumbling and auto-tuning. While at times, I dig those sounds, they tend to drone for my older ears. My kids make sure I am droned out most night.
HIP HOP: THE SONGS THAT SHOOK AMERICA is one of my favorite documentaries of the year. I had so much fun reminiscing over this 6 episode series directed by One9 & Erik Parker.
Each episode dealing with an important song in the evolution of hip hop.
I have a mini breakdown of each episode below so, der be spoilers ahead:
Episode 1: JESUS WALKS (2004) – Kanye West.
Pretty smart to lead this off with the king of controversy himself, Yeezus. In 2004, speaking up wasn't exactly in high demand. The Dixie Chicks had tried and immediately stopped selling albums. Kanye arrived on the scene and sold 21 million albums. Who couldn't appreciate a man who made a song with his mouth wired shut after a near fatal accident in 2003? Up until that moment, he'd only been a producer in most eyes. Though he was rhyming back with the Go-Getters in the mid 90's.
All Kanye wanted, was what most of want-To make our mama proud. Her being an English professor made it hard. Especially when you want to make your living spitting rhymes. His first album The College Dropout addressed his feelings in an almost nerdy way. A direct counter to the angry rappers of the time.
For Jesus Walks he sampled ARC's,"Walk with me."
By speaking on religion in a way that hadn't been done before he clearly influenced the likes of Chance the Rapper, Childish Gambino, and even Drake. This song opened up hip hop to an entirely different audience and a star was born. Kanye says it best, "Vilified or misunderstood, I just want to make a difference."
EPISODE 2: Alright (2015) – Kendrick Lamar.
Kendrick hails from my old haunting grounds in Compton, California. Ok, I only lived there for about 10 months but it's a source of pride with me. Kendrick started blowing up and ends up opening on Kanye's tour. Three of his closest friends died that summer putting a damper on what should have been a celebratory time. I can't imagine leaving the tour bus to go to a funeral and get back on the tour bus.
One of the best lines in Alright is "Alls my life I has to fight," most don't know he stole that line from Oprah in THE COLOR PURPLE.
Following in the footsteps of the Isley Brothers, Marvin Gaye and Public enemy (Fight the Power), he has created a mantra for his people.
"Alright" is currently the BLM movement's anthem. They see it as the new "We shall overcome."
I realize that's really divisive to people these days but it's a great song and Kendrick won a Pulitzer Prize for a reason. He spoke about how he wants the world to be and I agree with him. Even though I suspect there will be more hardship ahead before we ever find our calm as a country.
We're gonna be allright!
Episode 3: Rockbox (1984) – Run-D.M.C.
In high school, I loved MTV but even I noticed it was all white artists on inception. 1984 was distorted guitars moment in the sun. While I know they could have chosen "Walk this Way," I'm glad they didn't. Rockbox was the true first blend of rock and hip hop. Blending Billy Squire's drum beat from The Big Beat, Eddie Martinez' blues/rock guitar and their rhymes they created an unforgettable blend of genres.
They finally got airtime in 1984 at the Video Music Box and the rest is history. Michael Jackson's label threatened to remove all of their songs and Beat it if MTV didn't start playing popular black artists and won. Prince, Lionel Ritchie, the Pointer Sisters and Run-D.M.C. were the early beneficiaries. Linkin Park, Blink 182, Korn, etc etc, were the later beneficiaries of the ground Rockbox broke.
Eminem said it best, "2 tables and a microphone," started an entire movement.
Episode 4: Elevators (Me & You) ((1996)) – OUTKAST.
Coming out in 1994 with Southernplayalisticadillacmuzik, the world didn't know what to make of Outkast. We were busy with our east coast vs west coast battles. Two live crew owned the Miami scene with their rush tempo and risqué lyrics. No one had time for that bring the funk back southern hip hop. They ended up creating music in the aptly titled The Dungeon, a small hole in the wall on the south side of Atlanta. If they hadn't been allowed to contribute to a X-mas album compilation it's entirely possible we would have never heard of them. Player's Ball (1994) got them much needed play time. They got Fab Five Freddy to visit the dungeon and made The Source magazine. They were blowing up and then they won best new rap group at the Source Awards and the boo's rained down.
The anger at that moment made them head to the studio and create Atliens and the song that rose them high into the sky, Elevators. They've influenced an entire generation of southern rappers (Ludacris, Lil Jon, Migos, etc.) and 9 Grammies later, I don't hear a lot of haters.
Episode 5: The Bridge (1985) – Marly Marl and MC Shan.
This one began the borough wars and later became known as the bridge wars. You had Queens and the Bronx duking it out via 2 different radio stations.. Marly Marl and MC Shan's Juice Crew, wrote their love for the Queesboro bridge community and it found immediate playtime. As did the Boogie Down Productions response "South Bronx" from KRS-One and Boogie Down Productions. The rap battle wasn't done yet and "Kill that noise" blared from the Juice Crew. It all ended with a brutal lyrical beat down by KRS-ONE with "The bridge is over," which was one of the first songs featuring cursing and naming names. The bridge was over indeed. But the rap battles had just begun.
NWA vs Ice Cube, Tupac vs Biggie, Jay Z vs Nas, Drake vs Meek Mill. The list is endless.
Episode 6: Ladies First (1989) – Queen Latifah.
With the male dominated industry of hip hop, it wasn't easy to break in as a woman. Even if you did break, you were dealing with less marketing/backing. Queen Latifah was the exception to the rule. At 17 she quit college to tour. Princess of the Posse took her on a European tour where she met Monie Love. The two collaborated on a hit that my girl still digs to this day. Using the backdrop of a deserted pier and using apartheid in South Africa as her political prop, she created a woman's protest anthem in Ladies first. Queen Latifah had that rare mix of genuine beauty and street cred. I'm sure Red Alert is still kicking himself today for not picking her up right away.
HIP HOP: THE SONGS THAT SHOOK AMERICA arrived yesterday on Acorn DVD. If you like hip hop at all, I guarantee you'll love this series.
Who do you hope they'll cover in season 2? Or what songs? Are you like me and want this series to branch out into different genres?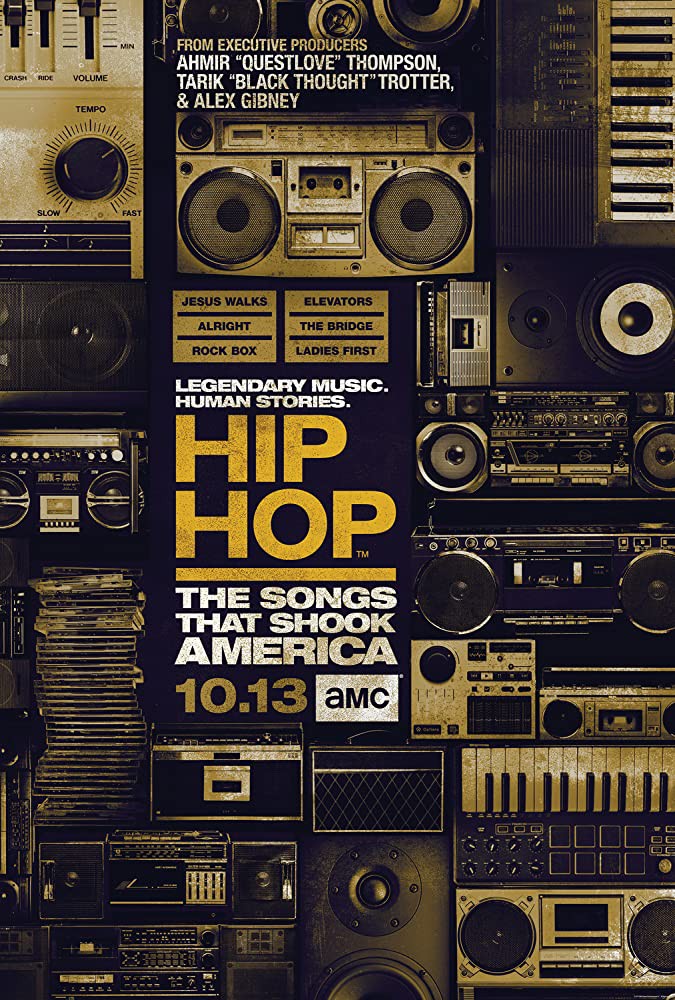 Until the next time,
Cheers!
Freddy Beans