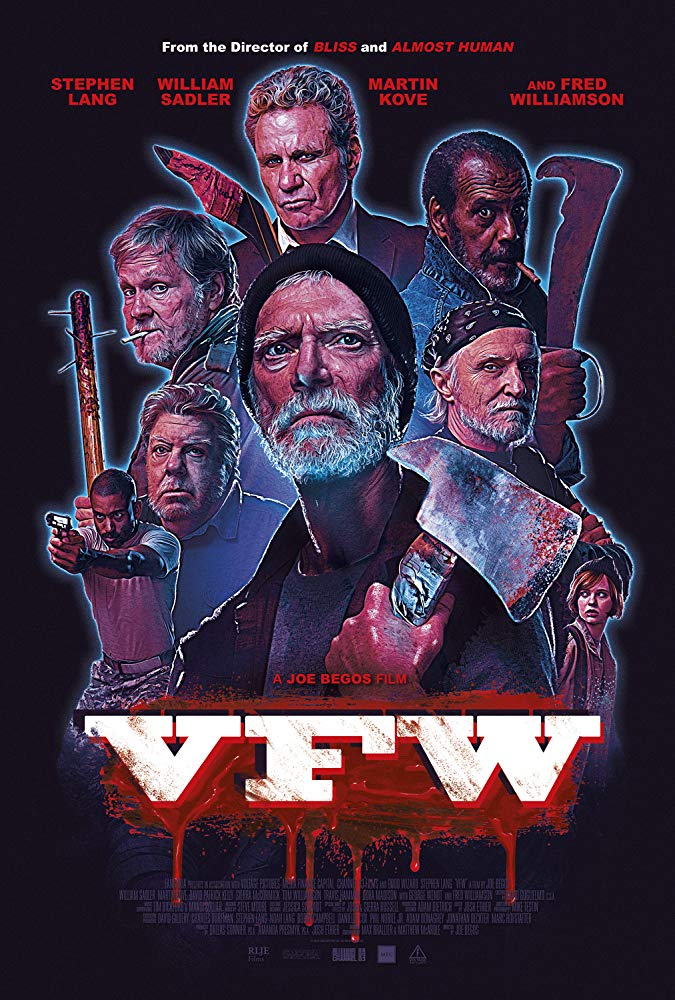 Back in September at Fantastic Fest I was super excited to see the blood-soaked siege flick VFW. It is super hardcore in the splatter department, but also features an incredible ensemble cast of screen veterans (Stephen Lang, Martin Kove, Fred Williamson, William Sadler, David Patrick Kelly!!) who ground all the gore with a sense of honor and loyalty. Check out my review
here
. I was thrilled at the opportunity to sit down with director Joe Begos and star/executive producer Stephen Lang to get their take on the carnage-filled film. Enjoy!

Annette Kellerman:
I'm super excited to talk about VFW. I saw a screener of the movie, and I'm dying to see it big. On the big screen. But what do you do when you read a script like this? Are you just, like, salivating over all the fun little nuggets? What were your first thoughts?

Joe Begos:
I've never done a script that I hadn't written. I've been reluctant to find one because I've been able to make my own movies and you know, I just have very specific sensibility about things I can do. I know what I'm good at, I know where I want to kind of push myself. So I've been reluctant to do that. But Dallas [Sonnier], who produced this and my manager five years ago had found my first movie and goes into Toronto, all that stuff. And then he went into producing with BONE TOMAHAWK and I went, "Dallas, what the fuck? Why don't you produce a movie for me? Like, let's work together." And, you know, he would send me a lot of scripts and they just weren't my thing at all. And then he was like, "I just talked to Fangoria. We're going to make some movies!" So they sent me a handful of scripts and I didn't connect to any of them. But with VFW, I did find a connection. Like especially certain elements. And I went to him and I said, "You know, I think I could do this. What are you thinking budget wise?" And then they told me and I was like, um, let me do a rewrite cause this is...originally a fucking bus crashed into the VFW blew up, and other big stunts. So I was able to kind of rewrite that and lower than budget down and also put my own stamp on it and you know? Re-write some dialogue. Lizard was also like a five year old kid, which would've been a nightmare to fucking shoot. So I was able to get in there and make stuff that was closer to my sensibilities and kind of make it feel like mine. So yeah, it was exciting to find that script that finally compelled me to go do something else with somebody else and see what this is like working with new producers and all that stuff.

Kellerman:
Stephen, you have dabbled in producing in the past, and you are executive producer on this project. How were you drawn to this particular project?

Stephen Lang:
Well, I was sent the script by another person, the executive producer, my son, Noah Lang who's a fine producer in his own right. And you know, when Noah likes something that's a good indication to me. And more particularly if he says, I think this is something that you'll like. And I read it. I did indeed, like I saw that there were opportunities, you know, and that would to kind of take the genre and to really both deepen it and give it a certain kind of meaning. I liked the subject. I liked the character right away. I thought I could do this guy. I can advocate for this guy.

Kellerman:
And how is it leading like such an incredible ensemble cast?

Lang:
When you got guys with this amount of experience leading is a rather simple thing, because basically they know what they're supposed to be doing in the first place. So it struck me that my role was the kind of a friend who kind of leads quietly. He leads by example. Any he runs a tight ship. I mean he'll let Doug kind of smoke his joint in the bar for about a minute and a half because he loves Doug and he knows he's forgetful and then he'll say, "How many times do I have to tell you to that take that shit outside?" You know, so he says it quietly and with affection.

Kellerman:
You're definitely the boss man. I don't want to call VFW a throw back because it's not really a throwback, but I love the whole 80s/90s vibe with the gorgeous use of vibrant colors.

Begos:
I love to do... the way I like to photograph stuff has to come from a place of darkness. I hate super bright over-lit moves. Especially when they're supposed to be really dark thrillers or action movies. So I just go from a place like that. And then there's some that take place in single bars or one location. I mean my apartment is like art directed. It's like black and red walls with Neon. And so I wanted to come into the bar and it's like, all right, what can we do here to really give this entire room texture and also not get bored. So I feel like if we started with the neon signs we'll have the power go out and then have the power come back on, but only half the lights will be on . When explosions happen some of the lights can be strobing. So there's like four or five different atmospheres you go through at the bar. It's all very like very low lit but also dynamic in the way that it looks very colorful, which is my aesthetic. I feel like bringing kind of bold, cinematic classic scenarios and older veteran actors into my aesthetic. It's like bringing those together. I think there's a really cool collision of old and new, which is kind of the theme of the movie. Yeah. That's kind of where that came from. So right from the get go there's very little daytime scenes and we tried to shoot as close to the sundown as we could so we can.

Kellerman:
I noticed the daytime is pretty washed out bleakness where the nighttime stuff is more than vibrant even though it's dark.

Begos:
Yeah, if I could shoot all daytime stuff when its overcast...

Kellerman:
Damn you sun! It was so awesome to see actors-of-a-certain-age all totally kicking ass. Are these roles getting fewer and further between?

Lang:
There don't have to be many roles like that. There just have to be enough for me. That's really the way where I view it, and I think that there are always are and always have been. So you know, the Joe brought up THE WILD BUNCH as such a classic example. And I'm sure there are many others that one could think of, but I don't know. I think that if you can walk the walk then you do it. I think that Stallone and Arnold have probably- and a lot of other guys- have done a lot for this. I think the concept of all old man strong has become more important than it was, you know? So yeah, I just keep the hope they keep coming and you know what? I feel confident that they will as long as I deliver it.

Kellerman:
Yeah. It's just good storytelling.

Begos:
I mean, I love it. I mean, that was the generation I actually grew up loving, so hope they don't go away. And I, you know, I love Sly and Arnold and all that stuff, but like I feel like I wish that they would make movies like this, like this instead of EXPENDANBLES.

Kellerman:
Yes, totally. 100%

Begos:
I also like when older actors start to... like for instance Clint Eastwood in UNFORGIVEN. He still kicks fucking ass in that buts it's a turning point of, I'm an older character now but I can still kick ass. I mean he's in his 80s and still making movies. So I mean I love that. I think that it just comes down to performance, and as long as the project is tailored to the fact of that age and is not somebody who's 75 trapped at 48. It's like somebody who's this age and the movie presents it like that.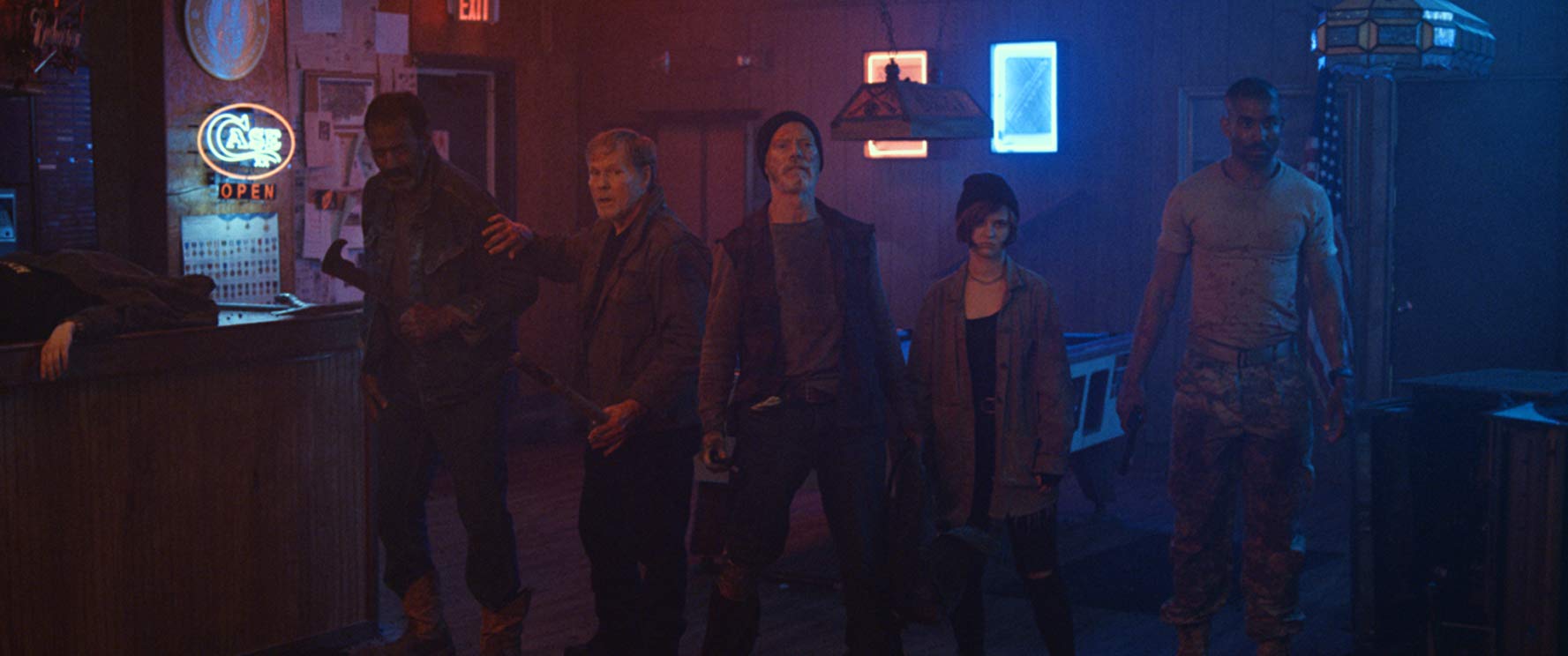 Kellerman:
How did your stunt coordinator or visual effects team take that into consideration when choreographing some of the high intensity scenes? Or did you take it into consideration, because they each definitely get in on some action.
Begos:
I want it to because of the actors are their age. I wanted to just present it like if the actor's comfortable with something I think that it's natural stick to that. But I've also never worked with somebody who was so physically on point and will do the stuff that I wanted to where age wasn't even a thing because he's doing so much more stuff on point and elevating the scenes and beats better than like any fit 35 year old I've worked with before. And then like Fred Williamson, you know the hammer, he's 81.
Kellerman:
Shut your mouth! He's 81?!
Begos:
Yeah! And I'm like, Hey dude, we're going to get your stunt double and we're going to break this chair over him. And he's like, "I don't need a stunt double. And we're like, "But we're going to break this chair over you." And he says, "Well, we better get it right the first time."
Kellerman:
I love that.
Begos:
We did it twice, and he took the hit both times.
Kellerman:
Oh, that makes me so happy. Okay. So I have to just jump to this. How many kills are in this movie? You probably know the exact number.
Begos:
Yeah, I don't know. I wish that there were more. I wish that we had more time because I deliberately tried to set up the audience that this is where you're getting into.
Kellerman:
That first scene is pretty over the top.
Begos:
Things are blowing up and people are getting axed. I wanted to make that stuff really, not complicated, but like this is more going on a pedestal. Then later, it's more quick deaths. The villains die. It would've been cool if we could have had five more days to shoot some more of those things. But then my friends who have watched it are like, "What are you talking about? This thing is violent as hell!" There's got to be like 30 to 40 kills at least.
Kellerman:
And can you talk about working with your effects team? There are so many different, awesome gags. How did you navigate all those set ups?
Begos:
It's a lot. Yeah. Like I was saying, a lot of it comes down to having actors who can perform and nail it, you know, I mean can swing around that. But usually when I have an axis here I can break it down to four shots but then you've got blanket and hit every fucking beat and hit this where it's going to go so much farther than actually doing gags. So then it's becomes, all right, how do you balance what we can do quick and just show off with sound effects and reveals abd how do you balance where you can do big. And also it was very important to me to work with my effects team that I've worked with before because we have a shorthand and I was able to bring them on board and that really helped. And then another thing I do is if I know actors who are playing certain roles where there's going to be a complicated effects scene, I'll plan it out ahead of time. And like still more complicated stuff like a character getting impaled in the head and it blowing up. And we did the second unit days where it was me and three other people and the effects team. So then it's like, all right, we can actually rig these pyrotechnics, we can do this and we don't have actors sitting around or crew sitting around. And it allowed us to actually get three or four days, as long as I mapped out exactly how that stuff is going to be shot and cut. So some of the more complicated effects of body blow up the beginning and stuff like that we shot on day six with nobody else around. So if I wasn't able to figure that out with my editor and how I was going to shoot and I had the experience of doing that, we wouldn't be able to land all that stuff. I had to put that into our 20 days schedule, which we ended up losing two days off anyway. So technically 18.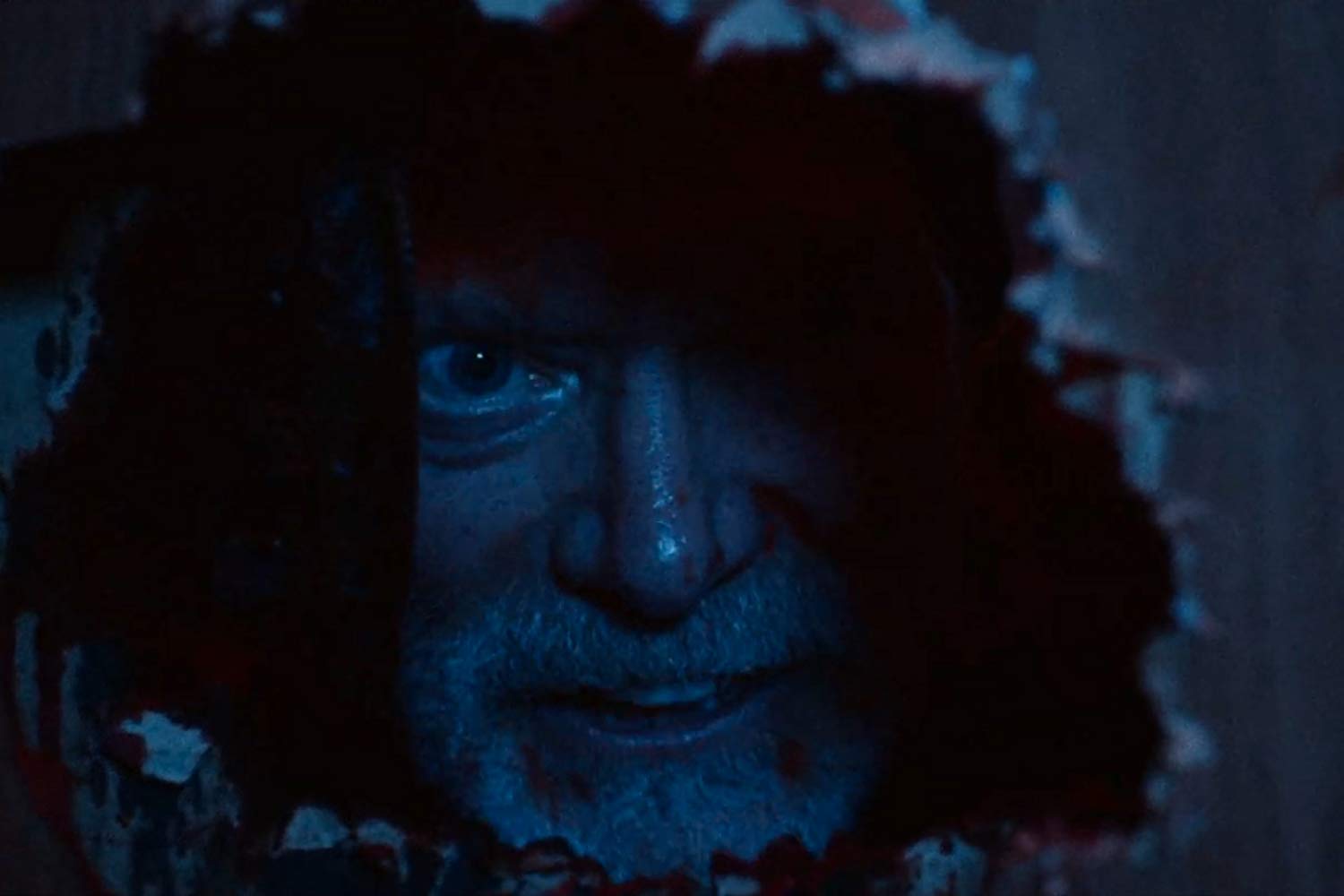 Kellerman:
And then how does that translate for an actor? It seems like a lot to navigate because you're the one inflicting a lot of that pain. How does that work as far as hitting those marks and making sure that the effects and everything are going to look the way they're supposed to while staying in character.
Lang:
When you talk about some of the major effects, you work backwards in a way. We say, okay, this is what we're going to achieve and Joe would let us know what's going to happen. And so then you kind of attract backwards. How am I going to get to that? How, will I get to that point? What's the best way to get to that point? So the big gags themselves act as kind of buoys sitting in the harbor for you to use, to touch on. But in terms of a swinging the ax and hitting your marks, I mean, I believe it's in my job description, so I'm pleased when someone's pleased. But my response to it is that's kind of what I'm supposed to do.
Kellerman:
It comes off as so intricate and complicated. I'm sure it is.
Lang:
It is. But also so much of the time we're not working with a locked off camera. So if there's a slight adjustment that happens, if you do go six inches over a mark- and that will happen. I'm sure I didn't hit every one precisely. But Joe is going to get it. We, we did not do multiple, multiple takes on this show because things were being missed because he got a lot of coverage on everybody and everything. And that gave us a chance to- in the middle of something- say, "Oh shit, this has got to be over here." And by and large Joe was good with that, you know, so everything emerged organically but always leading to what has to happen. It makes perfect sense for everything that leads up the violent stuff.
Kellerman:
I feel like in general- and maybe is a misconception- that genre audiences skew a little more on the liberal side of things. And I consider myself pretty liberal, but I'm also pretty patriotic and I have utmost respect for veterans and their service to our country. VFW has interesting mix of patriotism mixed with pretty far out themes as well. Did you want politics to play into the film at all?
Begos:
I very specifically didn't want to make this a political movie at all. I don't want that to be a discussion around the movie and it's going to fucking be anyway no matter what.
Kellerman:
It probably is.
Begos:
I wanted to just not involve that. These are guys who, you know, they love their country, they were in the war and they're fucking sick of talking about that. So like, you know what I mean? Like they don't talk about politics of just one space in time. Maybe they're not even in the today's political reality, you know? I just didn't want to do that. I just wanted to have, these are the guys, here's what they're about. Fuck everything. Like, I don't want that discussion permeating anything. So like I told the producers right from the get go, I said very distinctly we're not doing any of that shit. It's going to be right down the fucking line. We're not going to. You know, it's about them. It's about the characters. It's about the veterans. It's about the threat. Anybody who wants to see that they can, but I am totally not making a political movie.
Kellerman:
I think it's great because again, people are complex and can skew slightly to either side. Real life is rarely white or black. I come from a family of veterans, and I really like the portrayal of these proud but complex characters.
Lang:
I wouldn't have come aboard the picture if I felt that it was in any way disrespectful to vets, and everything my colleagues and I did and were required to do by Joe was only to deepen the commitment to the veterans that they were and the concept of being a soldier. And I think we were successful in doing that. The other thing I was going to say is that veterans- your talking about the liberal bent, the alternative class thing that's going on. In their own way veterans are kind of an outsider class as well. You know, why did they go to the VFW? It's where they fit in. They fit in with each other. They don't fit in on the outside in normal life. So they really are kind of a subculture. They're an outsider culture, it seems to me. And so when to outside the cultures clash, the way we do in this film, mayhem ensues.
Kellerman:
Mayhem definitely ensues! Well unfortunately my time with you guys is up. Thanks so much for talking to me about VFW. I can't wait to tell the world about it!
Lang:
Thank you.
Begos:
Thanks.
VFW opens in theaters, VOD, and Digital HD on 2/14. I totally recommend checking it out!
Rebecca Elliott
aka Annette Kellerman