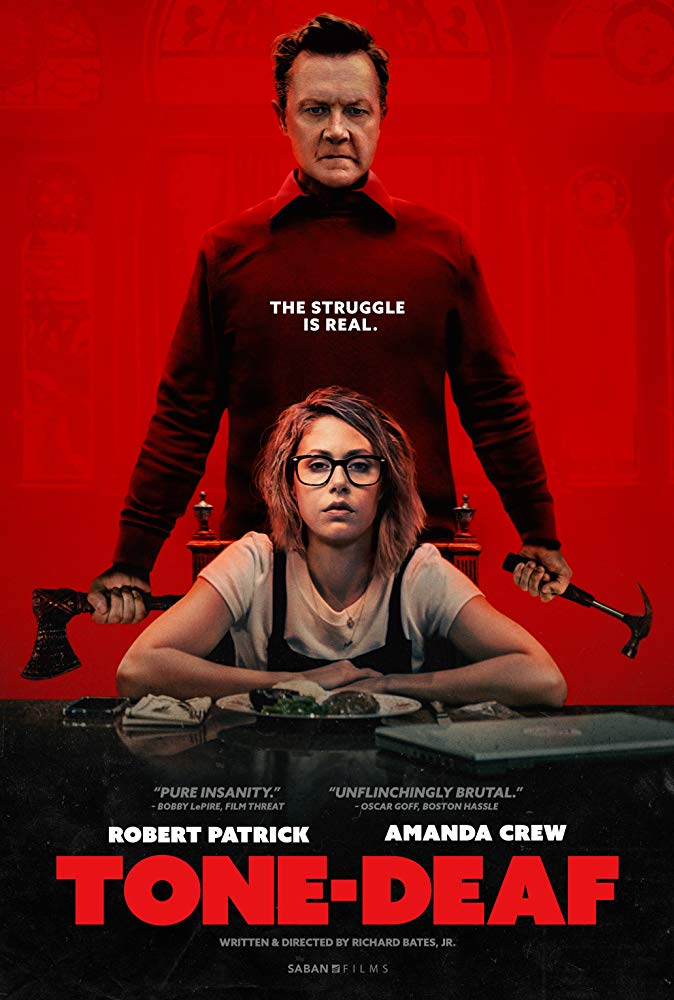 During this year's SXSW Film Festival I had the chance to sit down with TONE-DEAF writer/director Richard Bates Jr. as well as lead cast members Robert Patrick (who also executive produced) and Amanda Crew. The film is a clever mash up of conventional horror and hipster dramedy about the generational disconnect between curmudgeon baby boomers and entitled millennials. Check out my review
here
. I really dug the film and was excited to get to break down some of the details with the filmmakers. So if you dug part
one
of our sit-down I hope you enjoy part two just as much.
Annette Kellerman:
Thematically, can you talk about the music? There was this whole element of this pop, hipster soundtrack and then there is straight up sinister, horror.

Richard Bates Jr:
Yes. The approach is, and this might sound ridiculous, but it's true, which might be sad. That's for you to decide. I looked at it as them fighting for the movie. They're pulling the strings behind the movie. What song would Harvey fucking hate the most if she could play it. Awkwafina. I'm gonna play Awkwafina when I drive to that house. I would have picked that song. Then Harvey, I'm living out my John Wayne fantasy. Fuck this. I'm gonna play this music, she wouldn't like this. It's sort of the idea of breaking the wall, breaking the wall and then her at the end, she finds out. She doesn't really know she's in a horror film until the third act. She sort of realized what Harvey does accidentally, by trying to kill her, opens her eyes to the dangers and this crazy world she didn't see ever before except for on her computer screen. Then she is disillusioned at the piano. And she's like fuck you, this is my story going forward and she breaks the wall. The whole thing, all the choices that [the characters] are fighting for. This is my movie. This is my movie. This is my movie.

Kellerman:
That was one of my questions, cause you did make that creative decision to have them individually break the fourth wall. Could you touch on it a little more? Did you think, maybe I shouldn't do that? Or was that always something that you...

Bates Jr:
Oh no, that was from the get go. You know producers will be like, don't do that. What are you doing? No! You have to!

Kellerman:
Cause it does take you back a little bit.

Robert Patrick:
What did you think last night when it happened for the first time, or wherever you watched it?

Kellerman:
Initially, at first, cause you were the first one to break the fourth wall and I was like, wait, wait, wait. Is this? Oh! Okay!

Bates Jr:
Did you see any of the audience by chance?

Kellerman:
I didn't.

Bates Jr:
See, that's what's super exciting. Everyone's like...

Kellerman:
Cause he's talking to you.

Bates Jr:
Cause the villain is chastising you. So exciting.

Patrick:
That's how you describe it, looming over the audience.

Kellerman:
Well, it is. I thought about that too.

Bates Jr:
It was so fun.

Kellerman:
Yeah, that is so fun. Then, of course, she doesn't break it until the end.

Bates Jr:
Right. That's when she's like, I am in a horror movie, this guy is trying to kill me, fuck him trying to tell the story. That's when she becomes conscious of this wall and breaks it and says, "This ain't your movie anymore buddy."

Kellerman:
Which I guess that's not really a spoiler because that's sort of the entire premise right?

Bates Jr:
Yeah.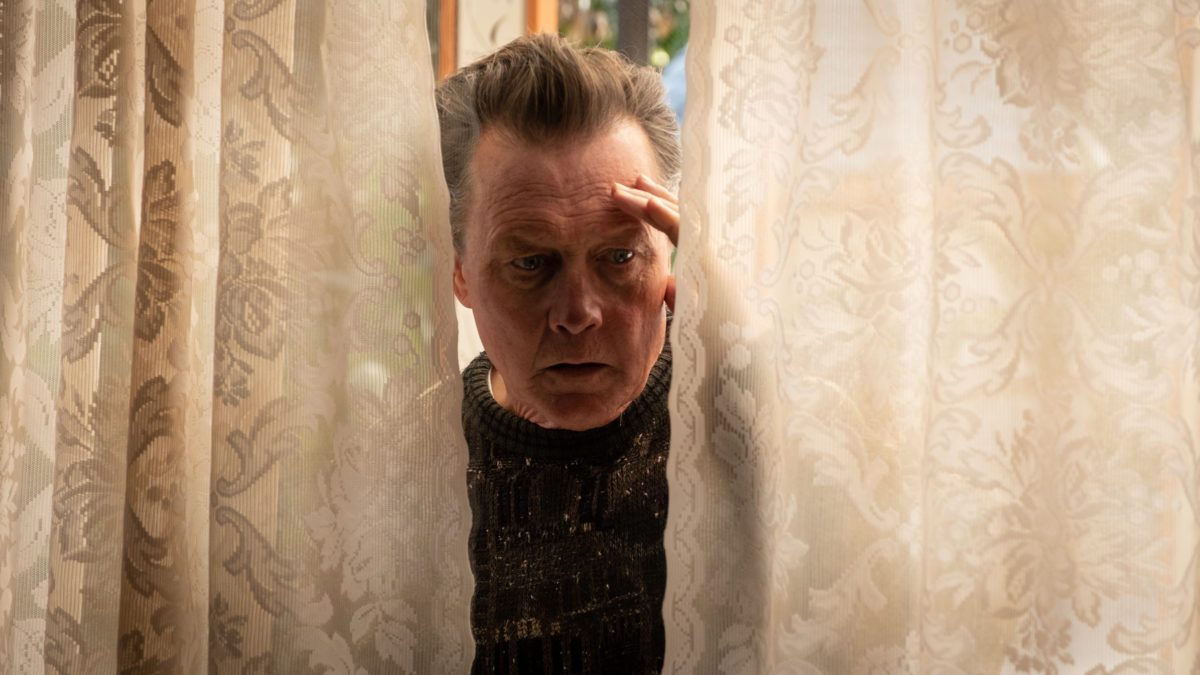 Kellerman:
I still have questions for you too Amanda, I promise! Can you talk about that incredible trip scene? That's pretty intimidating to just be with all the...I'm gonna ask you a couple of questions about it...

Bates Jr:
That's one of my favorite scenes.

Amanda Crew:
It was super fun. I've never done anything like that, so it was a unique challenge. Straight down the barrel. The actors would be behind the camera but you couldn't see them cause there was this, he can get into it, but this whole lighting set up on wood spinning. So, you're not looking, you're trying to have a connection, but there's no actor there. They're talking behind a curtain and you can barely hear them. You're trying to emote and everything. But it was really cool, because we were really cocooned because we were in a stairwell pretty much.

Bates Jr:
Yeah.

Crew:
It was fun, with the lighting set up and everything. It's always exciting if there's an energy on set when you know that you're creating something different and new. I've never seen that kind of a set up done before and filmed in a way like that. So there's an energy, its kind of like when you're about to do a big stunt and you're like, "we're gonna fucking do this, we're gonna blow up something" and getting excited. It was a very fun experience.

Kellerman:
That seemed super intense. I just can only imagine.

Crew:
I almost passed out. We had to stop at one point, because I got so dizzy from the...

Bates Jr:
They're spinning lights around her over and over.

Crew:
It's so dark and you're staring into the lens and then there's these lights spinning around. It's like your being hypnotized.

Kellerman:
It's like your tripping on acid.

Crew:
All the boys, they had only had their little scenes. Ray's was obviously longer. But, for me, we ran all of it as one. So, it's about six pages.

Bates Jr:
There's a lot.

Crew:
And I'm just staring there and you're just trying to hold focus and all the sudden, I'm like, "I just need to stop for a second." I just had to close my eyes for a minute.

Kellerman:
I'm gonna throw up.

Crew:
Yeah.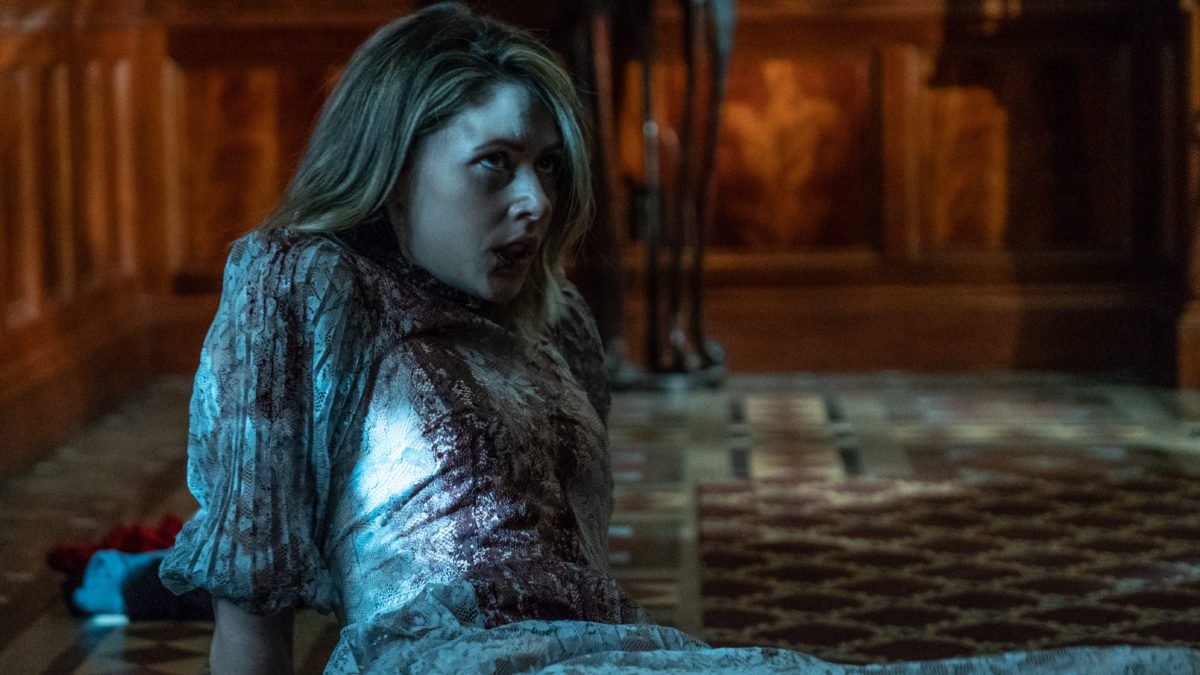 Kellerman:
SO, on that note, you did do some really fun visual things like that too. I would like to quickly, for you to touch on that. And then also, with the effects, CG, practical, mix of both?

Bates Jr:
Pretty much everything is practical, except for one part. But I try to stay practical, it always looks better, it ages better. You do it as best you can practically and then add to it if you need to in post. But, don't ever do it in post. Garbage, garbage, garbage.

Kellerman:
So, the hatchet?

Bates Jr:
Yeah, all that shit. That's all...

Kellerman:
That is so great. It looks so great.

Bates Jr:
That's all practical. And then we added little bits. That's all real, everything's real. Practical lights, nothing is done imposed.

Kellerman:
Really? You mean in the trip scene?

Bates Jr:
None of those effects are done in post. All the shadows, we made that out of lights. There's not one effect on that scene.

Crew:
Our DP is so fucking talented. He pitched that to you. This light thing.

Bates Jr:
Ed [Wu] pitched that. Ed and Leigh [Poindexter], our DP and production designer are the shit. I love everyone on this team. We had so much fun. They're so good.

Kellerman:
It came across. That's one of the only good things about getting screeners sometimes. I'm like, whoa, whoa, whoa, let's back up. Let me look at that again. Hold on a second. But I really wish I could have seen it with the audience cause I bet it played really...

Patrick:
Tonight at midnight.

Kellerman:
I know!

Bates Jr:
Don't worry.

Kellerman:
Aw, you guys, she's [the publicist] giving me the signal.

Crew:
Thank you so much.

Kellerman:
It's such a pleasure.

Patrick:
Thank you. Such a pleasure to see you, hopefully it's not that long.

Kellerman:
Hopefully not another twenty years, yeah, that would be nice. Alright, well good luck with the rest of your day, and your screenings.

Bates Jr:
Thank you again for doing this.

Kellerman:
Yeah, absolutely.
You guys, do we really think that Robert Patrick remembered me from 20 years ago on the set of THE FACULTY? Either way, I had such a blast talking with the artists who are behind such a witty and hilariously self-aware twist on the horror genre. TONE-DEAD opens in theaters and On Demand On 8/23. Check it out!
Rebecca Elliott
Aka Annette Kellerman