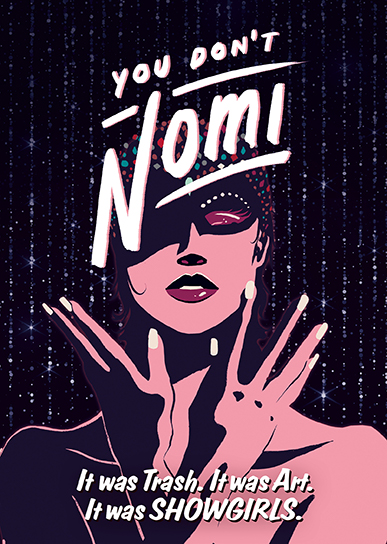 I have another excellent giveaway for AICN readers today- a copy of the documentary YOU DON'T NOMI on DVD!
Fans of Paul Verhoeven's 1995 "masterpiece" SHOWGIRLS will be delighted when "a chorus of film critics and fervent devotees explore the complicated afterlife of 1995s biggest film flop, Paul Verhoeven's SHOWGIRLS, from disastrous release to cult adoration and extraordinary redemption. The films features Adam Nayman (Vice Guide to Film), April Kidwell (I, Nomi) and Peaches Christ (Milk)."
If you were alive and kicking in the mid 90s, it was impossible not to marvel over the utter train wreck of a movie while also reveling in the unintended silliness of the super-serious story about naive Nomi and her aspirations on the Las Vegas stage. As a nearly instant cult classic, I'm actually surprised it took this long for someone to take the deep dive into the tumultuous title- thanks YOU DON'T NOMI director Jeffrey McHale!
If you'd like a chance to win your own copy of the documentary that rehashes the cringe-fest, email me at annetteaicn@gmail with the subject line GET TO NOMI. Please include your mailing address in the email (U.S. residents only). Winners will be notified by 7/18 at noon. Good luck!
RLJE Films is releasing YOU DON'T NOMI on DVD on 7/21!

Rebecca Elliott
aka Annette Kellerman