Hey all! McEric here again with that follow-up interview with Marc Meyers, the director of WE SUMMON THE DARKNESS, available now On Digital and VOD. I'm happy to revisit my coverage of this film because on the first pass I forgot to mention the spectacular music throughout. I can never hear Belinda Carlisle's "Heaven is a Place on Earth" the same way ever again.
Eric McClanahan: WE SUMMON THE DARKNESS is a great film. Dark, manic, oddly topical and touting a great cast. Let's start with the script by Alan Trezza. Did you see a parallel between his period piece and the world we're living in today?
Marc Meyers: Thank you! Yes, I immediately felt the story was relevant. Sadly, it could be relevant again in the future. Our world is messed up. The script reminded me of the short cult doc "Heavy Metal Parking Lot." Watch it, and see how different the world is now. And then, at the same time, just like in the 80s, mass media still creates or inflates unnecessary fears.
EM: What brought you aboard directing this project?
MM: Screenwriter Alan Trezza, with originating producers Christian Armogida, Kyle Tekeila, and Jarod Einsohn could've started a rock band, but instead they wanted to make this film... even if it killed them.
Following Dahmer, these guys sent over the script for We Summon. My producing partner Jody Girgenti and I both laughed out loud when we read it. Felt like it would be a fun movie to make and put out there. And there were almost 150 fucks in Trezza's dialogue, so there's that too... with a whole wild movie wrapped around it.
EM: How involved were you in the casting process? (Johnny Knoxville is a particularly interesting choice.)
MM: Very involved. Knoxville felt like an obvious choice. I can't say it was my idea.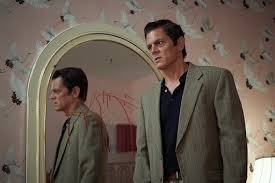 In the weeks leading up to filming, the producers and I were hanging in the office on location in Winnipeg, and Johnny and his team called to say he was interested. That felt right. He's a great actor.
But backing up, it started with Casting Director Michelle Lewitt. And Alexandra was the first to sign on. We immediately hit it off. This led us to Maddie Hasson and Amy Forsyth. It felt like those three would make a great trio.
Logan Miller is a metalhead. I met him a few years prior when I was casting Dahmer. And he's the first guy we reached out to - to play Kovacs.
Then, Keean and I met via Skype. He was painting in his backyard at the time. He's originally a dancer, also a photographer, and an actor... simply, an artist.
I think, Austin Swift joined the cast in the final week before filming. The first time we met in person, he raised his hands with devil's horns. He was all in.
Everyone in the cast felt right. Knoxville joined set midway through filming, and by lunchtime he had already filmed his first murder.
EM: How do you feel this film compares tonally, finding its roots in recent history, with MY FRIEND DAHMER?
MM: My Friend Dahmer is a horrifying coming-of-age drama set in broad daylight. It's also about a future serial killer who ate his victims. Most of this goes unsaid in the actual movie. I was only capturing his teenage days, a pubescent monster. A lot of the violence plays in the mind of the viewer and is implied.
We Summon is its own thing. In some ways, the opposite. An eerie cloud hangs over all our characters. The Satanic Panic is a different kind of dark. It's sinister. And total bullshit. A whole fear created by mass media and the religious right. Much louder than one lonely kid in the suburbs collecting road kill.
And while I felt Dahmer was punk, We Summon is metal.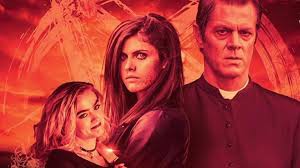 EM: What films, contemporary and classic, did you turn to as spiritual roadmaps to complete this film?
MM: Humbly. Clockwork Orange, Reservoir Dogs, From Dusk till Dawn, Panic Room, Green Room, Dazed and Confused, and went back to watch Funny Games.
EM: Marc, you're a busy fellow right now. WE SUMMON THE DARKNESS was filmed back-to-back along with HUMAN CAPITAL, but it appears the films carry starkly different tones. What's the connection that has you working so feverishly to get them both out?
MM: Both scripts said something about the world we live in. Both projects tapped into different styles of filmmaking that I wanted to further explore. Both were a challenge. With We Summon, I had never before worked with stunts, pyrotechnics, blood, practical effects, et cetera. Both were smart scripts with real characters. Both were gigs.
EM: Any final words about WE SUMMON THE DARKNESS and what you'd like viewers to take away from this film?
MM: I wish your home system could be turned up to 11, like we did it in the mix, at Urban Post in Toronto. It played on a massive screen in a historic movie palace that Urban uses as a mixing stage during the day. One day, somewhere, I hope audiences can gather and see this baby in a big dark room with the volume a little too loud.
In the meantime, be safe.
EM: Thank you again for talking to us and best of luck to you and the whole cast and crew!
WE SUMMON THE DARKNESS is available now On Demand and VOD. Until next time, stay safe and keep on rocking!
-McEric-