Hey y'all. Barbarella here, and I'm so sorry to be late to the VIVARIUM party, but it's a party in the suburbs, so tardiness is somewhat expected. Besides, the COVID-19 situation has pulled my brain elsewhere. I am deeply concerned for everyone dealing with this virus, especially the first responders who risk their health daily to protect and help the rest of us. Thank you so much for what you are doing on the front lines. You are heroes! Also, thank you to everyone social-distancing to do your part in helping them. I consider it a little heroic to make those kinds of sacrifices, as well. Some of you may be sequestered in your homes, and those homes may be in the suburbs.
Cinematically, the suburbs get a bad rap. Yeah, they lack the vibrancy, culture, and variety of downtown, but if they were really so repugnant, people wouldn't trade in the hustle and bustle of central living for a much longer commute to work. In the real world, these boring, cookie-cutter neighborhoods may be a viable alternative to more costly and lively districts, but in VIVARIUM, they are horrifying.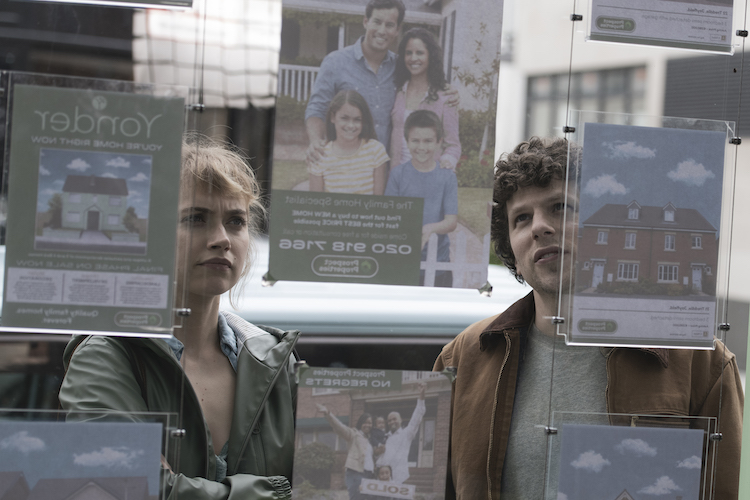 When a couple lets a bizarre, real-estate agent named Martin (Johnathan Aris) convince them to check out a house in a new development called Yonder, Tom (Jesse Eisenberg) and Gemma (Imogen Poots) become trapped in the suburban neighborhood. The two have wonderful chemistry and make a believable couple throughout. Try as they might, Tom and Gemma cannot leave this bizarrely quiet neighborhood once Martin abandons them in House # 9. While there are certainly worse places than Yonder to be trapped, the addition of a baby for the couple to raise undoubtedly exacerbates their predicament.
VIVARIUM launched On Demand and Digital over the weekend, which seems like terrible timing. Given that many of us are stuck at home, it may be a little too relatable. I imagine some parents may also be struggling with being around their kids all day, and that those kids may be acting out from boredom. I don't suspect any of them come close to the level of annoyance that Tom and Gemma's charge achieves. At times I really want to stop watching because he is exceptionally irritating. Don't get me wrong; I love a creepy kid, like JU-ON:THE GRUDGE's Toshio Saeki (Takashi Matsuyama), but this kid genuinely irks me.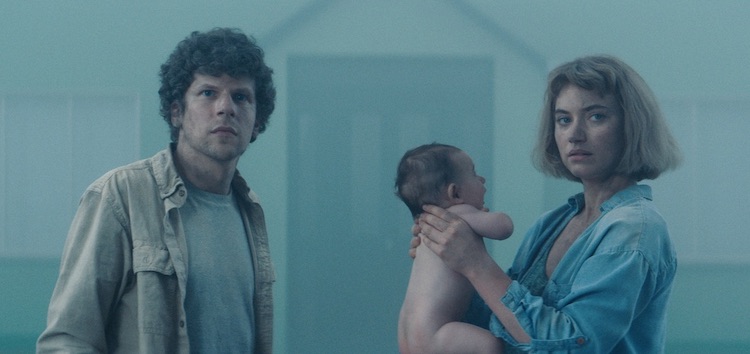 Overall, the idea of this as a vivarium (basically a somewhat natural habitat in which to observe behavior) proves interesting, but turning that concept into an entertaining story seemingly proves harder to accomplish. I think Lorcan Finnegan and Garret Shanley's story succeeds too well at giving the audience the same sense of boredom and hopelessness as the protagonists. Its length certainly doesn't help. Once it passes a particular point, the scenario feels sufficiently played out, and it just becomes dull. However, I appreciate and enjoy a visually stimulating climactic scene near the end, but, unfortunately, I had already emotionally checked out of the film by that time. Despite appreciating the effects and sci-fi elements in that scene, I'm not sure they were truly worth the time investment. Had VIVARIUM been tightened up, with many of the sci-fi ideas we've seen before removed, it could have been a remarkable 30-minute short film. As a feature, it feels arduous despite the moments that successfully achieve their desired impact.
Visually, VIVARIUM offers a nice color palette, with various shades of soothing green that contrast with the emotional tones of the film. I appreciate the set design's sterile ambiance, as well. Some elements combine better than others, but overall, I like what I see substantially more than what the film makes me feel.
While the visuals succeed, the film suffers from its lengthy portrayal which creates a trapped sensation for the viewer. At a time when we are being asked or ordered, depending on where you live, to stay at home, watching a film that makes a person feel as trapped as its main characters may not be the best idea. VIVARIUM will likely suffer from its unfortunately timed release, as will some of those who choose to watch it during this timeframe.