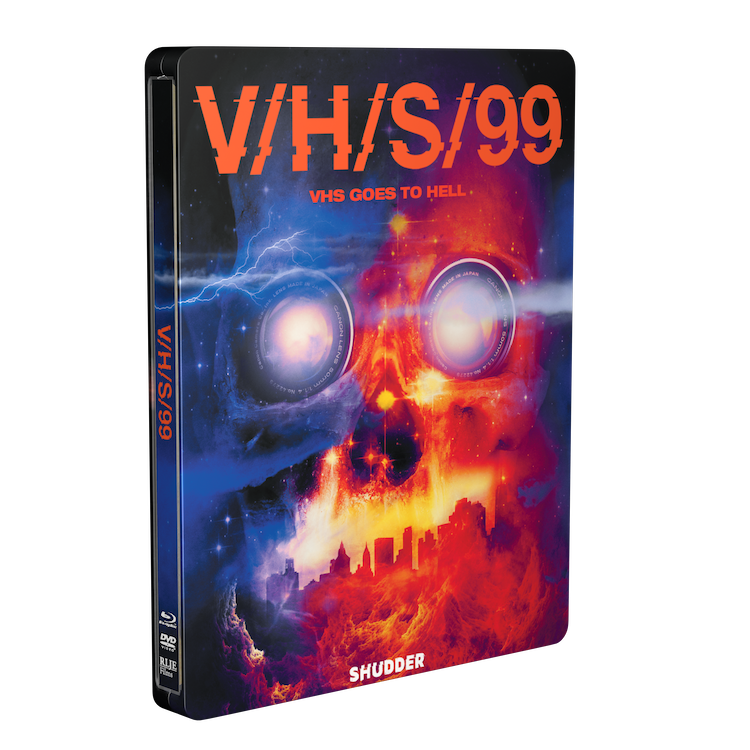 Hey, friends! Barbarella here. RLJE Films will release V/H/S/99 on DVD, Blu-ray and Blu-ray/DVD SteelBook® on May 23, 2023. V/H/S/99 stars Steven Ogg ("The Walking Dead"), Ally Ioannides (Synchronic), Keanush Tafreshi (Weird: The Al Yankovic Story), Emily Sweet (Castle Freak), and Archelaus Crisanto ("The Chosen"). Bringing a punk attitude to the found-footage genre, V/H/S/99 shows how a thirsty teenager's home video leads to a series of horrifying revelations. It features five new stories from filmmakers Maggie Levin, Johannes Roberts, Flying Lotus, Tyler MacIntyre and Joseph & Vanessa Winter.
With OVER 3 HOURS of bonus features, the DVD, BluRay, and Steelbook® include:
● Filmmaker Commentary
● Exclusive Panel from Reedpop's New York Comic Con
● Deleted Scenes
● "Shredding" BitchCat Music Video
● "The Gawkers" camera test and The Making of Medusa
● "To Hell and Back" Storyboards and Location Scouting
● Bloopers
● And more!
We have a couple copies of the Steelbook® to give away. If you want to win one, email me at aicn-barbarella@hotmail.com with STEEL VHS as the subject. In the body of the email, please include your name, mailing address (US only, no PO Boxes) and if someone made a movie of footage that you've taken, what genre would it be? Entries must be received by midnight CST on Friday, May 20, 2023. Good luck!
Check out the trailer!