Hola Dannie aqui,
Today we have two TV spots released by Lionsgate Movies for the upcoming "HELLBOY" flick. The new "HELLBOY" stars David Harbour ("Suicide Squad," "Brokeback Mountain," "The Green Hornet," "Quantum of Solace," and "The Equalizer"), Milla Jovovich ("The Fifth Element," "Chaplin," "Dazed and Confused," and the many "Resident Evil" films), Ian McShane ("Deadwood," "Pirates of the Caribean: On Stranger Tides," "Kung Fu Panda," and "Snow White and the Huntsman"), Sasha Lane ("American Honey," "Daniel Isn't Real," "After Everything," and "The Miseducation of Cameron Post"), Penelope Mitchell ("Hemlock Grove," "The Vampire Diaries," and "Curve"), and Daniel Dae Kim ("Lost," "Spider-Man 2," and "Insurgent"). Writer Andres Cosby (television's "Eureka" and "Haunted") tackled the screenwriting inspired by Mike Mignola's beloved Dark Horse Comic character Hellboy.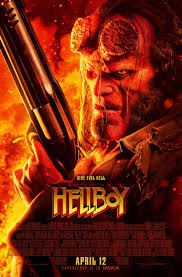 Lionsgate Movies describes the new "HELLBOY" as-
"Based on the graphic novels by Mike Mignola, Hellboy, caught between the worlds of the supernatural and human, battles an ancient sorceress bent on revenge."

Here is the first "Hellboy" TV spot they are calling "Never Fear."
Here is the second "Hellboy" TV spot that they are calling "Apocalypse

"HELLBOY" 2019 is directed by Neil Marshall, the man behind such films as "Dog Soldiers," "The Descent," "Doomsday," and "Centurion." Marshall also has worked on several TV favorites such as Netflix's "Lost In Space," "Poor Richard's Almanack," " Westworld," "Timeless," "Hannibal," "Constantine," "Black Sails," and "Game of Thrones." I love "Dog Soldiers" as well as "The Descent," and I am hoping director Neil Marshall blows us away with some genuinely scary moments. We shall have to wait and see.

"HELLBOY" is set to hit theaters on April 12th here in the USA and opens April 11th in Australia, Brazil, Germany, and the UK. What do all of you Mignola-maniacs think of the two TV spots?
Stay Strong, Live Good, Love Movies!
Dannie H.L. Knowles aka Pekosa Peligrosa