Hey y'all. Barbarella here, back from being recently transported to 1960's Oklahoma in TO THE STARS. Written by Shannon Bradley Colleary and directed by Martha Stephens, the film blends coming of age, a tale of friendship, and a sense of longing. In the rural town, dreams may be big, but many of the minds are somewhat smaller. The townsfolk here have a level of quirkiness that might blend well with Tim McCanlies' characters in DANCER, TEXAS POP. 81. Although here, locals clash more harshly with those they deem too different. Aside from the fairly typical bullies, which we've seen both in reality and on screen for ages, the characters here are rich and interesting. They make do with the lives they've carved out in this rural community where gossip is key and dreams are often unrealized.
When Maggie (Liana Liberato) relocates from a larger city, she sees the untapped potential in reclusive, social pariah Iris Deerborne (Kara Hayward). Maggie's attempts to draw Iris out of her shell set the girls down a path of friendship and self-discovery. (I had an opportunity to speak with both actors and will be posting the interview tomorrow evening, so please check back.)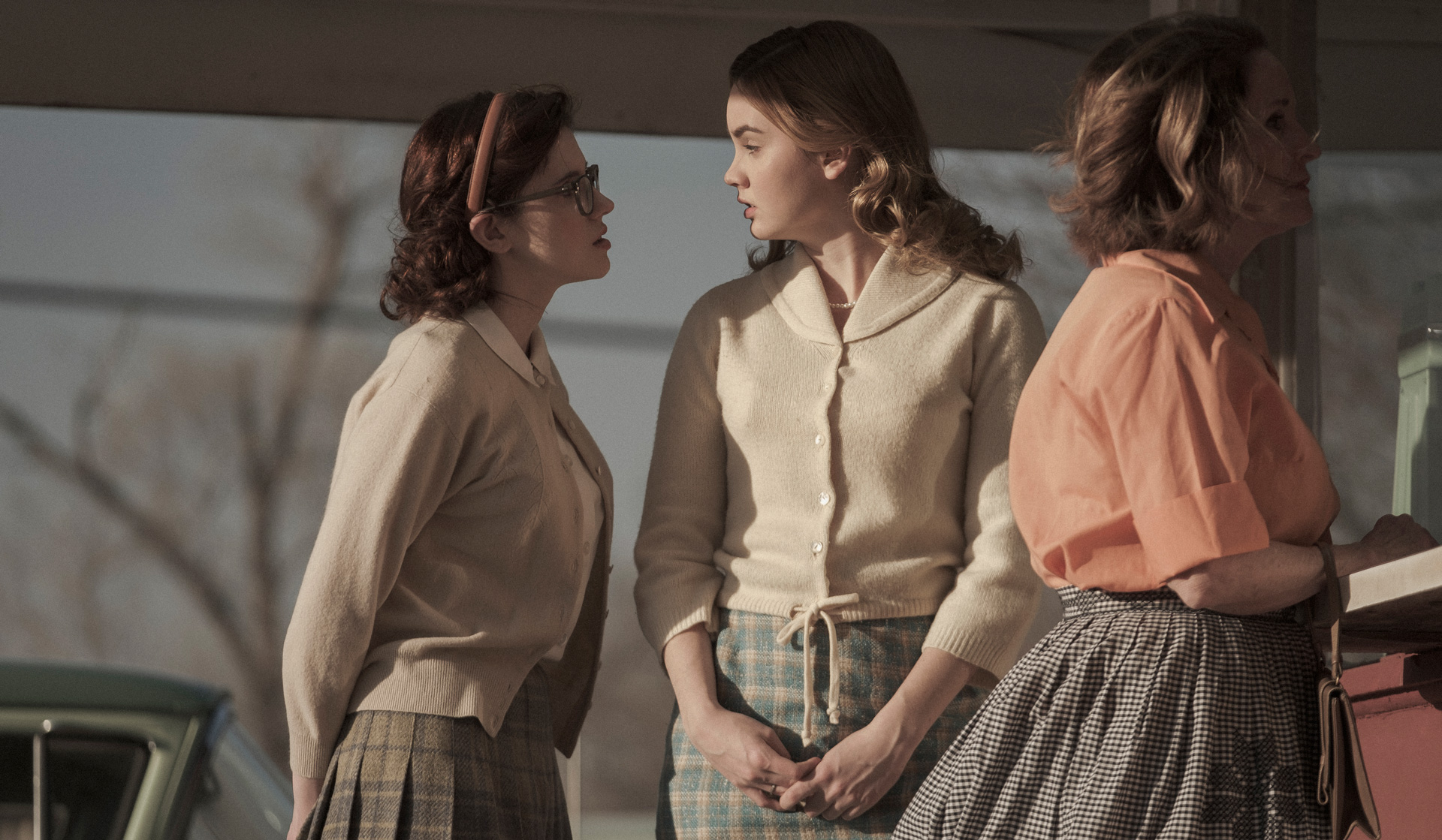 While it may sound like a typical coming of age drama, TO THE STARS is something different. I love the way the friendship evolves and how the family issues become exposed, both managed gradually and fluidly. I always attempt to go into every film with as little information about it as possible so that every unexpected moment hits the way it should. In order to give you the same opportunity, I won't go into details here, but suffice it to say, this movie may not be what you think it is.
We slip amongst an interesting population, and much of the comedic moments arise from the uniqueness of the personalities on screen. We get glimpses not only into their lives as they are, but of what they may have hoped they could have been. My heart gets pulled into different directions, and even though TO THE STARS is a generally sweet story of an unusual friendship, the film has moments that punch me in the gut and leave me surprised at how quickly things can go from one place to the next.
Teenage life has its challenges, especially when layered with everyone else's expectations of what one should become. Both Iris and Maggie deal with various versions of this, and the film explores the family dynamic of both girls in unexpected and affecting ways. VEEP's Tony Hale showcases his dramatic side as Maggie's father, and his effectual performance makes me quickly forget he was ever Selina Meyer's aide, Gary. Instead, I experience a range of emotions regarding his parenting.
Speaking of parents, I love how Iris's parents are introduced. After only a few minutes with them, we understand so much about Hank and Francie Deerborne, played by Shea Wigham (BOARDWALK EMPIRE) and Jordana Spiro (NIGHT COMES ON), respectively.
I love this film and its portrayal of young women trying to figure out who they are and where they belong at a time and place when female independence didn't carry the same meaning it does today. I love that we don't get spoon-fed every morsel of information and that not everything gets wrapped up in a tidy bow by the end. Life is messy and often a mystery, and sometimes it's nice to have a little uncertainty when the credits start rolling. But don't worry, this isn't a SOPRANOS ending where you're just left mad and unfulfilled. There's a resolution of sorts, and I find it beautifully realistic and completely satisfying. TO THE STARS is on digital April 24, 2020.