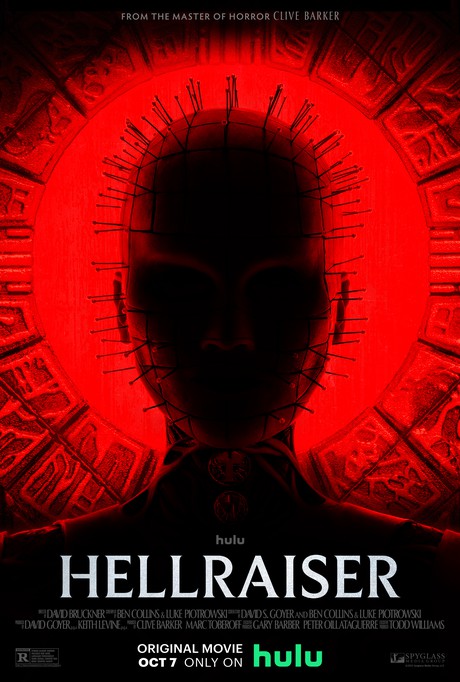 Hello, film fans and welcome to the House of Macleod movie review corner! Today we examine David Bruckner's remake of the classic 1987 Clive Barker horror gore-fest HELLRAISER (2022 R 2h1m) starring Odessa A'zion, Jamie Clayton, Brandon Flynn, Goran Visnjic, Drew Starkey, Adam Faison, Aoife Hinds, Selina Lo and Hiam Abbass from a script by David S Goyer, Ben Collins and Luke Piotrowski. The plot surrounds recovering addict Riley who is having a hard time with it. Her brother and her flatmates don't trust her on her own and her life is slowly falling apart. One evening her boyfriend Colin convinces her to help him break into a storage unit to make some easy money. Unfortunately upon breaking into the unit all they find is a safe, a safe containing a strange little puzzle box. That puzzle box is the famed Lament configuration or Lemarchand's Box as it is otherwise known. The box has various different configurations and each one requires a sacrifice, a marked victim to the Cenobites, with each completed piece bringing the user closer to the ultimate prize-an audience with God as it were. Riley stumbles through the film either purposefully selecting her victims or accidentally and hilariously at times marking the unfortunate souls that meet their end to the horrific Cenobites.
If I said to you this was a good movie, well I'd just be straight up lying to your face. It's a terrible movie. You know me by now people, if I think something sucks ass, I'll be as honest as I can be. Do you know what the worst thing about this movie is? The production design is fucking excellent. It's really really good. From the look of the Cenobites and their powers/abilities to the creeped-out mansion that the box's original owner Roland Voight lives in, 12/10 very cool indeed. But House of Macleod, why does this suck? I hear you ask. It sucks because the rest of the movie is absolutely terrible. The script made all of the main characters a bunch of whiney douchbags. I actually found myself cheering when one of them got killed. It sucks because there was obviously a lot of thought, time and work put into the look and feel of this movie only for it to be let down by a lazy, hackneyed story. Have any of you read The Hellbound heart? If you have then you will know it would have been super easy to adapt what is frankly a far superior story instead of this two-hour-long crapfest. This movie tries its hardest to make a hero out of its thoroughly unlikeable heroine and I personally felt that her being a recovering addict was thrown in for sympathy which bombs and just makes you dislike her. Her friends are all assholes too, which I found jarring and off-putting. You kind of got the feeling that none of them actually like each other, they are just hanging out because rent is cheaper to pay if you all share a flat. I did however like the film's treatment of queerness which is portrayed very naturally as it should be.
The Cenobites. Pinhead and co are classic movie villains but they are treated like they just got kicked out of an episode of Buffy the Vampire Slayer. It's a God damned shame. The design really is awesome and I loved what they did with Jamie Clayton's female iteration of The Priest, it not only looked tremendous but Clayton played her part with a sinister coolness about her. The rest of the Cenobites? Not so much. I wouldn't be scared of any of them. Don't mistake me, if I saw any one of them in real life, I would piss myself but it would be with laughter. The violence is violent, yes but it was never believable. Maybe I've just seen so many horror films now and I'm desensitised to it but I thought with the legendary Hellraiser, I'd at least get one "Holy fuck!" moment, but to my dismay, it never happened. I expected more from this, I expected a lot more. The idea that Clive Barker actually signed off on this amazes me. He must be short of a few bucks.
HELLRAISER is available to stream now on HULU and will also debut on Disney+ in some territories with the film hitting Star+ in Latin America. No UK release has been announced.
The House of Macleod official score: 5/10 - Awesome design, terrible everything else.