TUSCALOOSA, a dramatic period piece adapted for the screen and directed by Phillip Harder and set in the titular Alabama town during the seventies, focuses on some heavy topics. It takes place during the Civil Rights Movement while also shining a light on mental health. It's atmospheric and bold; yet touching. If drama is your thing, check out TUSCALOOSA! Based on the novel of the same name, by W. Glasgow Phillips.
Made on a small budget and out of pure affection for the script and story, the film stars Stranger Things beloved Natalia Dyer, Tate Donovan (Rocketman, Argo), and Devon Bostick (The 100). Recently I had the chance to chat with Tate Donovan about it! You can check out the synopsis, trailer, plus our in-depth conversation below!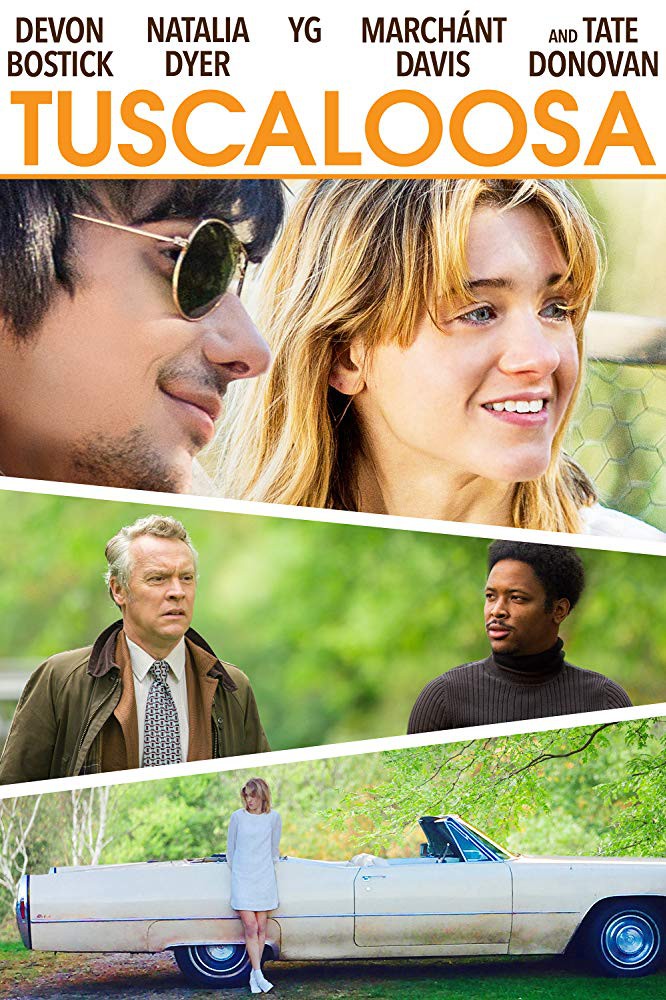 "Alabama, 1972. As Billy (Devon Bostick) falls for a patient (Stranger Things' Natalia Dyer) at his father's mental asylum, his childhood best friend becomes involved in a radical civil rights movement against Tuscaloosa's power elite. In theaters, on digital, and on demand March 13, 2020."
TATE DONOVAN = TD
JOSHUA SCAFIDI = JS
JS: Hi Tate, thanks for the phone call!
TD: Hey Josh, how's s it going, man?
JS: Good! You have a movie coming out, Tuscaloosa!
TD: Yeah!
JS: Directed by Phillip Harder.
TD: Yeah, he's a great guy. Sort of what drew me to this project was I read the script, and I spoke to Phillip and he's been trying to make this film for ten years, you know, and he's such a good guy and so passionate about the story and the script and I was just like; I want to do anything I can to help this guy out, he's great.
JS: That's awesome. What can you tell us about the film, Tate? Without spoiling too, much?
TD: Well… It takes place in the south during (the) civil rights (movement), in Tuscaloosa. It's about a kid, played by Devon Bostick, who's come back from college and his dad runs a mental institution and he's sort of working around the yard, just having a lazy summer and he falls in love with one of the patients, played by Natalia Dyer. That relationship leads him into this crazy adventure, dealing with civil rights, and mental health issues. It's sort of like a Romeo and Juliette type story. I play his dad, and I'm sort of the antagonist in the whole thing.
JS: Was there anything special that you did to prepare for the role?
TD: Yeah, yeah. I worked on my southern accent, that's for sure. It's kind of interesting because we shot the whole thing in Minnesota, which is amazing, and I was like, "are you sure we can pass off Minnesota for the South?" Man, it was incredible what they did. I saw a lot of pictures of Tuscaloosa and they just found these amazing locations up there, and I don't know… I mean, if I didn't tell you that, you would never know it wasn't shot in Tuscaloosa.
JS: As you mentioned, the film also stars Natalia Dyer and Devon Bostic. What was it like working together?
TD: It was great! Devon plays my son. He's a very instinctual, very subtle actor. I really enjoyed working with him and we sort of instantly fell into a good relationship. Not that Nat and I had a difficult relationship. I actually didn't know who Natalia Dyer was until I came home, and my son totally flipped out and was like "you're working with Natalia Dyer?" His favorite show is Stranger Things. I was like "Yeah, do you know her?" He's like, "do I know her? She's the greatest actress alive!" At that point, I hadn't watched Stranger Things, but now, I'm totally into it.
JS: Now Tuscaloosa is a dramatic, period piece that deals with some pretty heavy topics. What was the mood like on set?
TD: Like most big dramas, it was very light and fun, and we had a really good time. It was a movie where nobody did it for anything but the love of the script and the story. It's not like any of us were making any big bucks on this.
JS: You mentioned the scenery (of the film.) The atmosphere is great, it looks like the Seventies, the art department did a great job. Did you feel like you were back in time on set?
TD: I did. As soon as I put my wardrobe on, I was like… "Oh my God, my dad wore these exact same pants."
TD + JS: (Laughing)
TD: It was crazy. It was a trip. I'd just look in the mirror and think… I look exactly like my dad. They did a great job with not a big budget, but a lot of creativity.
JS: A little creativity can go a long way. Sometimes, that's all it takes.
TD: That's true. You've got to be creative. That's the sort of joy of making low budget films. Everyone is there just trying to make the best out of what they can, with very little means. It's fun for everybody.
JS: Now, you're originally from New Jersey, correct?
TD: Yeah. Right outside of New York City, right across the George Washington Bridge.
JS: What made you want to be an actor?
TD: I was four years old and I went to a movie with my parents, and I just looked up on that screen and I was like, man I want to do that. So, I secretly always wanted to do it. I was raised in a family where being an actor was not cool. My parents did not want me to become anything but a lawyer, or a doctor, or something respectable. So, I had to sort of keep it a secret. Once I got into college, I devoted myself to it. Luckily, I've been working ever since.
JS: You started in TV. Would you prefer TV or film?
TD: I prefer anything that is well written. Now it's so great because everything's well written. When I started, television was like, oh man you got to do television. Now, everybody in the world wants to do television because the writing's so great. I also did a lot of theatre. I still do theatre.
JS: Growing up, what were your major influences?
TD: I guess James Dean, Jimmy Stewart. I was blown away by – I remember seeing Apocalypse Now like four times in the movie theatre. I was like, seventeen when it came out and I just went to New York City and spent the day watching Apocalypse Now. To this day, I still think I could sit and watch that movie for hours and hours. I grew up in the seventies, and movies were just amazing in the seventies. Dog Day Afternoon, The Godfather, Andy Hall. So many great movies.
JS: All great films, absolutely. So, what's next for you, Tate?
TD: I'm in a movie called "Respect," about Aretha Franklin. That's coming out in the fall. Jennifer Hudson plays Aretha Franklin, it's going to be great. I'm really looking forward to seeing that. I'm also about to shoot a pilot for Fox Television, called "Blood Relative," with Melissa Leo. She's an amazing actress so I'm looking forward to that.
JS: Nice. Good luck with the pilot! Tate, thanks for the phone call.
TD: Thank you, bro.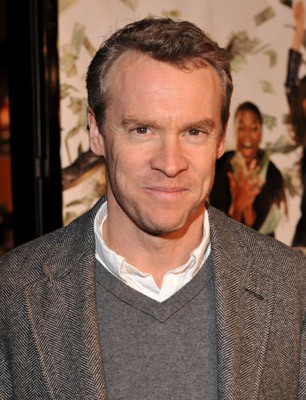 That's it for now folks! You can catch Tate in TUSCALOOSA when it hits theatres and VOD March 13th! As always comment below! Until next time, keep on geekin' on, my friends!
Joshua "Prometheus" Scafidi