We've already expressed our excitement for the thriller SYMPATHY FOR THE DEVIL starring Nicolas Cage and Joel Kinnaman and now it's finally here. Cage, known for his over-the-top and intense acting style, is right at home in the role of The Passenger - a violent, unhinged man out for revenge. His target is Kinnaman, known as The Driver, whom the Passenger believes to be a catalyst from his own past that irrevocably changed his life for the worse. The Passenger's mission is to bring the Driver before his former associates to pay for his sins, but not before putting him through the ringer and ensuring his spirit and mind are thoroughly shattered.
Kinnaman's Driver maintains his innocence, claiming ignorance of this past life, this strange man, or any of these nefarious deeds of which he's been accused. He's a simple man, trying desperately to get to the delivery room where his wife is giving birth to their second child. She's understandably nervous as they'd lost a child early in a previous pregnancy, and he complies with his captor as much as is necessary to be done with him and get to his family. The Passenger, however, is not forthcoming with his true intentions at the outset, and as their drive takes them further away from the glittering lights of Las Vegas, he peels away the layers of his subterfuge with a terrible temper and a streak of violence.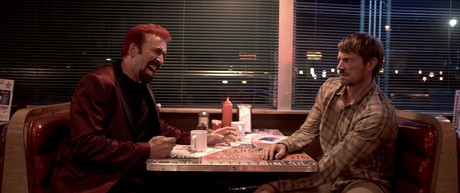 This film is a fun watch for Cage fans and another example of Kinnaman's prowess as a man in unyielding circumstances. It's the classic "I know you're not who you say you are" thriller trope that's existed as long as film itself, and was especially popular in the 90s with films like THURSDAY and EL MARIACHI. Though the film ends in the most predictable "twist" one can imagine (seriously, it's happened so frequently now that the only original ending would be to undo the twist), it is worth watching at least once for the stellar performances of the two leads who carry the film and ratchet up the tension throughout.
I spoke with director Yuval Adler, who'd worked with Kinnaman a few years prior for the mistaken identity thriller THE SECRETS WE KEEP, and he said he'd had his eyes on this particular script for ten years. As the years crept on the film languished, he checked in frequently, until he was finally able to take on the project himself. The first question I had was about the setting of Las Vegas, a third character of sorts in the world of the film.
"It was set in New York in the winter, originally, and then we moved it to a state that had a tax credit, then we moved it to a state that had a Nicolas Cage in it."
Cage really lets loose throughout the film, and I noted a few popular affectations of his vocal delivery, including a brief Pacino impersonation and a brief Walken delivery. I asked about Adler's directing style when it comes to working with such a gifted and unpredictable talent.
"What we really bonded over was the dark sense of humor in the material. He would do stuff and I would laugh, and he would see me laugh behind the monitor and then he'd go even more. So we'd run it and I wouldn't say 'cut' and just let him try things, and he has to trust me to protect him. Most of what he does is completely unusable but if he knows he can trust you to protect him and use the right stuff then he's not afraid to try and go crazy, which is what happened here."
As I said, the film is worth a view just for the performances, but the story has been told a hundred times and with more devastating revelation, resulting in a more memorable film overall. Though I was glad to watch SYMPATHY FOR THE DEVIL, it's not a film I'd ever intend to watch again, only because I've already seen it long before the titles hit the screen.
SYMPATHY FOR THE DEVIL, released by RLJE Films, is streaming now wherever you rent or buy movies.
Until next time, take care.
-McEric, aka Eric McClanahan-