Howdy, folks! McEric here, currently at New York City Comic Con, listening to the orchestra of sirens below, taking a quick moment to let you know about a feature releasing from Lionsgate today: SURVIVE THE GAME, starring Bruce Willis (DIE HARD, WHAT JUST HAPPENED) and Chad Michael Murray (TV's "One Tree Hill", "Gilmore Girls"), not to be confused with SURVIVE THE NIGHT from last year which also starred the pair. Check out the trailer:
This movie is, in a word, terrible. Bruce clearly doesn't want to be there and delivers all of his dialogue like he's angry at both the production for having him there and the viewer for watching it. The car chases are so slow and repetitive and use the same screeching soundroll that I genuinely thought they were trying to do a Monty Python sketch. No one in the film makes any decisions that make any fucking sense. The nefarious activities of the villains is so ludicrously vague that it's quickly apparent that no one gave a shit and neither should we. The "good guys" are fucking psychopaths: Swen Temmel's Cal stalks the villains and dispatches them with no thought of due process or mercy and seems to delight in it. I'm not against an action film where the good guys mow down the bad guys indiscriminately but when it's choking everyone to death with their bare hands and they're supposedly a cop, it seems a little jarring. Even Cal and David's first interaction with the "criminals" is to go in guns blazing. Later on, they arbitrarily decide to arrest two of the criminals rather than shoot them in the head or choke them to death in a garden... for no apparent reason.
There were some redemptive qualities. Chad Michael Murray turns in some solid performances as the film wears on, Michael Sirow as Frank seems to be having a good time, and there are some genuine moments of comedy throughout. I was able to chat with director James Cullen Bressack about the film and ask about some of these highlights earlier this month. Here is that conversation:
James Cullen Bressack: Hey Eric, how are you?
Eric McClanahan: I'm well James, how are you this evening?
JCB: I'm good. Thank you so much for taking the time to chat with me.
EM: Thank you for making yourself available for the time. So we're talking about SURVIVE THE GAME; I had a chance to screen the film last night. Tell me how you got aboard this project.
JCB: I was brought onboard by Randall Emmett, Tim Sullivan, and George Furla. I interviewed for it and read the script and gave them my thoughts on how I would make the movie and they seemed to like the concept of what I wanted to do it. I'm really excited that they decided to work with me on it. I think we made something really fun that has a lot of action: it's action-packed. It's a wild ride.
EM: Speaking of your approach, I noticed right away that we're following three main storylines throughout: we have David and English and Ed and Frank in one, Cal's adventures outside the farmhouse, as well as Eric's adventures outside the farm house. What was it like balancing those three stories throughout the runtime?
JCB: It was a lot of fun to do. I was very blessed to work with such talented actors. I mean, Bruce Willis was amazing. I love Chad Michael Murray, he's so great to work with. Sean Kanan did a great job. Michael Sirow, as well. Swen Temmel and of course Zack Ward, I've worked with so many times. I think I'd go so far as to say that every movie I've ever done had Zack Ward in it. Zack and I have been friends since I was, like, twenty, and at one point I was his roommate. He and I have been very close for a long time; he's like an older brother. Working with him and having him play such an unrecognizable version of himself in Mickey with all the tattoos and the bleach-blonde hair was really fun as well. So I think the actors were really game for it and we were lucky we had a great script and RJ, the editor, really perfected the cutting back and forth that we did and Tim's score, like the "needle drops" and the music that we put in the movie really helps stitch together those storylines.
EM: That was another thing I was going to bring up was the music: there's the score obviously which was used to heighten tension during some of the more tense action sequences but a lot of the popular music also added to the overall narrative thread of the film. How were you able to weave that in?
JCB: I'm very lucky that over the past few years I've developed a very good relationship with Cleopatra Records and Brian Carrera over at Cleopatra Records and Brian decided to take me up on my ask; I begged him to let me use some tracks for this movie… the twelve songs that are in this movie I begged him for and he let me use all of them, so I got really excited. And DMX, who was a good friend of mine, before he passed away we did three movies together, I was very honored to have two of his songs in this movie.
EM: I noticed, from early on in the film, that a case could be made for the moments that shine through that this is a workplace comedy for foot soldiers in crime. Particularly with Ed and English. Did you enjoy exploring that aspect of the humor?
JCB: I had so much fun. I was trying to have this Elmore Leonard-vibe to the dialogue, and when I talked with Simon and Sean about that they ad-libbed a lot and added some copy to it that I thought was just a lot of fun and gave the movie a different vibe. I wanted to have every character have their own personality. If you look back to DIE HARD and a lot of the older action movies, every bad guy had their own personality and they were their own people, you know, not just faceless goons that just got shot. And I liked having that witty and/or silly banter going back and forth between these guys that I think carries the film in multiple points and gives us a break from some of this insane action that's going on throughout it. You know, because we have explosions, car chases, crazy fight sequences, and I think a lot of laughs, too. One of my favorite jokes doesn't come from them but comes when they're at the barn and are about to have this big fight scene and the one guy goes "Oh, I forgot my gun."
EM: Yeah, and they asked "Does anyone have a gun they can loan him?"
JCB: And they're like "No, this is my gun! I'm not giving him my gun." So I tried to play up the comedy in it and make it fun because I felt like a movie like this had to be fun. The way I looked at it was almost kind of like LAST ACTION HERO in a sense; you know like these Elmore Leonard characters, but the way I looked at it was Chad Michael Murray falls asleep and an actual action movie is on his front lawn. Like Bruce Willis, all these crazy characters, like an actual action movie just ended up on his front lawn and he's trying to survive this crazy, out-of-this world thing, and I tried to make it feel like these characters are larger than life and all of them have a cool vibe that's reminiscent of different action movies that shaped my mind and my life and things that I grew up on so I tried to throw that in and make everyone feel unique yet silly and fun and scary and all of that all in one movie full of characters.
EM: Speaking of that, I was going to hone in on Michael Sirow's performance as Frank. He's something of a mix between an agent from THE MATRIX and the computer programmer antagonist from GRANDMA'S BOY. Where did that come from?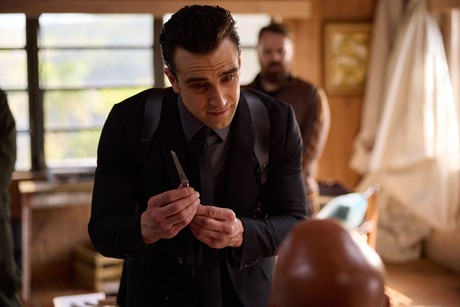 JCB: I think Michael had a really intense vibe for the movie and it's interesting because I think the character takes himself very seriously but Bruce's character is just punking him the whole movie. Like he's making fun of him but I think it really works because Frank is intimidating but the intimidation starts to phase out as it goes and it really worked for the role. And Michael really had fun with it. I think that push-pull, where we tried to toe the line between that almost scary and not-too-serious at the same time, and I think it was a good foil for some of the silliness that's around him because you have him taking it very seriously and then Ed and English making fun of him basically and Bruce just talking shit to him nonstop.
EM: Yeah, he seemed to bemoan his position a couple of times, like "why am I stuck with these losers?"
JCB: Yeah, he start to completely lose his cool and his ability to have a grasp on everything and I really like the arc that Michael takes and I think he did a beautiful job with it.
EM: Now I just finished reading Kevin Smith's TOUGH SHIT where he talks about his experience working with Bruce Willis. And I'd like to get a different take. Tell me about working with the legend Bruce Willis.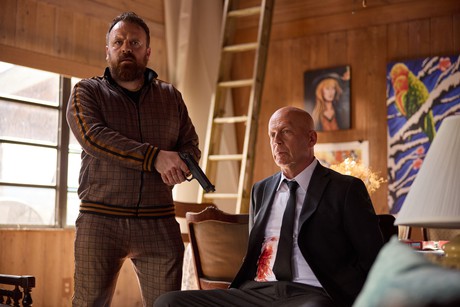 JCB: You know, I'll say that I've worked with Bruce two times now and Bruce loves to laugh. He and I were just joking around nonstop, and he just likes to laugh. He and I were telling jokes back and forth and I do funny voices because I grew up in a recording studio; my mom was a voice actress, and my dad did cartoons and stuff, so I would do funny voices and he would do funny voices back and we were just having a good time. So I didn't experience anything like what I read in Kevin's stuff. Bruce and I just had a good time and tried to make stuff fun. And Bruce brought something more to the movie. A perfect example: I told Bruce to have fun in one of the moments and go away from the script and the line that's in the trailer is what Bruce came up with. The one where he's saying "I got shot today. I'm tied up. And you still hit like a bitch." That was a Bruce ad lib; he came up with that and I think it's awesome and hilarious and it really works.
EM: I did not expect Chad Michael Murray to steal the film the way he did. How did you get him on board and what was your experience working with him?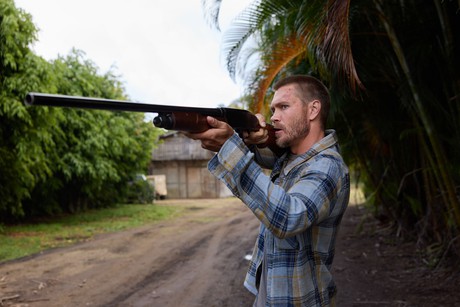 JCB: Chad is one of the coolest people ever. He and I are good friends. We've done two movies together now. This is the first one but we've wrapped FORTRESS together, as well. He's just such a professional, such a collaborator, just such a genuinely good human. And Sarah, his wife, and his daughter are actually in the movie in the car scene and I just think Chad and his whole family are wonderful people. He's not just an unbelievably talented actor and a giving actor, a collaborative actor, he takes his work very seriously, but he also happens to be just one of the nicest humans that I know.
EM: It looks like I have time for one more question and you hit on it a little already; what are you working on next?
JCB: Well I just came from the sound mix on FORTRESS, and I'm wrapping that up which is my other movie with Chad and Bruce and Shannen Doherty is in that as well as Jesse Metcalfe and I just left from doing that. I have a couple of other irons in the fire but nothing to talk about until they happen.
EM: Well I'll hold you to that. Thank you so much for your time.
JC: Thank you! Have a good night.
SURVIVE THE GAME - Available in Select Theaters, on Apple TV and Everywhere You Rent Movies on October 8th! Available on Blu-ray and DVD on October 12th!
News to come from NYCC 2021 soon! Until next time, stay safe and stay off the farm!
-McEric, aka Eric McClanahan-