The Tribeca Festival is currently underway in New York City, taking place throughout the historic district in lower Manhattan. Beginning June 7th and running through the 18th, the Festival includes a bevy of world-class films, speaking engagements, musical performances, comedy highlights, interactive experiences, and gaming demonstrations. Founded by Robert DeNiro, Jane Rosenthal, and Craig Hatkoff in 2001 to revitalize the neighborhood after the 9/11 attacks, the festival has gone on to become one of the premiere debut venues for culturally significant film and groundbreaking storytelling.
My coverage began Thursday night, June 8th, with attendance to a post-premiere party for Sav Rodgers' documentary CHASING CHASING AMY. The documentary begins as an examination of one twelve-year-old's obsession with Ben Affleck to an awakening upon viewing Kevin Smith's influential and groundbreaking 1997 comedy CHASING AMY. Prior to seeing the raunchy comedy, the Kansas native hadn't seen gay characters portrayed with any sort of confidence or agency aside from derision or a cheap punchline. This set the filmmaker on a path to explore why the film was so divisive among the LGBTQ+ community and along the way to ultimately find themself. The party was held at a swanky bi-level pub in Chelsea, hosted an open bar and pizza, and allowed me the opportunity to speak with many people in the film and its adjacent industries. I met a pair of Australian expatriate documentarians who are currently working on a film that explores the uses of vacated old-school Pizza Hut restaurants, and a few other journalists and entertainment writers. I also got the chance to meet CHASING AMY actor Dwight Ewell, who played standout character Hooper X, and bend his ear for a few minutes about the impact of his role some twenty-odd years on.
The next day had me sit down with director Sav Rodgers and producer Lela Meadow-Conner for a half-hour conversation about the film, its origins, its future, and the impact of premiering at Tribeca. From there I walked a few blocks to Gigino Trattoria, a celebrity in its own right as the main star of the 2001 independent feature film DINNER RUSH, starring the late Danny Aiello. The newly formed Producers' Union was holding a panel pairing directors and their producers to discuss the symbiotic role that each plays to bring their dreams of film to life. In attendance were director Hannah Peterson with producer Josh Peters for THE GRADUATES, director Gabriella A. Moses with producer Sterlyn Ramirez for BOCA CHICA, director Brittany Snow with producer Lizzie Shapiro for PARACHUTE, director Chelsea Peretti with producer Deanna Barillari for FIRST TIME FEMALE DIRECTOR, and General Zod, himself, director Michael Shannon with producers Sarah Green and Karl Hartmann for ERIC LARUE. The panel, moderated by Lola Adesioye, went for an hour, allowing the panelists to share stories of setbacks on location, last-minute changes, funding dropouts, and the various fires one must constantly bat down to make a film materialize through all the chaos. I got to chat with a budding filmmaker who was transitioning from documentaries to narrative features, and we discussed the script on which she was currently working. It sounded an awfully lot like the plot of the Apple TV+ show PLATONIC, but how many stories are truly left to tell?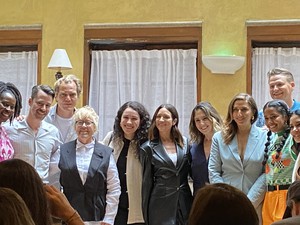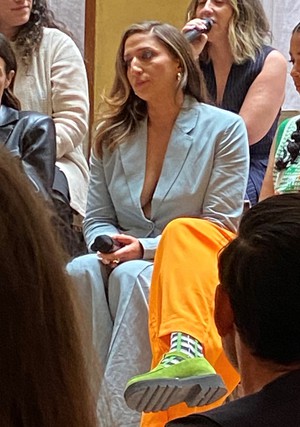 From there I wandered for quite a while, ate some pizza, and tried to secure a ticket to the night screening of Michel Hazanavicius's FINAL CUT, a French remake of the breakout 2017 Japanese hit film ONE CUT OF THE DEAD, by director Shinichirou Ueda. I was told the feature was sold out but I could try to get "rush" tickets, meaning I would need to line up at the theater an hour prior and hope they could squeeze me in. I wandered the city some more (I ended up walking thirteen miles that day) and at the last minute thought "Why the heck not?" I went to the theater ten minutes before the show was scheduled to start and saw the rush line had four people in it. I thought it particularly underwhelming but not a slight against the film, at all; rather a disappointment in the general filmgoing community. I was able to get into the feature, obviously, and as this screening was held at an AMC Theater, even get my giant popcorn and soda. The film was preceded by an introduction from Michel Hazanavicius and then the show began.
If you've already seen ONE CUT OF THE DEAD (which you should) then you understand the fourth-wall-breaking peek-behind-the-curtain breakneck loony comedy of errors that it is, and you might be wondering what a remake would bring to the table. Would it be a shot-for-shot remake, what could they change to improve on the original, and how could a fresh take make it their own? These are all good questions and I assure you, Michel Hazanavicius, who is credited with writing and directing FINAL CUT and has proven his skills at international parody with the first two OSS 117 films, does a fantastic job of making FINAL CUT something that stands on its own as a devilishly clever and fun sendup of the zombie genre. The movie is hilarious, and oddly heartwarming towards its end. I recommend it to any individual who's seen the original and any fan of zombie or comedy films, and especially to film buffs. Go see FINAL CUT!
The next day I had to skip the festival and work at the day job, since I am still, now five years in, an unpaid contributor. Sunday I was back at it, however, heading to the OKX theater at the Borough of Manhattan Community College campus. I arrived to attend the red carpet premiere of the latest film to be directed by Steve Buscemi, THE LISTENER, starring Tessa Thompson as a remote helpline receptionist. I thanked Buscemi for taking part in such a crucial conversation and asked him why, as I'm sure he can have his pick of any feature to direct, he chose this script by Alessandro Camon.
"Well, I wish I had my pick of anything to direct, but this script came to me through my producer Oren Moverman, whose good friend Alessandro Camon wrote the script, brought it to me and my producing partner Wren Arthur. It's such a beautiful script, so well-written, and of course it's all about mental health, the people who are in distress, and the person in this film, Tessa Thompson, who is there to listen and to help."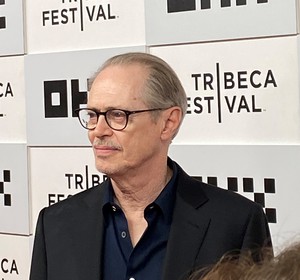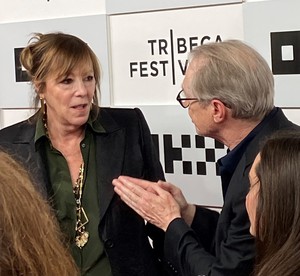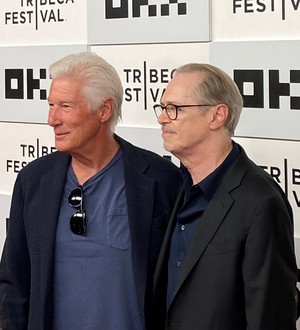 I went on to say there were two ways an outside observer could choose to look at the choice to make such a minimalist feature: one could say it was the easy choice as there is only ever one actress to shoot throughout the schedule or it's an incredibly difficult choice as the challenge of sustaining tension is ever-present, and asked Buscemi to explain his experience behind the camera.
"Well, we originally tried to make it during the pandemic, pre-vaccination, so in that sense, having only one actor was something that we thought we could do and shoot it quickly. It didn't happen then - we did it later. And even though it may seem like it's easy, "Oh, it's one actor, pretty much one location," it would wake me up at night like "How am I going to do this?" Because we wanted to make it cinematic. We didn't want her tethered to her phone or a desk, and what helped us was that because of the pandemic some helpline workers were able to work at home, so that gave us the advantage of having her in her own space. Her home could be another character for the film, and she had the mobility to move around, you could see her dog, see what she does on break, etc. So that really helped."
Buscemi was joined on the carpet by his producing partners, actors Ricky Velez and Bobby Soto, and in a surprise turnout literally just to say hello and show support, actor Richard Gere and Tribeca Festival co-founder Jane Rosenthal. I met a few colleagues from other outlets and we sort of synced our day together, looking forward to reconnecting on future carpets as the festival and season progressed. I wandered off to find my own fortune (in this case, a California Burrito from Dorado) before heading to the next carpet, this one held outside the AMC theater at 2nd & 19th. I didn't have concrete confirmation for this carpet from the publicist but was told if I arrived early we could see about squeezing me in. That ended up not happening, but I was grateful to be there just for the sightings. The prior event's carpet was wrapping up, which was a block of short films entitled "Misdirection," which featured a short by Francesca Scorsese, so of course her dad showed up. Another film in the same block, "Let Liv," starred Christine Taylor, so her husband Ben Stiller arrived to show his support. The legends in attendance were gracious with their appearances and signed plenty of paraphernalia from autograph hounds and fans as they made their way to the carpet and into the theater. The next film set to premiere was a feature called CATCHING DUST, directed by Stuart Gatt, starring Jai Courtney (THE SUICIDE SQUAD) and Erin Moriarity (Prime's "THE BOYS"). The film tells a small story of criminal influence, couples' entanglement, and the binding decisions we make while struggling to find our feet beneath us.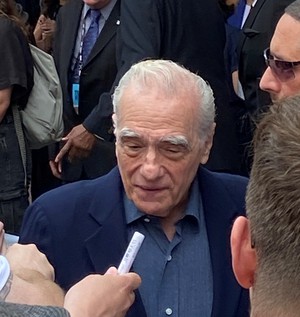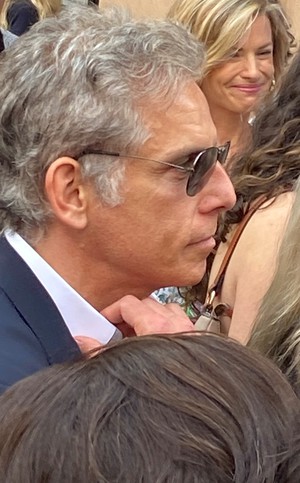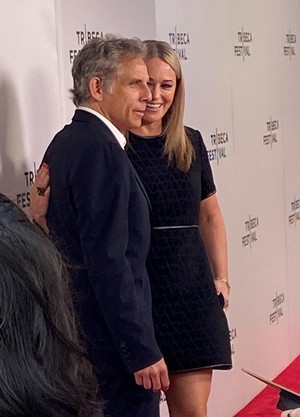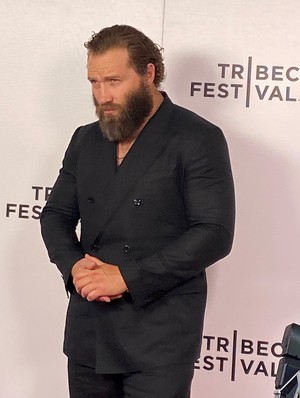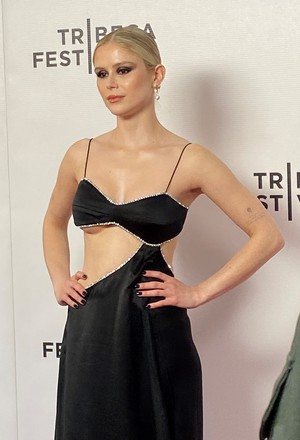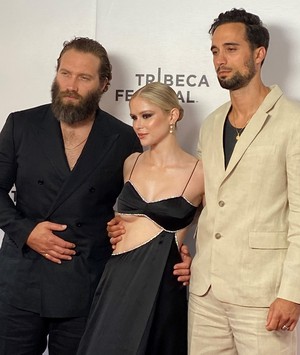 From there I attended a party/mixer thrown by the Florida Film Commission, featuring commissioners, actors, and directors from films in competition hailing from the state. "Konpa" is a short film that tells a minimalist story conveying the beauty of Haitian culture within the peninsula state through food, music, dance, and language. MOUNTAINS is a feature, also examining Haitian culture, chronicling the impact of gentrification on the community through the lens of one family's generational differences. Afterwards, it was time to head to the School of Visual Arts theater on 9th & 23rd to attend the red carpet for Joe Lynch's SUITABLE FLESH. The throwback erotic thriller stars Heather Graham, Johnathan Schaech, scream queen Barbara Crampton, legendary character actor Bruce Davison, and a powerhouse performance from Judah Lewis. The film is based on the H.P. Lovecraft story "The Thing on the Doorstep," and is a trippy, slashy homage to the late, great Stuart Gordon (RE-ANIMATOR), produced by AMP International with distribution from RLJE Films and SHUDDER.
It's common knowledge that Lovecraft is frequently regarded as unfilmmable, as the terror stems from Eldritch horrors that literally lie beyond the capabilities of human imagination. As I got the chance to speak with Johnathon, Heather, and Barbara, I asked each of them how they felt the film attempted to clear that hurdle.
"The magic of his writing that we've witnessed throughout the years, now they've taken it and modernized in a beautiful way. They've turned the roles completely opposite so that the male roles become the female roles, and basically that's what you'll see when you see the movie. If you know anything about Lovecraft, they've switched the roles so that the masculine is the feminine and the feminine is the masculine." - Johnathon Schaech
"I feel like I was working with such seasoned veterans of Lovecraft with Barbara and Joe, who are so well-versed in it, and I feel like they took Lovecraft and turned it into something fresh. I love that they did a reversal of the sex so my character, which was written as a man, turns out being a woman, and I think that's a very cool way to tell the story." - Heather Graham
"I think that's true in a sense because Lovecraft is all about the inner world, and what's going on with people and how they're feeling and how their fears overtake them and how they can't control what's going on in the outer world. I feel like a lot of people are afraid of Lovecraft because of that, because his stories are a little slim, but the feeling is very intense, so it takes someone like Dennis Paoli, who has a good sense of story and structure, to infuse that upon the material and come up with a story that is going to embellish the feeling of Lovecraft's stories and make it into a whole production for a movie. So, I'm working with one of the best writers in the business, as far as Lovecraft. So, yes, what you're saying is true, but in the hands of Dennis Paoli, not as hard as it looks." - Barbara Crampton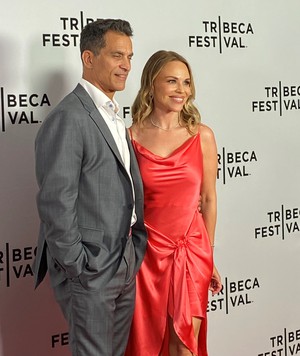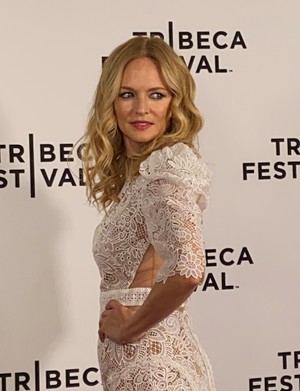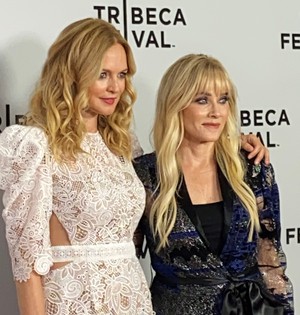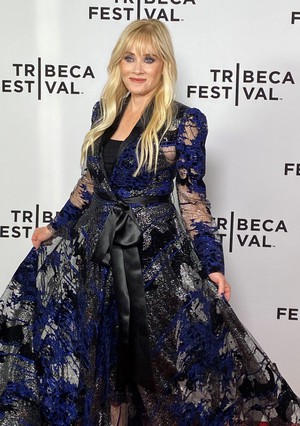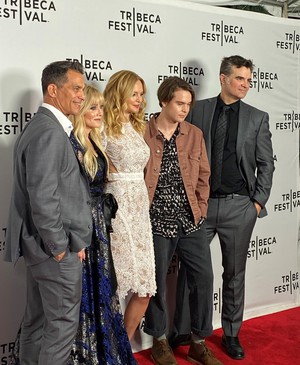 With Joe Lynch in front of me, I really wanted to get a peek into the nuts and bolts of creating such a gonzo throwback horror film, so obviously the topic of practical vs digital effects dominated our conversation.
"Honestly, one of the things that we strove for with the movie was to try to be as practical as possible. Now, there are certain things that we could never achieve. I could never have Heather Graham flying a hundred feet off of a building onto concrete but I could try as much as I can. The thing that we used a lot of in this film is a mix, an amalgam of both practical and CGI effects. I think, and I think most visual and makeup artists would attest, that when you know how to blend both of them together, they're just tools. So you're still being able to get the same kind of texture and tactile nature of what it's like to have a creature on set or great makeup on set, but if it means you have to get a little bit more movement out of your creature or your dead body by erasing wires, all the better. So when you can have two departments working together in tandem, it's a beautiful thing, and we did a lot of that in this."
Lynch's mention of creating something beautiful through creatures and dead bodies reminded me of a larger discussion around horror films, thrillers, and even heavy music. These creations are art, and while they may not align with a broader view of what defines beauty, they have an aesthetic charm that commands appreciation. I asked him what his reaction is to those who decry the violence or abhorrent nature of horrific visuals, and what sorts of audience reactions he seeks when making pictures like SUITABLE FLESH.
"Honestly, and again this stems from some of my favorite filmmakers not kowtowing to the masses, where they want to get a reaction. There's nothing better than to be in a packed theater watching IRREVERSIBLE, with Gaspar Noé, and watching people walk out and seeing him in the back row, giggling, you know? These days it is so rare that we get a theatrical, communal experience. Nowadays, when you're home watching something, you can just go *boop* - turn it off, and that's it. But there's nothing better than to be in a theater and seeing two dudes fist fight during FUNNY GAMES. If it means you're going to provoke a response, that's the power of cinema. Whether you love it or hate it, or anything in between, getting any kind of response these days is nothing short of a miracle, and I always welcome it. Because at the very least you created an emotional response off a 2D image that you created, and that's a win."
SUITABLE FLESH is jarring at the start, opening on a minimal set with admittedly stunted dialogue and odd pacing. This, I think, is a calibrating scene for the audience to prepare them to ingest what unfolds as the film progresses. This isn't TITANIC or SCHINDLER'S LIST, and if you're sitting down expecting that sort of experience you will not enjoy this film. But when you adjust your expectations to an erotic thriller laced with 90s camp and a horror backbone, you'll be pleasantly surprised by SUITABLE FLESH. I know I was. The true genius of the film is that it delivers on a promise to those who have chosen to meet it. It isn't meant to convert the uninitiated - it's a film for genre fans. SUITABLE FLESH is fun, menacing, and mind-bending. The possession story is microcosmic as we come across it through a few key players but the implications of its timelessness are vast. I can't praise Judah Lewis enough for the work he does playing several characters in one body, and quite a bit of the core cast get the opportunity to stretch their acting chops through the body swaps. The kills are visceral, and the camerawork is gaudy and campy in the best way. If you love Stuart Gordon, H.P. Lovecraft, or a good old school erotic thriller, make it a point to see SUITABLE FLESH when it gets its wide release.
For my last day of Tribeca coverage it was back to the SVA theater on Monday afternoon to attend the red carpet for Thaddeus O'Sullivan's THE MIRACLE CLUB. Again I arrived early, making my privy to the prior carpet - the premiere of Chelsea Peretti's FIRST TIME FEMALE DIRECTOR. The film, written and directed by Peretti, stars Peretti as, you guessed it, a first time female director. When the local theater where she showcases her works fires its resident director for misconduct, playwright Sam is tasked to direct her latest work for the stage. The star-studded cast includes Amy Poehler, Blake Anderson, Max Greenfield, Natasha Leggero, Tim Heidecker, and Andy Richter. Also on the carpet to show support for the film were Peretti's husband Jordan Peele and legendary actress/comedienne Sandra Bernhard.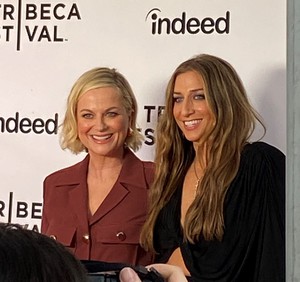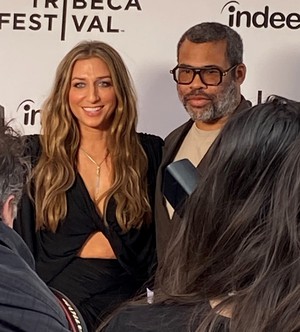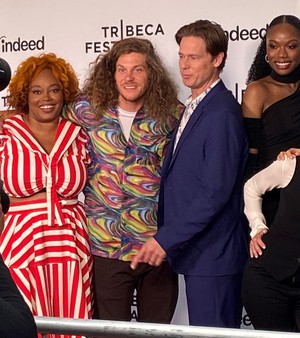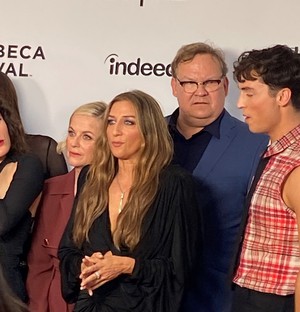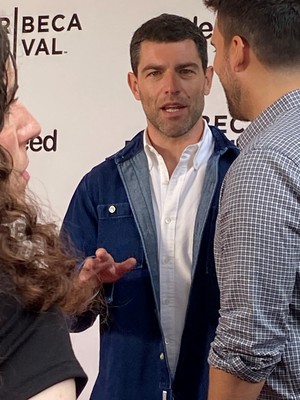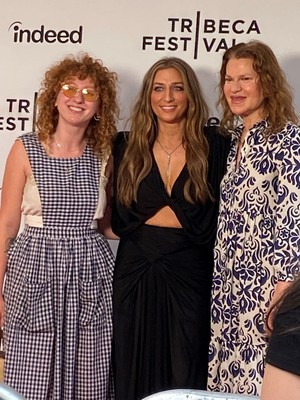 For THE MIRACLE CLUB's carpet I was able to speak with director Thaddeus O'Sullivan and star Laura Linney. The film is a heart-warming tale set in 1967 about a trio Irish women who win the opportunity to do missionary work in Lourdes, France. Souring their excursion is the re-emergence of an old acquaintance, Chrissie, played by Linney, who has been exiled for almost forty years in the United States. The film itself languished in pre-production for almost twenty years until landing on O'Sullivan's desk, which I asked him about. I also inquired how peculiar it must be to direct a "period film" that takes place within the timeline of his own life.
"It wasn't a production schedule so much as a development schedule. I came on about two or three years ago and worked with the writer, Tim Prager, and I think we brought something to it that really got the wheels moving."
"Yes, it's a period I know very well - the sixties - and it's when I left Ireland, in fact, so it has memories that are fixed in my mind; kind of frozen in time. In a way I was very interested to go back and unfreeze some of those. It's an interesting period of time in Ireland because it was a period of transition, about the fifties to the seventies when Ireland really began to change, so myself and the design team found that very interesting to recreate."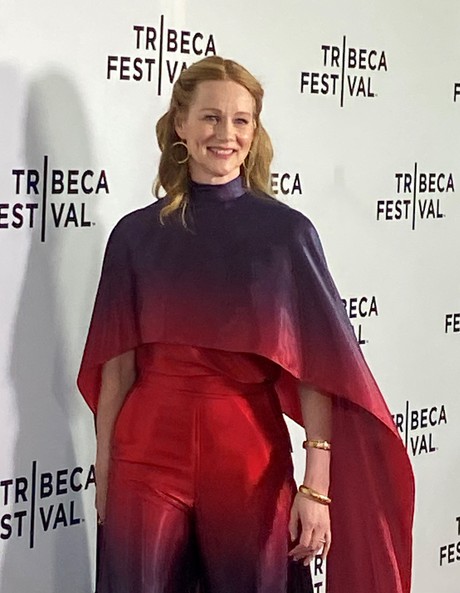 When I got the chance to speak with Laura Linney, I'll admit I was a bit starstruck. I'm a huge fan of her work and have been for so many years, and to have her standing in front of me was obviously very overwhelming and intimidating. Nonetheless, I managed to ask her about playing the wildcard in the core group of the film, if she enjoyed playing the fly in the ointment, and what the vibe on set was like along such powerhouse costars.
"I enjoy playing anything with Maggie Smith and Kathy Bates.[ As for playing 'the spoon that stirs the soup'] it depends on your point of view. It was just amazing; we were all so happy to be working together and even more so amazing to watch people of that caliber and with that skill set do what they do, it was truly an amazing experience. Of course [there was levity], I mean, we were in Ireland! It was beautiful, the people were wonderful. You know, it was hard work; there were challenges as there are in any film but I think we're all glad we made the movie."
And with that, my whirlwind weekend in the city came to a close. It was such a rush to be on the ground at Tribeca, meeting my colleagues, the actors/actresses, directors, and producers that bring us such fantastic films, and spending time in New York City, itself. The city has always struck me as a character, and though I probably should have strayed from my strict diet of alcohol and pizza, the miles under my feet mitigated most of my bad decisions. If given the opportunity, I would absolutely attend the festival next year, and I'd like to give an extra thanks to the production assistants, staff, publicists, talent managers, and everyone who helped the Tribeca Festival to run smoothly.

Until next time, see you at the movies!
-McEric, aka Eric McClanahan-