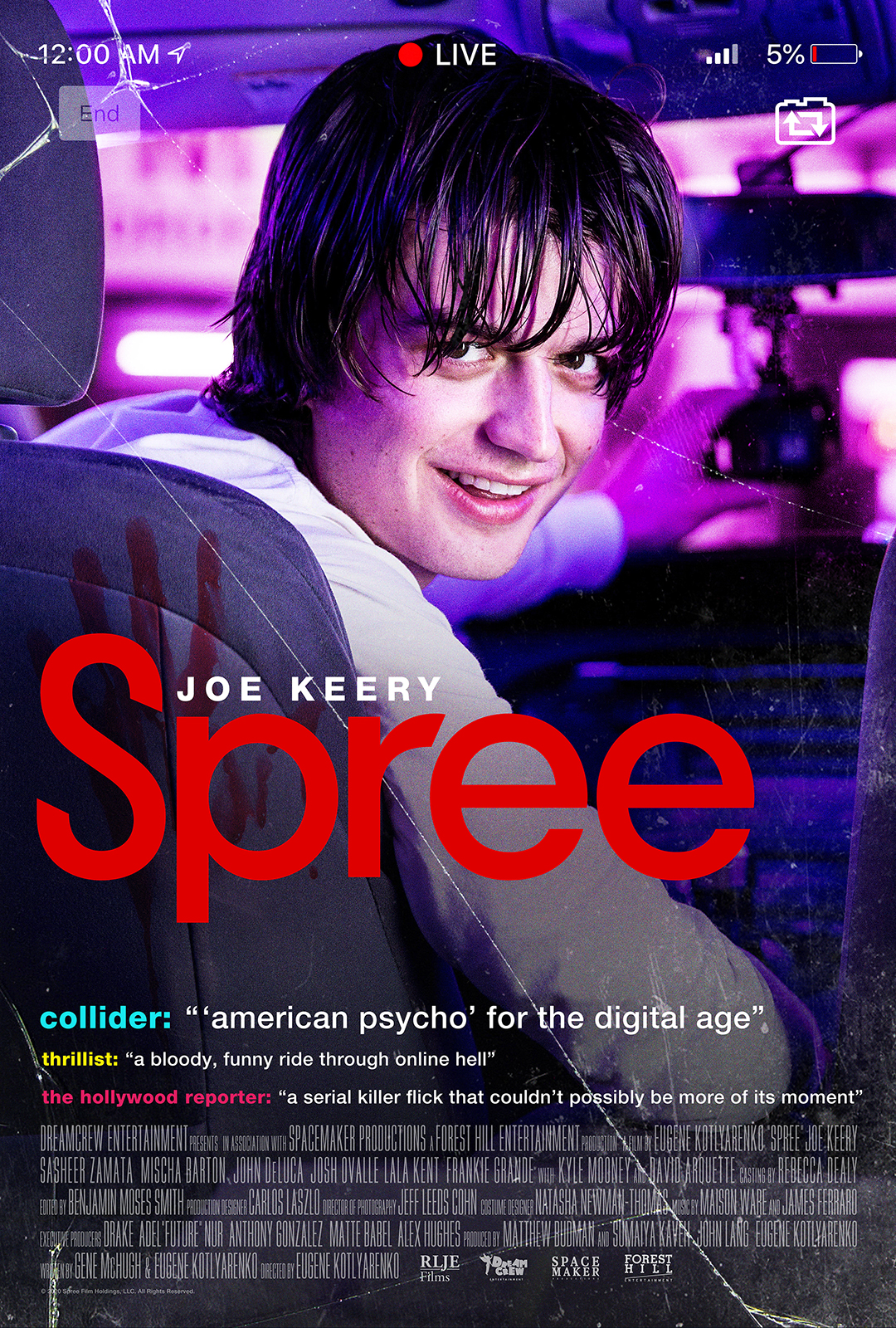 A couple weeks ago I had the immense pleasure of watching a screener for the new horror/comedy SPREE. In SPREE a young wannabe online influencer is finally seeing the writing on the wall- in order to boost his meager viewership after years of posting mostly ignored videos and tutorials, Kurt decides he needs to up the ante in order to garner more coveted "subs and followers." The painfully earnest Kurt decides to kill two birds with one stone by filming his various colorful passengers during his "day job" as a driver for the ride share app Spree. Outfitting his car with GoPros, Kurt's intentions at first seem a bit questionable but soon spiral into downright maniacal as the desperate driver terrorizes passenger after unsuspecting passenger in order to make Kurt's World go viral.
SPREE is such a fun film. You take what is essentially a found footage film of sorts and combine that with a simple sinister plot, and you end up with chuckle-worthy commentary on today's insatiable lust for insta stardom. In addition to the on brand references to faddish social media celebrities, the film is crammed with visuals of the various POV's as well as the characters' own feeds and live streams- all topped off with an epic amount of individual comment threads. I predict many a completist home viewer (It me!) pausing the film to read each and every comment posted on all the various screens- sometimes three at once! All of this information/sensory overload sets a perfectly unsettling and realistic tone for Kurt's increasing menace.
While all of this may sound super serious and somewhat dreary, here's the thing- SPREE is actually a blast. As Kurt, Joe Keery (STRANGER THINGS) does that incredibly tricky thing of somehow making a maniac sympathetic. While you don't exactly root for Kurt, it's easy to understand how a guy in his situation could resort to such evil measures to finally get the validation he so desires. It doesn't hurt that some of his passengers practically have douchebag stamped on their foreheads...
A converging storyline featuring SNL alum Sasheer Zamata as an up and coming comedian also helps elevate the story from simple slasher to clever and nuanced horror.
After my good time with SPREE, I was delighted by the opportunity to speak with the film's co-writer/director Eugene Kotlyarenko. Sadly, we didn't have as much time as I had anticipated, but I was still able to dive into some of my questions about shooting under fairly strict dogma regarding camera POV, he and Kerry's strategy for such a complex character, and even a bit about the music used in the film. I hope you enjoy our chat!
Hi Eugene! How are you today?
Kellerman:
I'm good, I'm good. I might have to cut it a little short since we're running behind, and I have to move on with my day. But I couldn't wait to talk to you, and so let's get started straight away.
Kotlyarenko :
Okay. Awesome.
Kellerman:
Whenever you're writing and directing, creating a film, with such strict dogma, where all of the action is happening in these staged cameras... how do you go about crafting a story and making sure that you stick with the dogma And make it believable. Can you talk about all the things you took into consideration with that?
Kotlyarenko :
Yeah. So, this formal language kicks off the story, right. So the story is about Kurt who is trying to do a live stream tutorial but through carnage and murder and all that. And that story, while you could probably tell it through conventional cinematic means, it would be less effective, right, it would be less immersive and it would be less realistic. And a lot of the horror in this film comes from the feeling that you're really watching something real. And so, yeah, it was for me a no-brainer that we have to execute it like this. I've actually made several films before that integrated phone screens and social media, and even a few films that were made exclusively on computers. So I always think about these visual and formal decisions and I think limitation in a lot of ways, especially when you're doing something unique or something that is independent, can be an opportunity. Obstacles are opportunities for innovation.
Kellerman:
Absolutely.
Kotlyarenko :
So while it was extremely hard to shoot a feature on iPhones and GoPros, because they're not built for that- like the GoPros would crap out every 20 minutes in the sun, and I can't monitor an iPhone from a distance of more than 20 feet. And the movie, as you saw, is a very fixed scene movie. We set up the cameras all around the car, so none of our crew could be staged anywhere near the location and stuff. So there are very unique challenges to this type of film. For instance, on the flip side, you have really good actors in the car for 20 minutes, and you're obviously monitoring it, I have my walkie-talkie and stuff, but they're just going straight through. So you don't have to break things up or insert the close-ups and medium shots and stuff. So it's really liberating for actors to become these characters for the entire scene, as opposed to just fragmented coverage.
Kellerman:
Right, right. And I'm sure, editing is probably a bit of a nightmare with all of the different angles... but there's so much coverage that it's kind of a blessing and a curse.
Kotlyarenko :
Well, yeah. It is and it isn't. The editor, Ben Smith, who I worked with on several films, as you know... A few of my previous films are improvised, and so that has its own challenges of how do you find the right coverage and how do you jump takes and all that. So we have a shorthand. Here, it didn't happen as much as I would want, but when you have a perfect take, that's perfect, you just stick with take seven and you cut between the angles. You have your special set pieces that are set up for each scene, and I always was very adamant about getting exactly the right angle and coverage for that. But for some of these sequences, it's just about where is the most appropriate angle in that moment for the actor. Yeah, it is challenging. Also, like the visual sector, all the comments that are in the movie-
Kellerman:
That's my next question. Yes. I'm like, on top of handling all the different coverage, you have all of this incredible content. I'm watching it thinking, oh my God, they created... from the tutorial videos down to every comment. Yeah, can you talk about that some more too?
Kotlyarenko :
Yeah, for sure. Kurt Kuncle's social media content, that was actually originally a character building exercise that Joe and I did helping to get into character before principal photography began. So we kept shooting that more and more during the movie because I knew I would integrate that into the film when we could. And then during the early edit we came up with the idea of doing a montage at the beginning to introduce you to his world and all that.
In terms of the comments, that was just me over a long weekend, just writing all of those comments, coming up with all those user names. And then the effects artists, motion artists, they were able to animate it all. We did versions about when those comments hit. Even if they're going super-duper fast, I want a teenager to pause it at home whenever they want and read like a user, a viewer. And it helps believability and realism of the film. And it makes it scarier too.
Kellerman:
Right! I just loved it. The OCD in me wants to go back and read every single comment, see if there's any little Easter eggs. It's so brilliant, and it really does speak to how these days with constant information, we all have a "feed" going all the time. Whether it's a group thread, or somebody we're following. And so I just loved how you integrated all of that and still kept a cohesive story going. Can you talk about Joe's performance a little bit too? Because you write this character and he seems really sinister but then he still somehow maintains this quality of earnestness or... I don't want to say innocence, but there's something...
Kotlyarenko :
Yes. He is naïve and oblivious to the ramifications of what he's doing, right. He is someone who was raised on social media, and the number one cardinal rule when social media was birthed, if you recall, it was maybe 15, 20 years ago, was, sharing is inherently good. Like most things, it's inherently morally good, because we are sharing our personal experience, and so we are democratizing media. And that taken to the logical extreme can become really scary, because that trumps any other morality. So you have someone who realizes, just from watching TV and existing in this world, that violence and murder is going to garner attention.
Joe and I were very sensitive to these things. This is obviously a satire and it's a horror film. So Joe and I were very sensitive to how we could create a character who was a monster, essentially, or lacking in this morality, and still provide him with pathos, this desperation. Very transparent desecrations, which was easy to laugh at as part of the critique and the satire, and easy to be disgusted by because it's horror that's happening. But also easy to see yourself in. That was the key, that was really the most important part of it. Kurt Kuncle is the horrifying extrapolation of the desperation inside of all of us to feel relevant and to feel loved on social media, you know?
Kellerman:
Yeah. Absolutely. Absolutely. Well, unfortunately I have to cut it short, but I do want to ask you just one more quick thing
Kotlyarenko :
Sure.
Kellerman:
Just about the music throughout. I mean, there's this whole theme of, I don't know, conflating DJs with influencers, so there's that whole underlying theme. I liked the music because I t seems like it gives it sort of a video game vibe in a way.
And then the final song- I won't spoil it here, but oh my God, stroke of genius. Love it. Can you just talk a little bit about the music and how you use that to move things forward?
Kotlyarenko :
For sure. So like the visual storytelling, the music actually had a conceptual bent to it too. Because, at least for the first half of the film, you're supposed to believe that all of the score is Kurt's music, we actually had two composers work on it. They both were trying to find a balance between music that was really believably bad that Kurt could have made- really simple beats, really repetitive beats, really almost like basic templates from a lot of different producing programs- and also something that could be compulsive and scary and set the tone and mood for the different scenes in the film. So I do think that the composers were really able to nail some things that were simultaneously simplistic and kind of cringey, but also really effective in almost like a John Carpenter-ish way of setting the tone.
Kellerman:
Definitely. That undulating undertone the whole time. Yeah.
Kotlyarenko :
Yeah. But I know that one of the video game music ones where he's doing the, "Well, this is how you rate yourself on her phone, and this is how you..." we just came up with together, and I was like, this is funny. This is a Kurt mind, as a song. It's just so silly and bouncy and stupid, and it made a perfect contrast to the insanity of what you see in that scene, which is... I don't want to spoil it for anybody, but... anyway.
Kellerman:
Yes, yes, yes. Totally. I get it. I thought it was such a great choice. I wish I could talk to you more. I'm sorry, I have to cut it short. But congratulations on a really clever, well-made film. I feel like you nailed it where a lot of people haven't. It's like a found footage movie but also such a great commentary on the current state of social media and influencers. So congratulations and thank you so much.
Kotlyarenko :
Thanks very much. I hope your readers- I mean, I read AICN- I hope they just get that the movie is also just like super fun and entertaining, because we're talking about a lot of big important, heavy ideas and formal innovations and such, but I hope they just get the movie is fun.
It's so cool to be able to pick the brain of the creator of an awesome movie you just watched, and Kotlyarenko did not disappoint. Check out SPREE for yourself when RLJE Films releases the film this week in Theaters, On Demand, and Digital on 8/14!
Cheers!
Rebecca Elliott
aka Annette Kellerman