Hey, friends. Barbarella here. SPIDER-MAN: NO WAY HOME comes out today. If you're like me, sometimes you may get too excited about a film before seeing it. Yet, even though I looked forward to seeing SPIDER-MAN: NO WAY HOME so much, I still thoroughly enjoyed it. Sure, it follows the typical Marvel formula, but laughs and action with a little bit of a message are successful for a reason. Who doesn't enjoy laughing or sitting on the edge of one's seat? And we could all use a lesson or two from Aunt May.
The film opens reminding anyone who's forgotten that Spider-man's true identity had previously been revealed. Now, Peter Parker faces a whole new level of threat and turns to Doctor Strange for help. What could go wrong? Well, a lot, as it turns out.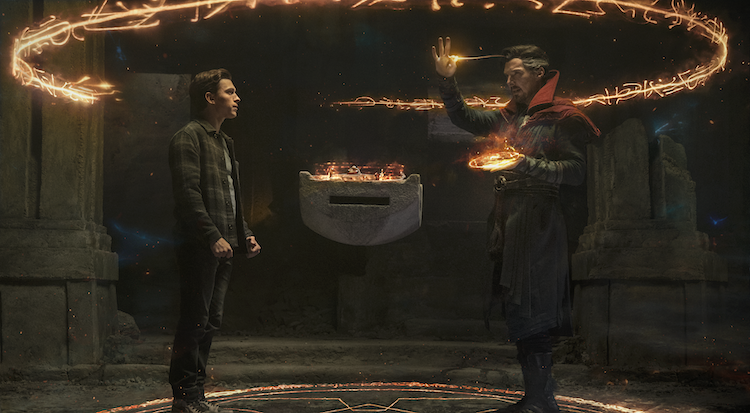 While it would be irresponsible for me to tell you much about what actually happens, because it would be far too easy to venture into spoiler territory, I will tell you that this latest offering involves the multiverse. Granted, it's not as visually engaging for me as the animated film SPIDER-MAN: INTO THE SPIDER-VERSE, but it does offer some rather incredible visual sequences, particularly while in the Mirror World. I enjoy the fight scene in that world slightly more than the climactic one later in the film, but that's primarily due to those engaged in it and the visually intriguing scenery through which the characters navigate.
While at face value, NO WAY HOME proves a fun and exciting visit to the theater, there's so much more under the surface. Briefly touching on topics like self-perception, self-esteem, sacrifice, what it means to try to help others, responsibility, and friendship, one could glean a whole lot of meaning from the action-packed and entertaining film. That's only if one wants. I mean, it's easy enough to sit back and laugh at the quips and engage in the situations without ever contemplating anything deeper. I'm just saying, it's there if one were inclined to explore it. I also appreciate how having a greater responsibility gets defined in a more meaningful, expansive way.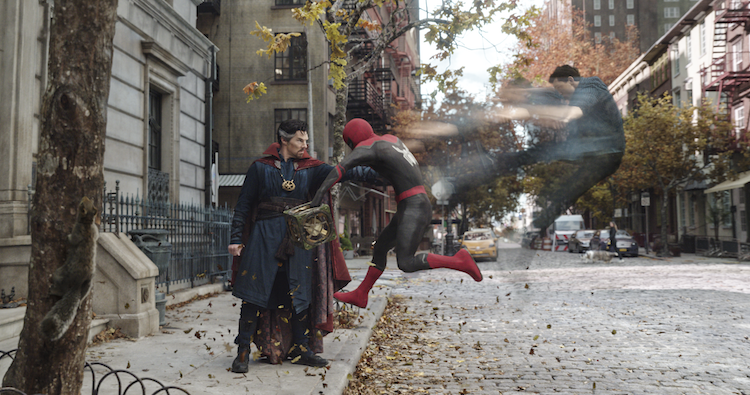 In addition to valuing the thought-provoking ideas offered, I find myself laughing more throughout NO WAY HOME than any recent Marvel film. In fact, I think every joke included in this film has me in mind because it appears every single moment that's meant to be comical garners a laugh from me. Sure, it seems I laugh at things others don't, but in my defense, I enjoy finding humor in a situation, and also, I did watch this with a fairly small press audience. I'd expect more laughter in a fuller theater of Spider-Man fans.
Even with a smaller audience, I often hear others laugh and react to moments as I do, particularly the surprises. Every one of these moments feel more satisfying when hearing others in the theater also react. Sometimes experiencing a film in a full theater genuinely adds to one's enjoyment of a film, and I think, NO WAY HOME is one that would be better seeing it theatrically, not just to have that collective experience, but to also experience on a grander scale some of the more exceptional visual elements that the movie offers. I may try to catch this again in IMAX, because some of the footage would be absolutely incredible on that scale.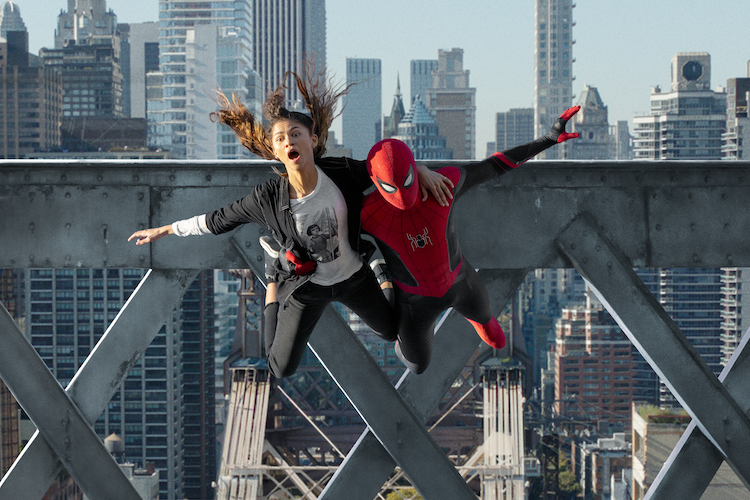 NO WAY HOME revisits some ideas from past films and looks at them with fresh eyes. I thoroughly enjoy a few scenes where we get a bit more insight and context, but to say anything else here would be to say too much. I hate spoilers more than anyone, so I often would rather err on the side of not saying enough than to say too much. I know there are people like me out there, but I also know that others find my vague approach somewhat annoying. Sorry to the latter, but people like me would like to read reviews, too.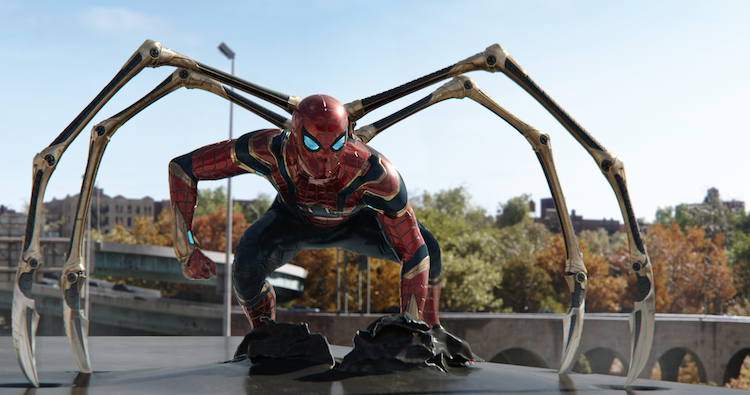 Naturally, since this is a Marvel film, you will want to stick around after the credits for the super exciting teaser. This movie is 2 ½ hours long, so just be aware of that before you down a huge beverage during the first five minutes. I will say that it certainly doesn't feel like a longer movie, and I could not believe the time as we were leaving the theater. It was so much later than I had expected. Even if you have to rush out during the credits, pop back in before they are over because the post-credit scene is a teaser trailer that proves exciting. I, for one, cannot wait to see more. SPIDER-MAN: NO WAY HOME comes out today.