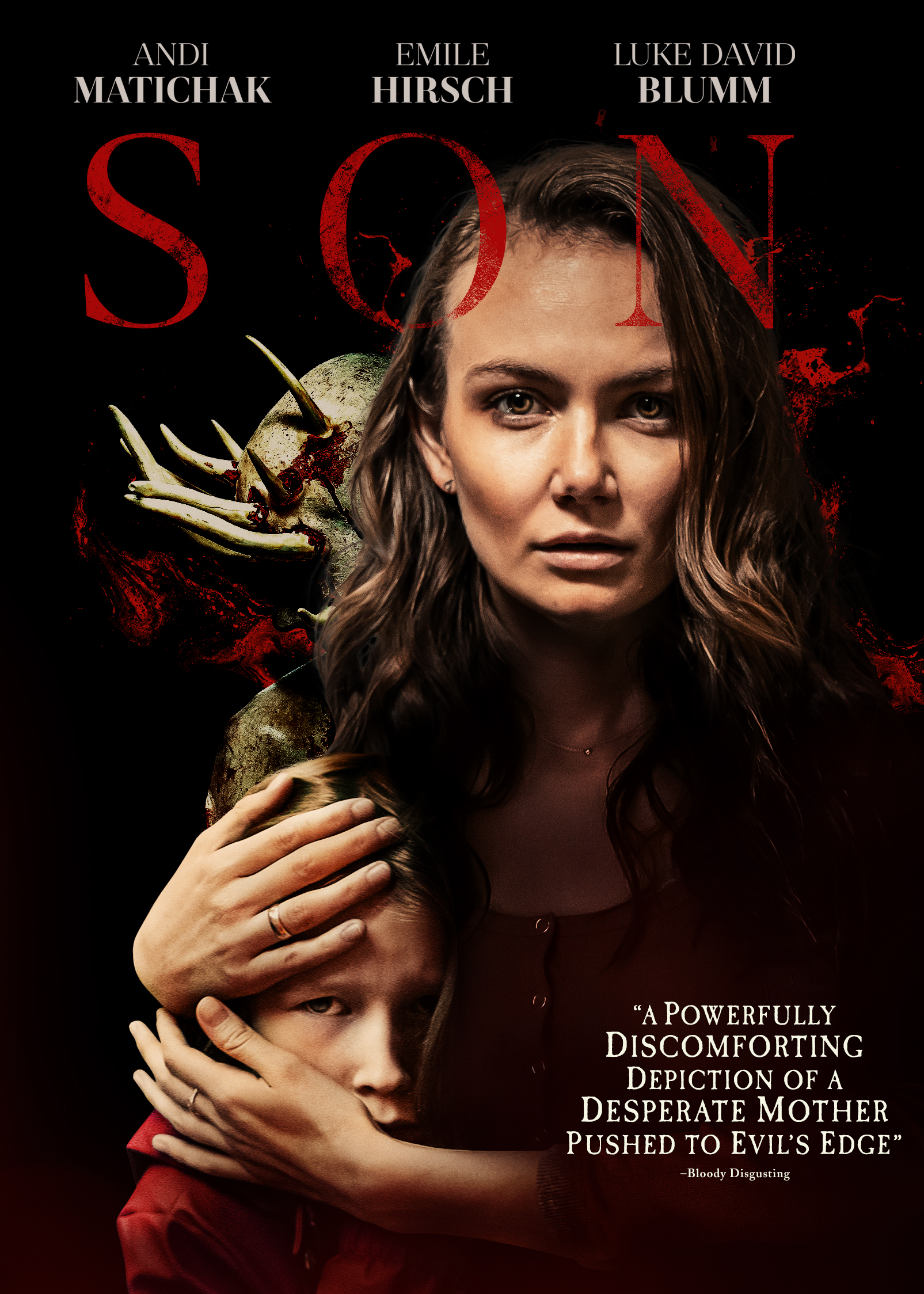 RLJE Films, a business unit of AMC Networks and Shudder (AMC's premium horror, thriller, and supernatural streaming service), has marked 5/18 for their release of SON on DVD and Blu-ray, and AICN has 3 Blus to give away to our loyal readers!
Here's the skinny on SON...
"In SON, after a mysterious group of individuals breaks into Laura's home and attempts to abduct her eight-year-old son, David, the two of them flee town in search of safety. But soon after the failed kidnapping, David becomes extremely ill, suffering from increasingly sporadic psychosis and convulsions. Following her maternal instincts to save him, Laura commits unspeakable acts to keep him alive, but soon she must decide how far she is willing to go to save her son."
SON stars Andi Matichak (HALLOWEEN franchise, ASSIMILATE), Emile Hirsch (SPEED RACER, ONCE UPON A TIME...IN HOLLYWOOD, INTO THE WILD), and Luke David Blumm (THE KING OF STATEN ISLAND). Ivan Kavanaugh (NEVER GROW OLD, THE CANAL) wrote and directed the film.
Check out the trailer...

RLJE Films will release SON on DVD for an SRP of $27.97 and Blu-ray for an SRP of $28.96, but if you'd like a chance to win the hair-raiser on Blu-ray, email me at annetteaicn@gmail.com with the subject line HERE COMES THE SON. Please include your mailing address in the body of the email. Contiguous U.S. residents only.
Winners will be chosen at random by 5/17 at noon. May the odds be ever in your favor!
Cheers!
Rebecca Elliott
aka Annette Kellerman