Hey there all you ghouls and gals! We are in the back half of spooky season so that means we get some of the best tricks and treats in the next week or so. That spirit of giving begins today with K. Asher Levin's SLAYERS, a horror comedy which he wrote along with Zack Imbrogno, starring Thomas Jane (GIVE 'EM HELL MALONE, THE LAST TIME I COMMITTED SUICIDE), Malin Akerman (WATCHMEN, "Children's Hospital), Abigail Breslin (LITTLE MISS SUNSHINE, ZOMBIELAND), Jack Donnelly (FRIENDSGIVING, A WEEK IN PARADISE), and Kara Hayward (MOONRISE KINGDOM).
Check out the Red Band trailer:
SLAYERS is an inventive take on the vampire genre, edited in a style that mirrors the frenetic pace of our current screen culture and pseudo-celebrity worship. Record scratches, metal tracks, screens within screens, commentary over commentary, and exposition aplenty keep the film from ever feeling tired or dull. Thomas Jane is bristly fun as the grizzled reality television detective turned vampire hunter Elliot Jones; think if Robert Stack went from "Unsolved Mysteries" to raiding tombs so he could burn mummies as his lifelong passion. Malin Akerman plays the Queen of the Damned in this particular occult opera, and does so with a flair for dramatics and luxury. Abigail Breslin plays against her type as a vapid socialite, and Kara Hayward rounds out the cast as the cynical, skeptical voice of reasoned turned badass final girl.
I got the chance to speak with Malin Akerman (whose name is misspelled in the closing credits; sorry Asher) and Thomas Jane about their characters and involvement in the film.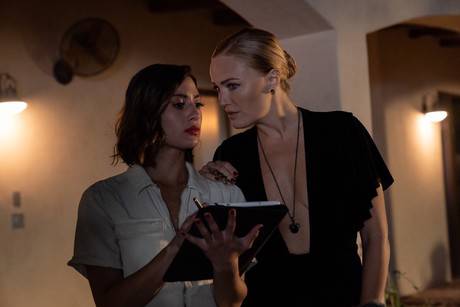 Eric McClanahan: Hey, Malin, how are you?
Malin Akerman: I'm great. How are you?
EM: I'm well, thank you. So I just watched SLAYERS. Have you had a chance to see a finished cut of the film?
MA: I have. We just went and screened it at Scream Fest.
EM: Excellent. Very stylistic, modern. I found it to be kind of a riff on power and celebrity. What sources of inspiration did you find in crafting Beverly's [Rektor] character?
MA: Well, Beverly, for me, is just a woman who's been around for a while. So, what would it be like if you'd been around for hundreds of years and what kind of experience would you have picked up? You know, in their world, and for their intent in this film, to get your way you kind of have to use your wisdom and your poise and power. She's a master manipulator and knows how to read people; she's quite street smart after all her years of being in existence, so she knows her crowd, who she's talking to, and how to approach her prey, so to speak. So it was fun. I really just took her in as a powerhouse; a powerful woman.
EM: Is that one of the things that attracted you to doing this film?
MA: So, Asher, the director, is a very good friend of mine, a family friend, whom I've known for over a decade. I love working with people that I know: friends, family. You want to work with people that you like and love, create teams that you can continue to work with over and over again. So when Asher came to me with this script I was already excited at the thought of working together, and once I read it I realized I'd never done a vampire film before; I've never done anything in this genre, so that was intriguing to me. I was originally just going to come on to produce with him and try to put it together with him. But then he kind of nudged me and said "What about you playing Queen Vampire in this?" and I thought yeah, why not? Let's do it. I'd never done anything like it, my husband was already in it, it's a great cast of characters, and I thought it was a fresh take on vampire hunters. I'd never seen anything quite as comedic as this, and bringing in modern social media influencers. I thought it would be fun and would be great for all of our youngins in the world right now; this would be a great new take on it.
EM: Yeah, stylistically, the film is kinetic; the music cues and the interstitials and the different camera views, how people are seeing it elsewhere around the world. It was really very fresh and original. I liked it a lot.
MA: Yeah, I did, too.
EM: You didn't get any camera time with Thomas Jane but did you at least get to meet him on set?
MA: I did. It was in the height of COVID, though, in November of 2020, so unfortunately we didn't get a chance to even hang out off set, because everyone was recommended to stay in their own quarters.
EM: In a Bubble?
MA: Yeah, in a bubble, unfortunately. Usually when you're on set and you're away from home that's the best part about it: you get to go to dinners together and get to know each other, hang out. But it wasn't anything like that this time. I only got to see Thomas one time. Our days crossed. When I was going out he was going in and starting his stint. But boy, was that ever great. In one way it was a nice surprise because when I got to see the film, I had no idea what he had done on set, and it was incredible. He's so great! He just brought that character to life. He really made something of it. He's a perfect vampire slayer!
EM: I agree. I got to talk to Asher last month about another film that he did and he wears his directorial passions on his sleeve. He's constantly emulating the work of his idols. Is there anyone you had in mind to inspire Beverly that you brought to the scene?
MA: Not really. I have a hard time with that. Unless I'm going to play someone, specifically, a legendary character, I try to figure out the reality of what this person has lived. And in this sense it was hundreds of years, and how that person would act. At this point, you're pretty comfortable in your own skin after all those years. So, no I can't say, though some people have compared Beverly to Lara Axelrod, the character I played on [Showtime's] Billions, and I agree. I think it's just a women-in-power parallel and there's a certain way that you present yourself to the world. But there's no one specifically - I think from project to project there are characters that you can study their world that they've lived in, but there just isn't an actual vampire world that I can study. Aside from films, of course, but I didn't want to make her a caricature of anything. I just wanted to make her as real as possible.
EM: You mentioned this is your first foray into the vampire world. I know you've done a lot of genre and a lot of comedy. Is there an avenue you haven't pursued yet that you're excited to explore? A genre you'd want to step into?
MA: I would LOVE to do a western. I would LOVE to play a cowgirl. That would be a dream. And I would also love to do a period piece. Seventies, maybe? That'd be great. Go back to good old seventies rock and roll? Patti Smith's time, the height of her moment in time. Yeah, any sort of legendary rock-n-roller would be great to play.
EM: So what are you working on next? What else can we look forward to from you?
MA: Well right now I've got some things percolating that I can't really talk about yet. [laughs] But just know that there's stuff coming out. And there are films that have yet to come out. There's one that, again, my husband and I did during COVID, in the Caribbean that's called US OR THEM that's a scary horror-thriller genre, Squid Games-vibe, so that you can look out for. I'm not sure really when that's coming out but hopefully soon.
EM: So how would you describe SLAYERS? What would be your elevator pitch for the film?
MA: Oh, I'm terrible at elevator pitches. To ask me to put things in a nutshell is torture. But I would say "Old vampire world meets new world of influencers and it's a crazy, fun, fast-paced dark vampire comedy." [ laughs] Was that okay?
EM: I love it. Yes!
MA: You could definitely do a better elevator pitch than I could.
EM: Not so sure about that. So, Abigail Breslin. Great to see her; everything she does is wonderful. Did you get to work with her at all?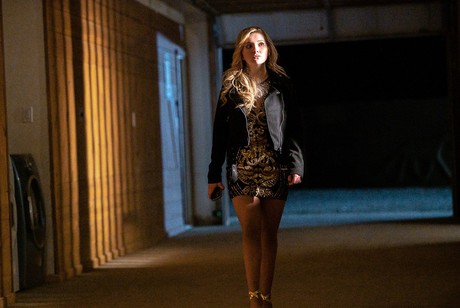 MA: We did, yeah! We had a couple of scenes together, not much. But she's great! She's everything you hope she'd be. She's just really quick-witted and fun, and I was such a huge fan of LITTLE MISS SUNSHINE so it was great to work alongside her and see her all grown up. And she helps us deliver a great shocking moment.
EM: Yeah. It was a great ride.
MA: I'm glad.
EM: Thank you for today and best of luck on everything.
MA: Yeah, we'll talk soon! Bye.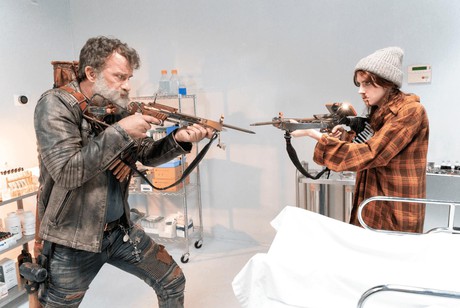 Eric McClanahan: Hey, Tom, how are ya?
Thomas Jane: Pretty good. Yourself?
EM: I'm well, thank you. Thank you for taking the time to talk to me today.
TJ: Yeah, you bet. It's for AintitCool?
EM: Correct.
TJ: Well, I've been following you guys for a long time, and I still like the AintitCool crowd. It's a good group over there.
EM: Well thank you very much. I appreciate it. I've also been following your career for a long time so it's really an honor to talk to you.
TJ: Right on, my pleasure.
EM: So we're talking about SLAYERS, which you did with K. Asher Levin, who I talked to last month about another film you guys did called DIG. Two vastly different films, but if there's any throughline, any connective tissue, it would be a Father's Love. Is that what attracted you to this project?
TJ: Well I guess you're right about that. I hadn't really thought about it in that way. What attracted me to it was the opportunity to take the piss out of a lot of shit that's going on in the world today, you know, the generational gap between the sort of older fellas like me and the younger crowd that's getting obsessed with this influencer business and social media crap and this world that's been created on these glass screens that these kids live behind. So we got to have some fun with that. And then of course the fact that a secret cabal of vampires has taken over the world is also fun [laughs] because it's not too far from the truth, is it?
EM: I noticed that this film skews celebrity and people in power. It has that message to it which I appreciate.
TJ: Yeah. We premiered it at the Scream Fest here in Hollywood this past week and people really responded to that, especially the younger crowd. I had a buddy bring a couple of teenagers, his son and his girlfriend, and they got a kick out of it. We need to start taking the piss out of people. Otherwise we're not going to survive. We're going to become a totalitarian country here if we don't turn around and start speaking up however we can. And this does it through humor - and vampires. [laughs]
EM: Literally de-fanging them.
TJ: Yes!
EM: Now I talked to Asher and he says that he wears his directorial heroes on his sleeve and pays homage to a lot of his heroes whenever he's working on a film. Definitely saw a lot of JOHN CARPENTER'S VAMPIRES on this one.
TJ: Right!
EM: What did you watch to prepare for this?
TJ: Well, you know, this kind of character sort of sits in me somewhere so I connected to it right away. Elliot Jones, straight-laced guy, investigative reporter, enjoys getting at the truth and exposing the truth. Then some tragedy happens, he loses his daughter to a bunch of vampires, of course it takes him a while to figure that out. He starts his own crime show, and using that - you know in the 80s and 90s there were all these great true crime investigative shows on TV - so that's what he does and through that he gets to dig in to what really happened to his kid and of course uncovers something that everyone has a lot of trouble believing: a cabal of vampires have taken over the world and they're basically breeding us for stock to fill their blood banks. And, God, it's not too far from the truth. So, I took pleasure in playing Elliot. All I knew was that he had to have a really big beard.
EM: Now was that prosthetic or was that you?
TJ: That was prosthetic. We had a terrific beard woman make that thing for us and I'm very proud of it. We worked hard on that darned beard. I wanted it to not only look real but also say something about the guy, so that was fun, though it was a pain in the ass to wear. Christy Stockey made the beard; she's really damned good.
EM: How much influence did you have on the physical design of Elliot? His look was very iconic. Did you have any input on that?
TJ: Yeah, really it was all me. Those are all my clothes. I dug around in my closet and found stuff that I thought would work for Elliot. I had other ideas but we didn't have the time to put together some of the stuff that I wanted but we got most of it. It was an opportunity to create a vampire hunter with influences from Van Helsing and Kurt Russell in BIG TROUBLE IN LITTLE CHINA; that was an influence. And I took it from there and had a really good time with it. It was kind of an origin story of a vampire slayer. And people love that character and maybe we'll put another one together.
EM: Yeah, a prequel.
TJ: I could watch more Elliot Jones. I think we need guys like that now who are unafraid to say whatever the Hell is on their mind. We need folks like that these days.
EM: I agree. So what else are you working on?
TJ: I did this show in Australia called TROPPO and that came out on Amazon, I think it's on Freevee. It did really well in Australia, did really well here, they're premiering it in the UK this week, and Amazon picked it up for another season, so I'm headed back to Australia to do that. I also did a great picture called CROWN VIC with Joel Souza, who wrote and directed it. We've got another project that we're going to do as soon as he finishes - they're going back to work on RUST, to try to finish that picture. So when he's done with that Joel and I are going to run off and do this movie called THE ALTERNATE about a guy who gets picked for jury duty and he's - [laughs] - he's the wrong guy. Wrong guy for jury duty, so that's pretty fun.
EM: When I talked to Asher he said that you were something of an uncle to him at this point. What's it like working with him?
TJ: [laughs] You know I don't know why, for reasons unknown to me, we're about to start our third picture together. We're doing a movie with Emile Hirsch (INTO THE WILD) playing Pretty Boy Floyd, so it's a period piece that takes place in the thirties; we've got the old cars and the tommy guns and the haircuts and the suits and the hats… So that's really going to be fun. The movies I've done with Asher have all been very different. We did DIG with my daughter, Harlow. She was fantastic! Now she's out working, out in the world, she loves the acting, though her mom and I never pushed it on her. We always tried to keep her away from it, actually, but it turns out she's a born actor, and damned good at it. A lot better than I was when I was 19, let me tell you. So that was a really special experience that Asher directed. And SLAYERS was our first film; we met on the set, we hadn't met before showing up on set, and I like his sensibility. He's a smart guy, a good producer, knows how to hit the buttons. I've seen him grow as an artist, and he's continuing to grow, and for whatever reason, unknown to me, this is going to be our third picture and we're going to be starting on it in a few weeks.
EM: Well I really appreciate you talking to me. I wish you best of luck with this feature and the ones you've got coming up.
TJ: I appreciate that.
EM: Have a good one.
TJ: Bye, Eric.
SLAYERS is in theaters, on digital, and on demand right now through Avenue Films, so sink your teeth into it. Until next time, check your neck and have a scary good time out there.
-McEric, aka Eric McClanahan-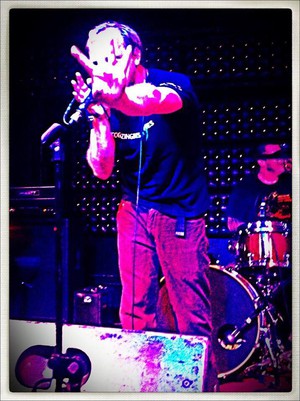 Me, again. You didn't think I'd miss an opportunity with Thomas Jane on the line to get some inside scoop on one of my favorite arthouse dramas, did you? Of course not. I dropped it here at the bottom as an easter egg because I understand that my fascination with slow burn Beat-era dramas isn't really the cup of tea we sling here at this site, but I'm a film buff who likes what he likes and if you want a sidecar with us as we coast down memory lane, here it is:
EM: Well, I have to take this opportunity to ask you about my favorite Thomas Jane performance, and it's a little indie film called THE LAST TIME I COMMITTED SUICIDE, based on a letter that Neal Cassady wrote to Jack Kerouac. What do you recall about working on that film with a young Keanu Reeves?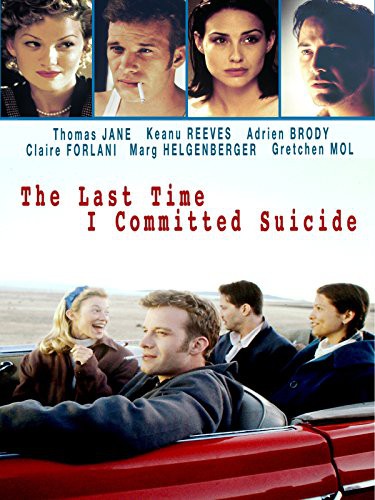 TJ: Oh, wow! Well, that was my first starring role in a picture, you know. A little independent movie, it went to Sundance, got to work with Keanu, who you know, he's got that voice that makes you think he's a stoned surfer and that's kind of how he really talks in real life, but that dude is well read, smart, on top of it. It was surprising. I was like "fuck, this dude's fucking sharp!" Really enjoyed working with him, and that was a tough role to get. A lot of actors really wanted to play it, and I auditioned, you know. The director fought for me and I got the role and it launched my career. I'm very grateful for THE LAST TIME I COMMITTED SUICIDE. Stephen Kay ("Yellowstone", "Quantico") wrote and directed it, and he's a busy man now in television, and everybody went off to do other things, which is great. Man! Gretchen Mol (THE THIRTEENTH FLOOR, THE SHAPE OF THINGS) was terrific in that movie; we had some other really wonderful actors. That was just a real independent, late 90s, independent cinema, Sundance was a big deal then, and independent film was just coming into its own, movies like SWINGERS had just come out and really changed the landscape and gave independent cinema a voice. I can say that I've kind of made my career in independent cinema; genre movies. I've always loved them. It's just part of who I am: I've always loved a great genre picture. I love it when they're intelligent and when they're surprising, so I've tried to do that. I've tried to do that in my life with movies and I'm proud that I've been able to carve out a niche for myself in independent cinema. I think we need independent voices more than ever right now.
If you've never seen the film I implore you to check it out. If you ever had a fascination with the Beat writers of the 50s, with Jack Kerouac, Allen Ginsberg, or William S Burroughs, then you owe it to yourself to watch this film. Thomas Jane sizzles Cassady, a shining dingledody writ small, burdened with the same arrests of development that seize all of us in the pedestrian moments that inevitably leave large scars on the trajectories of our lives; the one degree turns that steer us to safety or into an icy grave. Keanu Reeves delivers one of his finest performances, in this humble viewer's opinion, and I find myself thrusting this film into the hands of new friends who express either adoration for mid-century literature, criticism of the great Reeves's seemingly one-note delivery, or skepticism of the depth of Thomas Jane's wider catalogue. THE LAST TIME I COMMITTED SUICIDE is a desert island disc, a yearly view, and a welcome retreat at every sitting, and if I can bestow the gift to you as it was once laid before me then I can leave this world with a feeling of balance and accomplishment. If nothing else, I will continue to list it among Jane's finest performances and a sparkling footnote in his filmography any time his name crosses my desk. Cheers to you.