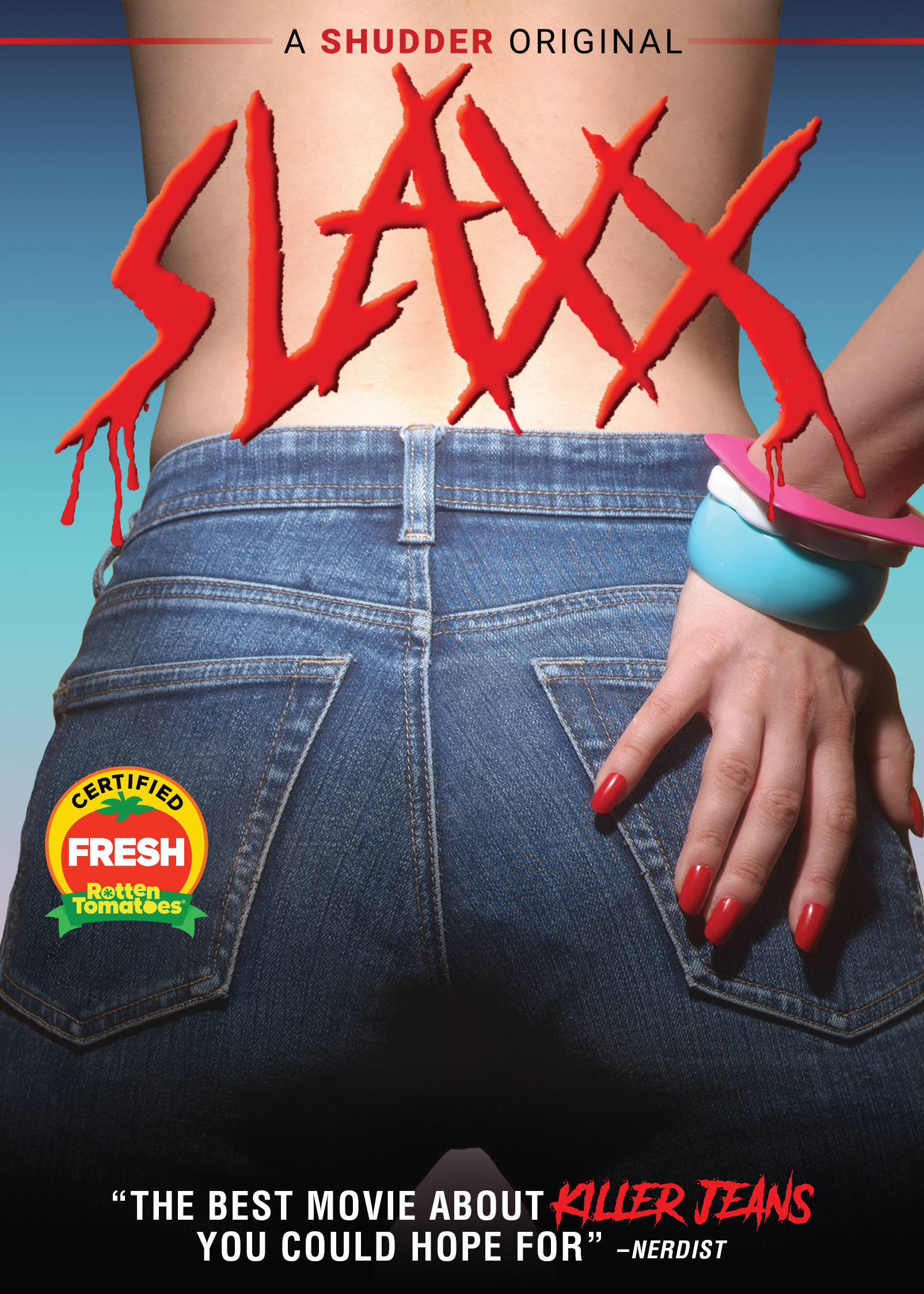 On September 7, 2021 RLJE Films is bringing the outrageous Shudder release SLAXX to VOD, Digital HD, and DVD. If you haven't heard, the film is about killer jeans. Yes, you heard that right, killer jeans, and AICN is giving away DVDs to three lucky readers!
Here's the gist:
"In SLAXX, a possessed pair of jeans is brought to life to punish the unscrupulous practices of a trendy clothing company. Shipped to the company's flagship store, the killer jeans proceed to wreak carnage on staff who are locked in overnight to set up the new collection. SLAXX is "stylish, sharp, and not to be overlooked" (Pajiba.com) and "just good, bloody, fun" (Flickering Myth)."
SLAXX stars Romaine Denis (SLUT IN A GOOD WAY), Brett Donahue ("Private Eyes", "Bad Blood"), Sehar Bhojani ("The Handmaid's Tale", "Seth and Ethnicity"), and Stephen Bogaert (AMERICAN PSYCHO, IT). Elza Kephart (GO IN THE WILDERNESS, GRAVEYARD ALIVE) directs the script she co-wrote with Patricia Gomez Zlatar (GRAVEYARD ALIVE).
Check out the trailer!
Bonus features on the DVD include:
-The Story Behind SLAXX
-The Pants Are Alive
-Producing A Killer Pants Movie
-Call In The Death Consultant
-Casting SLAXX
-Behind-the-Scenes Photo Gallery

If you'd like to win a DVD copy of SLAXX, email me at annetteaicn@gmail.com with the subject line THOSE SLAXX ARE NO SLACK! Please include your mailing address (contiguous U.S. only). Winners will be notified by noon on 8/4. Good luck!
Cheers,
Rebecca Elliott
aka Annette Kellerman