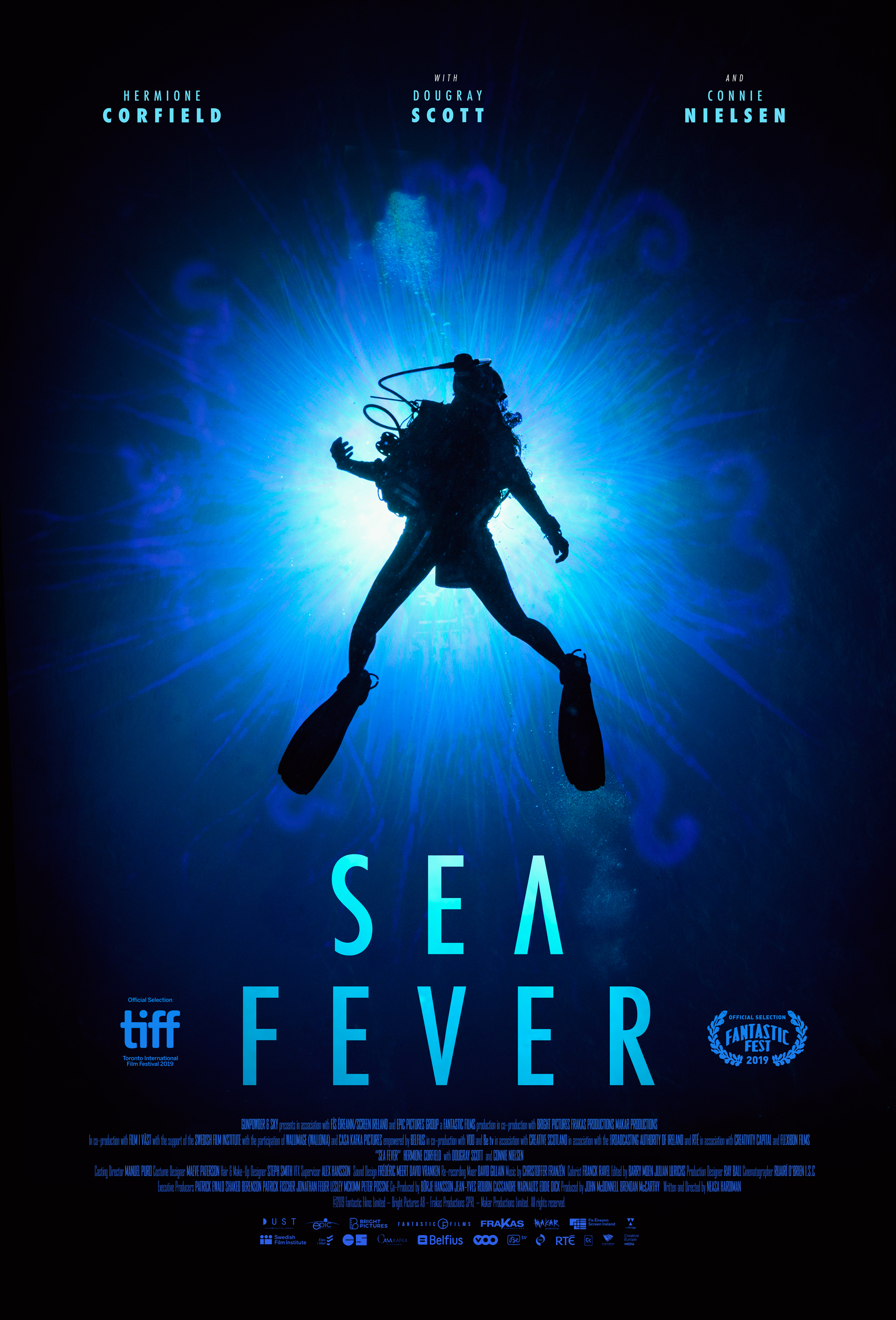 With all the bummer news in the world right now, it's pretty inspiring to see how some folks are trying to make lemonade out of the shit ton of lemons that COVID-19 has pummeled us with. In the entertainment world, that means figuring out an innovative way to celebrate your work and bring it to as wide an audience as possible without the traditional theatrical distribution model.
After plans for a theatrical release through The Alamo Drafthouse and Fantastic Fest fell through due to nationwide theater closures, Gunpowder & Sky hope to capture the communal theater experience by hosting a live stream premiere and interactive Q and A for their new thriller SEA FEVER. Hosted by the entertainment company's sci-fi label DUST, the "first-of-it's-kind" virtual experience will give viewers the chance to interact with each other as well as the stars of the film from the comfort of their own homes.
The live stream event happens on Thursday, April 9 at 5:00pm PT/8:00 pm ET at
https://seafever.watchdust.com
. For a small pay-per-view fee viewers can tune in to watch the live premiere, post comments in a chat room, and have questions answered by director Neasa Hardiman as well as SEA FEVER stars Connie Nielsen and Hermione Corfield via a moderated Q and A following the film.
Here's the synopsis for the film:
Siobhán's a marine biology student
(

Hermione Corfield)

who prefers spending her days alone in a lab. She has to endure a week on a ragged fishing trawler, where she's miserably at odds with the close-knit crew. But out in the deep Atlantic, an unfathomable life form ensnares the boat. When members of the crew succumb to a strange infection, Siobhán must overcome her alienation and anxiety to win the crew's trust, before everyone is lost.
I find it fascinating that in such uncertain times, artists are finding new and innovative ways to bring their work to audiences, and Gunpowder and Sky is only one of countless companies scrambling to salvage some of the spark of their original release plans. "Like everyone, we are adjusting to life's new challenges on a daily basis and feel SEA FEVER is more relevant than ever," said Janet Brown, EVP of Acquisitions and Flobal Distribution for Gunpowder and Sky. "We are psyched to host the first-ever live experience of a film screening and can't wait to share it with audiences."
The event kicks off SEA FEVER's 4/10 release on Digital and On Demand, so check it out!