Hey, friends. Barbarella here. Ryan Kwanten joins heavy-hitters Dolph Lundgren, Scott Adkins, Dermot Mulroney, and Mickey Rourke in SECTION 8, where he plays a former-soldier-turned-prisoner given a shot at freedom from incarceration when a shadow agency recruits him for an off-the-books assignment. I have to say that I thoroughly enjoy seeing Ryan in hand-to-hand combat scenarios, and I'd love to see him tackle more of those kinds of roles in the future.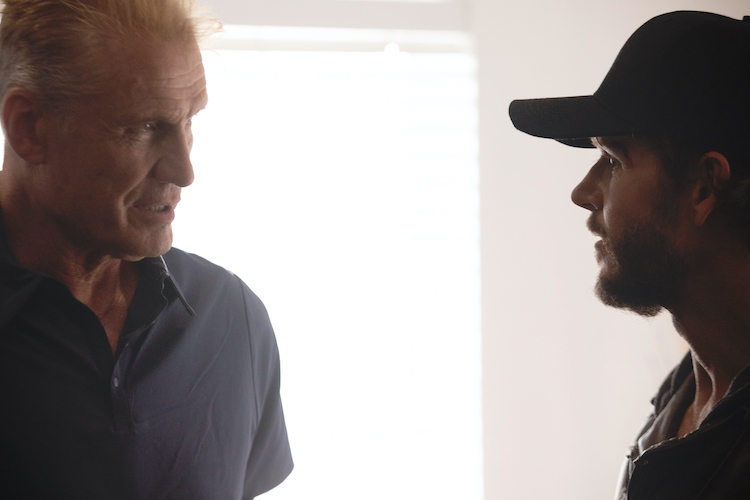 Written by Chad Law (Black Water) and Josh Ridgway (Howlers) and directed by Christian Sesma, SECTION 8 will be available in theaters and will stream on AMC+ Sept. 23. I had the opportunity to enjoy a brief conversation with the Australian actor about his experience working with the incredible cast and the emotionality of the role. Check it out!
I've been a fan of yours for quite some time, but I've got to say your performance in SECTION 8 made me think that I might have been underestimating your talent a little. That intense reaction you have when you walk in and see the thing you see just blew my mind. It's so challenging, I think, for actors, in general, to convey that kind of shock-horror-realization-anguish combo, that you almost never see them even try. Usually there's some kind of creative editing, or the actors will turn away from the camera or cover their faces or something. But the camera is on you the whole time, and you just nailed it. How did you do it? What is your secret?
"Thank you, firstly. It's such a lovely observation. It was really important for me in this character to understand him as best I could, psychologically. The physical aspects, I knew, were more a case of muscle memory. The psychology of this guy, his deployment PTSD, and then combined with then losing the love of his life, I feel like that shakes a man in a way that no one should ever find out, you know? But I have to go to those depths. When Christian Sesma, the director, and I talked, we really wanted to add an emotionality to this, which I have to say, the original script didn't really have it. It had it in essence, but in terms of practice, it wasn't there, so Christian and I really wanted to amplify that, and to give it weight. That way, we hoped that it really gave credence to the action and to the violence that took place because of it."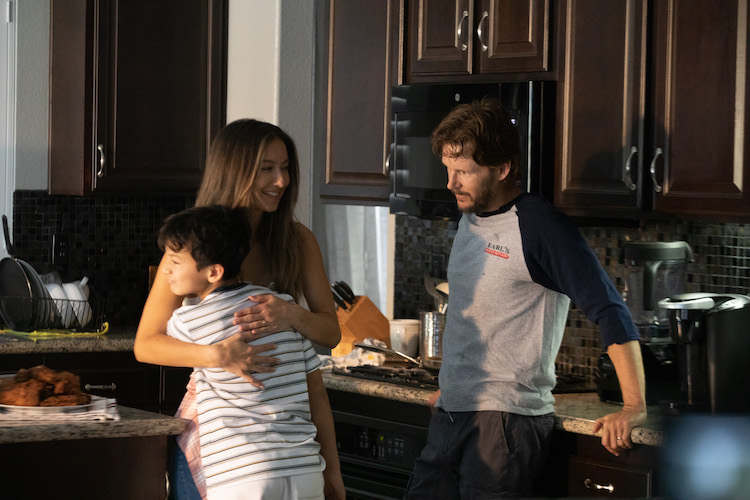 Do you have any tips for actors that are trying to pull that off?
"Yeah, I do. Take yourself to your limits. So for me, it was a lot of pensive time. When I say pensive, it was like…I live out in the desert in California, so it was a lot of summertime walks at 111 degrees for hours on end with no water, just sort of seeing where my mind and my body would take me in those moments of wanting to give up, or not sort of knowing my bearings, just being able to kind of calm myself down, even in the heat of the moment. Yeah, so a lot of those kinds of physical challenges that turn into sort of emotional battles more than anything. You look at ultrarunners, and you see some of them on the street. You wouldn't necessarily think that they were elite athletes, but you see them running, and there's a psychology to them. To really cover that kind of distance, you have to be right of mind, more so than body."
Right. There are a number of fights in this. How are you at learning choreography, and which fight took you the longest to master the moves?
"I like to think I'm pretty good with choreography. I'm definitely sort of a better-when-I'm-moving type of actor. I always loved being able to kind of hold something, to move to. At the end of the day, a fight scene is a dance. You're just remembering these beats. To add emotion behind that, for me, again, was really sort of important.
"I look at the final fight scene with Scott Adkins. We did a decent amount of choreography, close to a week putting that down and trimming it, and then sort of figuring it out. In the space on the day, it changed. We realized there were things we could use in the room that were far better than what we had imagined. That's the beauty of shooting an independent movie. [You have] what you think are rigid plans and practice, and then you get there on the day, and you've really got to recalibrate everything you thought."
That's a good segue to my next question. I'm a big fan of Scott Adkins, and I feel like if I were on set, I would be constantly harassing him to teach me some moves. What was your experience like working with him?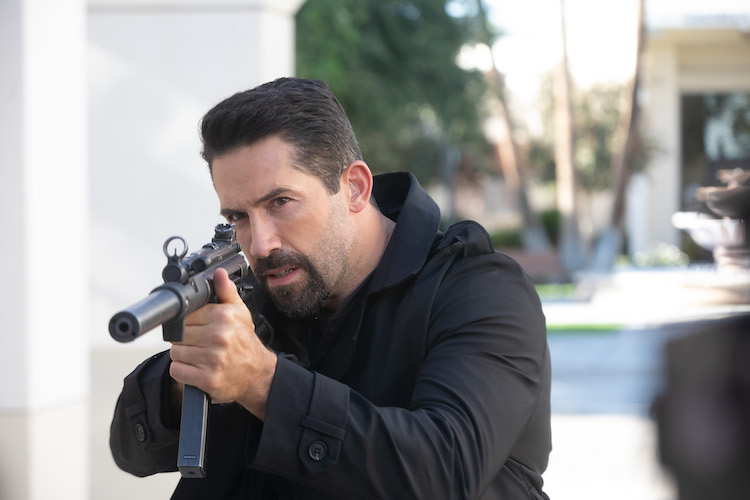 "Well firstly, his level of commitment to his craft is pretty exceptional, you know? He'd kind of just flown in from a gig – I think it was the latest Matrix – arrived that morning, and then that afternoon we had a three-, four-hour choreography class that he was not only there for, [but he also] came with ideas and was more than excited to jump into the thick of it. He was really inspiring. He came at a point in the movie where I kind of needed it. He was a real sort of energy bolt, and yeah, I have nothing but the utmost respect for that man."
Did you pick up any new moves?
"Yeah, you know just in terms of how to sell a punch and how to take a punch, definitely, definitely. There also a level of agility and creativity to his work that, I think, is what makes him so unique. There's a certain kind of thing that I will never get to, no matter how much I train. You know, that's just what it is. To be honest, most of it was just, I was just in awe, and trying to do the best I could to hang in there. I think it's pretty evident on my face, too. I look kind of like I'm on death's door by that last sort of frame when we're staring each other in the face. I look like I've been through the works, because I've just done twelve rounds with Scott Adkins."
Right? In this movie, you get to work with Dolph Lundgren, Mickey Rourke, Dermot Mulroney, and, of course, Scott. With whom were you most excited about working, and what did you appreciate most about those different cast members?
"Look, they were all their own unique, beautiful beasts. They were all powerhouses in their own way with such a great legacy and repertoire of movies behind them. They're the Hollywood heavyweights that you can really only dream of. When I saw our call sheet, I couldn't believe that my little name, my little frame, was up there with all these guys. I couldn't believe it, you know? Just a pretty lost kid from Australia, used to play games in the local park with my brothers and the local kids, suddenly turning those games into reality with all the bells and whistles. It just felt so surreal."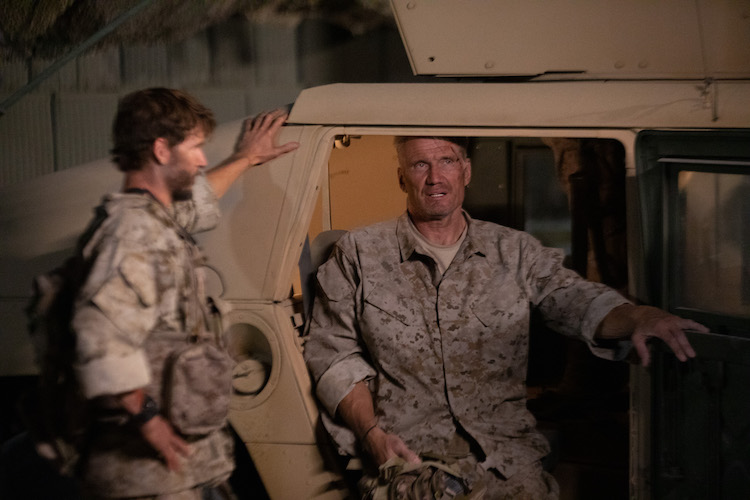 Do you ever go into fanboy mode when you're on set like that?
"Yeah, to myself. Occasionally someone would see me kind of smiling at something, and we'd share a little smile like, "I don't believe they just did that." Yeah, for sure, but that happens all the time with me on any set. It doesn't matter who's working. I pinch myself and sort of think how damn lucky I am to be working in this business, and to be surrounded by such talented individuals, craftsmen, technicians, across the board."
What was the most memorable day on set for you, and why?
"Honestly, the very last day, the crew was so ... We bonded in such a unique way on this. Because as you saw, you go through some pretty deep reservoirs of emotionality to get to this point, and to have a crew that was supportive of my vulnerability, and that worked their asses off…. We had guys and girls that were doing the job of two or three departments. So, after the last shot, it was just a beautiful kind of going around in a circle, and everyone saying their two cents about certain people. It just felt really special. It kind of reminded me of just how good we can be as humans when we all work towards a common goal, a common passion."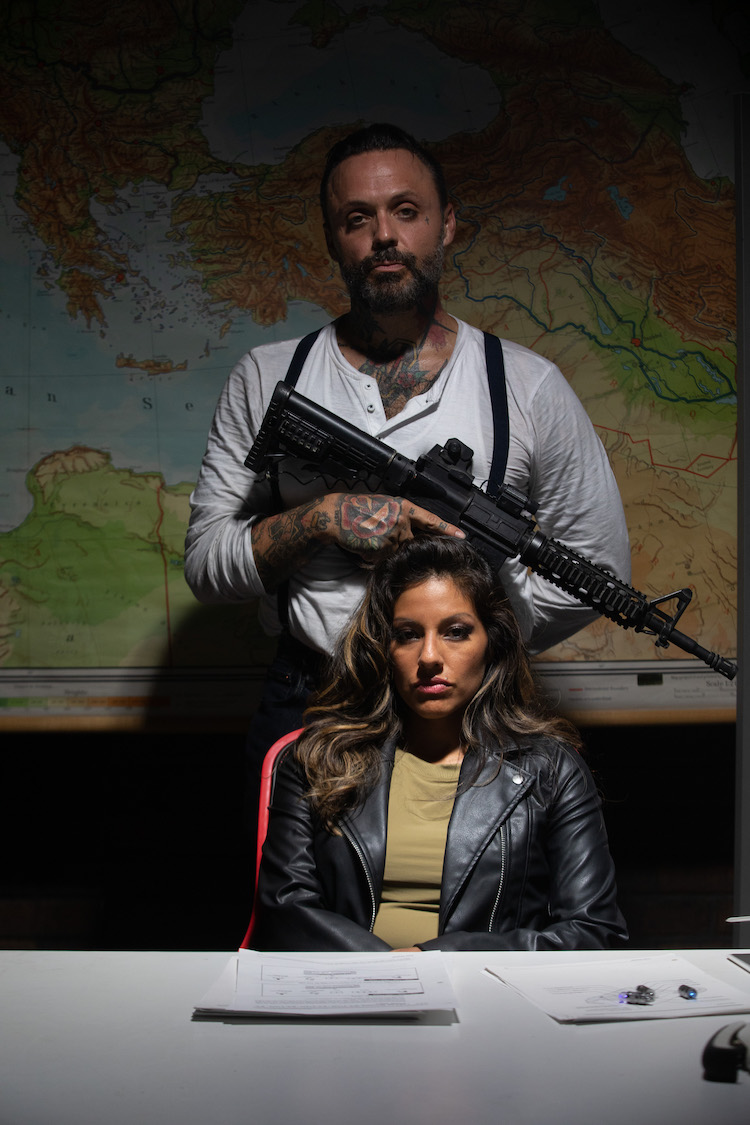 While I enjoyed chatting with Ryan Kwanten, I don't agree that it's a good idea to go out walking around in 100+ temperatures without water for hours on end even to hone your craft. That's how a lot of people where I live wind up in the hospital or worse. However, I get what he's saying, and I appreciate the work he puts into exploring those aspects of emotional struggle. Personally, I'd rather go twelve rounds with Scott than spend a day walking in the desert. Call me crazy.
At any rate, you can catch Ryan Kwanten in SECTION 8 this Friday, September 23, in theaters and streaming on AMC+. Check out the trailer.