Hey, friends. Barbarella here. While I am sure that there must be movies surrounding dinner parties that do not venture into grim territory, I'm hard-pressed to come up with one lately. Darkly comedic, SILENT NIGHT starts with a bunch of friends coming together for a very special dinner party. As the circumstances surrounding the gathering become apparent, the tone shifts into a less-than-festive vibe. Starring Keira Knightley, Annabelle Wallace, Ṣọpé Dìrísù, Matthew Goode, and Roman Griffin Davis, SILENT NIGHT may be more for those people who don't want the typical, sappy holiday fare. The film will be in theaters and streaming exclusively on AMC+ on December 3, 2021.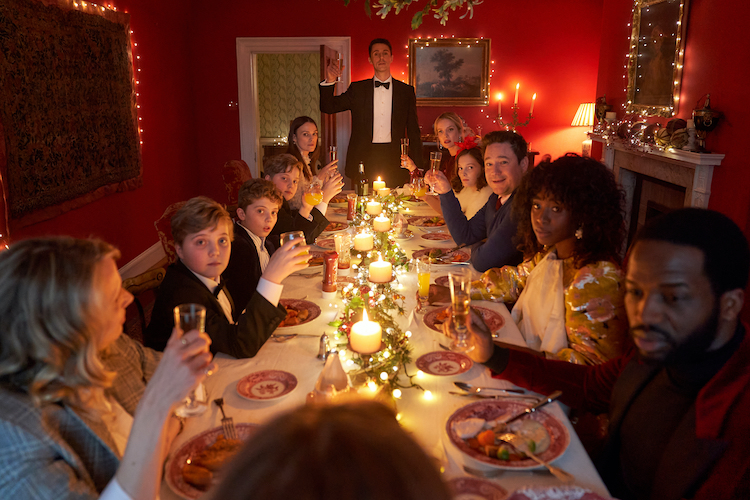 I was given a list of potential interview subjects, and although I debated requesting to speak with Ṣọpé Dìrísù, I knew that I would just spend the entire allotted time talking about GANGS OF LONDON, fight choreography, and Gareth Evans. In fact, I'd probably forget to so much as mention SILENT NIGHT, so that wouldn't be the wisest decision. Instead, I requested to speak with one of the younger members of the cast, Roman Griffin Davis, who thoroughly impressed me with his performance in JOJO RABBIT. In an effort to avoid spoilers, we don't actually talk all that much about the film, but at least it gets mentioned. Check it out.
I read a Vanity Fair article where Taika Waititi said that casting a kid who resembles his character at the end of their story arc is key. How do you resemble your character, Art, in SILENT NIGHT?
"Well, he's quite a caring character. He cares a lot about people and about the future of the world. I like to think that I also do, but I may not. I think I may. I think I do."
In that same article, you stated that you just wanted to do things that had a strong message and that you could learn from. What did you learn from doing SILENT NIGHT?
"Well, I learned a lot from the other actors, how they act. Every single time I'm on the set, it's more or less a learning experience. It's great. It's like a field trip."
What would you do if you were in your character's situation?
"To be frankly honest, I'd probably shut up and just take the pill. But I mean, that's quite a difficult one. Me and my mom had this conversation a lot, or me and my family, and I'm pretty sure most of us said that we'd take the pill."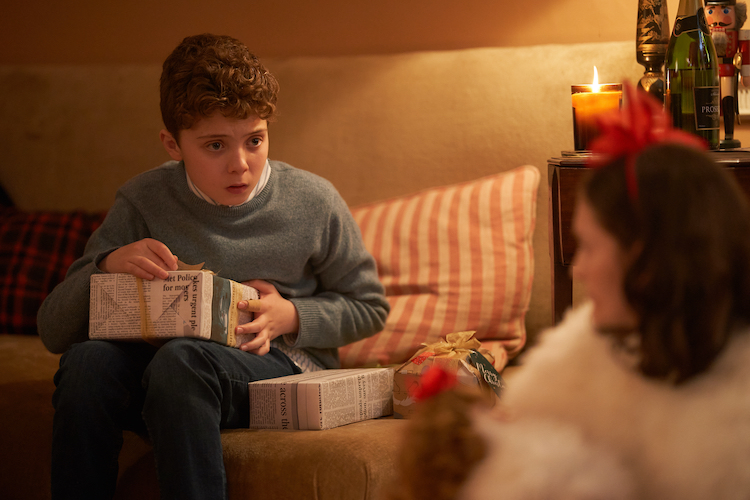 Are you optimistic or pessimistic about the future?
"I'm quite a pessimistic person. I would like to become optimistic, but I think naturally I'm a pessimistic person."
Why do you think you're pessimistic?
"I don't know. It's just that whenever I read something or hear something, I think about the negative sides to it, and I do think the negative sides of things are more important than the positive sides of things."
What are your thoughts on the adults in this film and also, what are your thoughts on the actors who play them?
"Well, the actors who played them were incredible. The characters themselves were somewhat based off my mom's friends and some people that we know, and I've been surrounded by these people for a majority of my life. Now I think about it, the characters themselves are very funny and are interesting. They all have character in a way, but maybe their values aren't great. It's a hard choice to make whether I like them or not."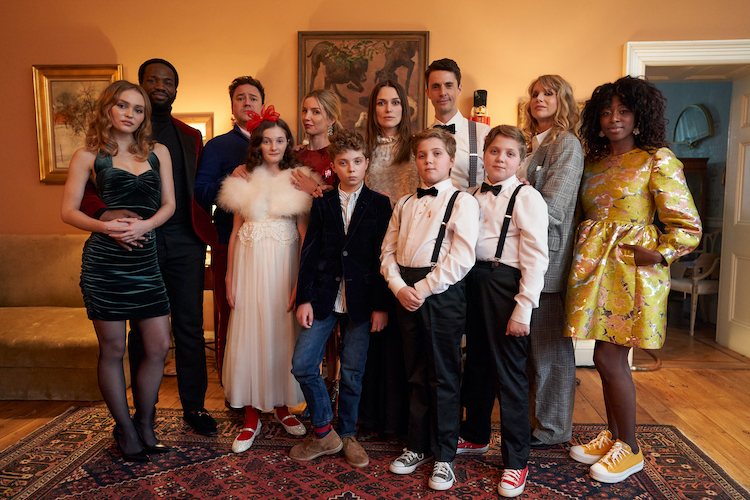 If you knew that you only had one day left to live, what would you do?
"To be fair and honest, I probably wouldn't do much at all. I'd probably watch a couple of films, and I'd probably steal a car from one of those car shops."
What kind of car?
"Oh, it's a hard one. I'd go for a Jag, I think. Yeah."
Go on one last joy ride?
"Yeah. Yeah. And I think I'd probably drive it off into the distance, or I'll drive it into the mist or something, like it'll give me a big ego boost just before I die."
Who was your favorite person on set and why?
"I didn't really have a favorite. My brothers were very funny, and I spent most of the time with Davida [McKenzie], who played Kitty in the film. But, I don't really have a favorite."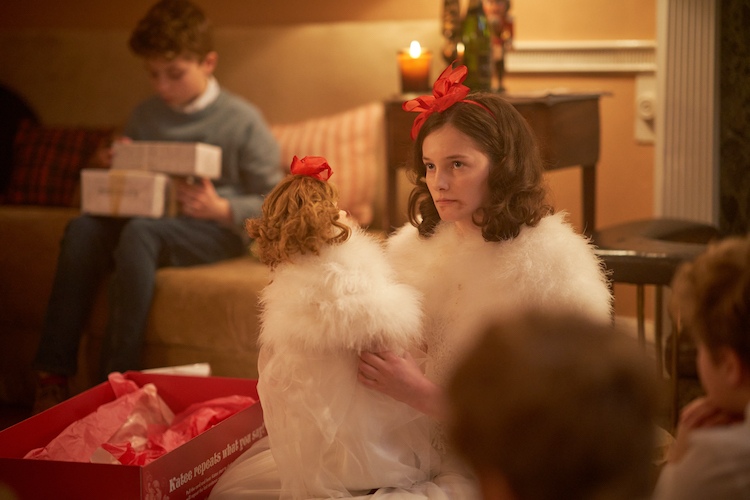 What did you do when you had downtime on set?
"To be frankly honest, me and my brothers just eavesdropped onto everyone else's conversations, or we were in tutoring, learning about cars and engines and chemistry."
How difficult is it balancing school and filming?
It's very annoying 'cause I have to catch up a lot. It's just, school for me right now, it's just catching up. But, I do enjoy a lot of it, but I don't think my grades say the same."
Over the years, I've heard a lot of directors discuss the challenges of directing younger actors. How easy or difficult do you think you are to direct?
"Me? I think I probably have to answer this with a thought in mind that this may affect my future. I like to think I'm reasonable. I also like to think that I don't really cause any difficulties. I'd say I'm not too bad."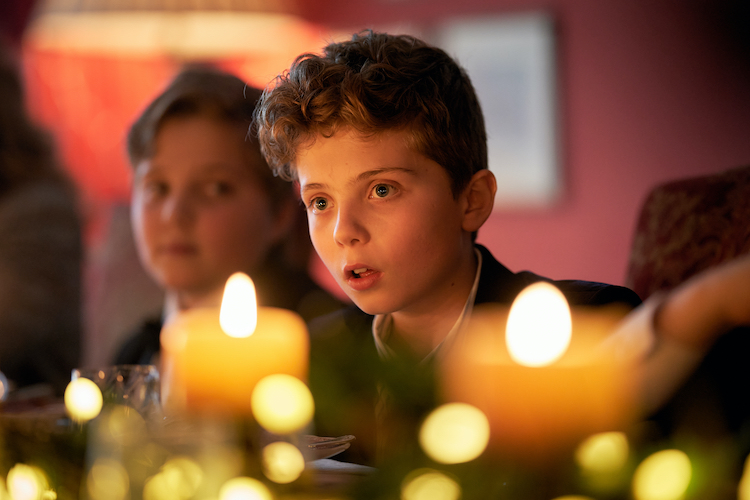 Your performances are really outstanding, so I'm very impressed, and you're the youngest person I've interviewed, which is very cool. Do you get tired of hearing people talk about your age all the time?
"No, I don't really mind. I think maybe one day I'll start minding. For now, I don't. I guess everyone does eventually."
It seems like a lot of people who achieve success at such a young age, as they go into adulthood, they start to have a lot of issues. Do you fear that's going to happen to you? How are you going to avoid those pitfalls?
"Well, I always do want my future to be better than my past, I guess. I mean, I haven't really thought of it, but I probably should."
What kind of roles do you anticipate doing in the future? Do you think you're going to head towards rom-com romantic leads or action stars or villains? What kind of stuff do you want to do?
"I have always wanted to play someone scary, if that makes sense. Like in a horror film or something 'cause it's quite fun to try and be as scary as possible."
What's an average day like for you when you're not filming?
"Oh, well I live in Sussex, so I can't really do anything. I mean, I've probably lived in Sussex for most of my life, so every day is a bit like quarantine. We literally live in a forest. I go to school. I come back. I sleep. I go to school. Yeah. It's like a cycle of just the same thing."
You don't play video games or read books?
"Yeah. I do play a lot of video games, and it is kind of a waste of my time 'cause I'm not really very good at any of them. I've already spent more hours on a machine than in life, and that's not a great achievement."
If you could change one thing about yourself, what would you change?
"My character traits in real life. No [not really]. I don't know. I find I'm sometimes addicted to lying, and I think it's just from the satisfaction of when it goes right. Like, it worked. Most of the time, people end up finding out that it was a lie, so then it's not a great thing to do. It's not a very beneficial activity. But, I guess that's why I also enjoy acting."
Have you been acting all your life, like since you can remember, or when did you start?
"Well, my parents have always basically been in the film industry, and I was going to sets very young. Just the feeling of being on something so huge, I don't know, it's hard to explain, but I've enjoyed it. I've enjoyed being surrounded by film, and we watch a lot of films here. I don't know, it just felt like after a while, I've been surrounded by it so much that it basically felt like I'd become a part of, like it was my destiny."
If you could change one thing about the world, what would you change?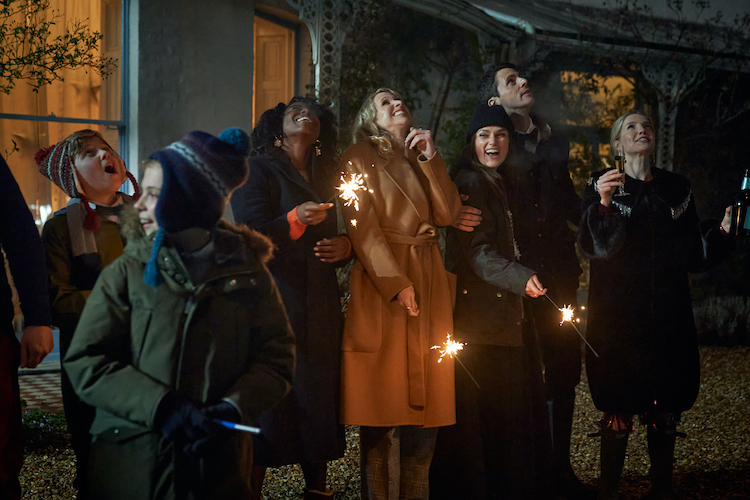 "Ooh, this is hard. Well, there's a lot of people with money and too much of it to the point where they're not willing to share any of it. Probably change that. Make it a fairer world."
Who are your role models?
"Oh, I've got quite a few. I love Cary Grant and a lot of his films. My parents. I mean, there's a lot of people to choose from."
Is there a person that you most want to work with?
"Not really. I mean, there's so many amazing people that I'd love to work with, so I don't really have [just] one."
If you could star in a remake of any movie, what movie would you want to star in, and who'd you want to play?
"It'd probably be a STAR WARS film. I'd love to play Darth Vader, and that's always been my dream. I mean, ever since I was young, I was pretending to have sword fights and learning all the tricks, so I mean, probably one of those, just for that one scene where I get to have [a lightsaber fight].
Aside from learning sword tricks and stuff, have you done any kind of physical stuff, like martial arts or any of that kind of training?
"I wish. I see loads of videos of people performing it, and it looks very fun and cool. My cousin does a lot of it, and he likes to show me, sadly."
Does he practice on you?
"Yeah, and we do a lot of boxing when he's around."
It's intriguing to me to ponder what kind of roles await Roman Griffin Davis down the road. In the meantime, his character in SILENT NIGHT leaves me pondering choices and what I might do in a similar situation. If you're in the mood for something a little darker this holiday season, SILENT NIGHT will be in theaters and streaming exclusively on AMC+ on December 3, 2021.