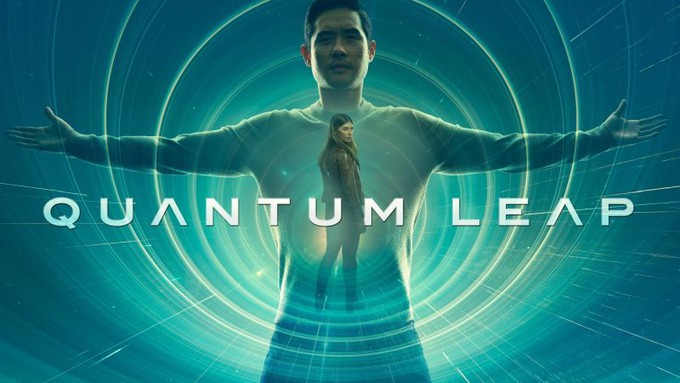 Hello fellow leapers and welcome to what has now become a weekly review of the continuation of the popular series Quantum Leap. Today we look at episode 4 of the new series and explore not only Ben's leap but any side plots or references that go along with the episode. As usual, here's a massive spoiler barrier, so if you read past this point and complain I spoiled it, that's more your problem now than mine. So, if you are sitting comfortably, I'll begin…
SPOILER! SPOILER! SPOILER! SPOILER! SPOILER! SPOILER! SPOILER! SPOILER! SPOILER! SPOILER! SPOILER! SPOILER! SPOILER! SPOILER! SPOILER! SPOILER!
SEASON ONE, EPISODE FOUR "A DECENT PROPOSAL"
Leaping from body to body, from life to life it would only be fair to assume that one day you are going to leap into the body of someone of the fairer sex. That's exactly what Ben does when he leaps into the body of tough bounty hunter Eva Sandoval. Now from the outset, one might think that this is going to be played for comedy in the way the original did when Sam Beckett leapt into the body of Detroit secretary Samantha Stormer in "What Price Gloria?". Although that episode was played for comedic value with Sam struggling in heels and such, Ben seems to accept it pretty quickly and gets on with the task at hand tracking down a woman named Tammy Jean (Sofia Pernas), who is wanted by the state for a shit tonne of unpaid parking tickets. Along for the ride is Eva's longtime boyfriend Jake (Justin Hartley) who has a very serious question to ask her and when he does and Ben, not sure what to say, asks for more time, it sets up the heart of the episode. Meanwhile Tammy Jean is not all she seems and tells Ben and Jake that she is trying to escape a drug cartel called La Serpiente with her boyfriend. While Eva and Jake are hashing it out over Eva's indecision, Tammy Jean makes a break for it and escapes back to her boyfriend's night club where she promptly kills him and reveals that she is in fact the leader of the cartel. I personally thought this was a solid little twist and because I was so wrapped up in Eva and Jake's story, it really caught me by surprise. I like that, normally I can see a twist from a mile away. As for Eva and Jake's love story, it's very well done and you really want to see them together. Ben plays off the awkwardness of not wanting to make major decisions of the heart for Eva very well and it leads to some very touching moments, especially when one of those moments reminds him that he is in love with Addison. This episode certainly goes for the heart and the love connection of TV dramas and in my opinion, nailed it perfectly. A Little side factoid - Justin Hartley is married to Sofia Pernas in real life and has worked together on the soap opera The Young and The Restless for CBS.
Meanwhile, in 2022, the QL team are still trying to find out how deep the rabbit hole goes regarding Bens's involvement with Janis. While airing out theories, Magic asks Ian to go for a coffee with him as he'd rather tell him a few secrets himself before Ian discovers them on his own. Magic tells Ian that Sam Beckett leapt into him while he was in the Vietnam war and saved his whole platoon and Sam's older brother Tom. If you guys want to see this adventure you need to dig out season three, episode two of the original series. The episode is called "The leap Home: Part II (Vietnam) and it's easily one of the standout episodes of the series.
Ben's memory is starting to get a little less Swiss cheese which I'm liking. I reckon now that Ben knows he has feelings for Addison it'll ramp up the emotional stakes of the show and bring a nice dimension to it. Sam and Al sometimes bickered like a married couple, maybe this would bring that style of comedy to the show too.
There's been loads of good news for Quantum Leap fans over the past few days though with not only the news that QL has become the #1 new show in the 18-49 demographic but it's also the number #1 NBC show on Peacock. To add to that great news the first season has been extended from twelve episodes to eighteen total for season one.
Next week's episode is called "Salvation or Bust" and sees Ben leap back to 1898 where he must face down a tough outlaw. Meanwhile Magic, Jen and Ian discover a new enemy in the face of a senator who shows up at the program with questions he needs answers to.
Quantum Leap airs Monday 9/10c on NBC with the original five seasons available to stream on Peacock.