Hey folks! Barbarella here. If you want to transport yourself back to the 1990's when the Power Rangers were all the rage and people weren't drowning in serious crises, PG: PSYCHO GOREMAN came out on Blu-ray last week. It's the perfect escape from serious cinema and a world where pandemic statistics, hate crimes, and disastrous weather events seem to always headline the news. Written and directed by Steven Kostanski (THE VOID, FATHER'S DAY), the film follows a powerful villain from another galaxy who finds himself at the mercy of the children who not only resurrect him but also possess the amulet that controls him. When other intergalactic aliens discover he's been awakened, they descend on our planet bringing even more havoc.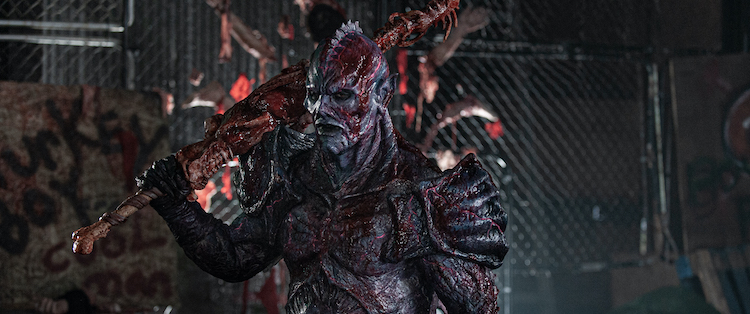 The film offers much in the areas of goofy premises and gags, the stuff that makes you feel like a kid watching Saturday morning television. It's a fun film with some bizarre costumes, over-the-top characters, Adam Brooks as a type of dad that is under-represented in cinema, and a completely random invention, the game Crazy Ball.
Now, I thoroughly enjoy a good practical costume put to use, and not since JACK BROOKS: MONSTER SLAYER have I enjoyed so many bizarre and unique costumes. Granted, from the extras included, it's clear that some of the actors inside these costumes have a few challenges, so they have my sympathy, but man, they look great.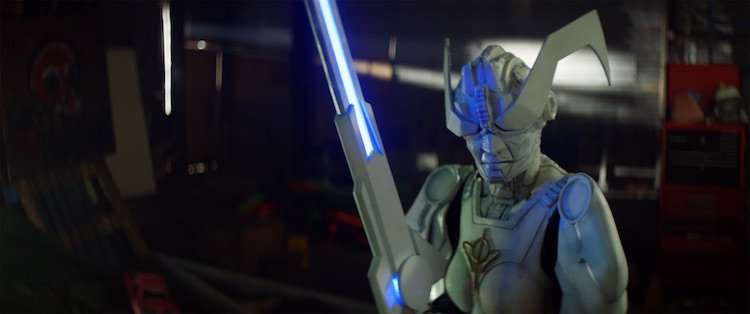 I realize people today are less inclined to get hard media because when you can download everything on your phone, why bother with something that takes up space? The extras on this Blu-ray are interesting enough to warrant adding something else to, or starting, your collection.
First of all, the director commentary serves a variety of purposes. I'm not versed on ASMR, so I couldn't say what makes a person qualified to do that kind of thing, but Steven Kostanski has a very soothing voice, and I think he'd be great at it. The first time I tried watching the commentary, I actually fell asleep, not from boredom but because that voice! Perhaps being sleep-deprived factored in, as well, but seriously, that guy could read me bedtime stories anytime.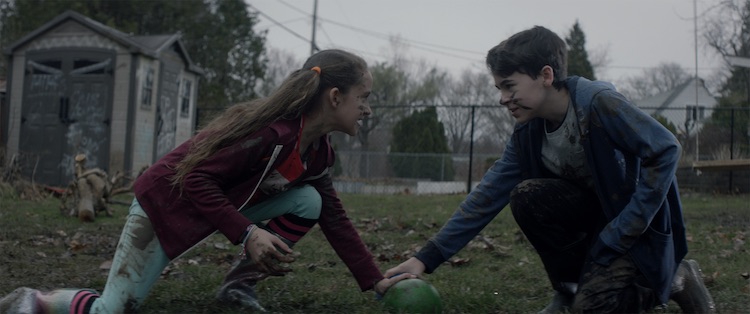 I also find his commentary fairly entertaining, even though he likes to point out things he believes are terrible. In a very self-deprecating way, he shares which bad effects he does versus the amazing effects done by others. Honestly, I don't think his stuff is as awful as he seems to believe. I mean, they fit in with the 90's vibe very well, so when I watch the film, I assume they are intentionally done that way. He also points out continuity errors and scenes where something different was attempted but didn't work out, serving as another example of the importance of flexibility and the ability to pivot when making movies.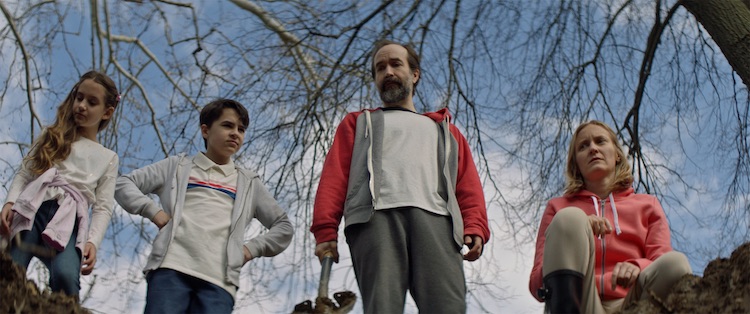 I've watched commentaries before where cast or crew mostly watch the movie and talk occasionally. That is not the case here. Steven Kostanski talks virtually non-stop throughout the film's entire run-time. I like that he points out his inspiration to a lot of things. I mean, have you ever seen something that looks familiar but cannot place it? If you experience that while watching this film, the commentary will give you all the answers you need. He offers the low-down on everything from where he got a costume idea to what movie was on his mind when doing a particular scene.
In addition to the commentary, the extras cover the fight choreography, even though the film doesn't have all that much fighting. The creature shop extra proves to be my favorite because I'm fascinated by that stuff. I used to watch "Face Off," the televised make-up/prosthetic/special effects reality show on Syfy. In fact, I even took a class from one of the contestants who lives locally. Building prosthetics from sculpting to making molds to creating and painting your prosthetic is a ton of work, so I understand why many filmmakers today go digital, but I so love a practical effect and an outlandish costume. Seeing the crew working on these costumes proves entertaining, although I crave more footage of this. I also appreciate seeing the concept art in the extras so I could compare with the finished pieces.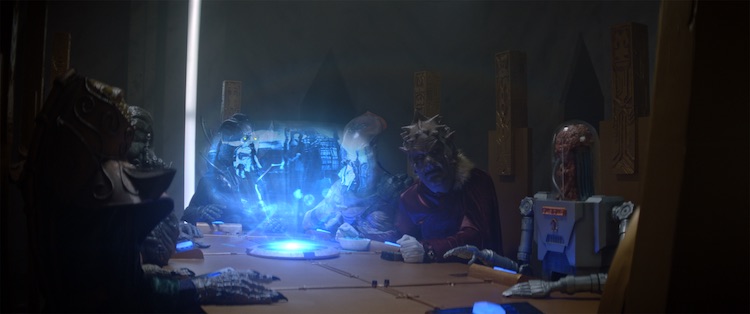 Other extras include interviews, behind-the-scenes photos, and trading cards. I really wish they'd included outtakes. That should just be a requirement of any extras package because who doesn't love a good blooper reel?
While lacking in some areas, I generally enjoy the extras. I thoroughly enjoy the goofiness of the film with its score that feels pulled directly from the 90's. PG: PSYCHO GOREMAN doesn't take itself too seriously. Or seriously at all, really. And I'm absolutely happy that it doesn't. Check out the trailer.