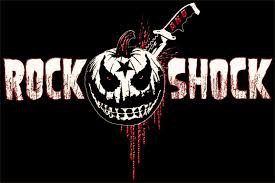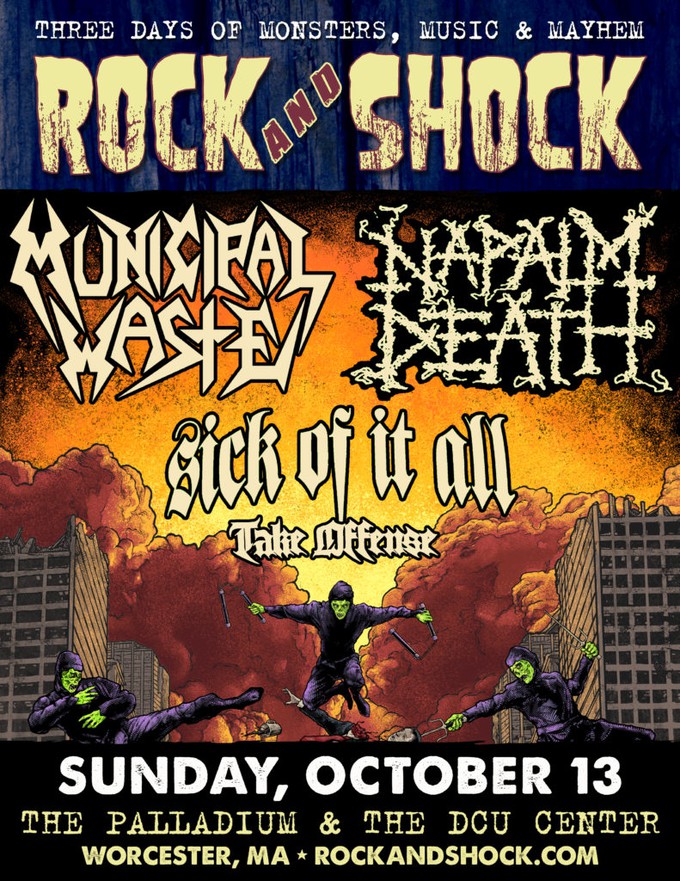 Hey there, horror geeks! Prometheus here with some pictures from this year's ROCK AND SHOCK in Worcester, MA! If you're unfamiliar, it's an annual horror convention, followed by concerts at night! This year, I was unable to attend the concerts, but performers included:
Friday: Eluveitie, Korpiklaani, Revocation, Voivod, Psycroptic, Skeletal Remains, Gone in April, Conjurer
Saturday: Insane Clown Posse
Sunday: Municipal Waste, Napalm Death, Sick Of It All, Take Offense
ROCK AND SHOCK ran from Friday to Sunday. I attended Saturday and Sunday! A lot of cool guests were in the building! The main attraction being Bruce "the Muthafu*ken Man" Campbell!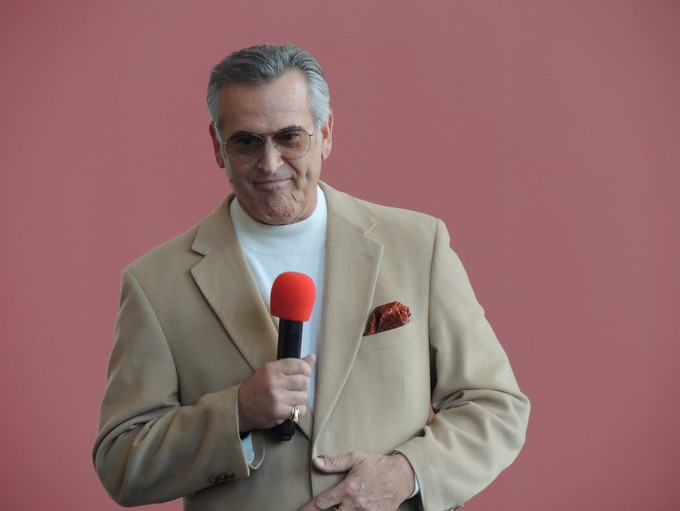 I attended his Q&A panel, and Bruce was absolutely hilarious! The man's timing is impeccable. When asked by an audience member who is biggest comedic influence was, his answer was Bob Hope. (The old school Bob Hope.)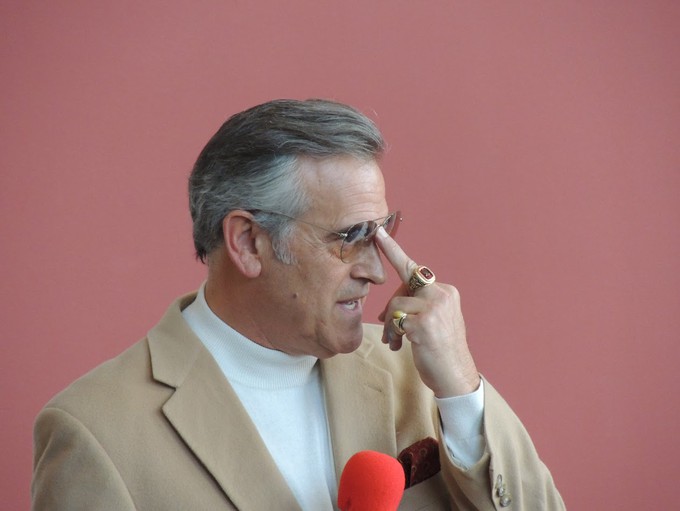 He also confirmed, he will not be in the new Evil Dead, but there will be a new Evil Dead film soon. No actors or directors were mentioned, but he did say Sam Raimi will be working closely with them, whoever they end up being. He also mentioned there will be no "passing of the torch" by Ash. Which of course, is a disappointment. He really seems to be sticking to his guns on this whole "retiring as Ash," hoopla. (Come on Bruce! Give us one more film!)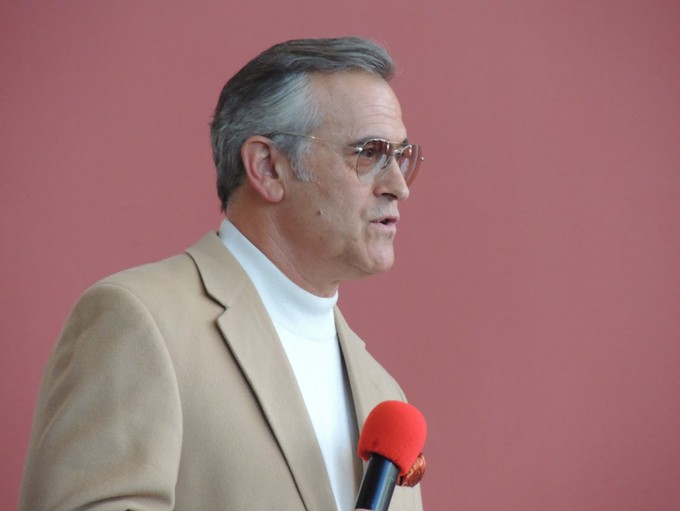 He also mentioned the fun fact that he's actually the only one to ever defeat Spider-Man! (Seriously, in "Spider-Man 2", he denies Peter Parker entrance into the theatre.) Bruce is the man, and he had the whole audience roaring with laughter. "Hail to the King, baby!"
Bill Moseley was also in attendance! I interviewed Bill for 3 FROM HELL, so it was great to meet him! He thanked me for my review, and we chatted for a bit while he packed up his stuff. Bill does an awesome job as Otis B. Driftwood. Make sure to check out "3 From Hell!"
After ROCK AND SHOCK Bill was heading to the UK for another convention. He loves the genre and he loves the fans, and it shows! That's why his fans love him! A genuinely nice guy and one of my favorite interviewees! A true horror icon!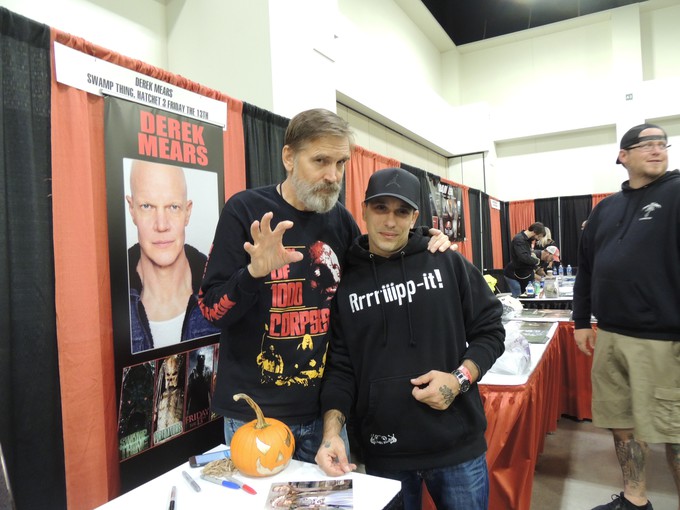 Derek Mears from Friday the 13th (2009) and the new (and now frustratingly canceled) Swamp Thing was there! I had the chance to chat with him for a few minutes, as well!
Derek is basically a giant. Maybe it's because I'm only 5'4" but I'm pretty sure he's like, nine feet tall. (I looked it up, he's actually 6'5. But I was close.) He's also one of the friendliest guys you could meet. He was more than willing to chat it up with fans with a smile the size of Kentucky on his face the entire time.
I asked him why the hell "Swamp Thing" was canceled… he had no idea either. He did let me know they had a blast doing it and that he is very proud of the work they put into it. He was as bummed as we were when it got the ax…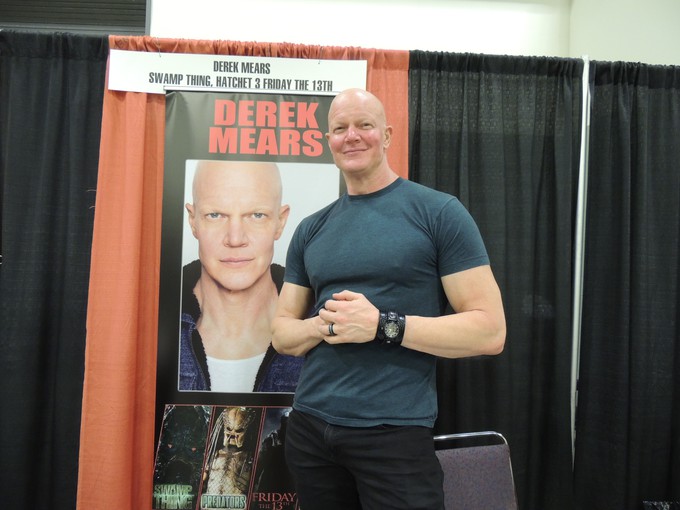 I got the opportunity to meet Bill Johnson, as well! He was "Leatherface" in the "Texas Chainsaw Massacre 2!" When I was a kid, I loved that film! So, it was super cool to meet two of the main cast members on the same day! (Bill Moseley played "Chop Top!")
Bill's a really cool guy. He was happy to take a picture for the site and chat for a few minutes. Leatherface has a nice smile… who knew?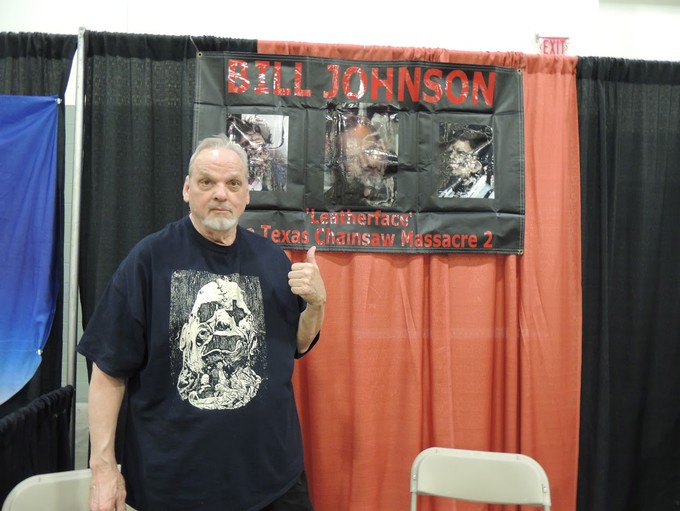 I got to shake hands with Ken Foree who has been in such films as "Leatherface", "The Devils Rejects" and "Dawn of the Dead" (2004). He was talking with somebody, so we didn't really get to chat though. He was still kind enough to let us snap this picture!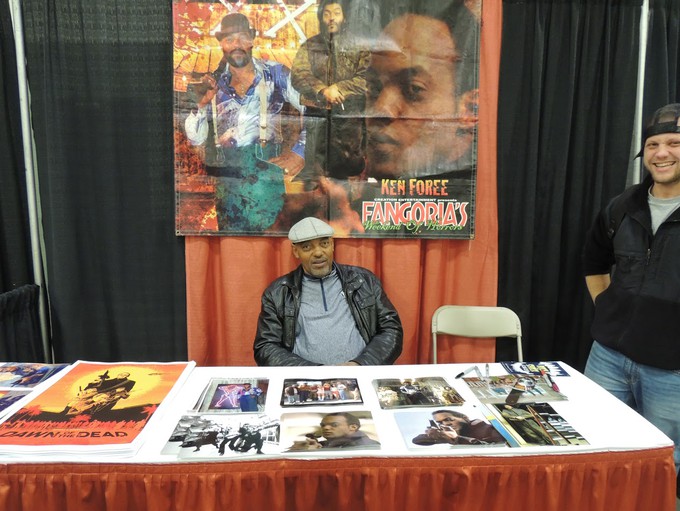 Of course, there were plenty of vendors slinging ghastly garb and frightening fares of all kinds! From terrifying trinkets to signed movie paraphernalia, it was macabre mania. I even picked myself up a nice "A Nightmare on Elm St. 3" NECA figure! (Couldn't help myself!)
With all the artists and vendors at ROCK AND SHOCK this year, it would be impossible to feature all of them. I did, however, want to share two of my favorites with you!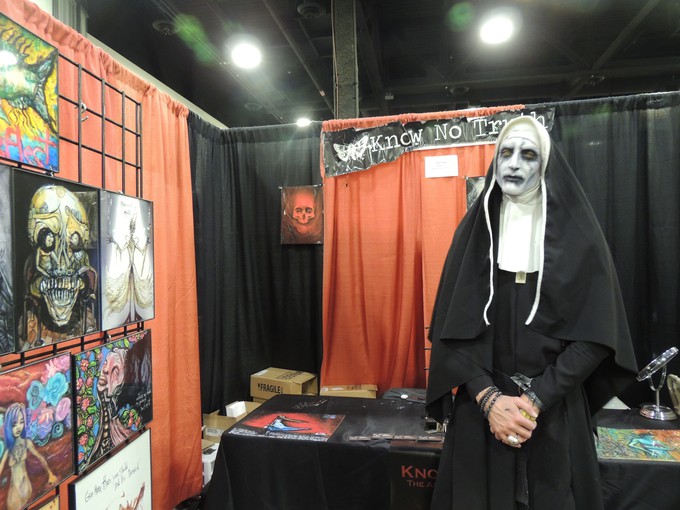 I first met Landon Richmond when I covered Boston Com… ahem… Fan Expo Boston and I was blown away by his art. Don't take my word for it, check out the link above and see for yourself! It's dark and beautiful. Disturbed, yet intimate. I'm a big fan of his painting style!
I ran into Derek Rook and Steve Van Samson from Rough House Publishing! They were on site promoting Gore Shriek – Reserrectus, the glorious return of Gore Shriek! How many old school Fangoria fans remember Gore Shriek? Well, it's back and let me tell you, some of the art in these new books is insane. It's just as twisted and disturbingly awesome as it used to be! If you like dark and morbidly fu*ked up art (like me!), this is for you!
The folks at Morbid Vision Films were cool enough to let me photograph their grotesquely disgusting display "décor!" I warn you now if your faint of heart do not glimpse at the following image…
Last warning. I'm telling you it's fu*ked up…
Still here? OK… check this nasty shit out! They told me it's been used in a couple of their films!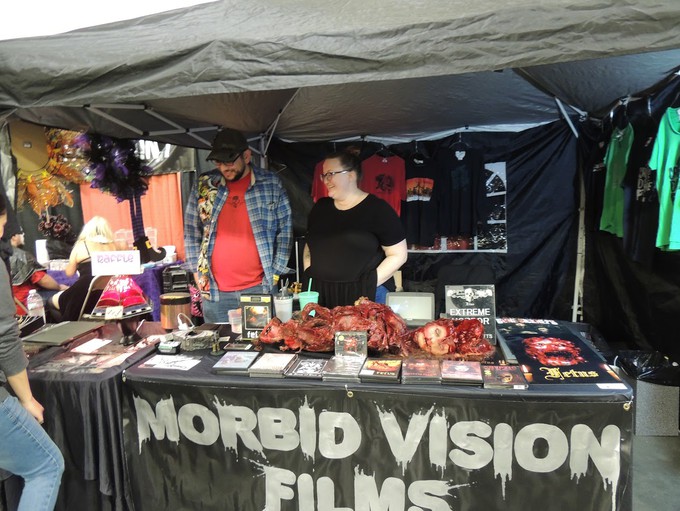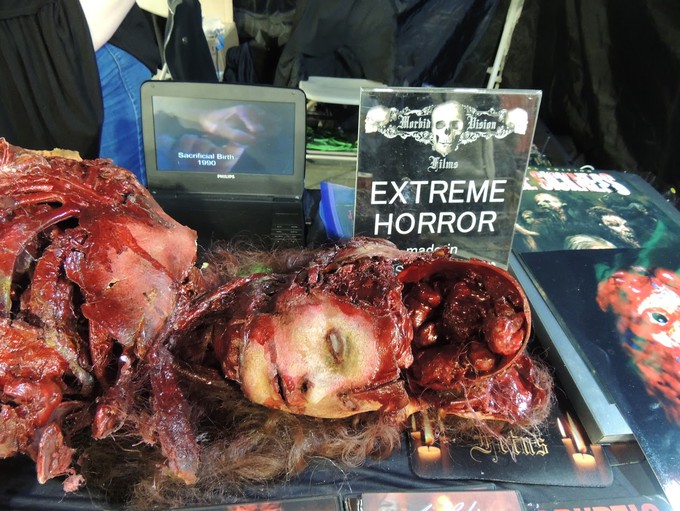 If you're into the nastiest, most brutal of horror films, that's their modus operandi! Check out their site here! Again, I warn you… extremely graphic content.
The Massachusetts Ghostbusters are mainstays at conventions around here, so it was no surprise to see them doing their thing!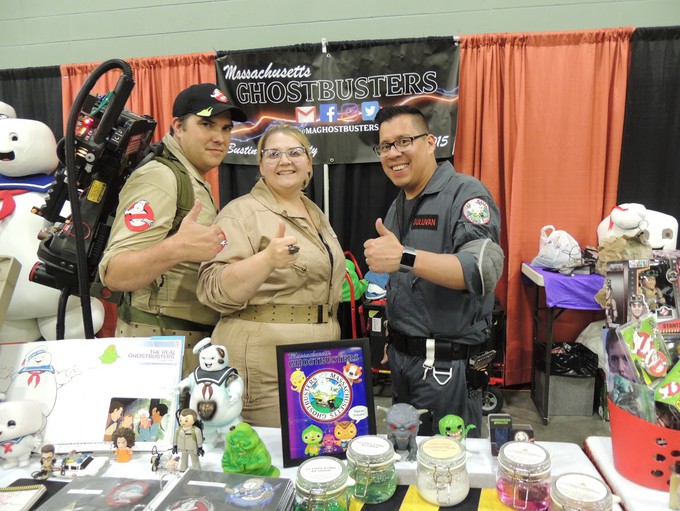 They go to events all over the state raising money for the Baystate Children's Hospital! Check out their Facebook page here and give it a like! They're "bustin' for charity" people!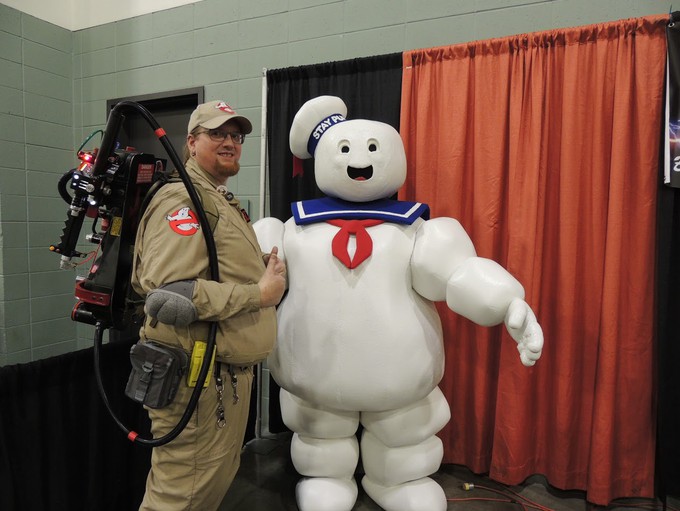 Oh, and this guy stalked us for half the convention, which was hilarious!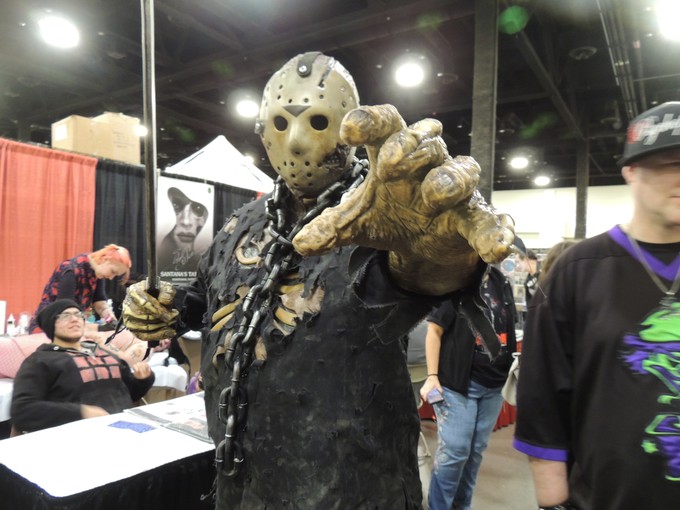 *Have you seen this Jason, or does this Jason belong to you? I was unable to find him to get his name after and would love to credit him! He was great!*
Overall, ROCK AND SHOCK was fun! It's always nice being surrounded by a bunch of fellow horror geeks! My only regret was that Kane Hodder was there, and I didn't get to meet him. I plan on returning though so, maybe next year!
Guests in attendance over the three-day event included:
Bruce Campbell
Bill Moseley

Ellen Sandweiss
Teresa Tilly
Ray Wise
Derek Mears
Adam Green
Sherilynn Fenn
Eric Dare
Dave Sheridian
Kane Hodder
Andrienne King
Ken Foree
Felisha Rose
Katherine Kamhi
John Dugan
Ed Neal
Bill Johnson
Dan Yeager and more!
That's it for now folks! As always, comment below! Were you at ROCK AND SHOCK this year? Let me know! Until next time, keep on geekin' on, my friends!
Joshua "Prometheus" Scafidi