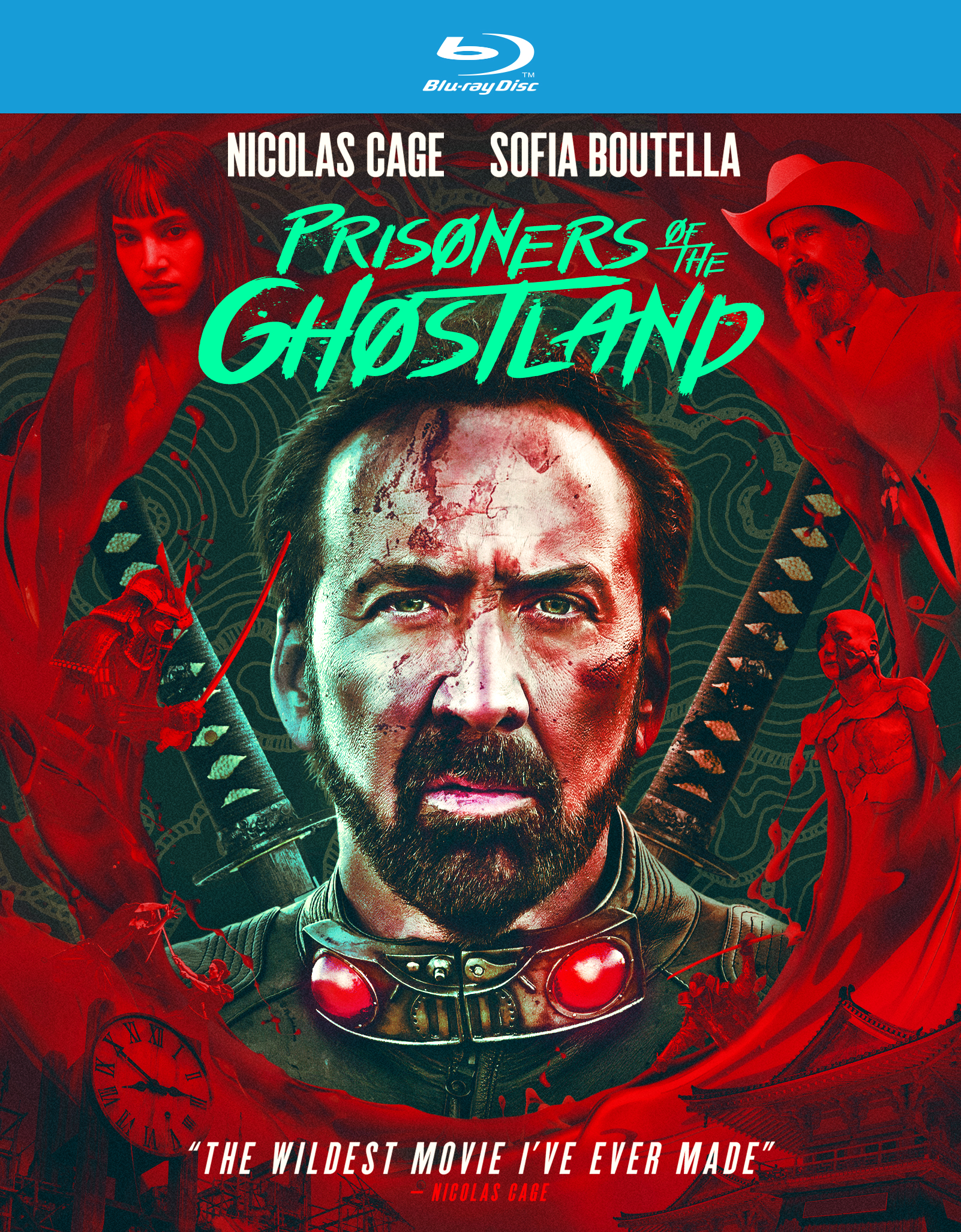 Complete your Cage collection!
On November 16, 2021 RLJE Films is releasing the action-adventure thriller PRISONERS OF THE GHOSTLAND on DVD, Blu-ray, and 4K UHD/Blu-ray SteelBook, and AICN has Blus to give away to 2 lucky readers!
Here's the gist:
"PRISONERS OF THE GHOSTLAND is set in the treacherous frontier city of Samurai Town where a ruthless bank robber (Cage) is sprung from jail by wealthy warlord The Governor (Moseley), whose adopted granddaughter Bernice (Boutella) has gone missing. The Governor offers the prisoner his freedom in exchange for retrieving the runaway. Strapped into a leather suit that will self-destruct within three days, the bandit sets off on a journey to find the young woman—and his own path to redemption."
PRISONERS OF THE GHOSTLAND stars Nicolas Cage (Mandy), Sofia Boutella (THE MUMMY), Nick Cassavetes (FACE/OFF), Bill Moseley (TEXAS CHAINSAW Franchise), Tak Sakaguchi (TOKYO TRIBE) and Yuzuka Nakaya (THE FOREST OF LOVE).
Directed by acclaimed Japanese director, Sion Sono (WHY DON'T YOU GO PLAY IN HELL), the film was written by Aaron Hendry and Rexa Sixo Safai (WESTERN WONDERLAND) and features a score by renowned composer Joseph Trapanese (TRON: LEGACY, THE RAID: REDEMPTION, THE GREATEST SHOWMAN).

Check out the trailer!
If you'd like to win a Blu-ray copy of PRISONERS OF THE GHOSTLAND, email me at annetteaicn@gmail.com with the subject line CAGE 4EVA. Please include your mailing address (contiguous U.S. only, no P.O. Boxes). Winners will be chosen at random by 11/11 at noon. Good luck!

Cheers,
Rebecca Elliott
aka Annette Kellerman