Avast, ye mateys! HBOMax's OUR FLAG MEANS DEATH, brought to us by creator David Jenkins (TBS's "People of Earth"), has just wrapped up its first season run on the streaming platform and it evolved into quite a wild ride throughout its 10-episode run. I finished the show late last night and after sleeping on it and talking to every available person who would listen I realized that I am compelled to write a little review/reaction to the show and my hopes for a season two. When I took to Twitter to see if anyone else was carrying on about the show as I was I stumbled across a very active and adoring fan art community that I just had to share with you.
First off, if you're unfamiliar with the show or its premise, here is the official trailer:
To say that I was interested in the show is something of an understatement. From the appearance of Rhys Darby (WHAT WE DO IN THE SHADOWS, YES MAN) and Taika Waititi (JOJO RABBIT, "The Mandalorian") I was already hooked. Then seeing Fred Armisen (who is arguably the busiest person in Hollywood; dude is in EVERYTHING), Leslie Jones, Will Arnett, Nat Faxon, Claudia O'Doherty, Rory Kinnear, Matthew Maher, Kristian Nairn, and Samson Kayo truly reeled me in. Once aboard I discovered the amazing Noel Fry, Nathan Foad, Con O'Neill, Vico Ortiz, Samba Schutte, and Ewen Bremner and marveled at how everyone onboard (pun intended) did such great work on this show.
The show goes places I didn't expect it to go and it does so without fanfare or showboating (again, pun intended). It doesn't take itself too seriously though it manages to do some serious heavy lifting. When I first started watching it I wanted to love it immediately and I didn't. The reason behind this was Rhys Darby's character, Stede Bonnet. Stede is introduced as a bored rich aristocrat, trapped in a loveless marriage with two children in an unremarkable life. With too much money and not enough adventure, he commissions a ship to be built and once completed, slips away into the night with a hired crew, leaving his wife and children with no warning or seeming remorse. Once at sea, he floats about aimlessly, seeking "adventure" without truly knowing what that might entail or how to navigate through it once in its midst. He is timid, effete, and given to indecision. He character needs at least two passes at every endeavor. It's not that he doesn't always nail it the first time, it's that he's so lost in his fantasy that reality or truth or the permanence of his actions and decisions don't truly sink into his consciousness the first go 'round. It is an annoying character trait that unfortunately causes lasting, scarring damage to those affected by his insistence on another take. It's a stark divergence from characters he'd played in the past as I always found him exceedingly likable and able to steal every scene he's in. In this particular instance, Stede Bonnet may very well be the least compelling character on the show, but the hurricane of his presence enables those around him to truly shine in their own personalities. He is the flash of lightning that reveals the souls of those in his wake, the fire of Plato's cave that casts the shadows of the supporting character's Ids against the wall. But for all that he offers the show in terms of bringing out the fruit of others, his weakness, indecisiveness, and inability to recognize the devastating impact of his half-measures makes him immensely unlikeable. I hate Stede Bonnet.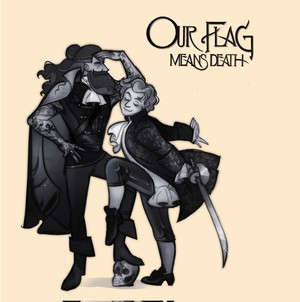 Stede manages to fuck up everyone's life he crosses, and none more so than that of Edward Teach, aka Blackbeard. Once the most fearsome pirate on the sea, he is drawn to Bonnet's childlike pursuit of whatever fancy floats before him, and it awakens the call to adventure that once lured Ed to the sea in the first place. He is so enamored with Bonnet's consequence-free existence that he becomes enamored with the man, himself, eventually falling in love with him. Stede, to his credit, entertains the notion that he could love Ed, but once again he has to retreat to see the truth through a second look, which has a heartbreaking effect on Ed. Teach, believing the man he just confessed to love has abandoned him, returns to the sea and resurrects his Blackbeard persona, now emboldened by heartbreak into an even meaner, leaner, and more ruthless version of the cold-blooded pirate of lore. At the end of season one, Blackbeard is now captain of Stede's ship, with a broken heart added to his fearsome flag, barrelling out to sea after marooning most of the original crew on a small island to starve and die in the unrelenting sun; Stede returned to his home only to find they were much better off without him and he needed to be back at sea (and he was truly in love with Ed), so he orchestrates a theatrical death in view of the town and takes off on the vast ocean in a dinghy, closing in on his marooned crew as the final credits start to crawl. Black Pete's budding romance with Lucius is cut short as the latter has been literally thrown overboard. Oluwande's long-simmering partnership with Jim is scuttled as the former has been kept aboard The Revenge by Blackbeard. And Blackbeard, himself, commands an intimidating presence all the day long while he spends his nights in his chambers literally crying at his lost love. All the existing relationships are cleaved and everyone is miserable. The End.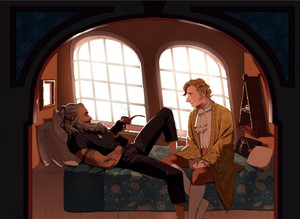 WTF?
To be clear, when I noticed the show was shaping up to be a queer allegory of inclusion, diversity, and indigineous representation, I was all for it. The love stories in this series are warm, real, and delightful. The narrative is never forced or pedantic, no sign of woke-signaling or pandering representation to capture a market. The stories play out like real, evolving relationships at sea with open, vulnerable humans seeking connections and the opportunity to discover themselves and feel something real rather than arranged. It's a refreshingly honest portrayal of a diverse group of characters and relationships. That never bothered me. What bothers me is the infuriating, unlikeable lead at the center and the downer of an ending he has inadvertently orchestrated.
All this is to say that the show is exceptionally well done. The set pieces are gorgeous, the costuming exquisite, and the acting outstanding. The story is well-written and the drama is magnetic. I was swept up into the narrative which is why I'm so unhappy that things didn't conclude with a happy ending. I wanted good things, if not for Stede, then definitely for his crew and for Ed. And Stede managed to fuck that up, too.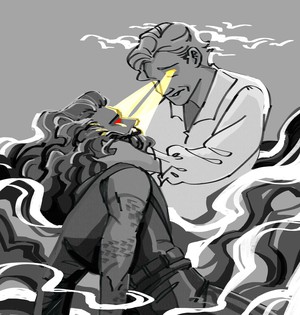 As I said, when I took to Twitter I found a lot of praise for this show, as many have found the swashbuckling and romance to their liking. Many have used their artistic talents to express their joy for the show and I've included a few throughout this article which you can click on to see more work from the respective artists. While as of this writing there is no contract for a season two, I am personally torn on if I truly want one. If it comes back I will of course tune in because I'd like to see some of the loose threads resolved. But to have the ability to swallow this lump in my throat and walk away as opposed to being swept up once more in the misery of Hurricane Bonnet... I may be content with that, too. Suffice it to say that Jenkins and Co. have made a great contribution to pop culture and I applaud their daring and delightful show, as well as HBOMax for getting behind their vision. If the show is, in fact, renewed for another season I'll be sure to drop a comment on this article.
Until next time, keep all of your vital organs away from the blade!
-McEric, aka Eric McClanahan-