Hey, friends. Barbarella here. SLASH/BACK, directed by an indigenous filmmaker, starring an indigenous cast, and made with a mostly indigenous crew, is not just for indigenous audiences. It's for anyone who appreciates a fun sci-fi film with gorgeous scenery, cool aliens, and kids being kids plus more. In the film, Maika and her friends' usual hijinks are interrupted when aliens invade their area. Set in the hamlet of Pangnirtung (aka Pang) in Nunavut, the film blends some high-end effects into its low-budget undertaking. Hailing from Igloolik, Nunavut, a community of approximately 1,500 residents, writer and director Nyla Innuksuk brings her unique perspective to the story, giving one a sense of what it would be like living in a similar community. I had the chance to speak with her briefly. Check it out.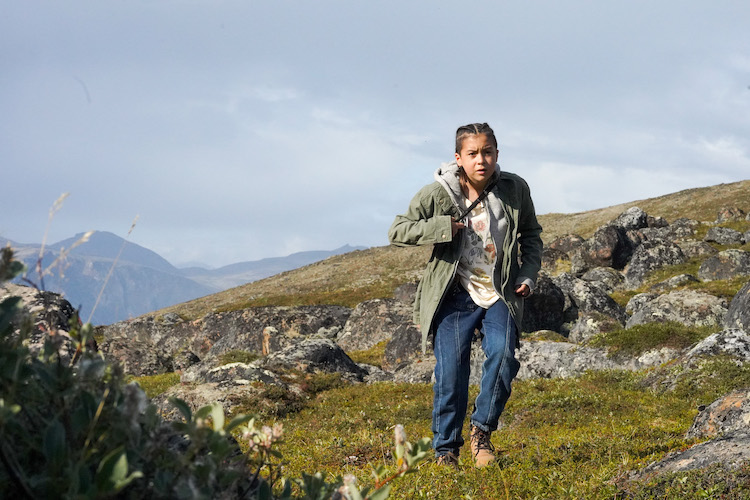 I really want to talk about the scenery. I mean, Nunavut is just beautiful.
"Thank you. Yeah, I agree. It's so beautiful, and the community that we shot, in particular, Pang, is so stunning. I had made a documentary there before, and my nephews are from the community. They are really into aliens and superheroes and all that stuff. The idea of being able to make an alien invasion movie in their hometown was really fun.
"I'm from Nunavut and the Arctic. It was just so nice for me to go back and be able to make a movie in the summertime. I think, a version of the Arctic that people are unfamiliar with is the summer, with the 24-hour sunlight. This community, in particular, is just kind of nestled in the middle of these gigantic fjords, these mountains created by glaciers. To just kind of settle in this community of 1,500 people and make a movie was so special."
A lot of the dialogue sounds like legit teenagers. Did you get input from younger people, or did you and your cowriter Ryan Cavan just come up with all the dialogue yourselves?
"The kids definitely influenced some of the dialogue. We did hang out with them when we were writing the script. We would really be spending some time writing in the mornings, and then we'd go out and meet the kids and go boating or go to cabins or watch a scary movie or something, and we definitely got a sense of some of the dynamics of the friendships and the language they used. It was kind of a nice little reward when we were sitting with the cast and having them kind of read through some of the scenes, and then they're like, "Oh yeah, this is how we really talk." Yeah, it was great.
"The teenagers grew up in Iqaluit, which is the capital of Nunavut, which has 7,000 people. This is a really small place, and that's actually where I moved when I was two years old. I spent a lot of my childhood there. It was really great and kind of a therapeutic process for me to be working with these teenagers who were just going through similar stuff that I had gone through as a teenager. At that age, it's so interesting. They're trying to figure out who they are and then where their indigeneity fits into it. Processing a lot of that in this movie was really fun."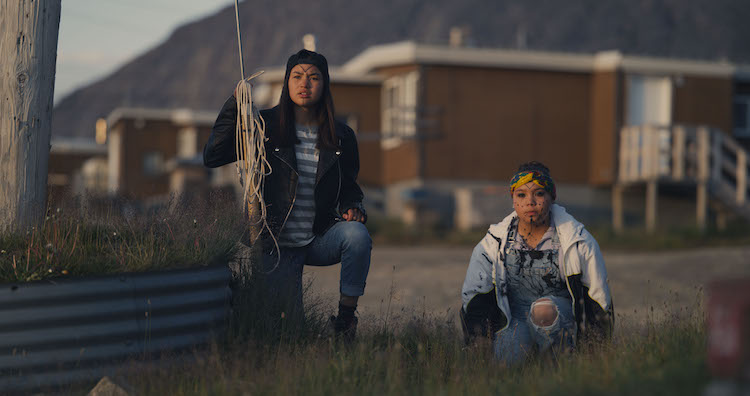 How important was it to you to have local cast and crew work on this project?
"That was so great and so important. For us, it would've been impossible to make this movie without the community of Pang being a part of it. We needed boat drivers and people with cars, because there's no car rental companies, and people to cook our food and all of these other things that you don't even think of that go into making a movie. Then we also wanted it just to feel like it's from a place.
"Our production designer, she didn't want anything in the movie that didn't exist in Pang already. So Maika's house, when we found it, it was empty. She was going around to everybody's house and just knocking on their doors, taking a look at their furniture and renting it for the summer. It was really kind of funny how much the community had to come on board to help us.
"These large-scale projects are really opportunities for capacity-building within the indigenous screen community. We've access to different types of funding, even more so now than we did when we made Slash/Back. In Canada, we've got the Indigenous Screen Office, which can give funds that can help pay for mentorship and training and having indigenous crew members in every department and figuring out ways to train crew while we're making the movies."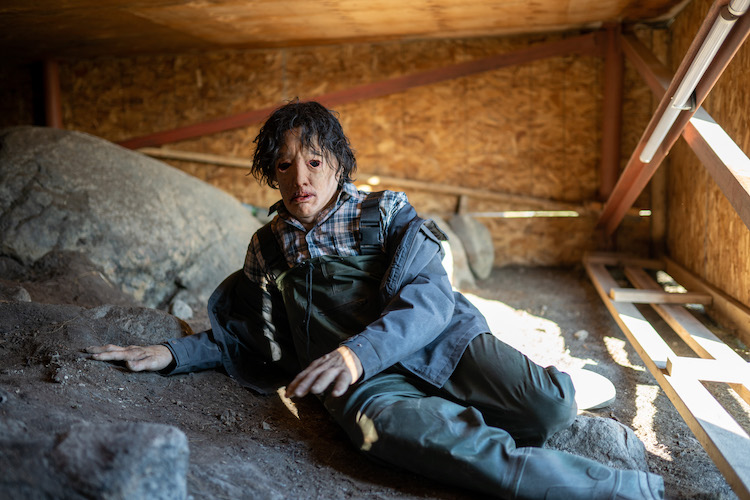 Nice. Would you talk a little bit about the concept of the story? Where did you get the idea and how much did it evolve from the original concept to the finished product?
"Yeah, the initial idea of teenage girls in Pang who ride around on bikes and fight aliens, that was something that I'd been thinking about for a minute, like a while. It was something that I've been developing as the writer and producer. I ended up getting sick and then just realizing, "What am I doing? I should be directing this movie, too." Even though it was kind of difficult for me to say, "Oh yeah, I want to do that hard and crazy thing that I might not be qualified to do." Once I had figured out that this is something that I really wanted to be taking on, we developed this proof-of-concept. That was something that I had written to just give a sense of the tone. It was more like a trailer than a short film. And within that, the core of the movie was there. And then getting to work with Ryan Cavan – we've since written other projects together and really like working together – was such a fun journey to flesh out the characters. Some of the kids that we worked with definitely influenced a lot of the dynamics of the story, the friendships, and the friend group."
I absolutely love the little girl who plays Aju. I think she's a fantastic character, and she just plays it so well. Would you talk a little bit about the casting process?
"Yeah. Frankie [Vincent-Wolfe] is so cute. That's who plays Aju. She's actually a little sister of Alexis, who's the girl with a bandana. I found Frankie just by going by Alexis's house to pick her up for the day to do acting workshops. Frankie answered the door and was so adorable and funny. She's such a character. Her role was originally in the short film played by Nalajoss [Ellsworth]. Nalajoss grew out of that role, and I thought she'd grown out of the movie, then I saw her right before we were going to go and shoot in Pang, and I was like, "She could fit in with some of the older kids," so that's how she kind of got moved into the role of Uki.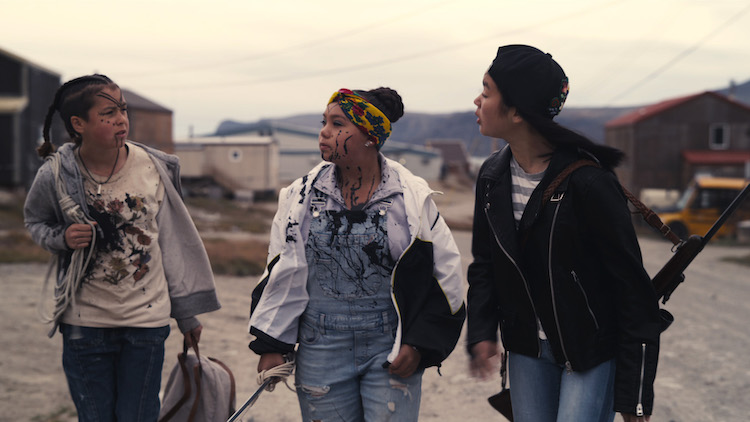 "Alexis [Vincent-Wolfe] and Chelsea [Prusky] were part of the project from the beginning, from the proof-of-concept stage. We found the kids for the proof-of concept by doing these acting workshops. It wasn't like formal auditions. We held these workshops; kids came for a couple of days, and then in that process, we're trying different kids out, seeing who works together. That's kind of how the cast came together. Tasiana [Shirley] came through the last round of auditions. Initially, she was in the role of Uki, and then a week before we started filming, that's when I saw Nalajoss and cast her as Uki, and then Tasiana had to learn the role of Maika and nailed it, I think."
How was Rory Anawak (who plays Thomassie) dealing with being around all those girls?
"He's still always around girls. We just went to Spain last week, and it was like all of us girls and Rory. He is very comfortable and used to it by now. He and Alexis, who plays Jesse, are actually best friends, so they can hang out and do their thing, and he's got kind of a big brother role to Frankie. Rory is such a good sport. He has traveled with us girls, and it was always like, "Oh, let's grab the girls…and Rory." I think, it was also kind of nice for him to be the only boy. He kind of got some special attention in that way. What's so fun for me is going back to the community of Pang and hearing little girls asking about Thomassie, and it's kind of sweet to see these little girls that think of our little Rory as this heartthrob. He's also grown up so much. He looks nothing like he did in the movie."
SLASH/BACK is now in theaters and on VOD and digital. Check out the trailer!