Barbarella here to share my thoughts on AMULET, an independent film written and directed by Romola Garai. Romanian actor Alec Secareanu (GOD'S OWN COUNTRY) stars as Tomaz, an ex-soldier haunted by his past. After an encounter with Sister Claire (Imelda Staunton), he gets an offer to stay in a decaying house in exchange for doing some home repair, but there's a catch. The young, enigmatic Magda and her dying mother also inhabit the house. As Tomaz becomes familiar with the house and the young woman, the sense that something insidious may be lurking among them grows.
First-time film composer Sarah Angliss' score, which utilizes female voices, creates an ancient and foreboding vibe early on, setting the eerie tone. As Tomaz's backstory gets revealed in small pieces through his dreams about a past trauma, Alec Secareanu commands the screen. I love his performance here and how effectively he plays with the character's dichotomy. Carla Juri (BLADE RUNNER 2049), as the seemingly fragile Magda, strikes a balance between vulnerability and strength as her story unfolds, although sometimes I find her expressions telegraph too much of what's to come.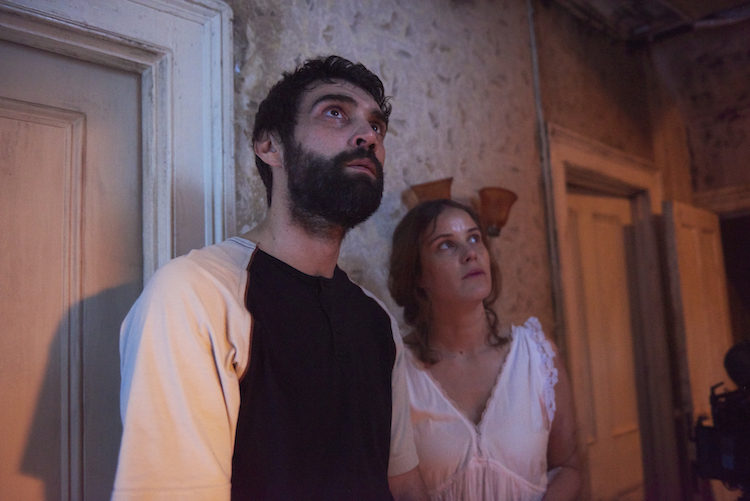 As I watch the film, I find myself wanting more Imelda Staunton, but when I get more, I don't exactly love her character Sister Claire's storyline as much as I had expected. I generally prefer when a movie defies my expectations, and although AMULET goes places I don't expect, I find myself losing interest and becoming less invested as the pacing falters in scenes. When it does finally reach the climax, suddenly it shifts into completely different territory. I almost feel as though someone had changed the movie to a Cronenberg film, starring the same cast. Nothing against Cronenberg, but it doesn't feel cohesive with anything that comes before. Perhaps a glimpse or two of a bizarre visual could've been snuck into one of Tomaz's dreams earlier and could have planted a seed of what to expect down the road so it's not quite as jarring.
While the visuals get quite bizarre, the images are strong enough to stick in my brain. It's not just in these bizarre moments where the visuals shine. Production designer Francesca Massariol creates a beautiful environment in which the story unfolds. I love so much of the set and how director of photography Laura Bellingham chooses to capture it.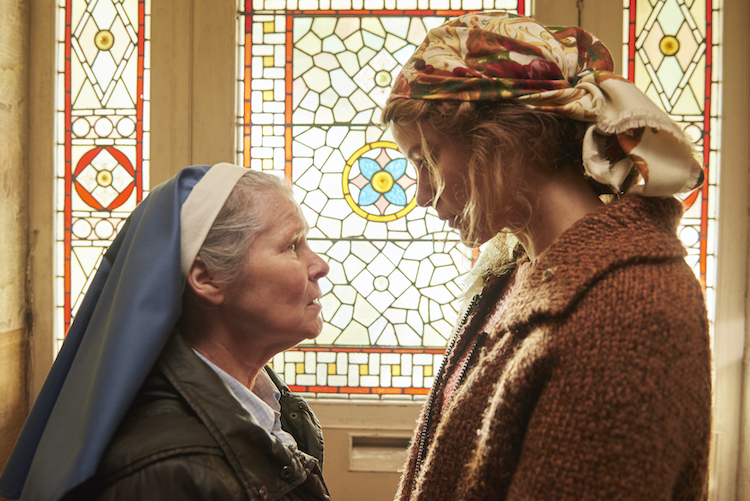 Also, as a huge fan of practical effects, I appreciate Romola's choice to rely more heavily on them than on their computer-generated counterparts. At a point where my interest in the story begins to dissipate, one such effect grabs me and fascinates me, pulling me right back into the story. I had expected that this would be the turning point where things would pick up again, and the tensions would escalate. However, that's not exactly what happens. I feel like the film fails to deliver on the promise it makes from the outset, which is that AMULET would be a tense and creepy story. Aside from the music and a scene or two, the film rarely achieves the sense of dread and eeriness I anticipated based on the film's first several minutes.
While I do understand the choices made, I want a less jumbled telling of the story. But, hey, it's not my film, and I respect that Romola Garai knows exactly what point she wants to make, and she makes it clearly and powerfully. I also applaud how she takes some horror tropes and strays from them. I just wish the film gives me something about which I could get really excited. I like the ideas presented, the performances, and the visuals, but I just find the meandering path the story takes to be a little too disjointed for my tastes. Although AMULET leaves me feeling a little meh, I definitely want to see more work from everyone involved.