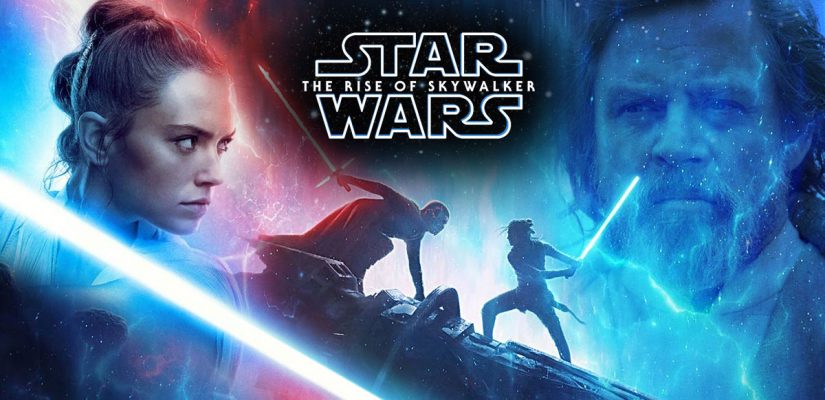 STAR WARS: THE RISE OF SKYWALKER, is a truly satisfying follow-up and end to the behemoth Space Operas ongoing saga in the most fitting style of fan attribute possible. With the torch being passed back again from Rian Johnson to JJ Abrams, we see any unfinished story arcs throughout the entire STAR WARS saga brought to a fitting conclusion. To the fans, some of us new, some of us have spanned a few decades growing with all that is STAR WARS, some of us embittered, well, most of us will hopefully now be left with a feeling of awe and a heavy bit of nostalgia. It's amazing to take in all that STAR WARS is and has been as an impact on our culture through the years as well as the heart that has gone into the Skywalker saga. It is a bittersweet end for now.
STAR WARS: THE RISE OF SKYWALKER, is littered with crowd-pleasing moments. Some very sad, some very exciting. That good ol Mouse House formula done right with all the Star Warsian bells, whistles, and laserbeams this Christmas will have to offer. That said, you probably will never imagine it being done this well. It's a ride with pay off after pay off. Go see it in theatres, it's definitely worth the spectacle therein.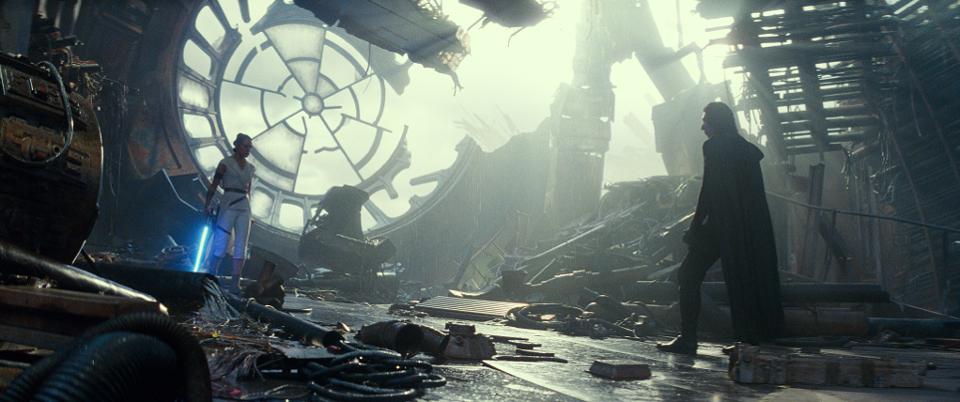 Carrie Fisher (RIP) honors the franchise in a way that fans hardly deserve reprising her role with the help of cg, as Princess/General Leia Organa. Mark Hamill returns to us in spirit as Luke Skywalker. Adam Driver/Ben Solo is Kylo Ren the Supreme Leader of the First Order. Daisy Ridley is the orphan with the curious backstory as Rey. John Boyega the X-Stormtrooper on a mission, is Finn. Kelly Marie Tran is back alongside the resistance as Rose Tico. Oscar Isaac is the high ranking reckless Xwing fighter pilot Poe Dameron. Anthony Daniels returns ever faithfully as C-3PO. Joonas Suotamo carries on the role Peter Mayhew famously played as Chewbacca. Billy Dee Williams is back as Lando Calrissian(Works every time) Naomi Ackie is Jannah, an ally & X-Stormtrooper like Finn. Domhnall Gleeson is the backstabbing General Hux. Richard E. Grant is Allegiant General Pryde. Lupita Nyong'o is Maz Kanata. Keri Russell is Zorri Bliss, a criminal and old friend of Poe. Last but not least we have Ian McDiarmid as Palpatine / Darth Sidious, is he returning in flashback or spirit form? Well, that we have to go and see for yourselves!
Mad Dashiell's Space For Rant: I didn't not like Rian Johnson's LAST JEDI. Sure, seeing the most hopeful being in the galaxy (Were talking about Luke here) turning into a bitter jaded old hermit was a ruff pill to swallow at 1st. The idea grew on me, I mean, how often have we seen that happen to people, not just in stories, but friends and family around us as a reflection of the whole. THE LAST JEDI also brought on the cute more. Well, I get how that has its place in the STAR WARS stories, but I mention it because THE RISE OF SKYWALKER has no time for cuteness, at all, whatsoever. Thanks for joining me, this has been Mad Dashiell. Follow me in the Film-Twitterverse @MadDashiell. Thanks for joining all us folks here at AICN, Seasons Greetings to you and everyone in galaxies far far away.
Star Wars: The Rise of Skywalker will be released in theaters December 20, 2019
Mad Dashiell