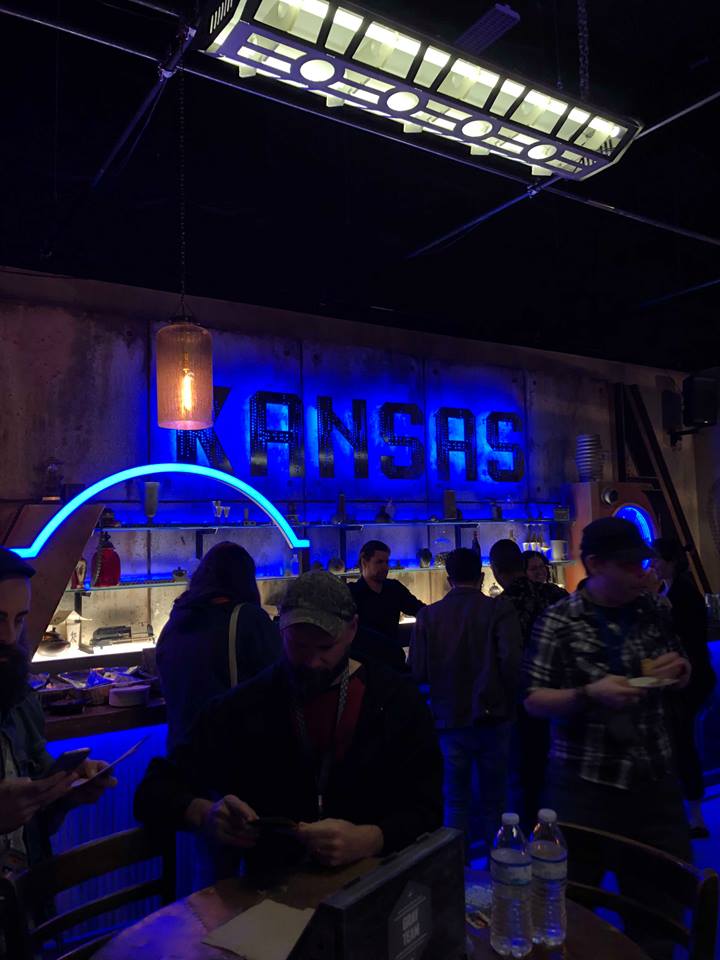 I'll just start by saying that we at Ain't It Cool News had a wonderful time at the interactive experience Passport to Iron City, a part of the ALITA: BATTLE ANGEL promotions and a first of its kind experience!
In Passport to Iron City, visitors are taken transported to Iron City, starting off in the underground Kansas Bar. You have a drink, and well this particular event had Torchy's Tacos in the Austin location, get a super sweet badge. I suggest picking a cool name, since it was a press event I just went with my real one instead of Big Eyes. Opportunity missed. You are put into color coded teams of six, you had better bring a whole crew or you will be put with some strangers!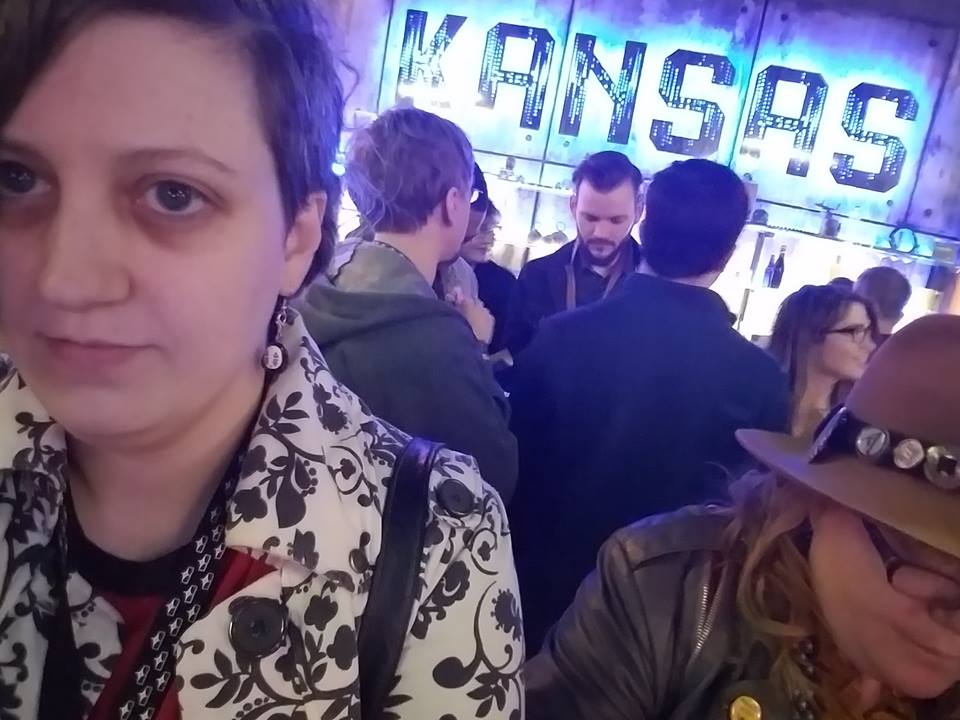 Here I am at the Kansas Bar with Dannie Knowles trying to hide!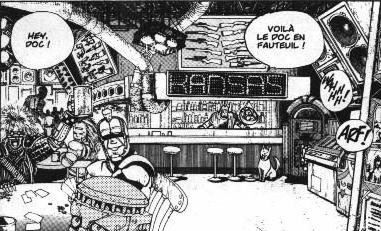 From there, the games already began. With that badge, you have half of a symbol on it, and you must begin working on finding your other half that matches you. We at AICN were already put at a disadvantage from the get-go because my match chose to not play the game. A 3000 point disadvantage at that!
Yep, there's a point system. Of course there's a point system, we're in teams working against everyone else! Of course, AICN was Black Team. Which I believe suits us -now- black sheep.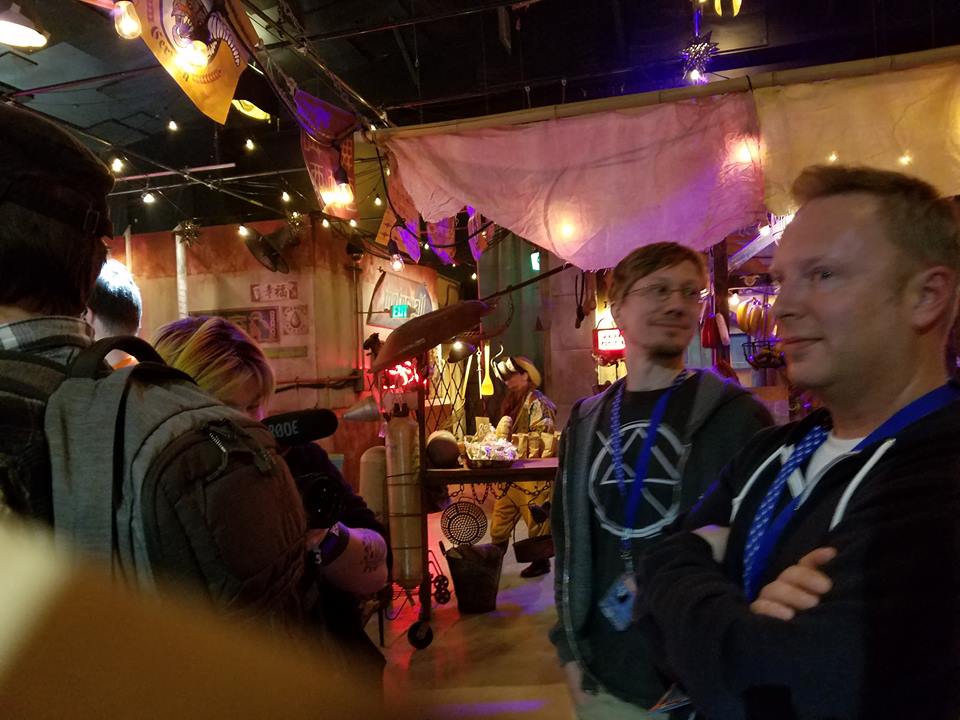 Once we were released into Iron City, we immediately got to work exploring different parts of the city that we will see in the movie, playing games, solving puzzles and trivia!
Random characters float around the city trying to be mysterious, but also dropping hints. There's many sections where you go play games to gain oodles of points, but there is competition to even get into them. We actually didn't have enough time to make it into everything, but what we did manage to get into was fun and involved a lot of teamwork.
There was a room full of keyboards where you have to hit the lit up keys, which is impossible for one person.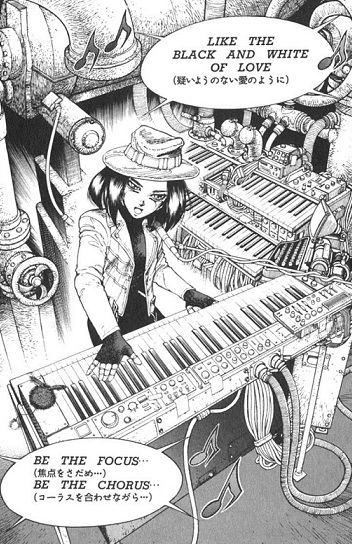 In another game, we had to work together keeping an eye out for wanted criminals in a surveillance room. There was even a giant jigsaws puzzle we had to solve quickly.
A couple of games were silly. There was one where we walked up to a "merchant" and we won points by smelling things and being able to say what the aroma was.
If you're stuck outside any of the games, there's still stuff to do out there. You're given a page with a lot of blanks you need to fill by solving and finding the clues around the indoor city.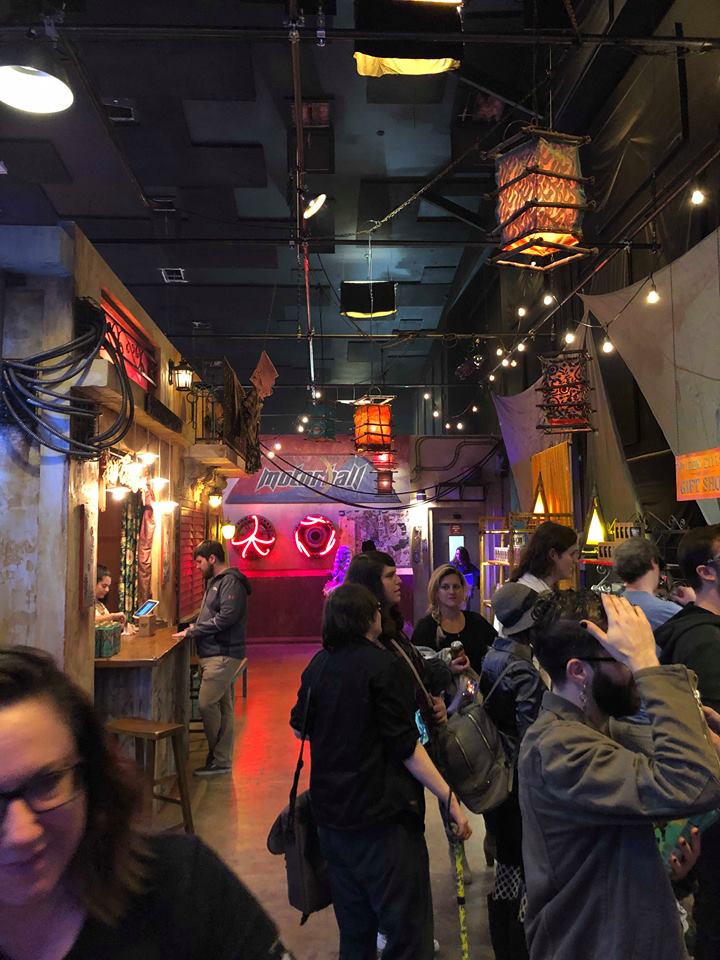 As time was running out, AICN was sitting in 7th place (pretty much the whole time), and the window for placing bets on Motorball was closing. Last minute, we placed our bet, watched on the screen as all of the "players" in Motorball knocked each other out, and then miraculously the guy we bet on won!
Heck yeah, bitches. AIN'T IT COOL! AIN'T IT COOL! And we won...well some sweet pieces of memorabilia, some iron(?) coins!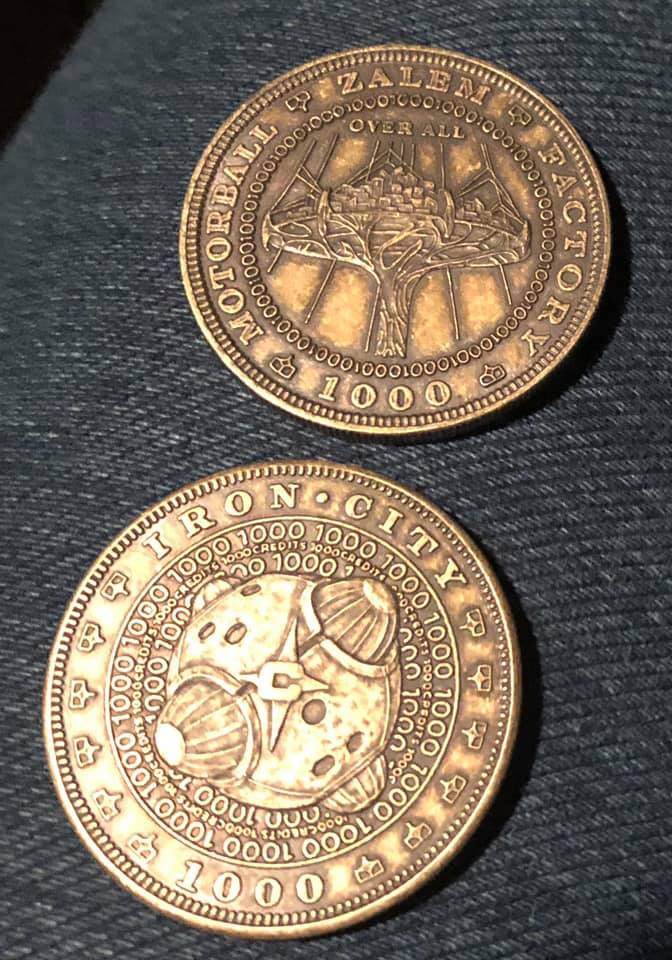 Afterwords, of course there was the gift shop with Pop figures, and hardbacks of the original manga. They were also giving away Arizona Green Teas with special ALITA labels. We left with a bag full of loot and some sweet T-shirts. Though, I'm unsure how much of that was only for press.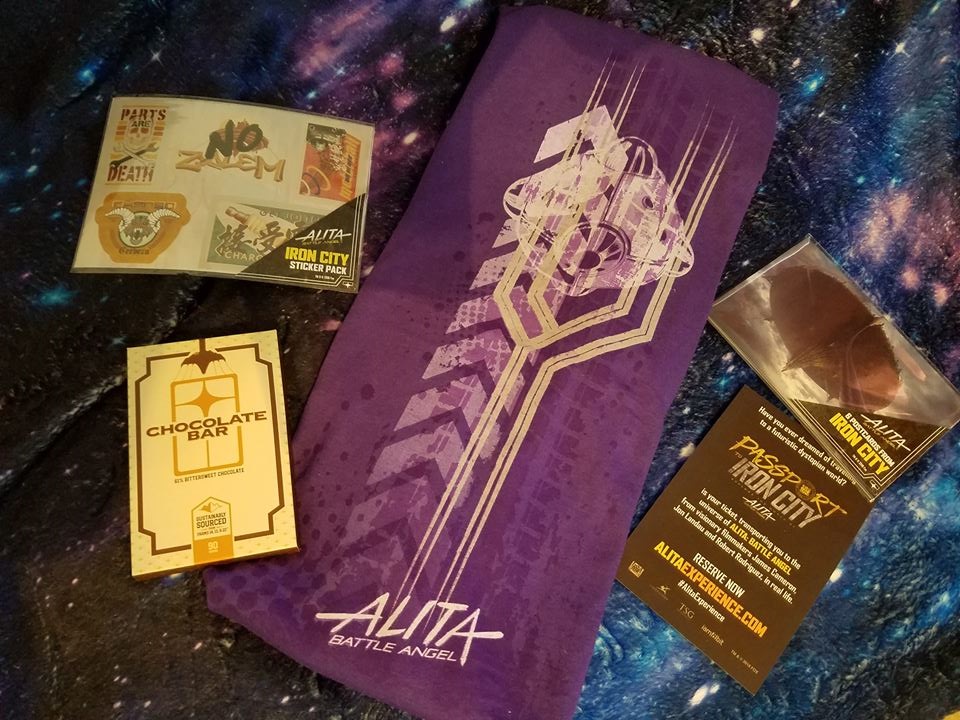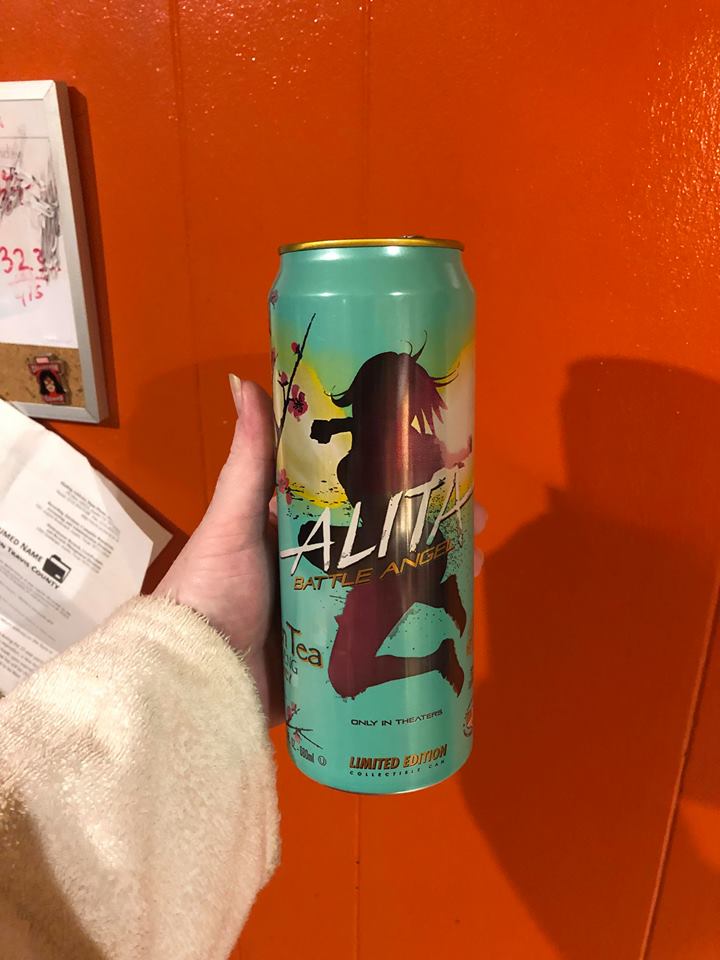 Overall, Passport to Iron City offered a great team building experience for us, we had fun and got some cool stuff. As someone who watched BATTLE ANGEL ALITA as a kid, the experience was very surreal for me. Back in the 90s I was bullied for my love for anime (especially SAILOR MOON), and now it's cool shit that they're turning anime classics into big movies! If ALITA is as huge of a hit as they are hoping, we might even see an American adaptation of AKIRA.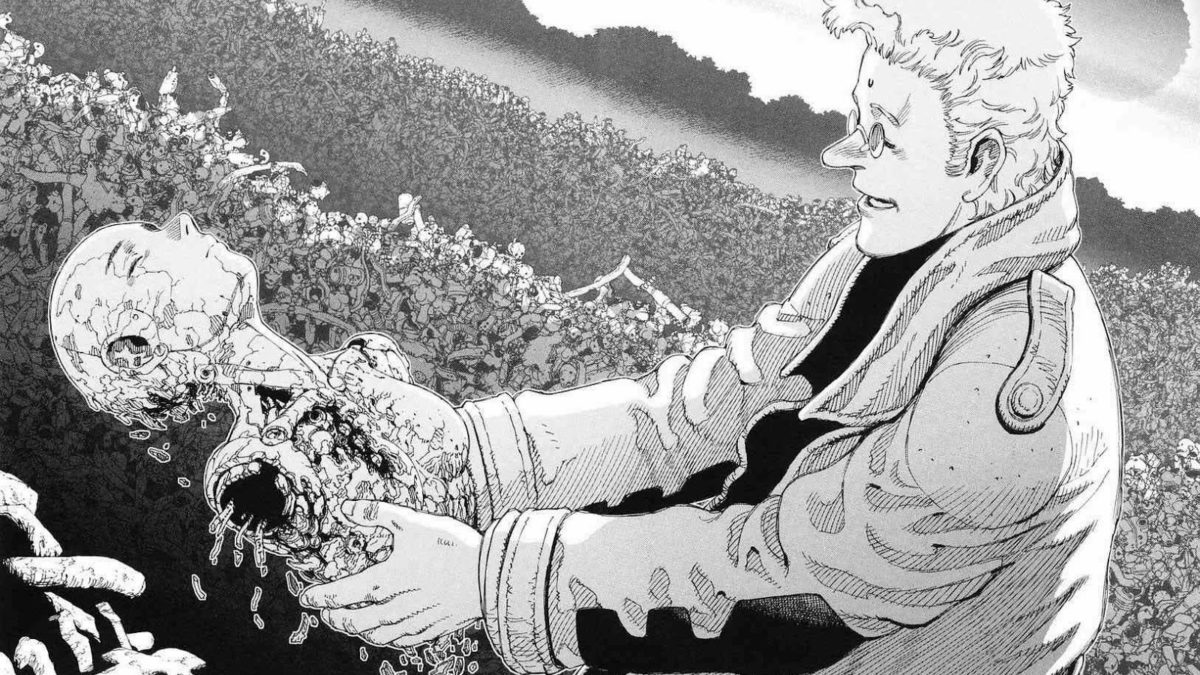 You can snag tickets for the experience in Los Angeles (January 23rd to 13th), New York (January 26th to Feb 13th), and Austin (January 29th to February 13th) at www.alitaexperience.com! Tickets are available all the way up until the theatrical release of the new movie!
~Eva Snail aka Big Eyes
Instagram: @artbysnail