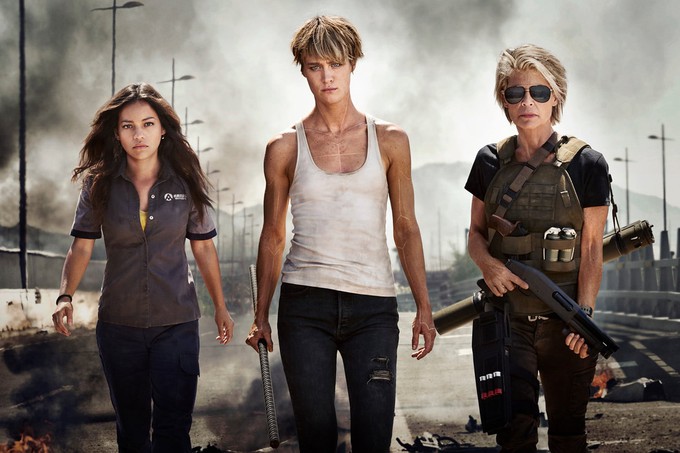 Hola Dannie aqui,
Here with a distinctive look behind the scenes at the new untitled TERMINATOR reboot movie being filmed in Hungary. Producer Andy Vajna took this video on his last visit to their overseas sets. The new film is produced by James Cameron and has Tim Miller sitting in the director's chair. Director Tim Miller is mainly known for his work on the first "Deadpool" film as well as his short films "Rockfish" and "Aunt Luisa." Alongside this untitled Terminator project, Mr. Miller is also working on "Love, Death & Robots" (currently in pre-production) and the recently announced "143."
It is exciting to see Arnold Schwarzenegger, Linda Hamilton, and James Cameron working together again, it has been what? Twenty-eight years since they worked together on "Terminator 2" back in 1991. Let us all pray to the Sci-Fi geek Gods and Goddesses that this upcoming film will be to the standards of the first two films. All of the other movies suck big ole' donkey dong in my humble opinion.

Enjoy mortals, machines, men and madames! Here it is the behind the scenes look at the new TERMINATOR project.
Well, what do all of you out there surfing the SkyNet think? I am praying to every deity that has ever existed in every realm, I adore the first two films and want so, so severely another cinematic masterpiece for the now franchize. The new project is planned to hit theaters in Lithuania, the U.K. and the U.S. of A. smack dab during the Dia de Los Muertos holiday, Nov. 1st. Those lucky bags of flesh that happen to be in Australia, Italy, Portugal, and/or Russia can see the film on Halloween aka October 31st.
Stay Strong, Live Good, Love Movies!
Dannie H.L. Knowles aka Pekosa Peligrosa