Hola Dannie aqui,
Today a trailer came out for "IN LIKE FLYNN" a film about the life and times of classic actor Errol Flynn, particularly his time before fortune and fame in Australia. The film is based on the autobiography "Beam Ends" written by of course Flynn. The film stars Thomas Cocquerel as Errol Flynn, Nathalie Kelley, Callan Mulvey, Costas Mandylor, Grace Huang, Corey Large, Clive Standen, David Hennessey, Dan Fogler, David Wenham, Isabel Lucas, and William Moseley.
Blue Fox Entertainment describes the film as-
"Before Errol Flynn became one of the biggest movie stars in Hollywood, he was braving cannibals and crocodiles while searching the jungles of Papua New Guinea for gold with his ragtag crew. Flynn is forced to learn what it means to be a master of his own destiny. In Like Flynn is a mythical and satirical coming-of-age story about four men on a journey to find hope, adventure, and fortune."

Here is the trailer for "IN LIKE FLYNN" read on for more information.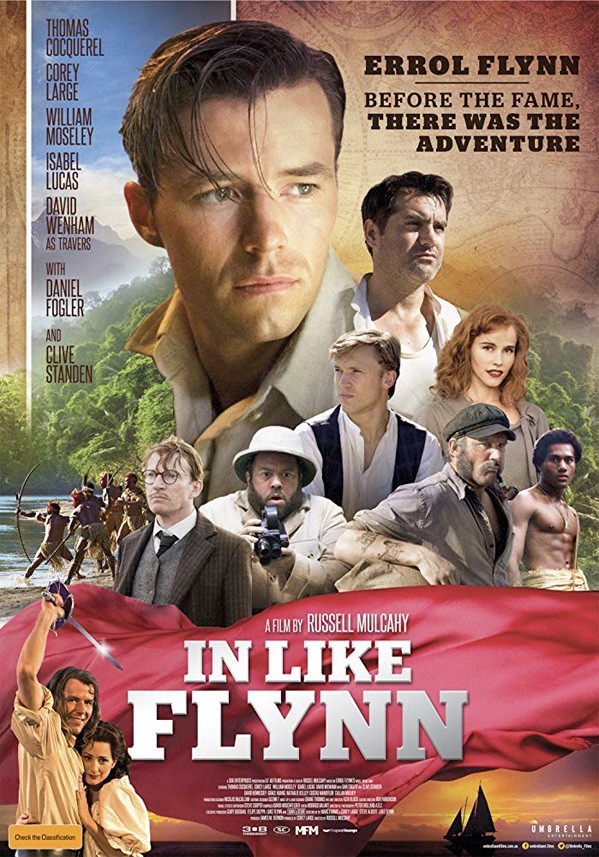 "IN LIKE FLYNN" is directed by Australian director Russell Mulcahy. Many of you may know Mulcahy from his work on "Resident Evil:Extinction," "Give 'Em Hell Malone," "Razorback," "Highlander," "Highlander 2," "Ricochet," "The Real McCoy," "The Shadow," "Swimming Upstream," "Silent Trigger," "Resurrection," and "Tale of the Mummy."
"IN LIKE FLYNN" is set to swing into theaters on January 25th, so for any fans of Errols, your wait shall not be too long. I grew up watching "The Adventures of Robin Hood," "Captain Blood," "Montana," "The Adventures of Don Juan," "Silver River," "The Forsyte Woman," "San Antonio" and far too many to mention. How many of you love this charming swashbuckler and are interested in this film like me?
Stay Strong, Live Good, Love Movies!
Dannie H.L. Knowles aka Pekosa Peligrosa