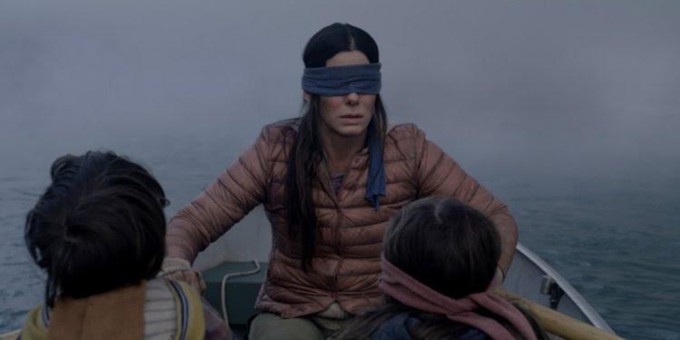 Finishing off a year that was particularly loaded with varying degrees of middle- to high-profile sci-fi offerings- Annihilation, How It Ends, Extinction- Netflix now brings forth the latest effort from Danish director Susanne Bier who, after a career-long string of middle- to high-profile pieces (the highest so far being her Best Foreign Language Movie Oscar winner In a Better World), decided it was about time to go full mainstream and thus made BIRD BOX, a movie which can actually be marketed as: "A horror story from the creators of The Fast & The Furious saga and Things We Lost in the Fire". If that doesn't indeed tickle your curiosity just go ahead and skip it.
Comparing this to the unexpected hit from earlier in the year A Quiet Place is as completely unfair as it is thoroughly unavoidable but the truth is it is impossible not to think of a wider assortment of genre movies whilst watching it, with everything from The Mist and Cell to The Darkest Hour and The Happening coming to mind, being this latter the one it hews to the closest with a script from Eric Heisserer, an Oscar nominee himself for his Arrival screenplay, that seems overeager to not only take notes from M. Night Shyamalan's overarching character arcs but to flat out rip him off.
Which is not something bad, not at all. While Heisserer expertly follows every trope (but the de rigueur twist) in Shyamalan's top writing (Signs, The Visit) in his adaptation of Josh Malerman novel, tightening structure to the very limit and adamantly focusing on its study and development of character while firmly prioritizing them over sheer grotesquerie, Bier faithfully and confidently makes it happen.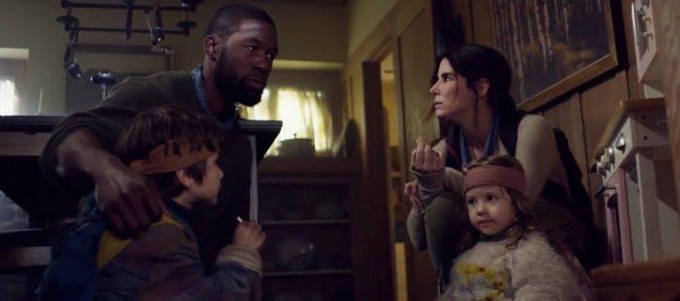 An unknown force- later on, revealed to be some sort of creatures- spreads like a wildfire all throughout the world, turning everyone who watches it- them- into stark raving lunatics who, at once, kill themselves and just about anyone who might be on their way. Later on, the ragtag group of survivors we follow discovers that only already crazy people are immune to this plague and that they have become willful acolytes to the invaders.
If it sounds familiar it is because it is so and if the first impulse is to imagine this bunch of forced allies as the standard roll-call of stereotypes that is a justified reflex as well but- and this is one vital "but"- these characters end up coming off as pleasingly fresh thanks to the script's self-restraint, Bier's clearly sure-handed approach to actors and, most importantly, because of the stellar cast working here: John Malkovich as the grouchy, Second Amendment-loving, paranoid alcoholic; Jacki Weaver as the level-headed eldest; BD Wong and Pruitt Taylor Vince in sadly, extremely short parts as the generous neighbor who opens the doors to his home to anyone in need and one key character waiting at the end for the climax respectively; Trevante Rhodes as the requisite ex-Marine and Sandra Bullock, reuniting with her Ocean's 8 co-star Sarah Paulson as sisters torn apart by the tragedy, leading the charge with a solid turn. This is top-level talent behind and in front of the camera (the adequate although unmemorable score was composed by Reznor and Ross if they are your thing) and it should at the very least make you capable to look at producer Chris Morgan- the writing mastermind in charge of Dominic Toretto and friends' lives since the third entry- in a different light from now on.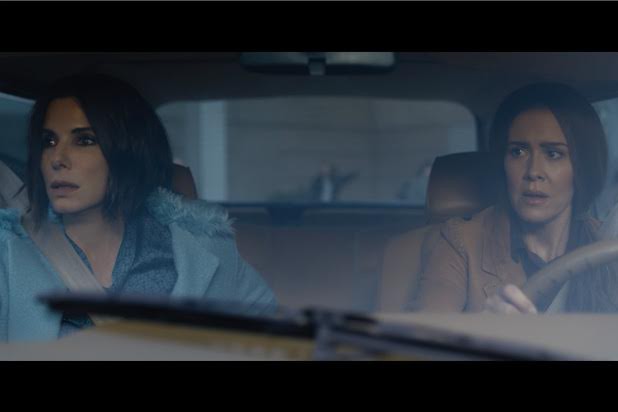 It is not a particularly scary film, however, and that should be taken into account before approaching it lest disappointment should quickly settle. It is a particularly good film, though. Bier stages well enough the introductory mayhem that sets the story in motion and, henceforth, uses her expert cast's line-delivery and facial expressions to sell the premise and to compensate for the obviously restraining budget- the scene wherein Bullock is rummaging in the backseat, looking for something, while Paulson drives and witnesses firsthand her impending doom ("What the fuck is that?" she asks rhetorically, more with utter despair than simple horror, and her delivery is simply fantastic) is spine-chilling- but the story is more concerned with the souls of these people rather than with their lives.
What is the point of surviving if we are not going to really live?, it asks.
None at all, it answers.
Eloy Ricardo Balderas Salazar