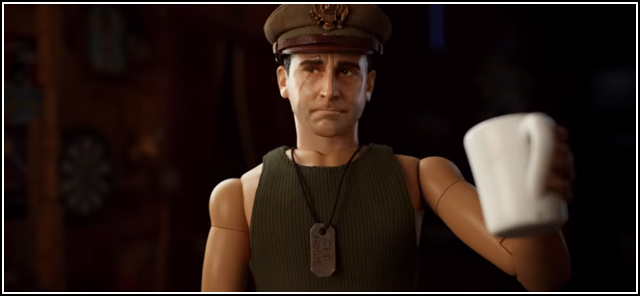 Hey folks, Precious Roy here with a review of WELCOME TO MARWEN, written for the screen by Robert Zemeckis and Caroline Thompson and directed by Zemeckis himself. And I'm going to try to qualify what I am saying whenever possible, because as the title plainly states, this was my favorite film of 2018, and this is the year I saw Jim Cumming's brilliant THUNDER ROAD. There may be a few spoilers ahead, because I really feel like gushing about it right now. So stop reading and go see this pronto if you're sold on it. But know that I'm so sold on this film that I'm signing my real name to it.
WELCOME TO MARWEN is the (semi) true story of Mark Hogancamp (Steve Carell), a lonely-heart war-comic illustrator who was beaten by a mob and his memories stolen from him. I say semi-True story, because it's as true as HEAVENLY CREATURES was. The facts are there, with many fantastical elements surrounding it. I think the film this most reminds me of is Terry Gilliam's THE FISHER KING.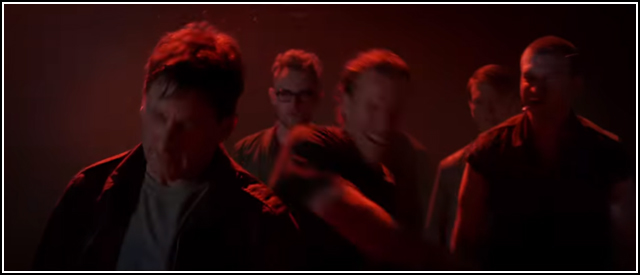 We learn some interesting things about our hero. He has built a G.I. Joe diorama in his backyard called Marwen, a fictional Belgium town in World War II, resisting Nazi occupation, where his avatar, Cap'n Hogie, rules the roost. Mark loves women's shoes, and likes wearing them. (This is not included for cheap laughs or as a sign of mental illness post-attack, just a part of who Mark was and continues to be as a man, and the film handles it with astounding grace and dignity.)
Mark is having trouble limiting his anxiety meds, and one of his dolls... Deja Thoris (Diane Kruger)... is a fairy witch who becomes jealous of anyone Mark fixates on in the real world (or in Marwen, which for Mark, often blends together unexpectedly). We barely touch on the inspiration for the dolls, who represent the many supportive and loving women who have helped Mark heal after the attack, including his physical therapist Julie (Janelle Monáe), his Russian minder Anna (Gwendolyn Christie), his friend at the local hobby shop Roberta (Merrit Wever), and his coworker Carlala (Eiza González). His attackers also inhabit Marwen as well, represented by Nazi soldiers, which forms an odd synchronicity with Mark's past as a World War II illustrator: one bears a Nazi tattoo, and all have the Aryan look of Nazis to Mark.
The story really begins as Mark gets a new neighbor, Nicol (Lesley Mann), who is fleeing a bad relationship with someone who reminds Mark of the Nazis in Marwen and the real-life attackers who nearly murdered him. Mark sees a kinship with Nicol, and all-too-quickly adopts her into Marwen with her own doll-- a new romantic interest for him, in a world where he is not allowed to have romantic partners. But we learn through clues that much of Mark's problem isn't Deja (and she is a very real problem for Mark, manifested as a doll), but his fixation on these nurturing, protecting women and his dependence on them to carry him past the trauma of his attack. This dependence and fixation continues to be a recurring, unending problem for Mark as the sentencing for his attackers draws near, and indeed in Marwen too, as the defeated Nazis return, again and again, eternally tormenting Hogie.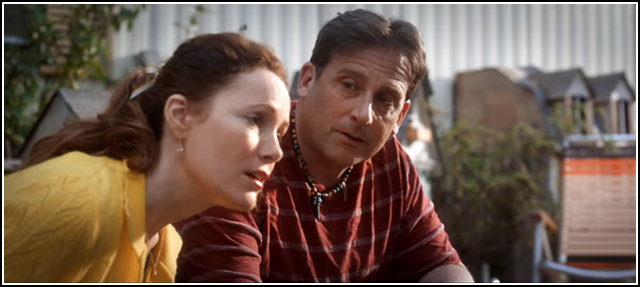 Carell is just amazing as Mark Hogancamp/Cap'n Hogie. Back when The Office (U.S.) was on in first run, I had the hardest time sitting down to watch it, which wasn't as big a problem with the Ricky Gervais boss in The Office (U.K.), because Gervais was not the deft hand Carell was at making Michael Scott a thoroughly wretched cliché and yet a very human character whom you, in fact, care about. His casting here is perfect, because Mark is not a perfect human being and he is struggling with something far too big for him... and he doesn't always get things right, but we care about him and want to see him get a happy ending.
Mann is a great part of the story as his romantic interest, and her performance is the finest one she's ever given... the way she handles Mark's increasing fetishization of her with humanity and with her own hurt is amazing. We get clues as to some of her back-story, and one of the telling parts of Mark is how he never really works to know that part of her. Mark, bless him, is too wrapped up in Mark, and we can certainly understand why... and at the same time, feel compassion for this woman who has found a broken connection across the street, and wants to do no harm but can't return what he feels.
I can't say enough about Merritt Wever as his supportive friend/doll, Roberta. (It will nag you where you have seen here before, so let me end your suspense: she's the pharmacist's assistant who gives Mel Gibson the unwanted confession in SIGNS.) Weaver is so blessedly good at telling you everything we need to know about Roberta in her dialogue and not in soppy looks or big, obvious visual clues.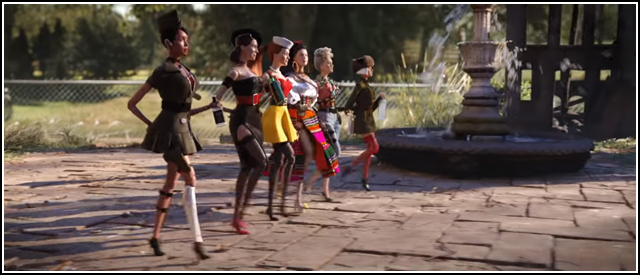 Zemeckis references BACK TO THE FUTURE in a way that is so much more lovely and interesting than READY PLAYER ONE did. It's a gentle, beautiful nod, and there are so many references to BttF that I would need to watch it four more times to catch them all, I fear. The script is remarkable. It deals with a likable protagonist's awkwardness and even his toxicity honestly and fairly, and I think it was a major feat of screenwriting to achieve so much in one story.
This film stops short of the Hollywood happy ending, and gives you an end a new beginning, with no promises that Mark will stop being lonely, or be fixed... just that one of the worst parts of his life has past and he might finally get a chance to be happy in the future, which I think is the best that any of us can hope for.
WELCOME TO MARWEN is now in theaters, man, check your local listings.
-- Precious Roy / Christopher Hooker