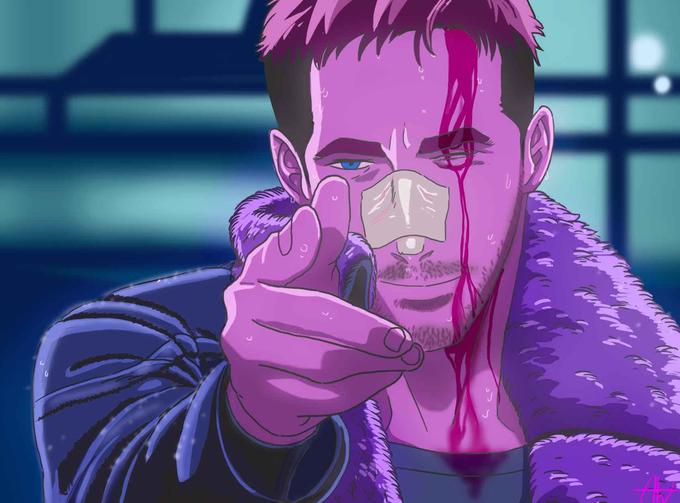 (Would love to credit the artist if I knew who it was... knowyourmeme.com said it was Alex Wisner with a broken Twitter link)
Adult swim has partnered with Alcon Television group and the anime streaming service Crunchyroll in a threesome to give birth to BLADE RUNNER: BLACK LOTUS. But who is the true baby-daddy? The The Adult Ani-Swim-u is inspired by BLADE RUNNER 2049. The ani-swim-u (your welcome for coining the term, Adult Swim!) will take place in 2032, which places it in between the original BLADE RUNNER and the sequel.
Jason DeMarco, senior vp/creative director of Adult Swim on-air, has a full-on fanboy boner for this project. Quoting DeMarco:
"I first saw Blade Runner in 1982, at age 11. It has remained one of the defining films of my life. To be able to explore more of this universe, with the incredible talent we have on board, is a dream come true."
And that talent they have on board? Why it's Shinichiro Watanabe, who has a fairly impressive resume in anime directing--first of all, a BLADE RUNNER short called BLADE RUNNER: BLACK OUT 2022 which you can watch below! He has also done SPACE DANDY, COWBOY BEBOP Series and the Movie (he is currently consultant for a live action adaptation of COWBOY BEBOP with Netflix), SAMURAI CHAMPLOO, 6 episodes of KIDS ON THE SLOPE, a couple of ANIMATRIX shorts, some episodes of ESCAFLOWNE, and six episodes of MOBILE SUIT GUNDAM 0083: STARDUST MEMORY. Watanabe is producing, I have faith in him to make it right!
Animation studio Sola Digital Arts is to produce the series! Shinji Aramaki (MEGAZONE 23 III) and Kenji Kamiyama (EDEN OF THE EAST movies and series), are to helm the project as co-directors for all episodes. They just finished working on ULTRAMAN 2019, and supposedly are working a GHOST IN THE SHELL reboot series.
It's going to be a while before a release date is set. Hollywood Reporter had the story first!
~Big Eyes