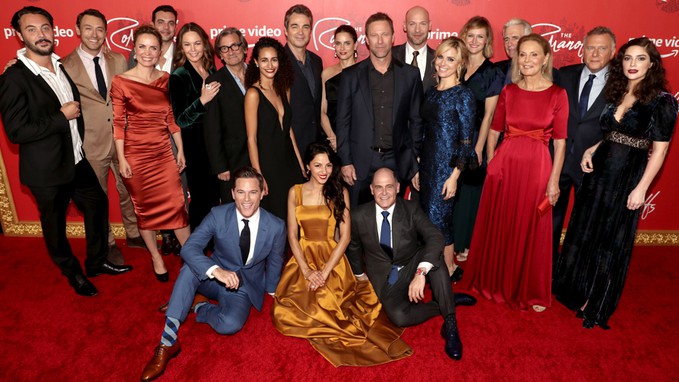 The Romanoffs 1.8 FAQ
What's it called?
"The One That Holds Everything."
Who's responsible?
Matthew Weiner directs from a teleplay credited to "Mad Men" mastermind Weiner and Donald Joh ("Covert Affairs").
What says Amazon Prime?
"A man tries to escape a family curse in a story that circles the globe."
"Circles the globe"? Does this "man" visit New York, Los Angeles, Boston, Paris, Budapest, Mexico City and/or Vladivostok?
Yes.
Does this episode acknowledge any of the characters we met in New York, Los Angeles, Boston, Paris, Budapest, Mexico City and/or Vladivostok?
Almost immediately. But don't expect too much continutity porn. I suspected at least one character from each prior episode would return for this one, but this is far from the case.
How does it start?
A fellow enters the Paris Metro's Gare Du Nord station.
Tell us about this fellow.
He a British writer from Los Angeles. He adapted the book written by the John Slattery character into the miniseries starring the Christina Hendricks character. He is not himself a Romanov.
Who appears this week?
Generally the finale features a cast much less famous than the other episodes' casts (at least to those who don't watch a lot of British television). It includes Icelandic actress Hera Hilmar (who plays a central role in Peter Jackson's fast-approaching "Mortal Engines"), Ben Miles (Princess Margaret's boyfriend Peter Townsend in "The Crown"), JJ Feild (James Montgomery Falsworth in 2011's "Captain America: The First Avenger") and Hugh Skinner, a British TV fixture who played Holdo's first officer in "The Last Jedi." Christopher Goh, who co-wrote this episode, wrote himself a sizeable role.
How does this episode compare to the prior seven?
It nestles comfortably among the series' three best.
Does the final episode feel like a late-career Woody Allen movie?
No. This one feels more like Stephen Frears. Maybe.
Were you disappointed by the eighth episode's ending?
No, this one I found quite satisfactory.
The big news?
This episode contains a lengthy flashback within a flashback within a flashback.
What else is Amazon not telling us?
The original title of this episode may have been "The House of Special Purpose."
What's great?
I'd call this the tightest of the eight episodes .
What's not so great?
This episode does not hold everything
How ends episode seven, spoiler boy?
With West End girls.
11:59 p.m. Thursday. Amazon.