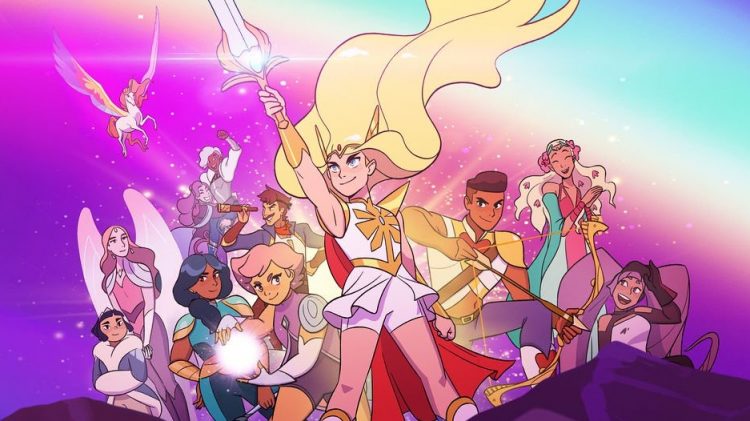 SHE-RA AND THE PRINCESSES OF POWER is like THE LAST AIRBENDER, STEVEN UNIVERSE, and TREASURE PLANET all rolled into one with a heavy frosting of gay on top. I love those animations so I was pretty into the new SHE-RA!
The show starts off strong, staggers a little bit after episode 5 or so, but picks back up around episode 8 keeps your attention all the way through the end!
Between the old and the new, a lot of things were changed, and for the better--mostly.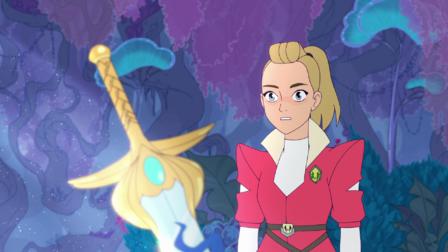 All of the characters are rather likeable, and unique. While the art style is more simplistic, it also allows for more variation between the characters, unlike the original SHE-RA. In the original, all of the princesses just looked like carbon copies of each other with different hair and costumes, and all had very little personality. In new SHE-RA, we have various body types, heights, sizes, face shapes, and personal traits that differed quite a bit from others. This show is progressive. There is definitely some body positivity being pushed forward with some overweight characters and LGBT representation, but they never draw attention to it. In my book, by simply treating these things like they're NORMAL, instead of the writers jerking themselves off about how forward thinking they are by stuffing it down our throats, is what true progress looks like.
But yes, the new show is fairly character driven. They're all a bunch of kids and they act their age. No one is overly serious and the humor resulting from that makes things rather enjoyable and lighthearted. Though, there are fairly dark moments. As I said before, the characters have quite three dimensional personalities. Glimmer has a complex relationship with her mother, Adora has ties to her old life that she cannot let go of, and the emotional theme of abandonment comes up a few times.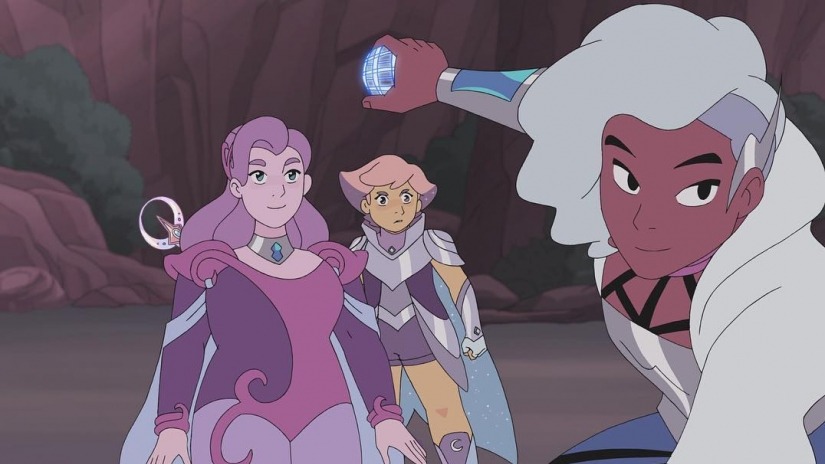 There is obvious SAILOR MOON influence with with some of the powers, and a transformation sequence where the animation for it is reused every other episode, but it doesn't do it to death like the influencer. Yes, the old SHE-RA reused animation as well, but the style of Adora's new transformation is very SAILOR MOON like.
In old SHE-RA, Prince Adam/He-Man was introduced immediately to carry the show for about five episodes before they finally decided to focus on Adora instead. In this new version He-Man isn't involved at all. There may have been some hints and Easter eggs in there that I have missed, though.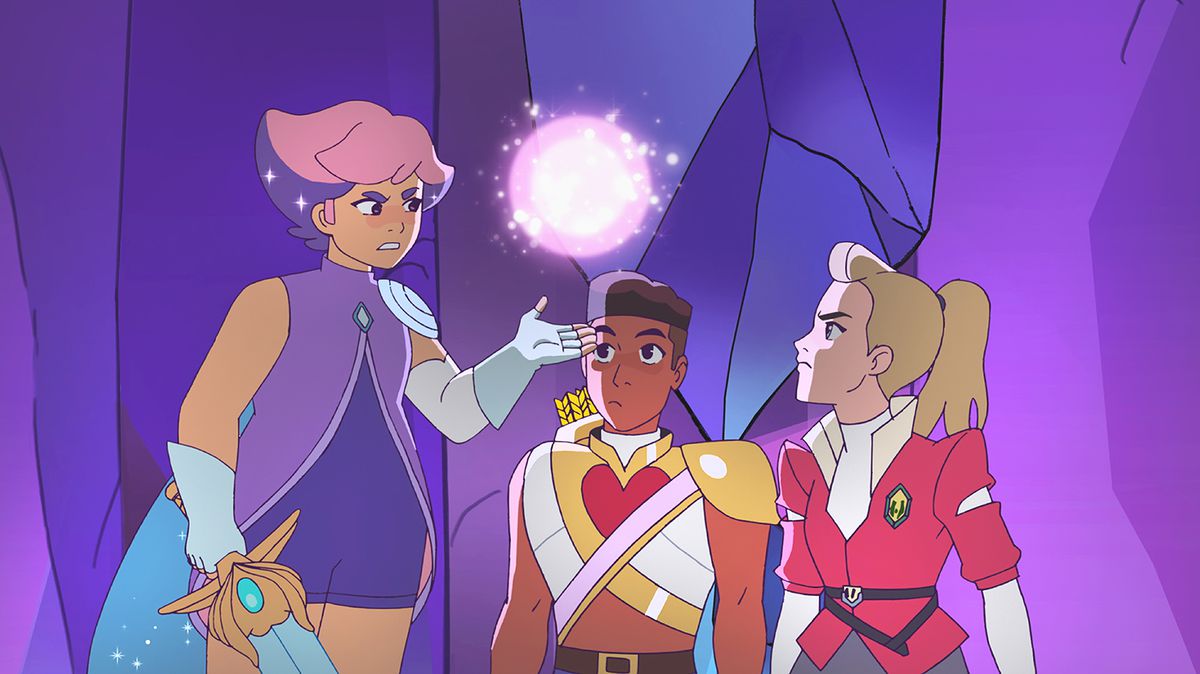 The only real direct reference to HE-MAN that I could spot was that Adora is told that she can transform into She-Ra by saying the words "For the honor of Grayskull". She asks what Grayskull is, but they never explain it within the new show. So we don't exactly have an idea what Greyskull is in this series, or if He-Man is involved.
The voice acting cast is phenomenal, and FAR LESS obnoxious than the original. Don't get me wrong, I'm sure a lot of you readers have some fond memories in nostalgia, but it appears to me that back then that the folks who made the show didn't respect young viewers very much. It was as though they were always talking to a little kid and doing it all in crappy voices that came off as more annoying than entertaining.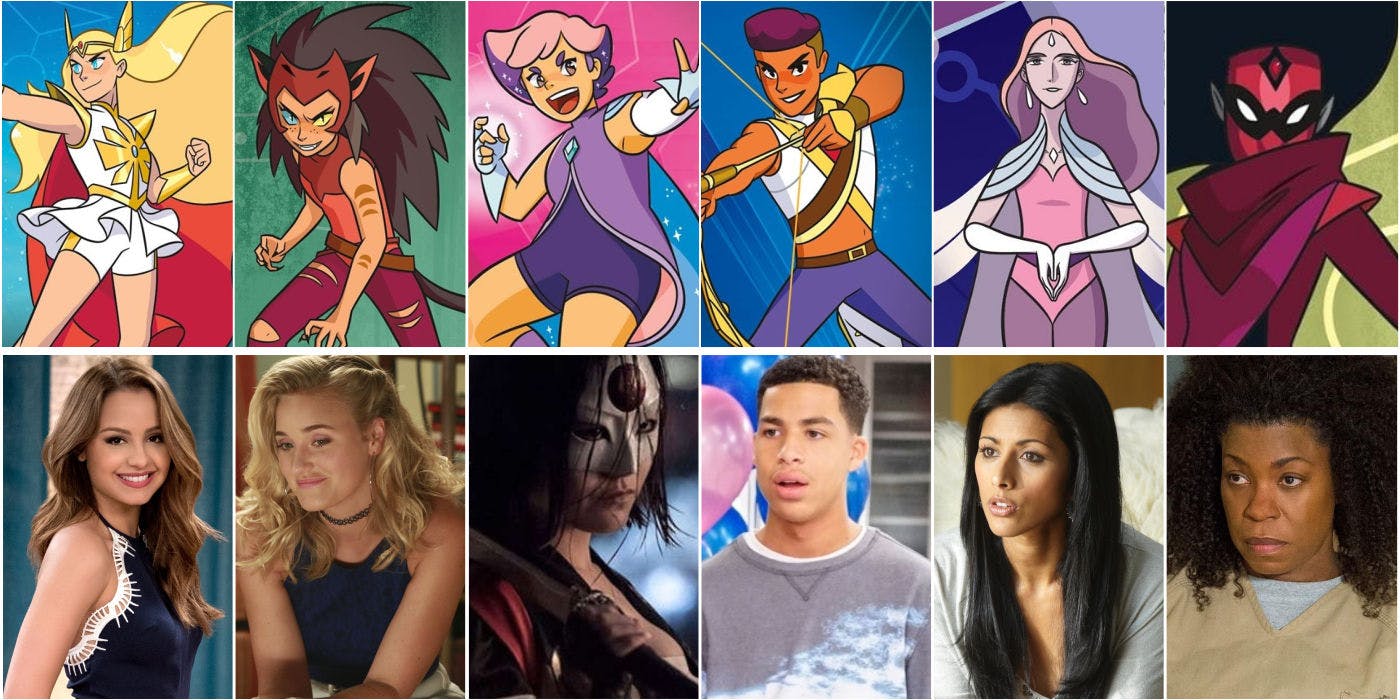 The cast includes Aimee Carrero (ELENA OF AVALOR) as Adora/She-Ra, Jordan Fisher (DANCING WITH THE STARS) as Seahawk, Marcus Scribner (BLACK-ISH) as Bow, Lorraine Toussaint (ORANGE IS THE NEW BLACK) as Shadow Weaver, Sandra Oh (GREY'S ANATOMY) as Castaspella, Karen Fukuhara (SUICIDE SQUAD) as Glimmer, AJ Michalka as Catra, Reshma Shetty as Angella, Keston John as Hordak, Lauren Ash as Scorpia, Christine Woods as Entrapta, Genesis Rodriguez as Perfuma, Vella Lovell as Mermista, Merit Leighton as Frosta, and Krystal Joy Brown as Netossa.
SHE-RA AND THE PRINCESSES of power is a lot of fun and tells a compelling story. Animation/anime fans should definitely give it a watch through. I honestly thought it was going to be cheesy as hell, but I was so wrong. Right now, I'm trying to decide if Entrapta or Scorpia is the my favorite princess. Have a blast watching!
~Big Eyes